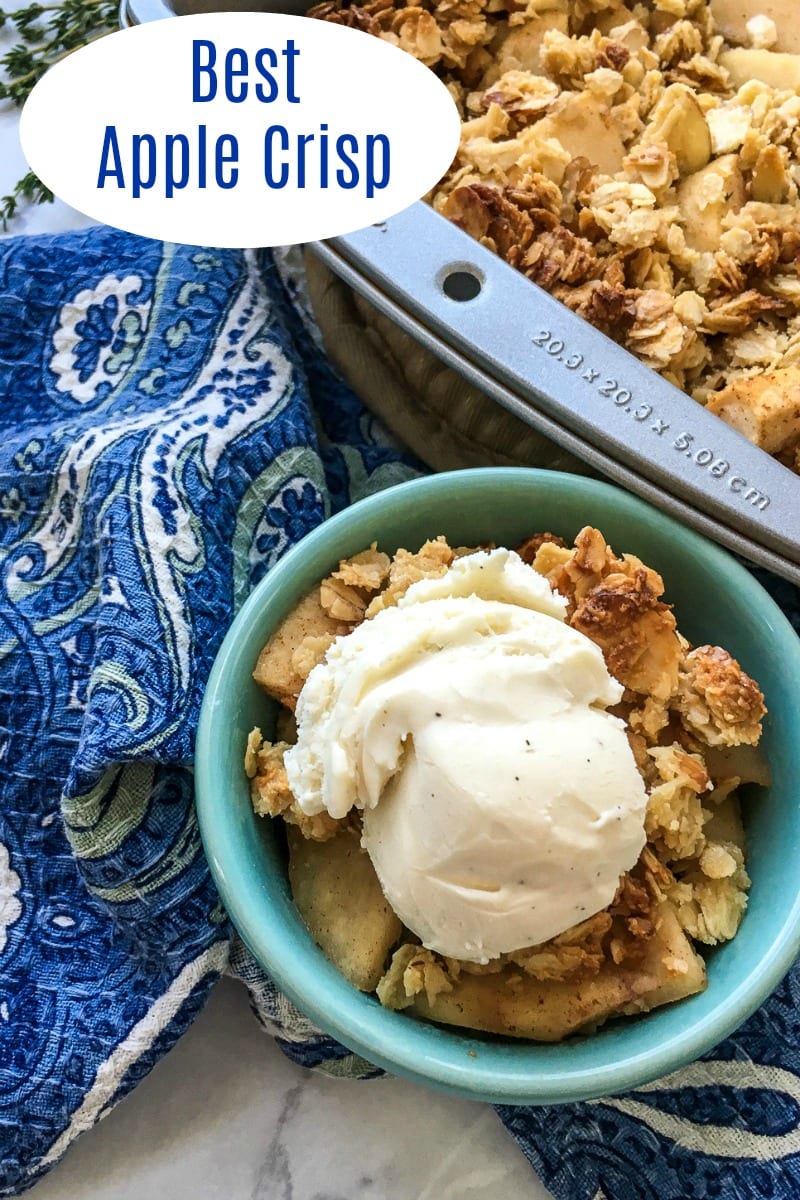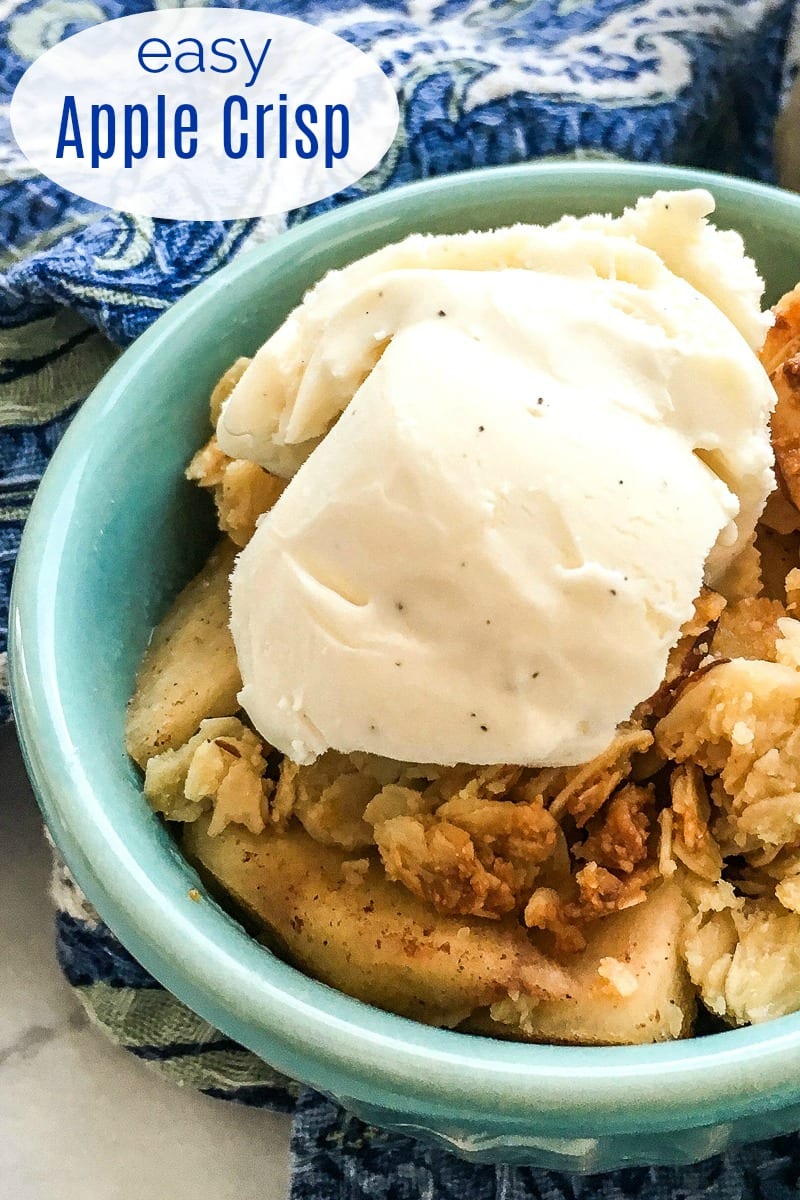 Old Fashioned Cinnamon Apple Crisp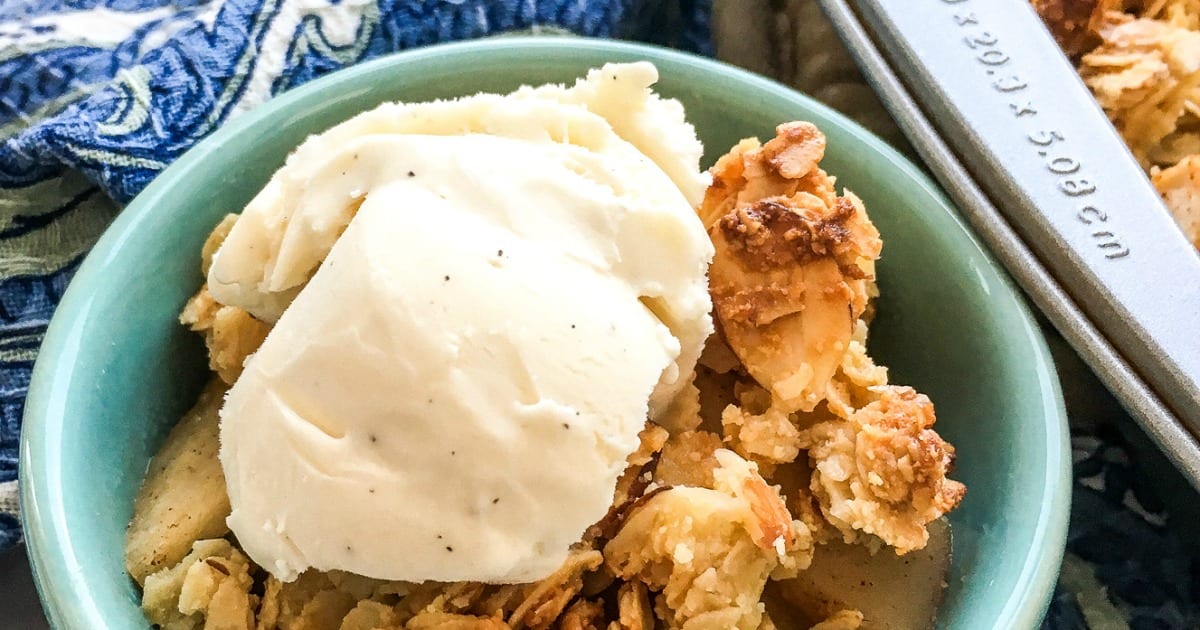 Bake this mouth watering comfort food dessert, when you want to enjoy the best baked apple crisp. Every bite is a satisfying treat.
The fruit crisp recipe is simple, so you can have a homemade apple dessert with just a little bit of effort.
If you can pick your own apples or get just picked ones from the farmers market, that would be ideal.
Wherever you get your fruit, make sure you choose firm, crisp apples, so that you can get the best results.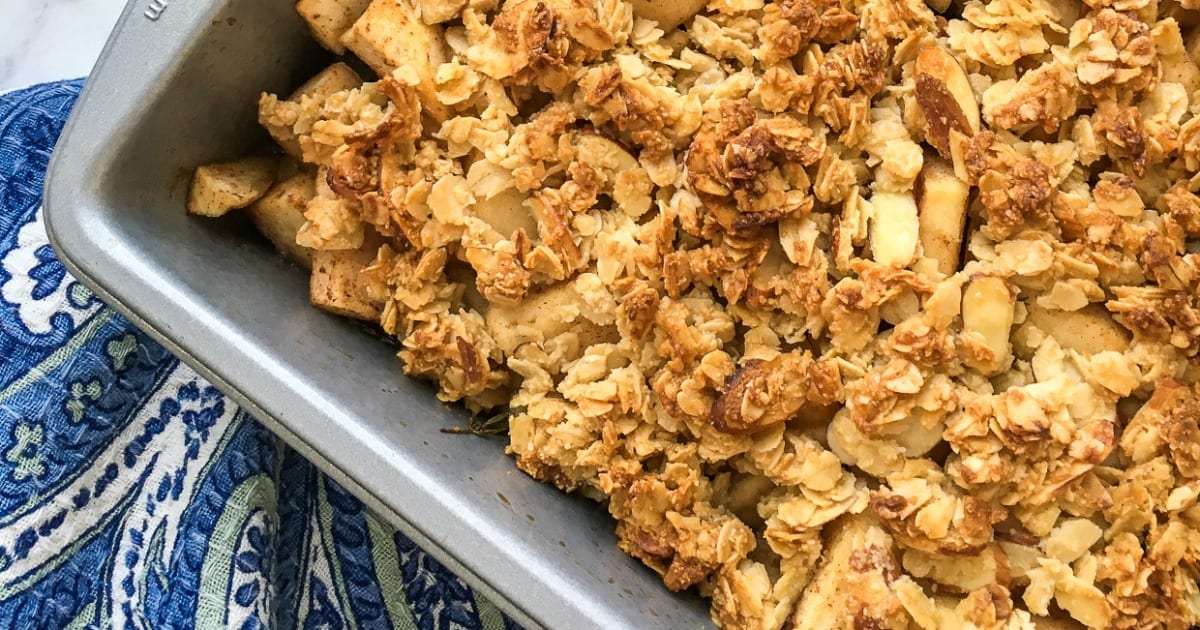 Both layers of this crisp are perfectly seasoned, so the flavors really shine.
There is a bit of lemon juice, which keeps the apples from browning.
Then, it is sweetened with real maple syrup and given some extra apple flavor with a bit of apple juice.
Cinnamon, nutmeg and allspice enhance the dish, which give it that classic apple crisp taste.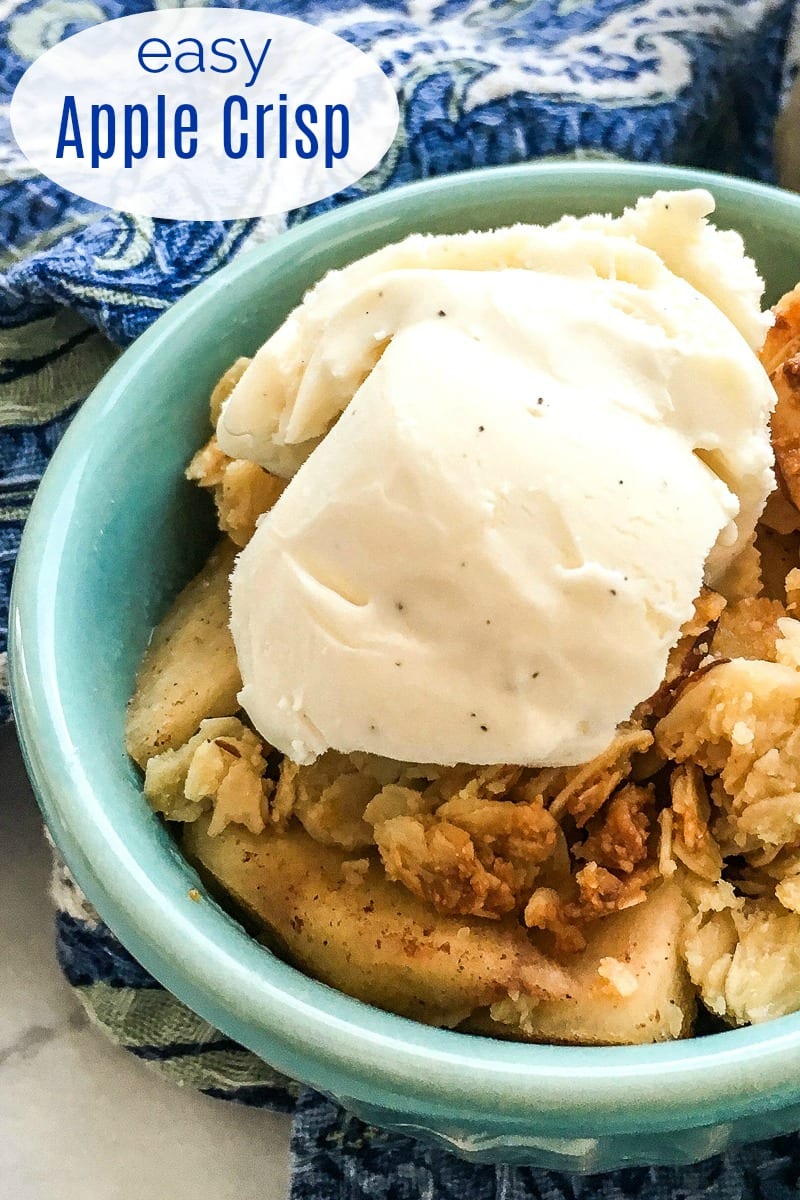 The crunchy topping is a treat, and can be safe for those who are gluten intolerant as long as you choose oats that are labeled as gluten free.
It is extra crispy, since it is made with almond flour, sliced almonds and, of course, oats.
The apple crisp dessert is easy to assemble and is absolutely delicious.
Serve it with ice cream or whipped cream or simply enjoy it as is.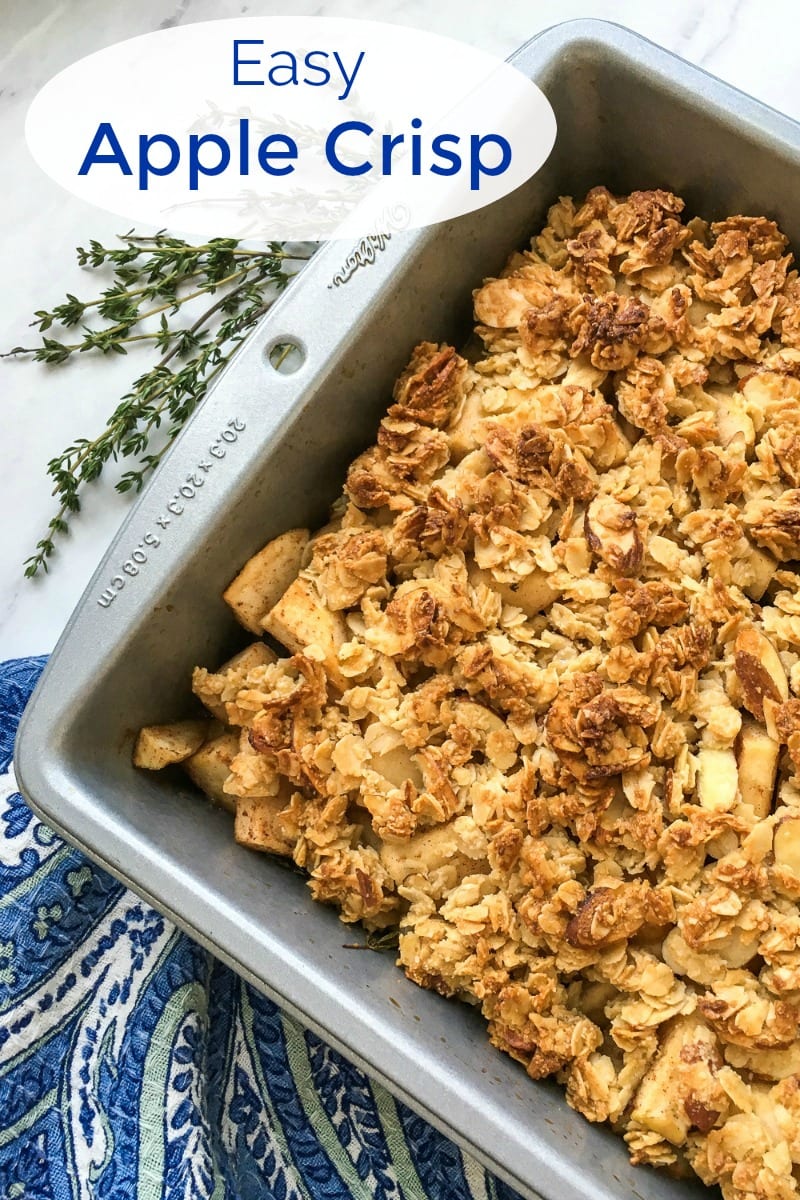 Best Baked Apple Crisp Recipe
Serves 4-6
Ingredients
6 Large Apples
1/3 cup Maple Syrup
1 T Lemon Juice
2 T Apple Juice
1 t Cinnamon, ground
½ t Nutmeg, ground
½ t Allspice, ground
¼ t Salt
Topping Ingredients
3 T Unsalted Butter, Melted
1/3 cup Almond Flour
1 cup Rolled Oats
1/3 cup Almonds, sliced
1/3 cup Honey
½ t Cinnamon, ground
Supplies
8″ x 8″ Baking Dish
Nonstick Baking Spray
2 Mixing Bowls
Measuring Cups
Measuring Spoons
Aluminum Foil
Instructions
1) Preheat oven to 350° and spray baking dish with nonstick baking spray.
2) Core, peel and slice apples and toss with lemon juice in a large mixing bowl. Add maple syrup, apple juice, cinnamon, nutmeg, allspice and salt. Toss together with a large spoon.
3) Add all of the topping ingredients to a second bowl. Combine well.
4) Spread the apple mixture evenly in the bottom of the prepared baking dish. Then, add the topping in an even layer.
5) Bake for 30 minutes and then cover loosely with foil to prevent over-browning. Then, bake for another 15 minutes until the crisp is bubbling. Remove from oven and cool for 5 to 10 minutes.
6) Serve on its own or with a scoop of vanilla ice cream or a dollop of whipped cream.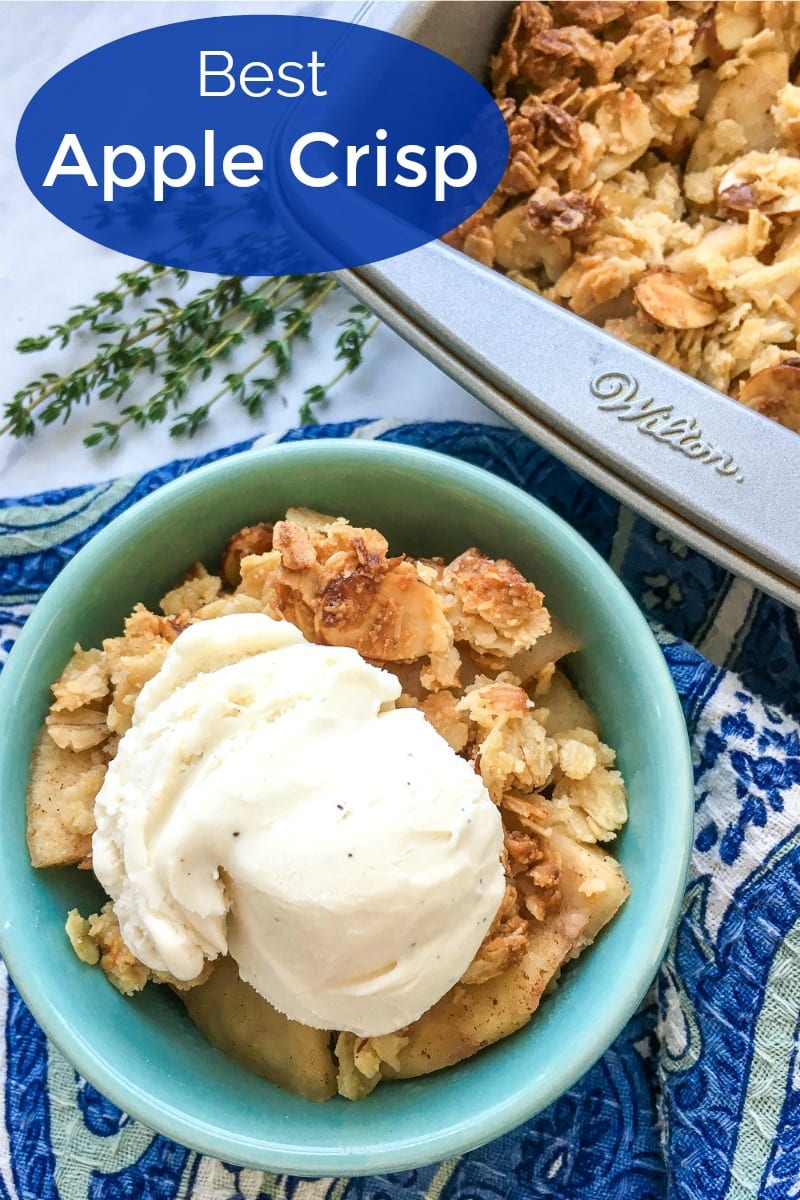 More from Mama Likes To Cook
Check out the rest of my vegetarian recipes, so you can get more great ideas for baking, cooking, blending and juicing.
Apple Recipes
Caramel Apple Recipes
Shopping Tips
For a beautiful assortment of kitchen necessities and food gifts for the whole family, check out the deals at these online stores.
Are you ready to have some delicious fun in the kitchen?