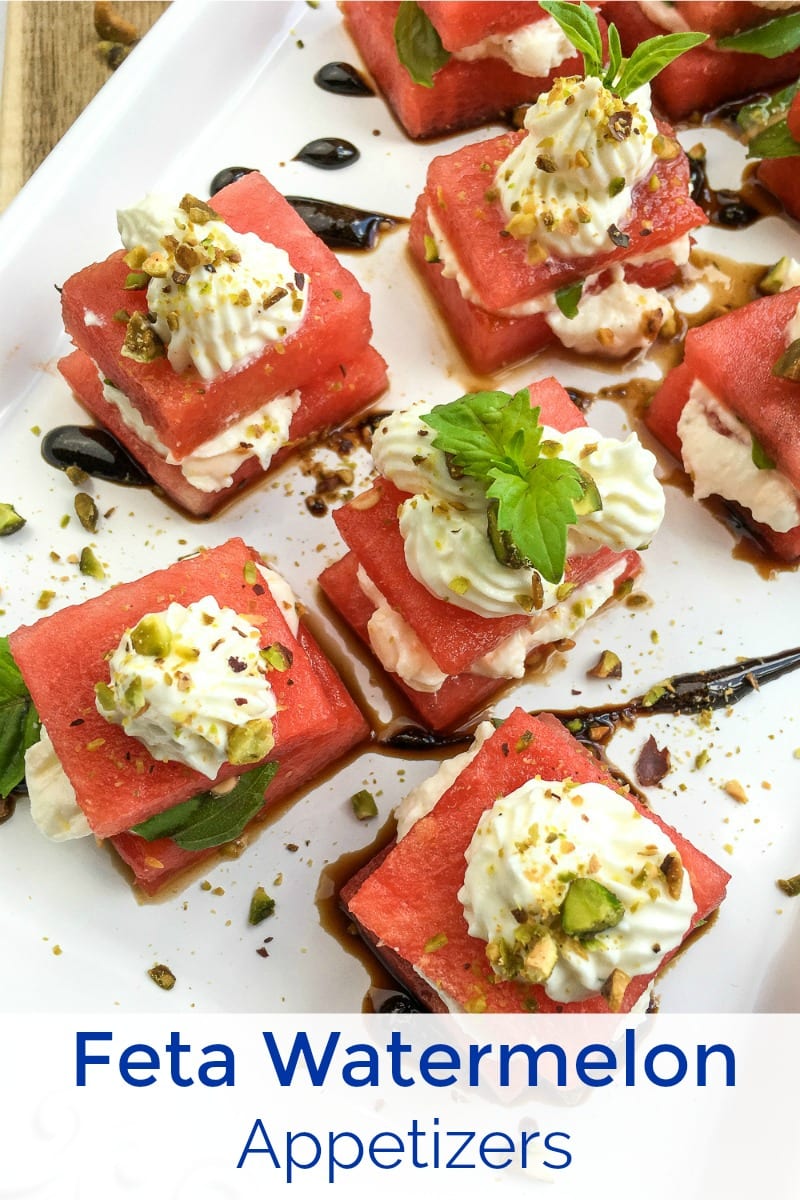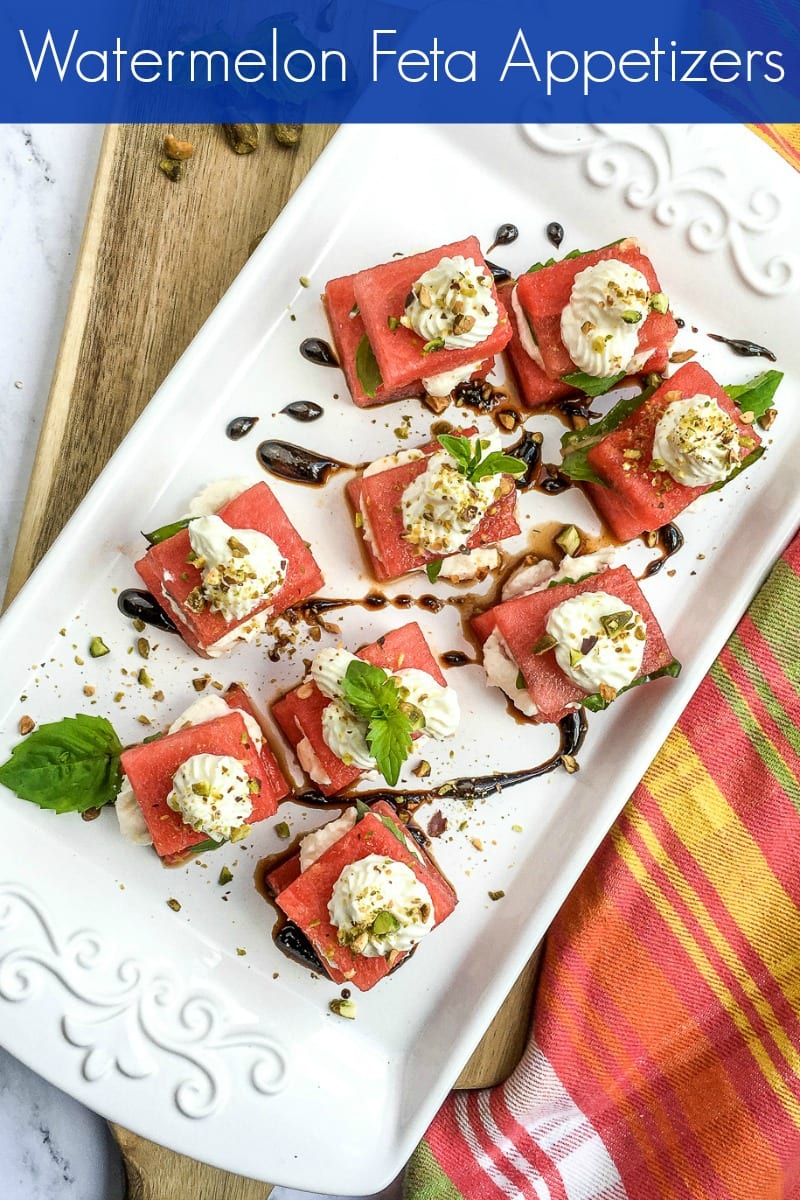 Caprese Watermelon Appetizer Stacks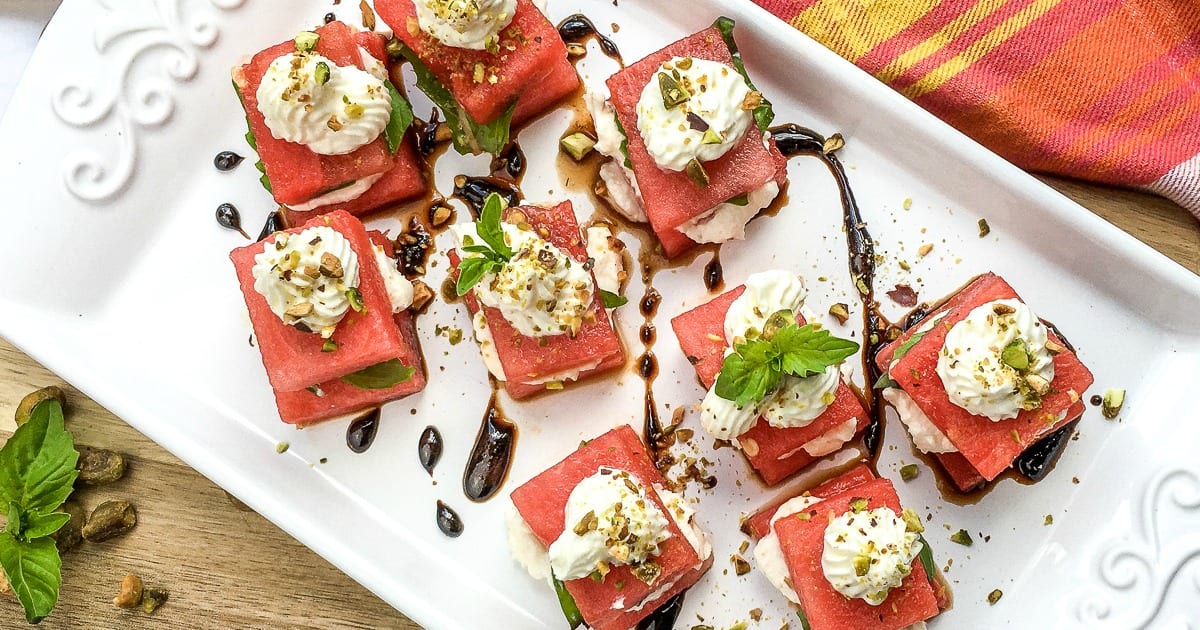 A refreshing watermelon feta appetizer stack is a tasty snack, so you'll be happy to serve it to party guests.
The Caprese style snack is easy to make, so you can whip them up for a casual get together.
However, they are nice enough for a more formal party, too.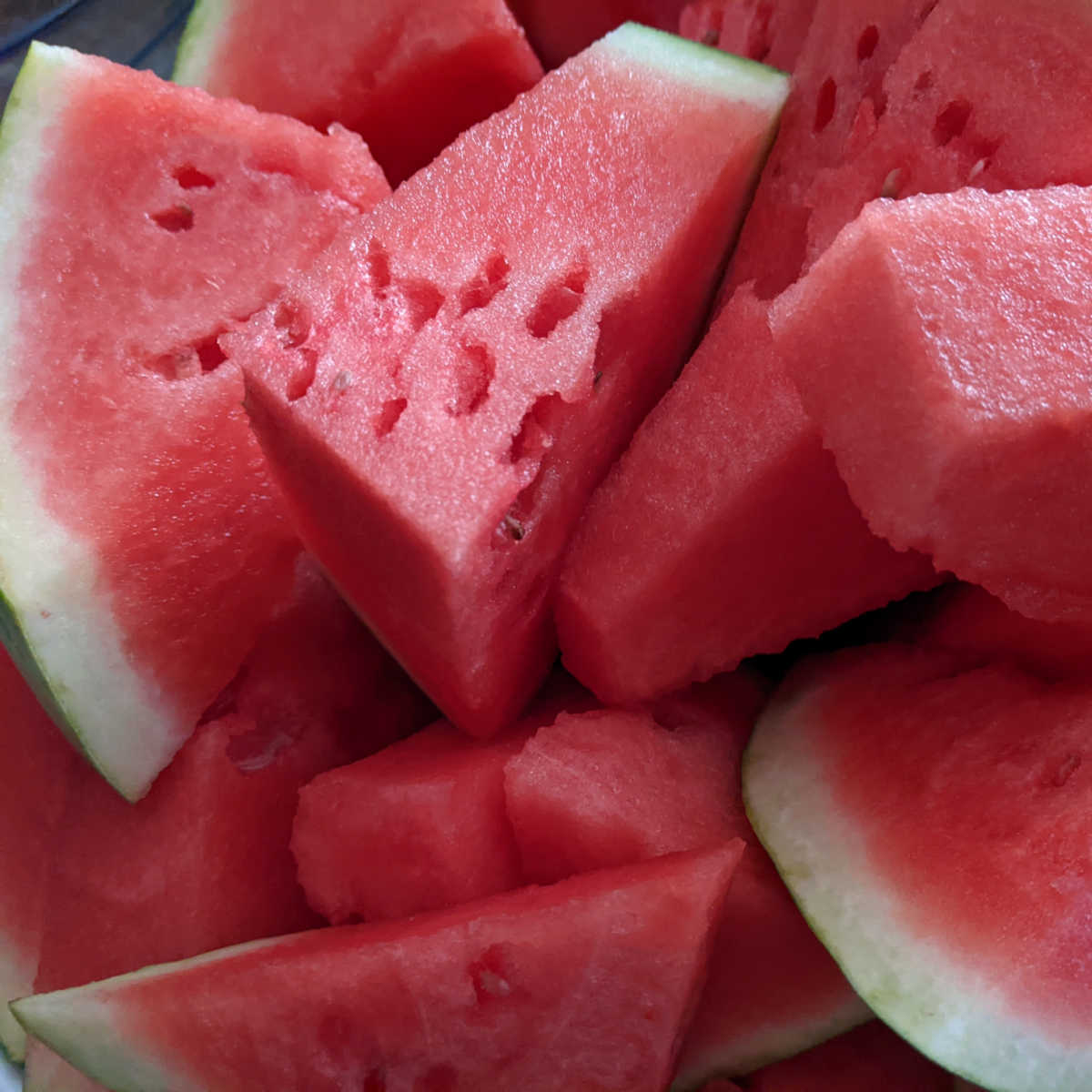 At a glance, they look very similar to traditional tomato, mozzarella and basil Caprese appetizers.
The taste, however, is clearly not the same.
There are sweet watermelon slices instead of tomatoes and fluffy, whipped feta instead of mozzarella.
The pretty little stack is topped with pistachios for a fun and flavorful crunch.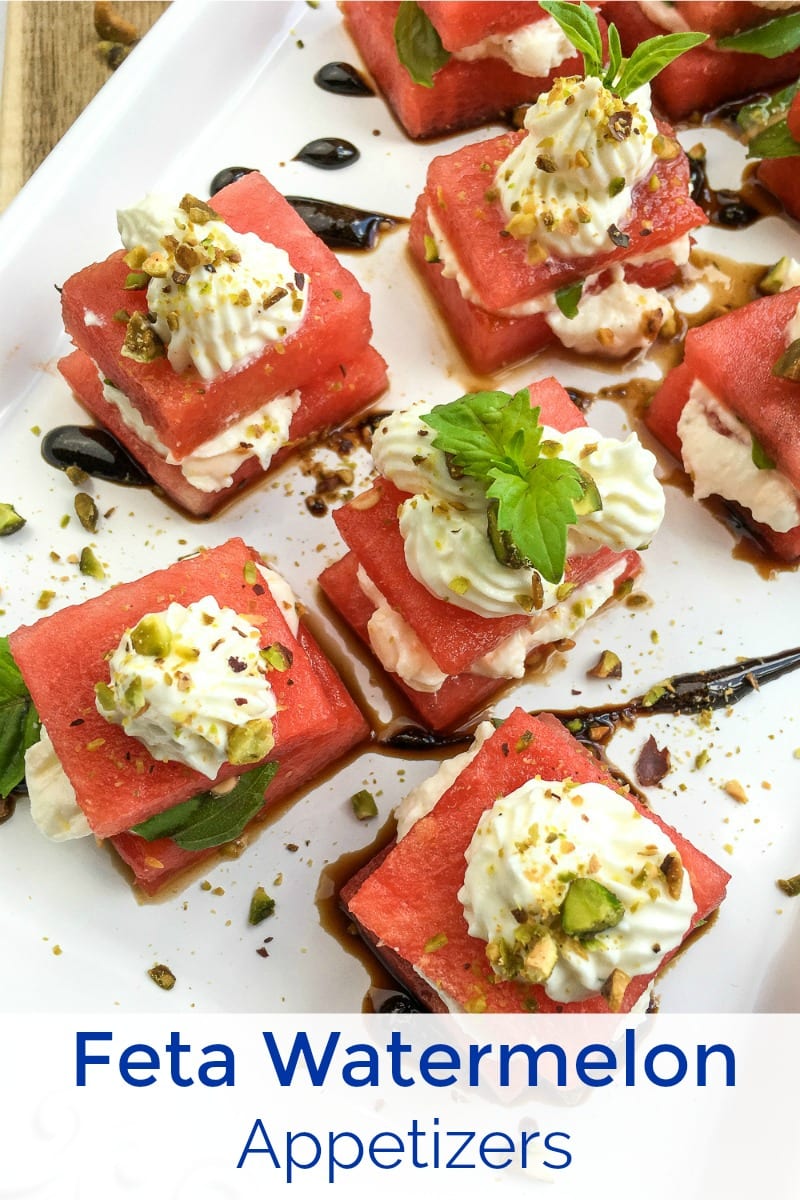 Make sure you use real aged balsamic vinegar with this recipe, instead of a cheap grocery store blend.
An aged balsamic is thick, like syrup, and the flavor and sweetness is concentrated.
Knockoff balsamic vinegar is typically made with added fillers and colors, so they are thin and not as flavorful.
For this recipe, you want the strong, authentic taste of aged balsamic.
These are so good that you just may want to make more than one batch!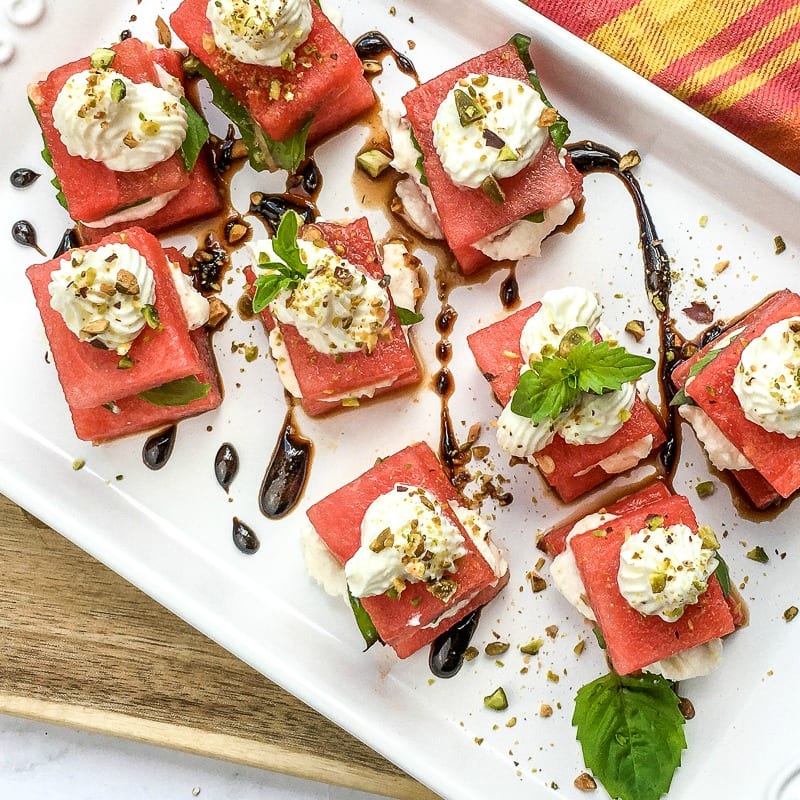 Watermelon Feta Appetizer Recipe
Prep time 25 minutes
Cook time 5 minutes
Serves 4-6
Ingredients
8 oz. Feta Cheese, crumbled
8 oz. Cream Cheese, softened
3 T Half & Half
2 T Aged Balsamic Vinegar
Seedless Watermelon, cut 24 1" squares approximately 1/3" thick
12 Basil Leaves
1/4 cup Pistachios, chopped
Supplies
Bowls
Mixer
Serving Platter
Pastry Bag (or Ziploc Bag)
Large Decorating Tip
Instructions
1) Prepare watermelon by cutting 24 1″ squares that are about 1/4 to 1/3″ thick.
2) Beat Feta, cream cheese and half & half with a mixer until light and fluffy.
3) Fit pastry bag with large decorating tip and spoon some of the cheese mixture into the bag.
4) Place 12 watermelon squares on the platter and pipe a dollop of the cheese onto each one.
5) Top the cheese with a basil leaf and another watermelon square. Gently press each one down and then pipe more cheese on top of the stack.
6) Drizzle with aged balsamic and sprinkle chopped pistachios on top. Garnish with additional basil, if desired.
7) Serve immediately.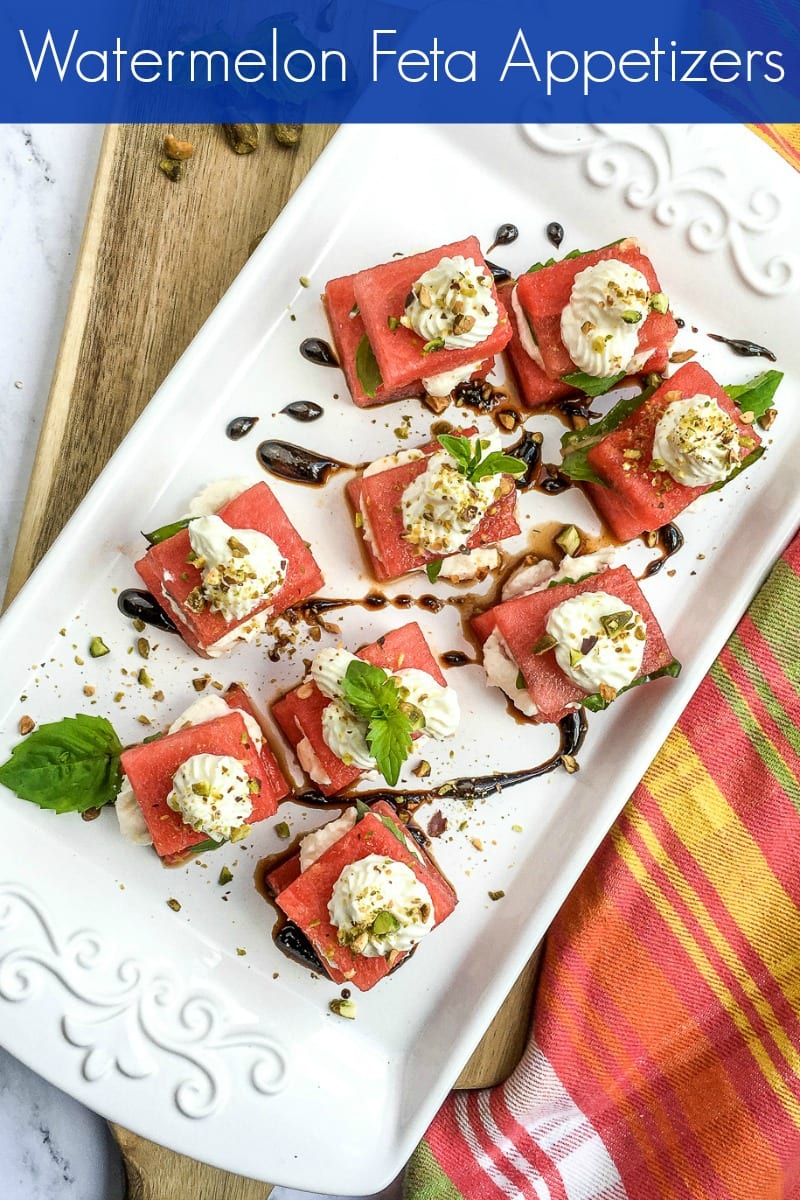 More from Mama Likes To Cook
Check out the rest of my vegetarian recipes, so you can get more great ideas for baking, cooking, blending and juicing.
Watermelon Recipes
Feta Cheese Recipes
Shopping Tips
For a beautiful assortment of kitchen necessities and food gifts for the whole family, check out the deals at these online stores.
Are you ready to have some delicious fun in the kitchen?