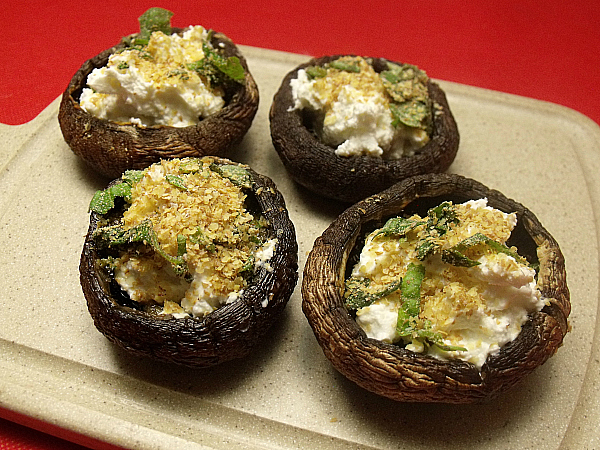 Goat Cheese Stuffed Portobello Mushrooms
Ingredients:
6 oz. pkg. Portobello Mushrooms, stems removed
1 T Olive Oil
2 T Wheat Germ
2 t Fresh Basil, chopped
1/2 t Granulated Garlic
1/3 t Kosher Salt
6 oz. Goat Cheese (Chevre)
Instructions:
Pre-heat oven to 350º. Line a baking sheet with parchment paper.
Drizzle olive oil on mushrooms. Place mushrooms on baking sheet stem side up. Bake until tender – approx. 20 minutes.
Mix together wheat germ, basil, garlic and salt. Set aside until mushrooms are done.
Remove mushrooms from oven. If there is moisture puddled inside the mushrooms, it can be discarded. Scoop goat cheese into each mushroom. Top with the dry mixture. Serve.
Note:
I used Baby Portobello Mushrooms – 6 mushrooms in a 6 ounce package. You could also use the smaller ones, if you want smaller appetizers to serve to a crowd. Large portobellos could also be used, if you want this to be more of a meal than an appetizer or side dish.