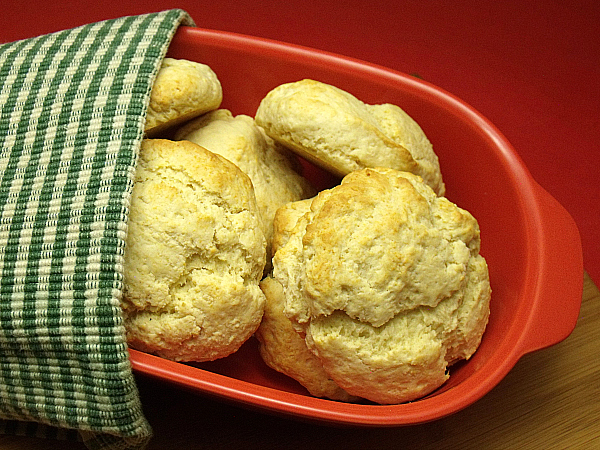 Pancake mix is something that I always have on hand. You know, the 'just add water' kind that makes it super easy to have a hot and satisfying meal any time of day even if the cupboards are almost bare.
Pancakes are great, but the mix can also be used as an ingredient in other recipes. I found a biscuit recipe on the Krusteaz recipe that calls for the Buttermilk Pancake Mix, but it called for shortening and I didn't have any. I modified the recipe to use the butter that I did have instead of shortening that I didn't. Butter and shortening are not an 'even trade' but I played with the ingredient proportions and came up with tasty biscuits.
Pancake Mix Buttermilk Biscuits
Ingredients:
3 cups Buttermilk Pancake Mix
1/2 cup Butter, softened (2 sticks)
1/3 cup cold milk
1 egg
Instructions:
Preheat oven to 400°
Mix all ingredients together.
Form biscuits with a biscuit cutter or drinking glass or by hand, as I did.
Place on a silicone baking mat on a cookie sheet.
Bake 9-12 minutes