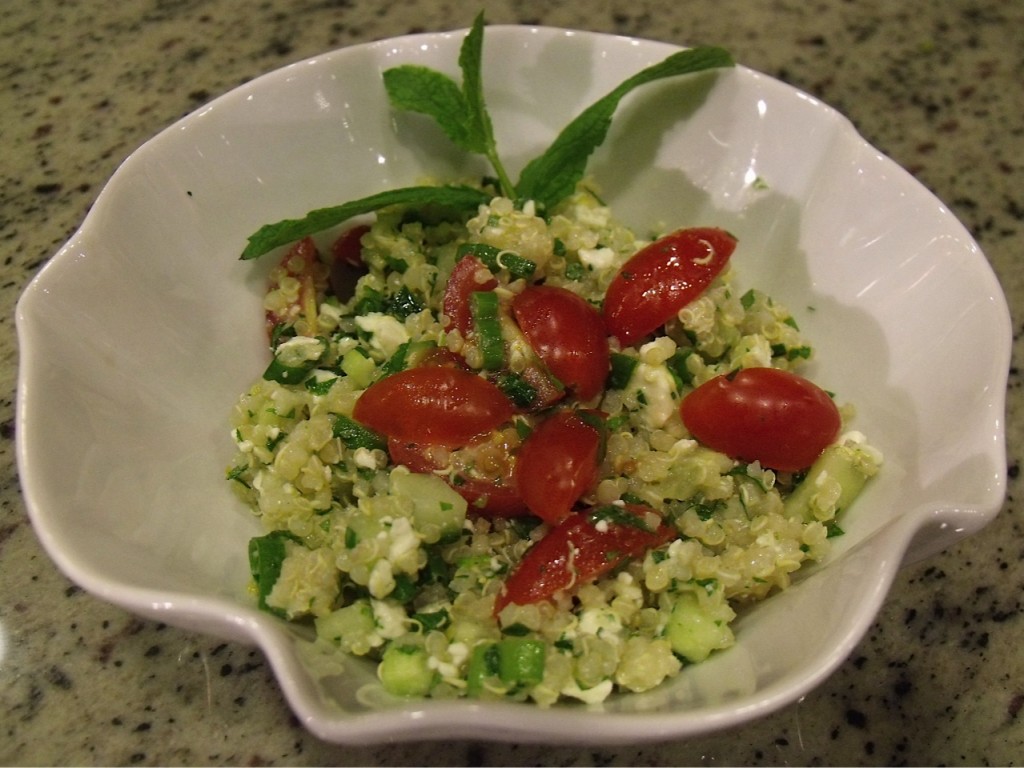 Here's a unique twist on traditional tabbouleh. The major difference is the use of quinoa. Other ingredients may be a little bit different than what you are used to, but the taste and texture are very similar. It is delicious!
The recipe comes from Chef Jonna Talbott and was prepared during a cooking event at Macy's South Coast Plaza Home Store in Costa Mesa, CA.
I love quinoa, but it's something that I wasn't totally comfortable preparing myself. Thanks to Chef Jonna, this tricky ingredient is now a whole lot less scary to use. The instructions below will help you prepare quinoa with ease.
Quinoa Tabbouleh
Serves 6
Ingredients:
1 cup quinoa
1/2 t kosher salt
3 T lemon juice
2 cloves garlic, minced
1/4 cup extra-virgin olive oil
black pepper
1 large English hothouse cucumber, cut into 1/4″ pieces
1 pint cherry (or grape) tomatoes, quartered
2/3 cup parsley, chopped
1/2 cup mint, chopped
2 scallions, thinly sliced
3/4 cup feta, crumbled
Instructions:
Bring quinoa, 1/2 t salt and 1 1/4 cups water to a boil in a medium saucepan over high heat. Reduce heat to a medium-low. Cover and simmer until quinoa is tender, about 10 minutes. Remove from heat and let stand, covered for 5 minutes. Fluff with a fork.
Whisk lemon juice and garlic in a small bowl. Gradually whisk in olive oil. Season dressing to taste with salt and pepper.
Spread out quinoa on a large rimmed baking sheet; let cool. Trasfer to a large bowl. Mix in 1/4 cup of the dressing.
Add cucumber, tomatoes, herbs, scallions and feta to bowl with quinoa; toss to cat. Season to taste with salt and pepper. Drizzle remaining dressing over.
Note:
Can make quinoa and dressing a day in advance and store separately until reading to serve.