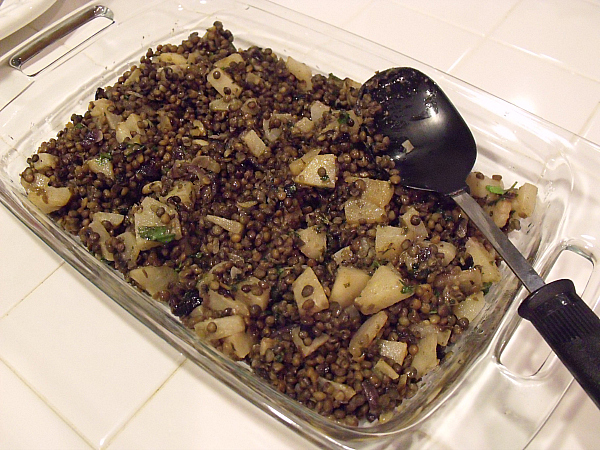 A very simple way to lighten up for the new year is to cut meat and dairy out of your diet. Even if you only do this occasionally, it can still be a good thing.
This Vegetarian Lentils with Pears recipe is packed with non-meat protein and easy to prepare. The recipe is also flexible, so you can make substitutions or additions based on your personal taste and what you have on hand.
I brought this dish to a holiday party potluck last week where it was enjoyed by vegetarians, vegans and even the meat-eaters in the crowd.
Vegetarian Lentils with Pears
Ingredients:
2 cups Lentils, cooked
2 cups Pears, chopped
1 Red Onion, chopped
4 cloves Garlic, chopped
1/2 cup Cilantro, chopped
4 T Grapeseed Oil
Salt to taste
Instructions:
Heat oil in a large skillet (I prefer cast iron)
Add pears, onion and garlic. Cook until soft and onions begin to caramelize.
Add lentils, cilantro, salt and more oil, if necessary. Cook for an additional 10-15 minutes, stirring occasionally.
Serve immediately or pack it up to take to a potluck party.
Tip: I used D'Anjou Pears this time, but you can substitute another type. Korean Pears or another pear with a crispy texture work well.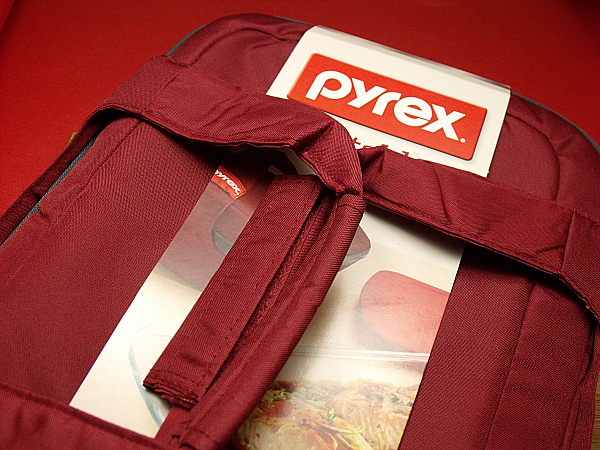 I brought the dish to the party in Pyrex Bakeware Portables. The set comes with a glass baking dish with a lid that seals and an insulated tote. The tote has a double handle that makes it easy to carry without tipping. There was enough room in the tote to put a serving spoon and other items on top of the dish. It worked well and the food was still warm when I arrived.
CONNECT – You can like Pyrex on Facebook and follow them on Twitter and Pinterest. New recipes can be found with the hashtags #LightenedUp #Pyrex .