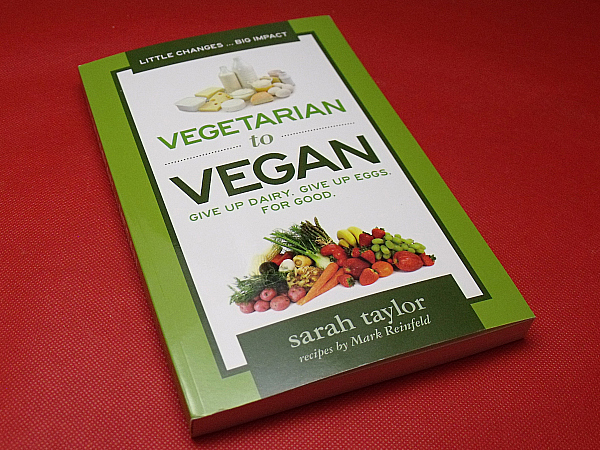 As a vegan, I'm often asked questions like, "How do you survive without cheese/ice cream/steak????" I know it may seem overwhelming to live without many American favorites, but the fact is that it's actually quite easy these days. Since the vegan diet has gained a pretty sizable following, many stores – especially health-focused stores like Whole Foods and Trader Joe's – offer unbelievable vegan cheeses, yogurts, cookies, cakes and even meat substitutes. With the right brands, I could literally serve you vegan versions of greek yogurt, chicken salad, a grilled cheese sandwich, chicken marsala, flour less chocolate cake or even ice cream, and practically guarantee you'd have no idea you were eating vegan!
If you're intrigued, but doubtful you could be a full-time vegan, I challenge you to start by eating a vegan diet just one day a week. You'll be surprised at how easy it actually is! You can start with many of the favorites I listed above – try making a grilled cheese sandwich for lunch using Dave's Killer Bread, Earth Balance vegan butter and Daiya Cheese (the Havarti is my favorite!) For dinner, make a pizza with any brand of crust that doesn't contain eggs or dairy, red sauce, Daiya Mozzarella Cheese (or any flavor you like) and tons of your favorite veggies. For dessert, spoon out some Coconut Bliss Mint Ice Cream. You will be astounded at how delicious it is to eat vegan these days!
Of course, even vegan foods can be unhealthy, so it's always good to avoid eating foods with too much salt, sugar or fat, and aim for eating the least processed foods you can find. Once you're convinced that you can make it through a whole day eating vegan foods, try swapping out the more processed vegan foods for less processed or unprocessed vegan foods. Try scrambled tofu for breakfast, or a plate of fresh fruit and steel cut oats with berries on top. Have a huge salad for lunch (use an entire bag of cut lettuce!) and top it with your favorite veggies, a balsamic vinaigrette, and a large hunk of whole wheat bread. For dinner, make a huge pot of lentil soup and serve it with a salad, or if you'd like to get more creative, look through vegan cookbooks for unique recipes.
Here are two recipes to get your started, from famous vegan chef and cookbook author, Mark Reinfeld. The recipe for Simple Tofu Scramble is easy and delicious. You'll notice a difference in the consistency between tofu and eggs, but most people actually prefer the tofu, since it's not runny. The recipe for Macadamia Nut Crusted Tofu won "Best Vegan Recipe of the Year" at vegan.com! (Both recipes can be found in the recently released book, Vegetarian to Vegan, by Sarah Taylor, with recipes by Mark Reinfeld.)
Once you've proven you can eat a vegan diet one day a week, shoot for two days, then three. Next thing you know, you'll find that most of your choices are vegan, and you're healthier, trimmer and happier!
About the Author
Sarah Taylor has been vegan since 2002, and is the author of the newly released book, Vegetarian to Vegan, as well as Vegan in 30 Days. Mark Reinfeld has written multiple cookbooks, including the award-winning Vegan Fusion and the entire 30-Minute Vegan series, among others.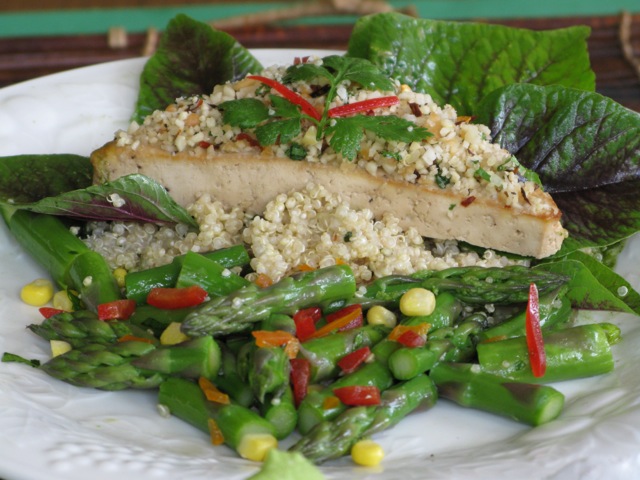 Macadamia Nut Crusted Tofu
Recipe Courtesy of Mark Reinfeld
Serves 4
Ingredients:
 1 pound extra firm tofu
 1 tablespoon soy sauce
 1 tablespoon coconut oil
 1 tablespoons water
Tahini Marinade:
 2 tablespoons tahini
 1 teaspoon soy sauce
 ½ teaspoon minced garlic (optional)
 2 tablespoons water or more, depending on consistency of tahini
Crust:
 ½ cup macadamia nuts
 2 tablespoons dried coconut
 2 teaspoons blue cornmeal (optional)
 ¼ teaspoon ground cumin
 1/8 teaspoon sea salt
 1/8 teaspoon black pepper
 1 tablespoon minced fresh cilantro, Italian parsley, basil, or herb of your choosing
Directions:
1. Preheat the oven or toaster oven to 350F. Slice the tofu into four cutlets. Or try making triangles by slicing the block of tofu diagonally and then slice in half to create four cutlets. Place on baking dish with soy sauce, coconut oil, if using and water. Marinate for 5 minutes flipping periodically.
2. While the tofu is marinating, prepare the tahini marinade by placing the ingredients in a small bowl and whisking well.
3. Place the tofu, along with the marinade, in the oven and roast for 12 minutes. While tofu is cooking, prepare the crust. Pulse-chop the macadamia nuts in a food processor until they are coarse bread crumbs. Be careful not to over process or they will turn into paste. Transfer to a bowl with the remaining crust ingredients and mix well.
4. Remove the tofu from the oven and coat the tip of the cutlets with tahini marinade, using a spoon. Liberally top the cutlets with the crust mixture and bake for an additional 5 minutes. Serve immediately.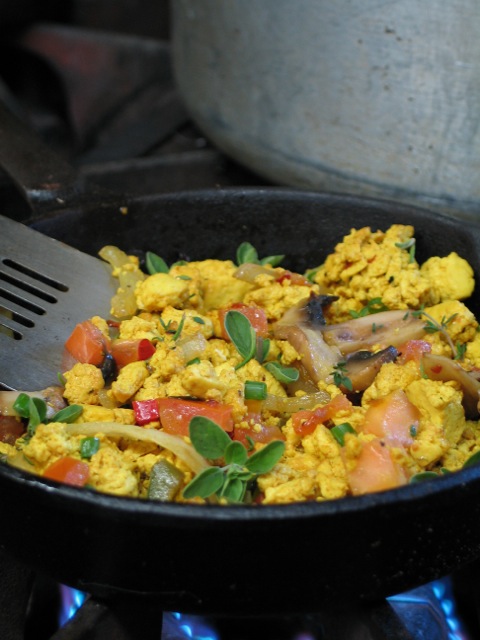 Simple Tofu Scramble
Recipe Courtesy of Mark Reinfeld
Serves 2 to 4
1½ tablespoons safflower oil
1 cup yellow onion, chopped small
4 medium garlic cloves, pressed or minced
14 ounces extra firm tofu, crumbled large
¾ teaspoon turmeric powder
¾ teaspoon paprika
3 tablespoons nutritional yeast
1 ½ teaspoons wheat-free tamari or other soy sauce, or to taste
Sea salt and black pepper to taste
1. Place the oil in a large sauté pan over medium-high heat.
2. Add the onion and garlic and cook until the onions are soft, approximately 3 minutes, stirring frequently.
3. Add the tofu (and any additional vegetables you enjoy.) Cook for 5 minutes, stirring frequently.
4. Add the remaining ingredients and enjoy.
Vegetarian to Vegan

by Sarah Taylor
isbn 978-0976441427
Pub. date 12/5/13