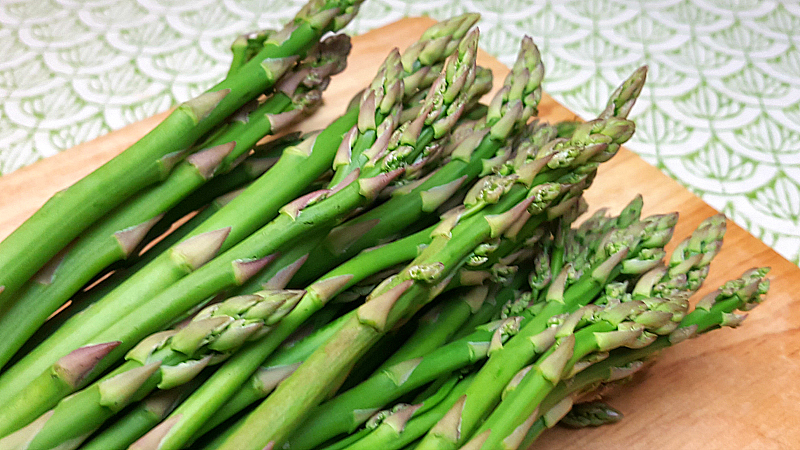 Asparagus!
I was so happy when I found tender Spring asparagus at the market this week. It is possible to find asparagus just about year round, but these next few months are when it will be at it's peak.
This vegetable is versatile and can be roasted, grilled, charred, baked and more. My current favorite way is to char it with lemon for a quick and easy addition to a meal, but there area a whole lot of ways to enjoy these green spears of goodness.
Following are over 30 asparagus recipes for you to enjoy throughout the season!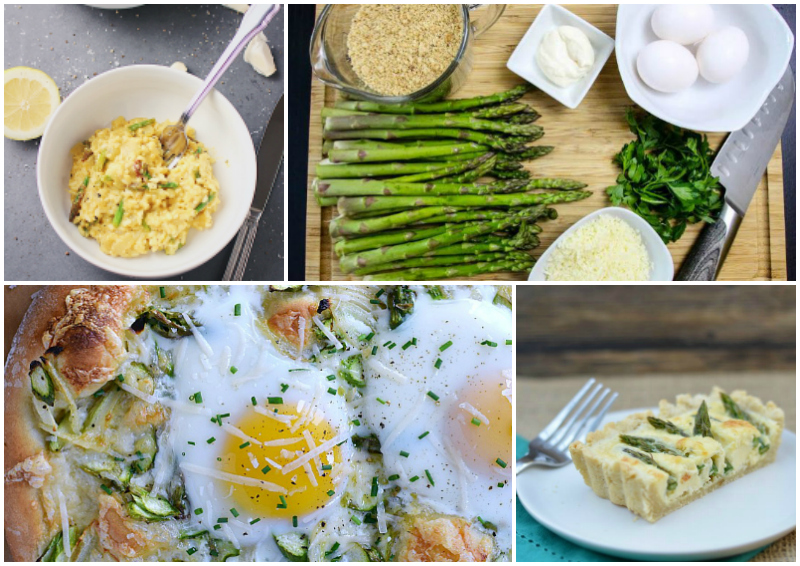 Asparagus Blue Cheese Frittata from Mama Likes To Cook
Baked Eggs and Asparagus with Parmesan from Kalyn's Kitchen
Asparagus Tart with Egg and Goat Cheese from Trial and Eater
Gluten Free Savory Asparagus and Goat Cheese Tart from Fearless Dining
Asparagus Brunch Pizza from Cooking with Curls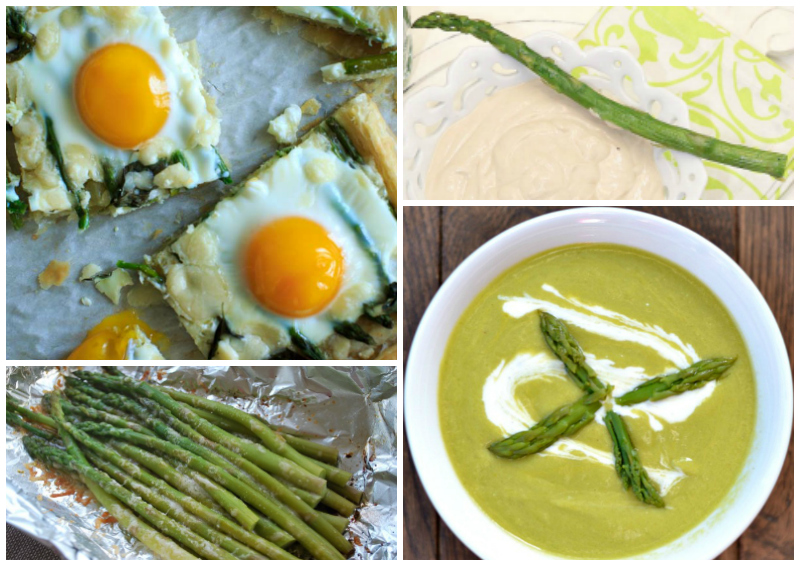 Roasted Asparagus with Creamy Tahini Peanut Dipping Sauce from Kalyn's Kitchen
Roasted Asparagus with Yogurt Wasabi Dip from Food Done Light
Grilled Parmesan Asparagus from Amee's Savory Dish
Lemon Balsamic Asparagus from Living Sweet Moments
Simple Garlicky Asparagus Spears from Delicious Obsessions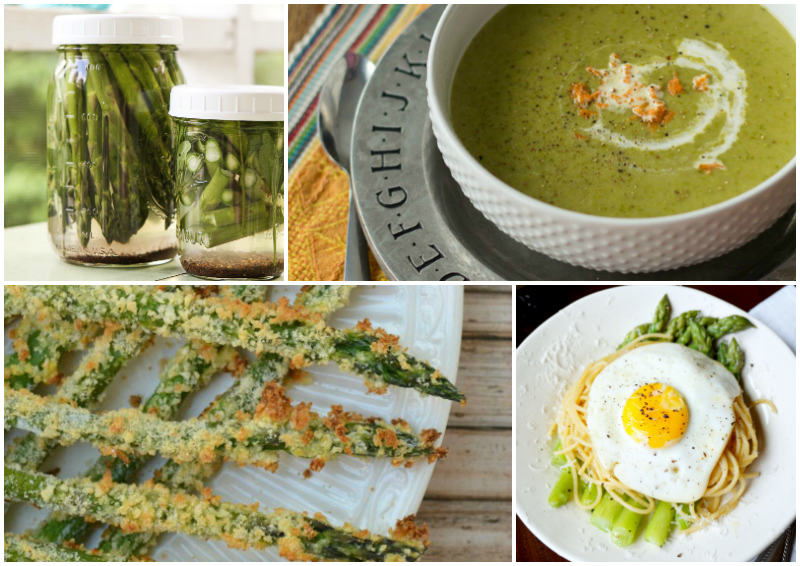 Charred Asparagus with Lemon from Mama Likes To Cook
Crunchy Baked Asparagus from To Simply Inspire
Easy Baked Asparagus Fries from Couponing for  4
Spicy Asparagus Roll Ups from Mashup Mom
Asparagus Prosciutto Bundles from Food Done Light
Winey Briny Asparagus Quick Pickles from Sidewalk Shoes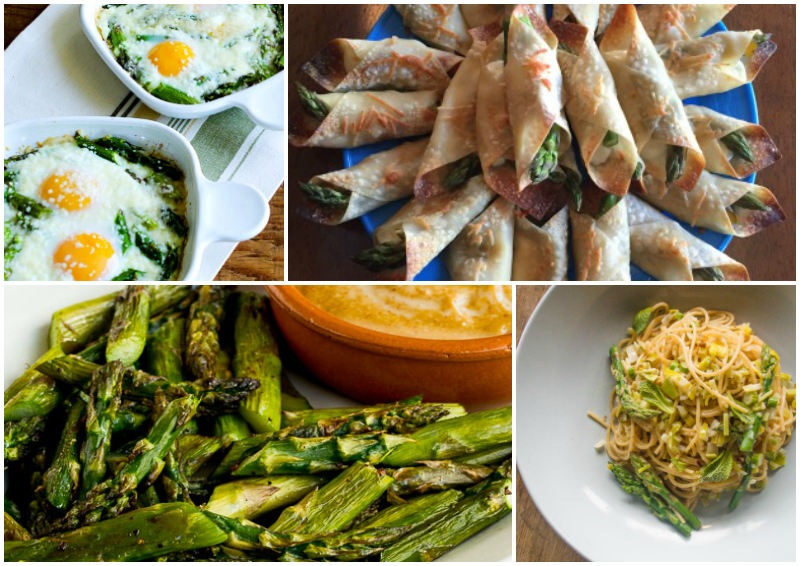 Spaghetti Squash with Asparagus Primavera from Amee's Savory Dish
Asparagus Lemon Farro Risotto from Vegging At The Shore
Slow Cooker Vegan Asparagus Risotto from Herban Yums
Spring Vegetable Risotto from Kitchen Sanctuary
Shrimp and Asparagus Risotto from Jonna Talbot
Garlic Lemon Asparagus with Pasta from Mama Likes To Cook
Asparagus and Fried Egg Spaghetti from The Baking Fairy
Asparagus Spears, Mint and Lemon Leek Spaghettini from Bacon is Magic
Gnocchi with Asparagus and Snap Peas from Amanda's Cookin'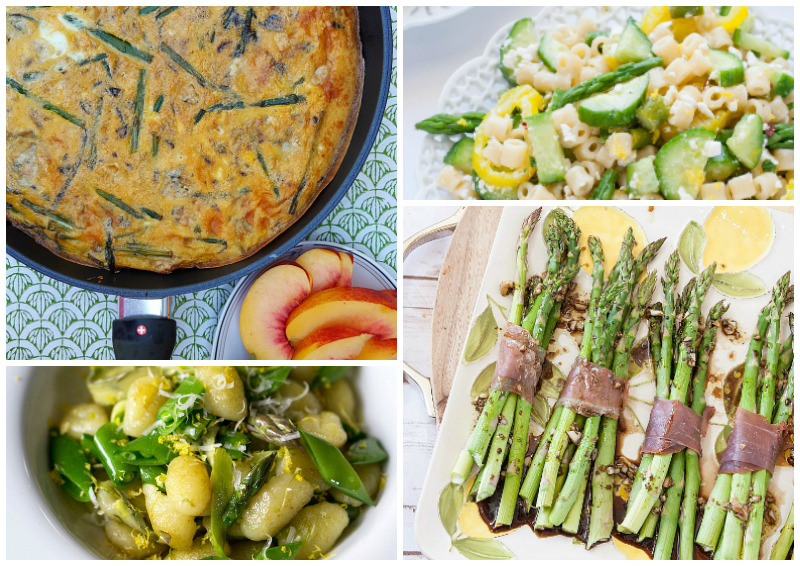 Creamy Asparagus Soup from To Simply Inspire
Cream of Asparagus Soup from Amanda's Cookin'
Cream of Asparagus, Celery and Zucchini Soup from Delicious Obsessions
Zesty Grilled Asparagus Sandwich from Carolyn's Homework
Lemon Asparagus Pasta Salad from Peas and Crayons
Asparagus Stir Fry from My Joy Filled Life