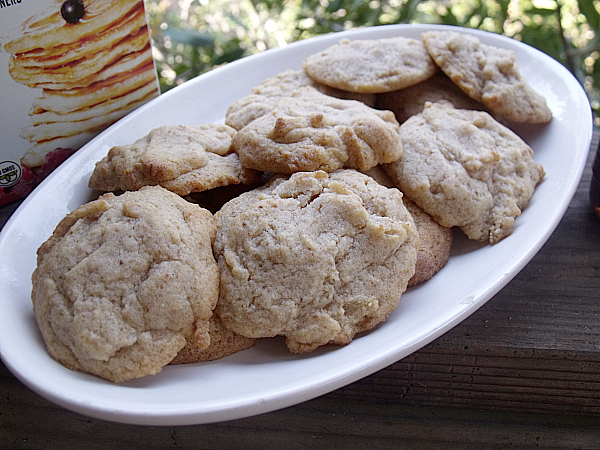 Pancake mix can be used for a whole lot more than just pancakes!
Here is a quick and easy recipe for cookies using Madhava Flip for Flapjacks Pancake Mix. It's got whole grain goodness inside and is USDA Certified Organic and Non-GMO. The low-glycemic syrup is sweetened naturally with agave.
The recipe only takes three ingredients and is easy enough for kids to help. It works fine with real butter or a vegan butter substitute. When I tasted the batter, I thought it was going to be way too sweet, but the flavor mellows as they bake. They are delicious!
Agave Pancake Mix Cookies
Ingredients:
1 1/2 cups Madhava Pancake Mix
1/4 cup Madhava Agave Syrup (I used Maple Cinnamon this time, but other varieties work well, too)
1/4 cup Butter or Vegan Substitute, softened
Instructions:
Pre-heat Oven to 350°
Mix all ingredients together.
Line baking sheet with silicone baking mat or parchment paper.
Scoop cookie dough onto baking sheet. (I use an ice cream scooper)
Bake for 10-12 minutes.