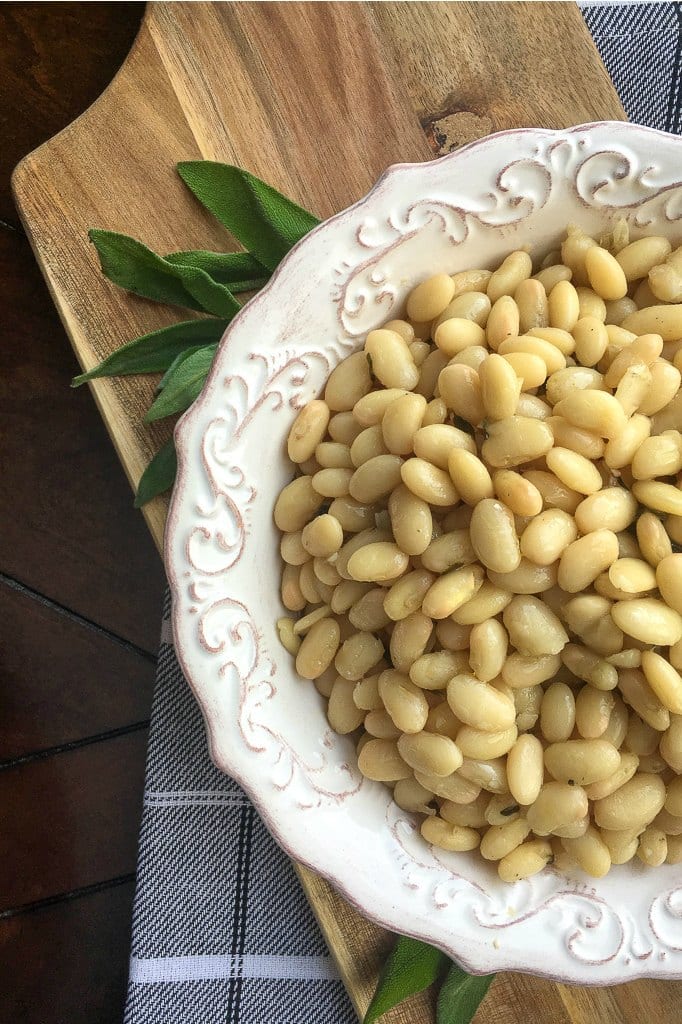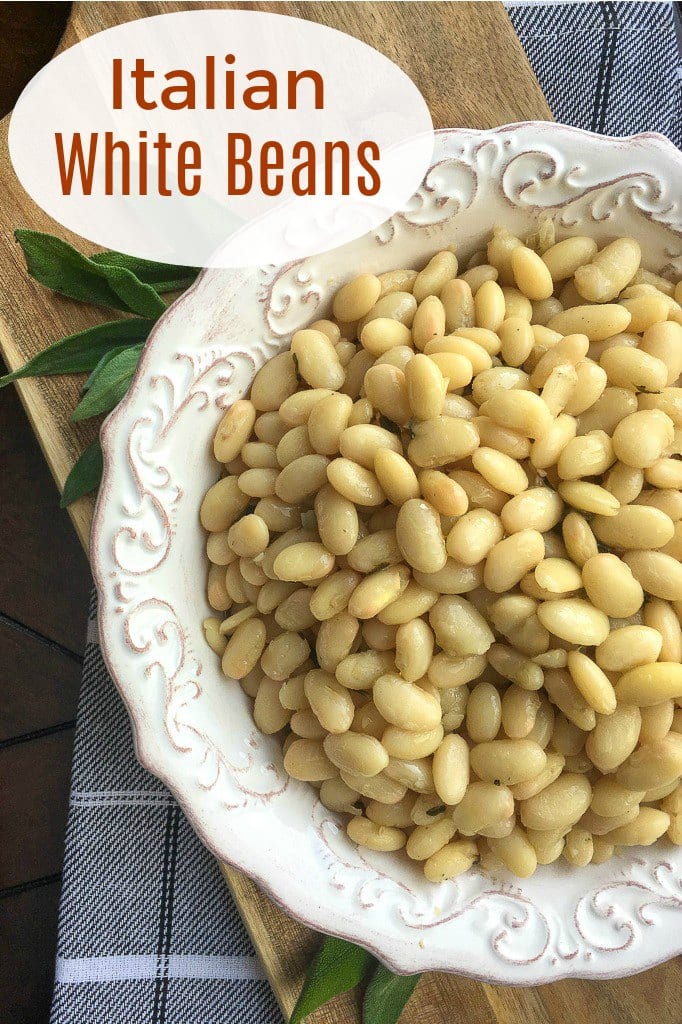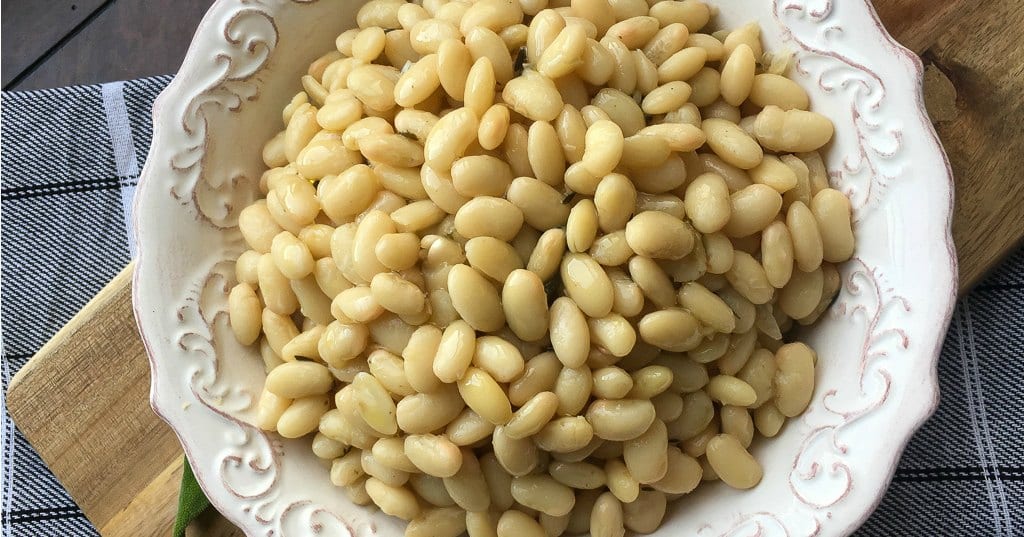 When you are hungry for satisfying Tuscan comfort food, make these simple Italian white beans with plenty of garlic and fresh sage.
Tuscan food is known for its simplicity.
Fresh ingredients and olive oil are the stars of the dishes, instead of heavy sauces.
The food tastes great, and is generally budget friendly.
I love being able to enjoy protein and fiber rich food, and my bank account appreciates the inexpensive ingredients.
These simple cannellini beans are infused with traditional Italian flavors, since fresh herbs and garlic simmer with the beans.
The Italian white beans can be drizzled with olive oil and eaten as a side dish or you can use them in other recipes.
I like making a double batch, so that I can have leftovers to enjoy later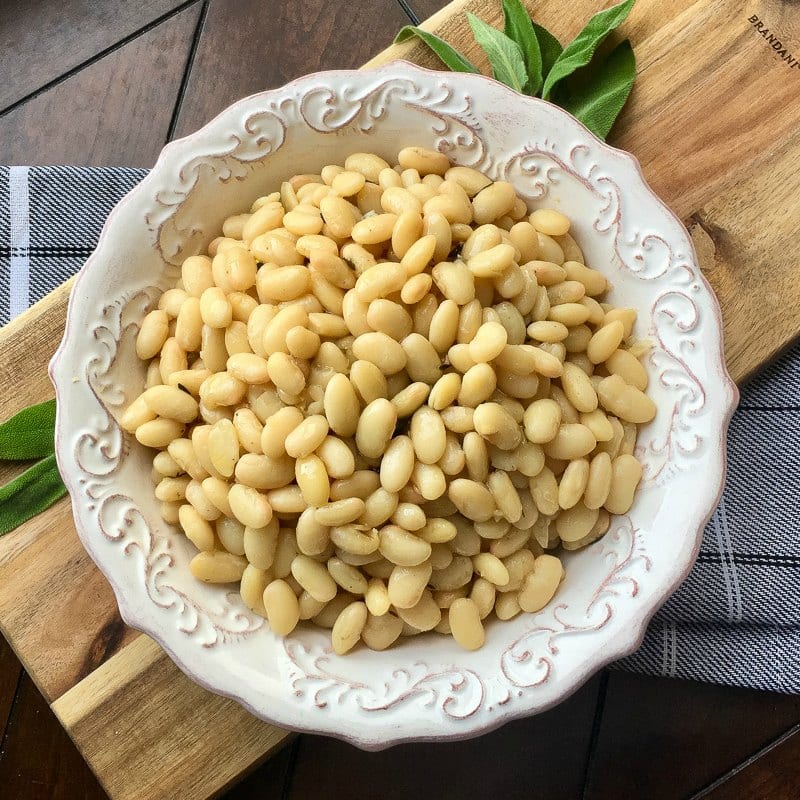 Prep time 10 minutes (plus soaking time)
Cook time 1½ – 2 hours
Makes 6-7 cups
Ingredients
3 cups Dried Cannellini Beans, rinsed with any debris removed
Water
2 T Extra Virgin Olive Oil
1 head Garlic, separated into cloves and peeled
10 large Fresh Sage Leaves
3 sprigs Fresh Thyme
2 Bay Leaves
2 sprigs Fresh Rosemary
1 t Salt
Additional Salt and Pepper to Taste
Garnish
Supplies
Mixing Bowl
Measuring Spoons
Measuring Cup
Dutch Oven
Instructions
1) Clean and rinse beans. Put in a large bowl and cover with cold water. Set aside to soak for 8 or more hours.
2) Drain and rinse the beans, and then transfer them to a Dutch oven. Cover with 2-3 inches of water.
3) Add olive oil, garlic cloves, fresh herbs and salt to the Dutch oven and bring to a boil. When it reaches a bowl, reduce heat to medium low.
4) Cover and simmer, stirring occasionally until beans are tender. Skim off any foam that collects on the surface. The will take about 1 to 1½ hours to cook. Smaller, fresher beans will cook faster, while larger, older beans will take longer. Beans should be tender, but not mushy.
5) Remove the Dutch oven from the heat and let the beans cool in the pot for about 15 minutes.
6) Drain the beans and discard the herbs. Season with salt and pepper, if needed. Save the cooking liquid to use in soups or other recipes.
7) Drizzle with extra virgin olive oil and serve immediately.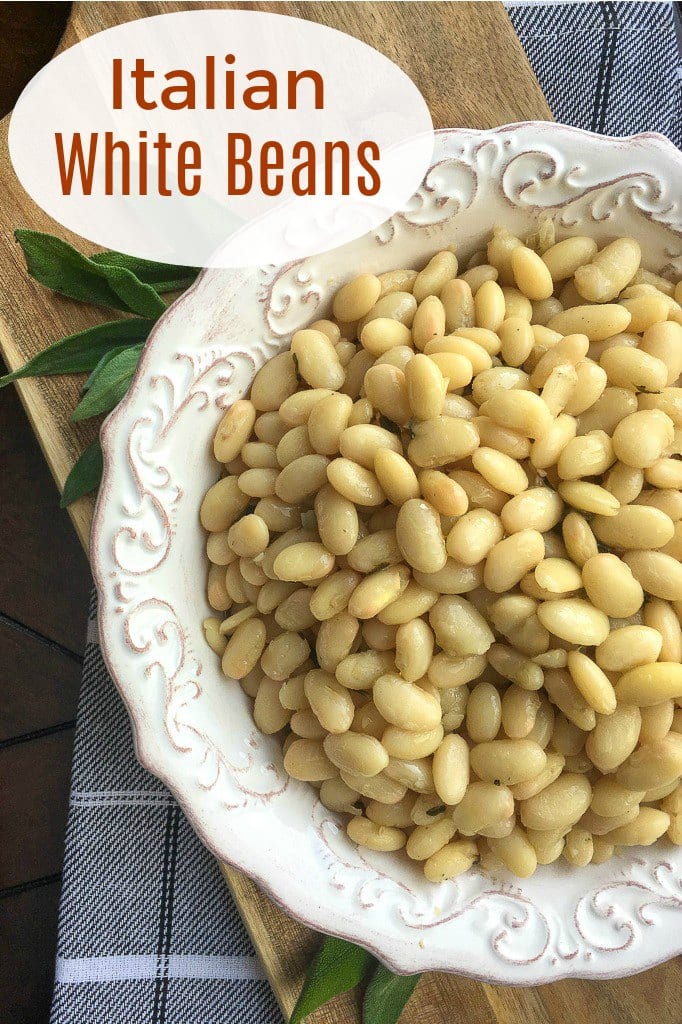 Check out my other dinner recipes, so you can get more tasty inspiration.
Following are a few of other yummy recipes.
Then take a look at the rest of my vegetarian recipes, so you can have even more delicious fun in the kitchen!