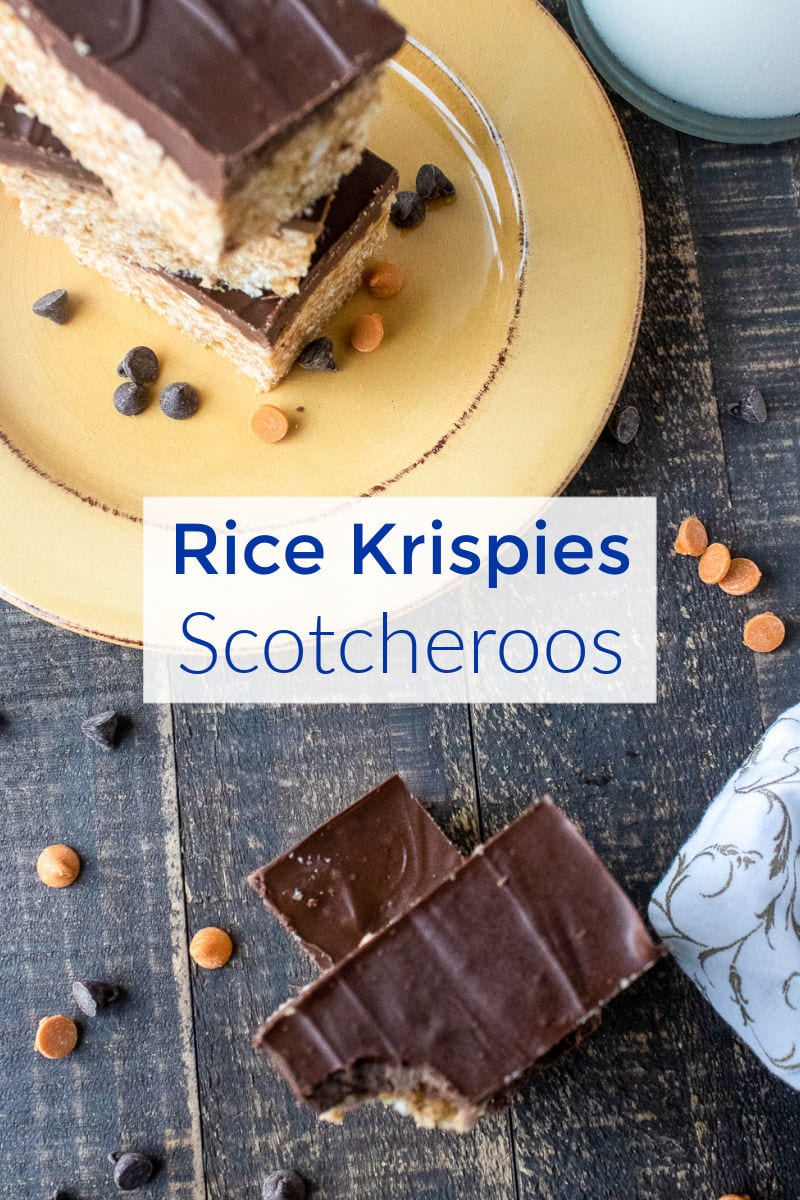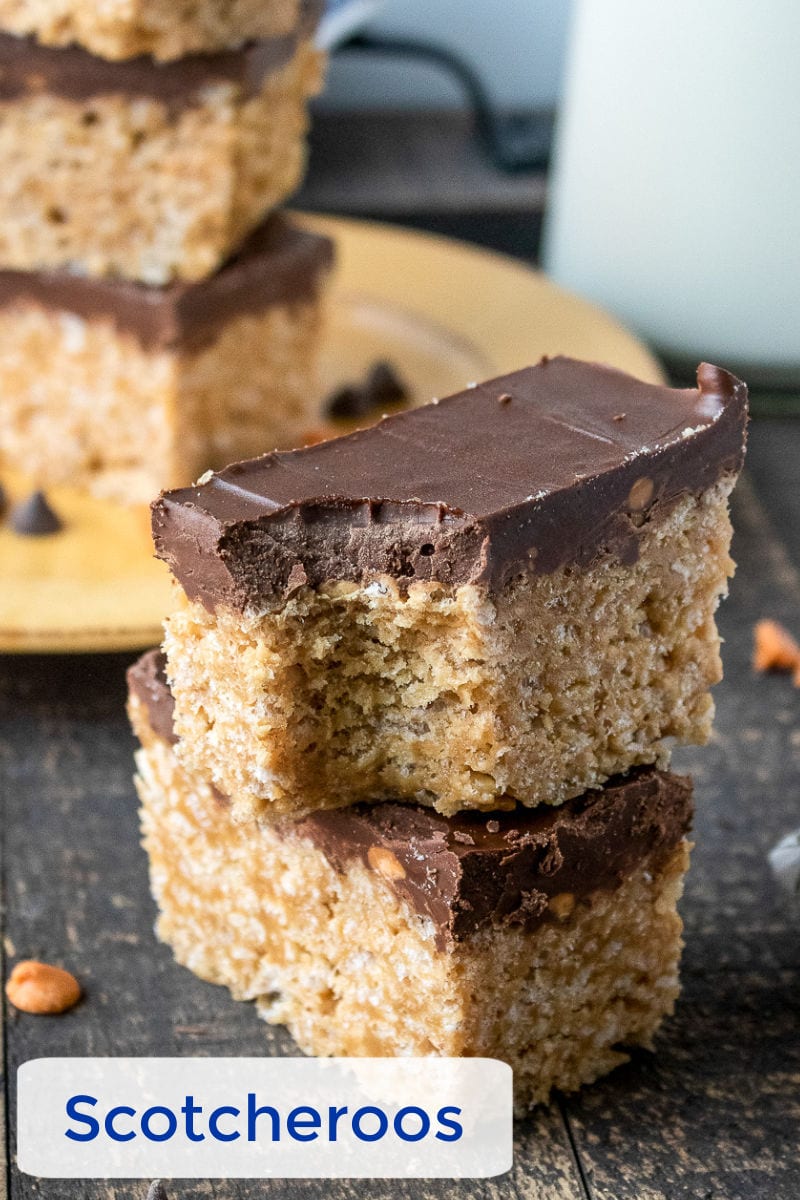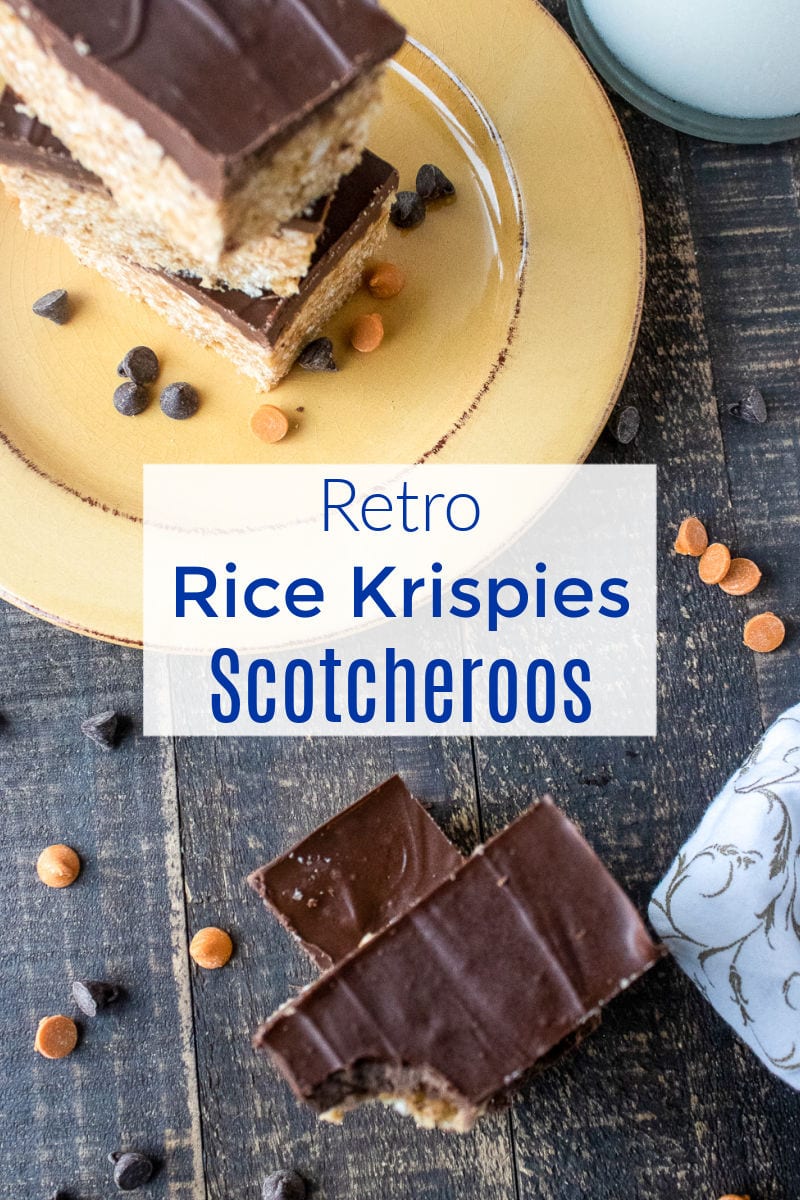 Vintage No Bake Dessert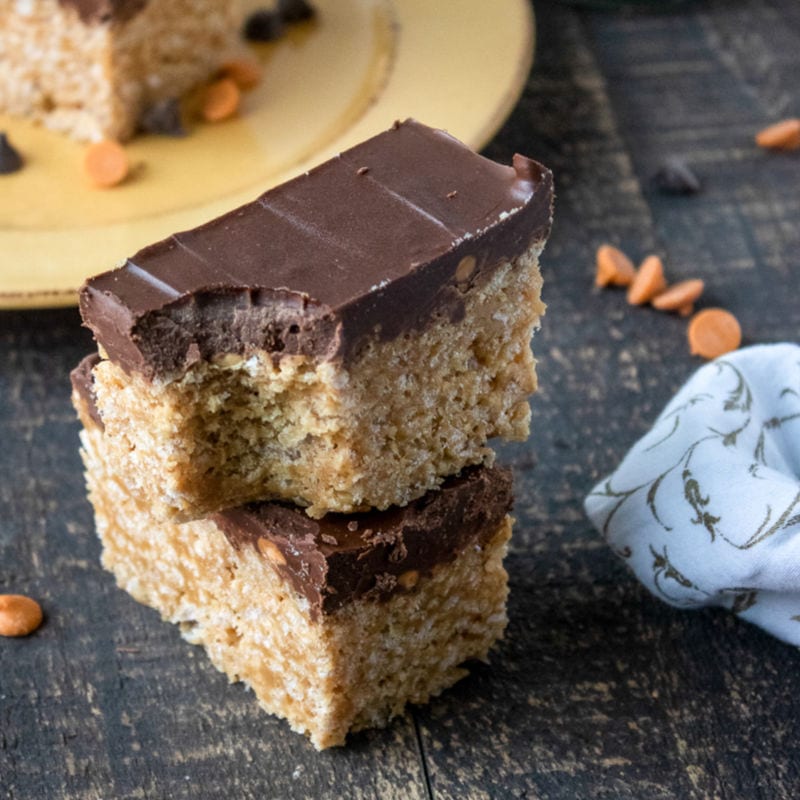 Take a trip down memory lane, when you make these retro Rice Krispies Scotcheroos that combine chocolate, butterscotch and peanut butter.
Of course, there are also lots of crispy, crunchy Kellogg's Rice Krispies cereal.
The history of this classic treat is simple.
A Scotcheroos recipe was printed on a cereal box in 1965, and then in went viral.
Instead of being shared online, they went viral in real time from house to house.
When I was a kid, they were a staple at church potlucks, classroom parties and neighborhood gatherings.
Melted peanut butter is mixed right in with the Rice Krispies.
Then, melted chocolate chips and butterscotch chips are poured on top where they harden into a delicious layer.
Scotcheroos are similar to regular Rice Krispies treats, since they are both made with the same cereal.
The flavors, ingredients and chocolate-butterscotch topping make these a uniquely delicious dessert.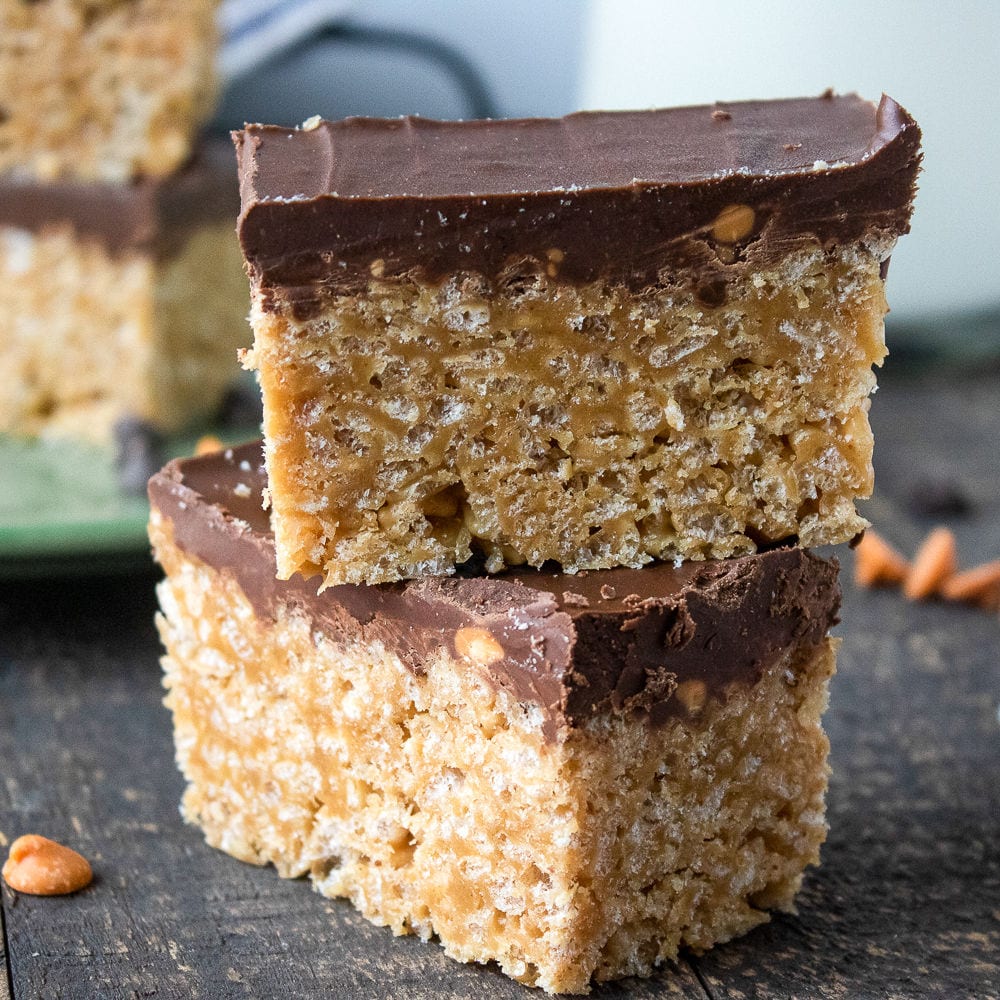 My recipe is very similar to the original, but I add some extra chips to make it even more decadent.
Another difference is that I have brought the recipe out of the 1960's and into the modern era.
In 1965 using a microwave was not an option, so the chips had to be melted in a double boiler on the stove.
You can still do it that way, if you'd like.
However, I'm assuming that most will choose to do the melting in the microwave.
Either way, this is a delicious no bake treat that is here to stay!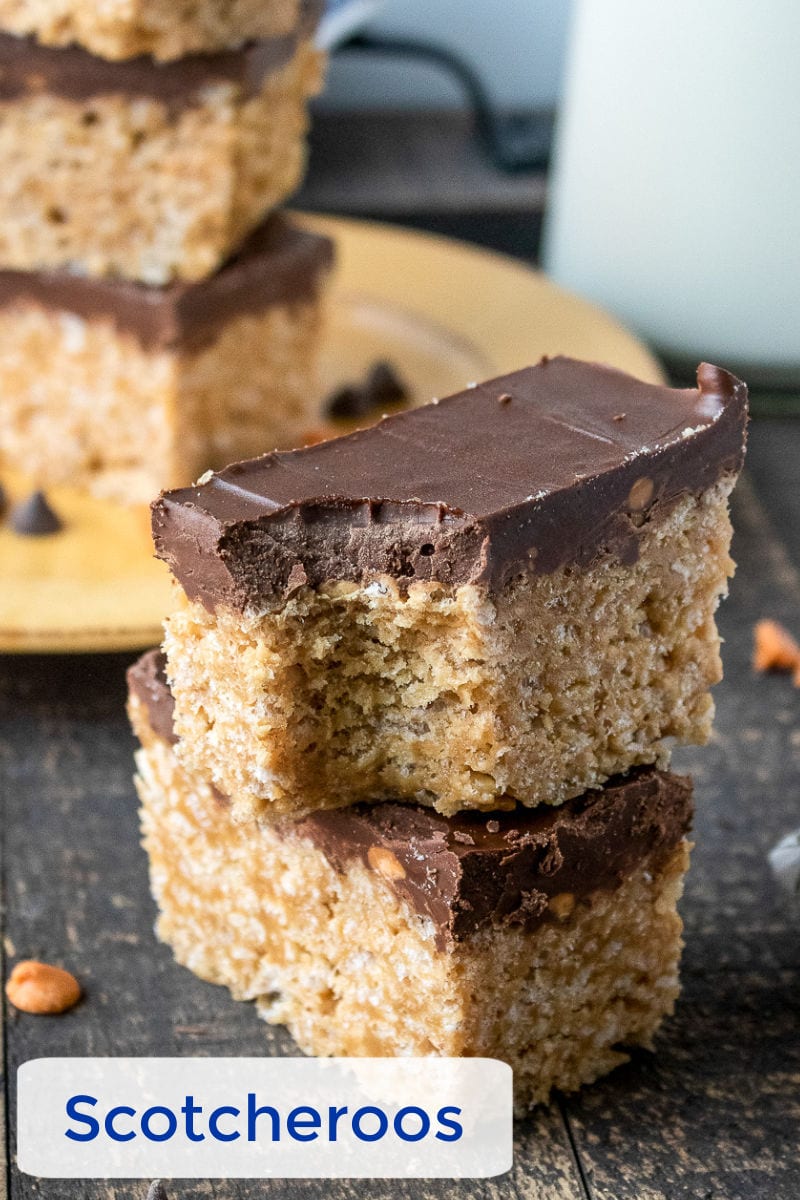 Prep time 15 minutes
Chill time 2 hours
Yields 9 servings
Ingredients
1 cup Granulated Sugar
1 cup Light Corn Syrup
6 cups Rice Krispies
1 cup Creamy Peanut Butter
2 cups Semisweet Chocolate Chips
2 cups Butterscotch Chips
Supplies
8″ x 8″ Baking Dish
Parchment Paper
Nonstick Cooking Spray
Large Saucepan
Large Mixing Bowl
Glass Bowl OR Double Boiler
Instructions
1) Line the 8″ x 8″ baking dish with parchment paper and spray with nonstick cooking spray.
2) Add granulated sugar and light corn syrup to saucepan on medium heat. Stir continually until it comes to a rolling boil. Remove from heat and stir in peanut butter.
3) Put the Rice Krispies into a large bowl. Pour the peanut butter mixture over the Rice Krispies and gently stir to combine.
4) Spread the mixture evenly into the parchment paper covered baking dish.
5) 1960's method: Melt the butterscotch chips and chocolate chips in a double boiler.
OR
Modern method: Use the microwave to melt the chips in a large glass bowl. Heat for 1 minute and then stir. Repeat in 30 second increments, stirring in between, until completely melted.
6) Pour the melted chocolate-butterscotch mixture over the peanut butter Krispies mixture in the baking dish.
7) Refrigerate for 2 or more hours, so that the chocolate hardens. Slice into squares or bars to serve.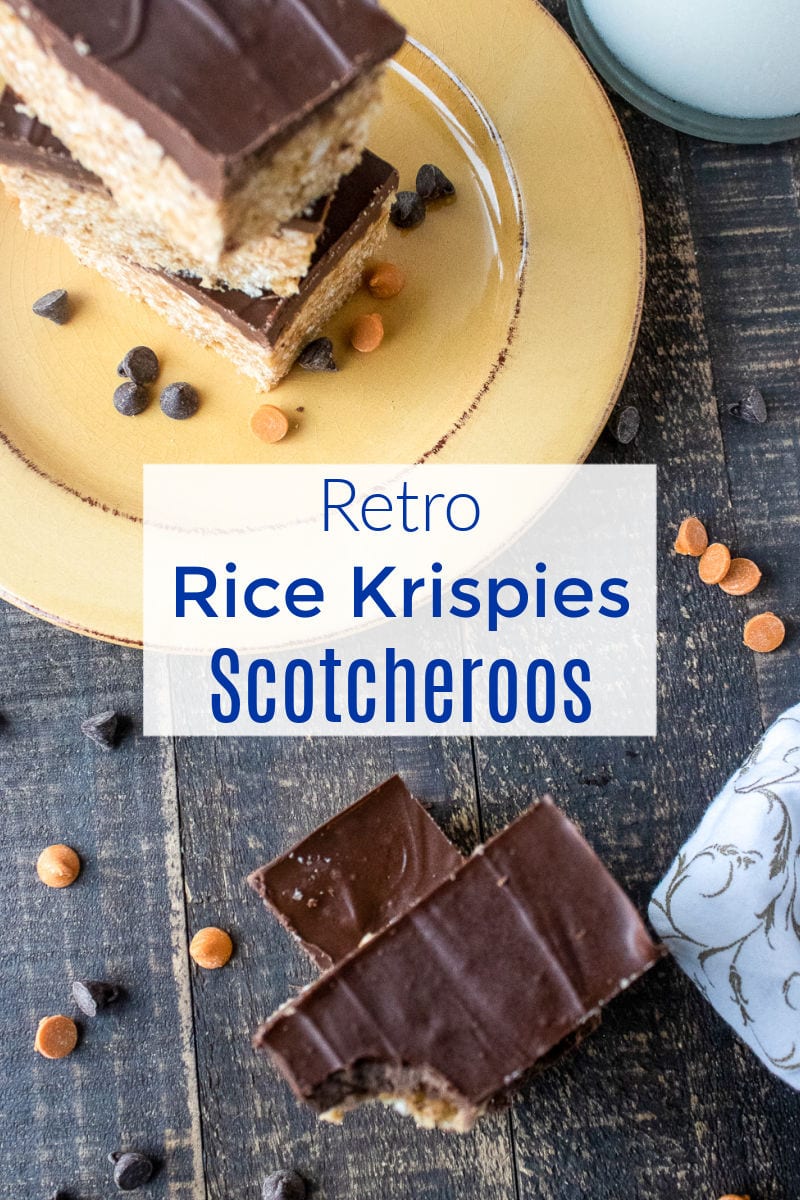 More from Mama Likes To Cook
Check out my other dessert recipes, so you can get more sweet inspiration.
Following are a few of my other delicious dessert recipes:
Then take a look at the rest of my vegetarian recipes, so you can have even more delicious fun in the kitchen!