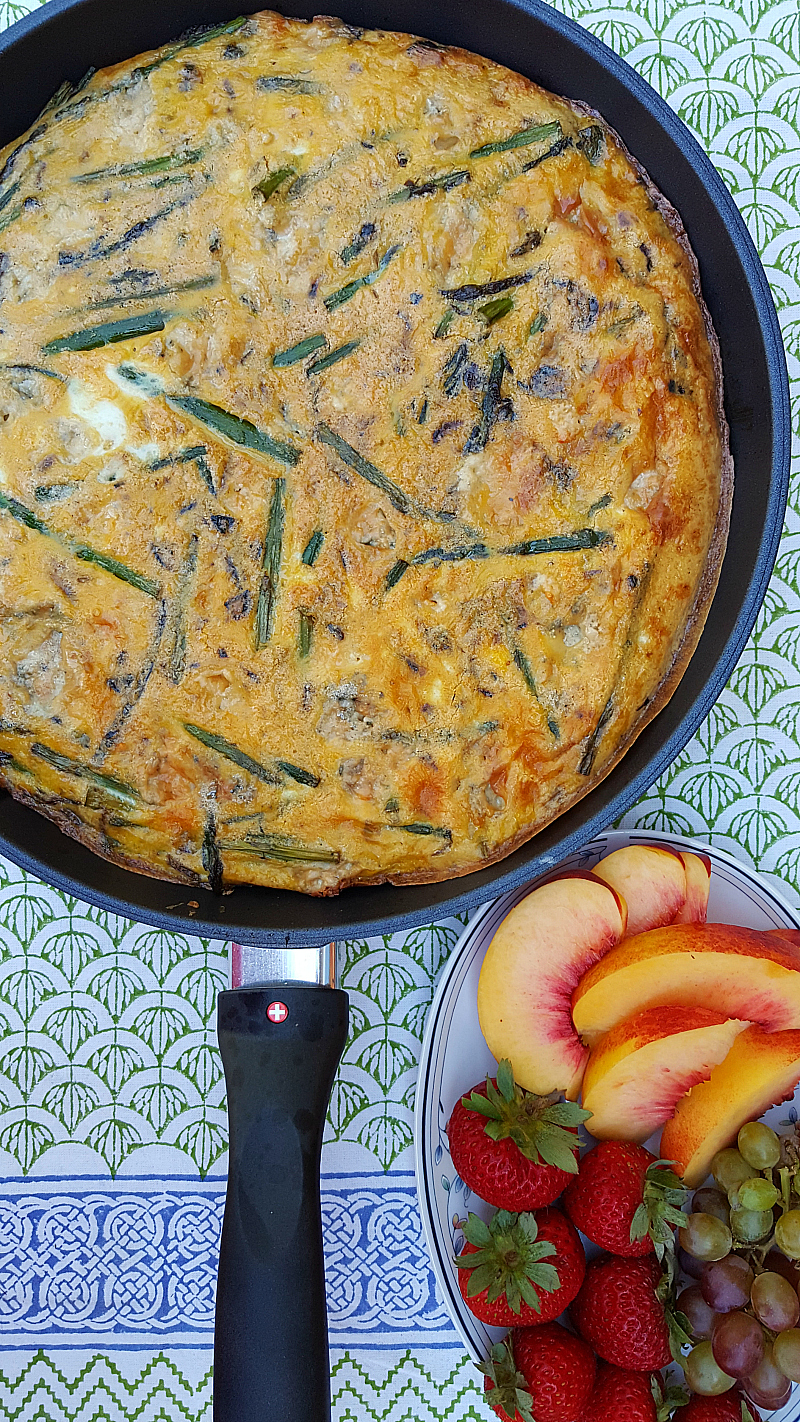 Article originally published 9/19/16. Edited and updated 4/30/19.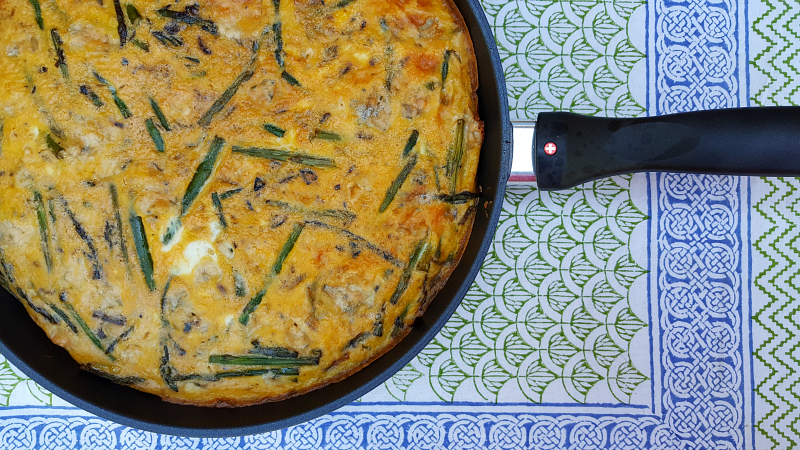 Easy meals that look and taste like a treat are just my style, so I love making this Asparagus Blue Cheese Frittata. If you are unsure of what a frittata is, it is basically a quiche without a crust.
The asparagus and blue cheese in this frittata have bold flavors that feel fancy, even though the recipe is super easy to make.
A frittata is great for breakfast, brunch, lunch or dinner. This is a good dish to serve when you have company, or to put out on a buffet for a holiday party. Unlike other egg dishes, a frittata doesn't need to be eaten immediately—you can enjoy it hot, cold or at room temperature.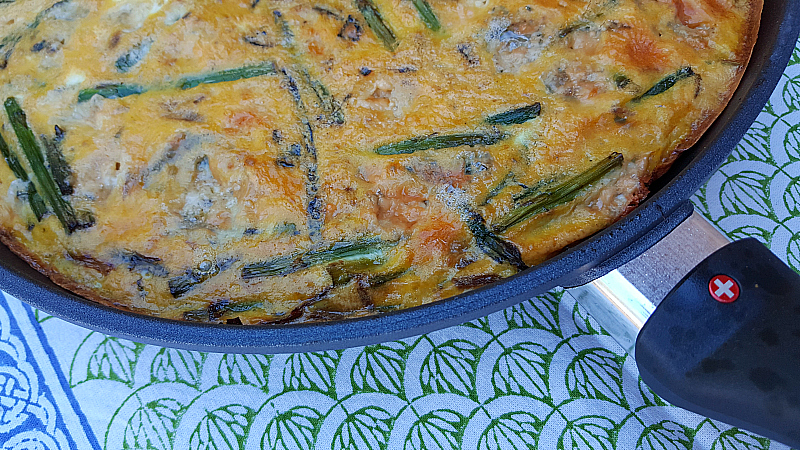 This Swiss Diamond pan helped my dish turn out perfectly and clean up was a breeze. The high quality cookware has a coating made from actual diamond crystals. The diamond coating is durable, naturally non-stick and the provides better heat conduction than metal. It has a flat bottom and heat distributes evenly for good results. The pan is oven safe, so for this recipe I went from stove to oven to table all in the same pan. I used a silicone knife to protect the surface. When I cut the pieces, none of it stuck to the pan.
Better Than Bouillon gives this dish an extra burst of flavor. Instead of cubes that you may be accustomed to, this is a thick liquid, so I was able to whisk it into the eggs to get consistent flavor throughout the frittata. I used the vegetarian Seasoned Vegetable Base, but chicken, beef or another variety would work just as well.
I love the Swiss Diamond fry pan and am thinking I'll get one of their roasting pans or a casserole next. I'll also be adding Better Than Bouillon to a variety of dishes.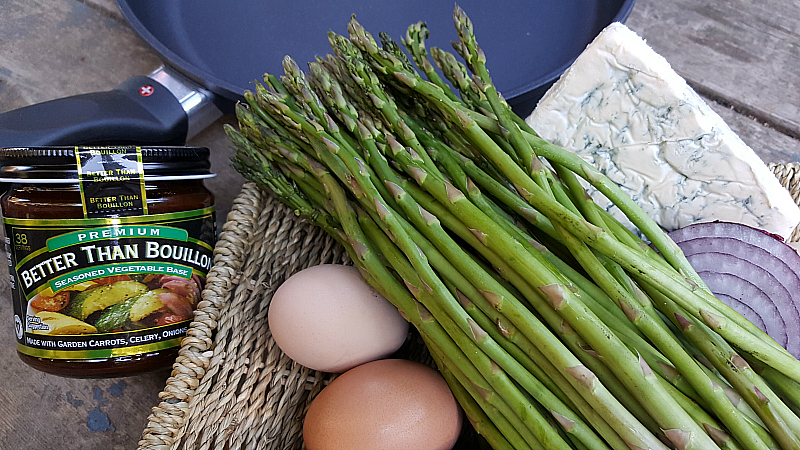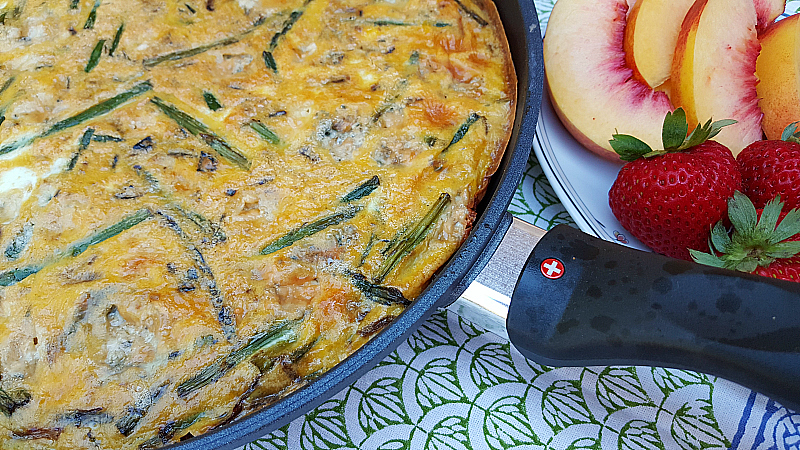 Asparagus Blue Cheese Frittata Recipe
Heat oven to 350°
Serves 6-8
Ingredients:
1 pound Asparagus, trimmed and cut into thirds
1/2 cup Chopped Red Onion
1 T Olive Oil
12 Eggs
1/2 cup Milk
1t Better Than Bouillon Seasoned Vegetable Base
1/2 cup Blue Cheese, crumbled
Instructions:
Heat olive oil on high in a 10 or 11″ non-stick oven-safe skillet. Add asparagus and onion. Reduce heat to medium and cook for 5-7 minutes until asparagus is charred and tender.
In a mixing bowl, whisk together eggs, milk and bouillon.
Reduce heat to low and pour the egg mixture to the pan. Sprinkle blue cheese on top.
Transfer the pan to the pre-heated oven and bake for 25-30 minutes until cooked through.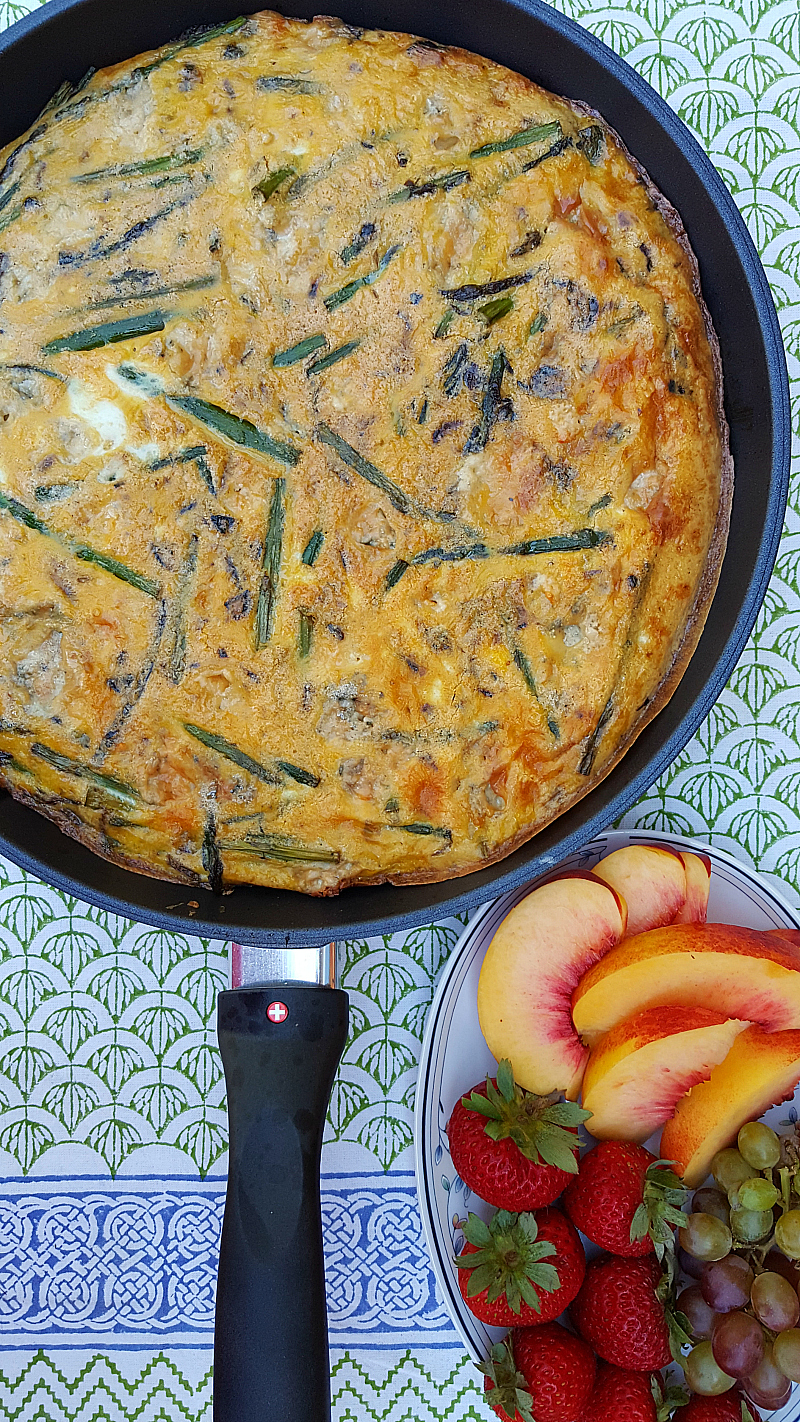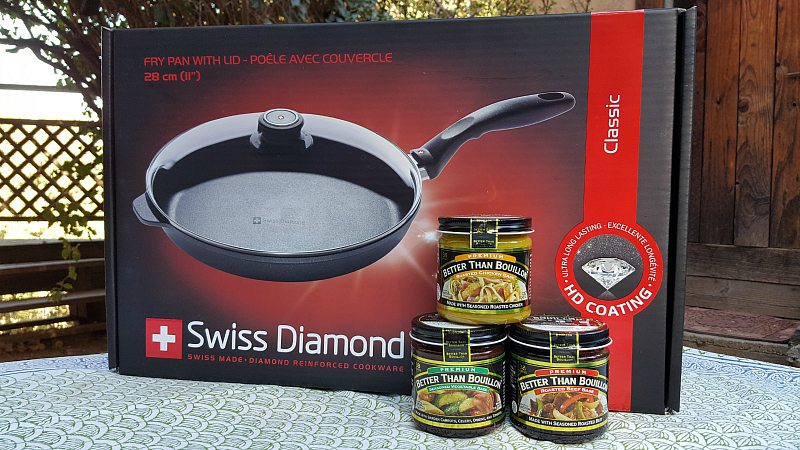 Check out my other vegetarian recipes, so you can get more kitchen inspiration.