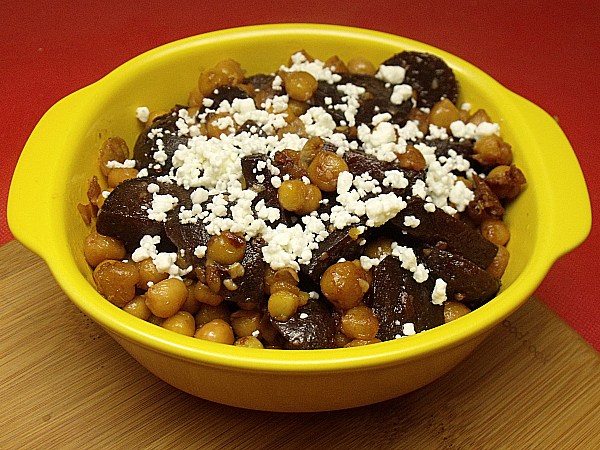 Beets and chickpeas (aka garbanzo beans) work well together. This dish is really easy to prepare and works well as a quick meal by itself or as a side dish.
The recipe can be made using cans, but now that I've discovered Melissa's Steamed Beets and Garbanzo Beans in the produce department I prefer to use them. They have fresh flavor, good texture and are non-GMO.
If you're not a goat cheese fan, another cheese can be substituted – cotija and feta work well for a different taste.
Beets and Chickpeas
Ingredients:
Beets, sliced (9 ounce package)
Chickpeas (8 ounce package)
2 T Extra Virgin Olive Oil
1 T Minced Garlic
1 T Crumbled Goat Cheese
Instructions:
Heat olive oil in a skillet.
Add chickpeas. Cook on high for 3-5 minutes, stirring occasionally.
Reduce heat to medium. Add beets and garlic. Continue to cook for an additional 5-7 minutes.
Top with goat cheese prior to serving.