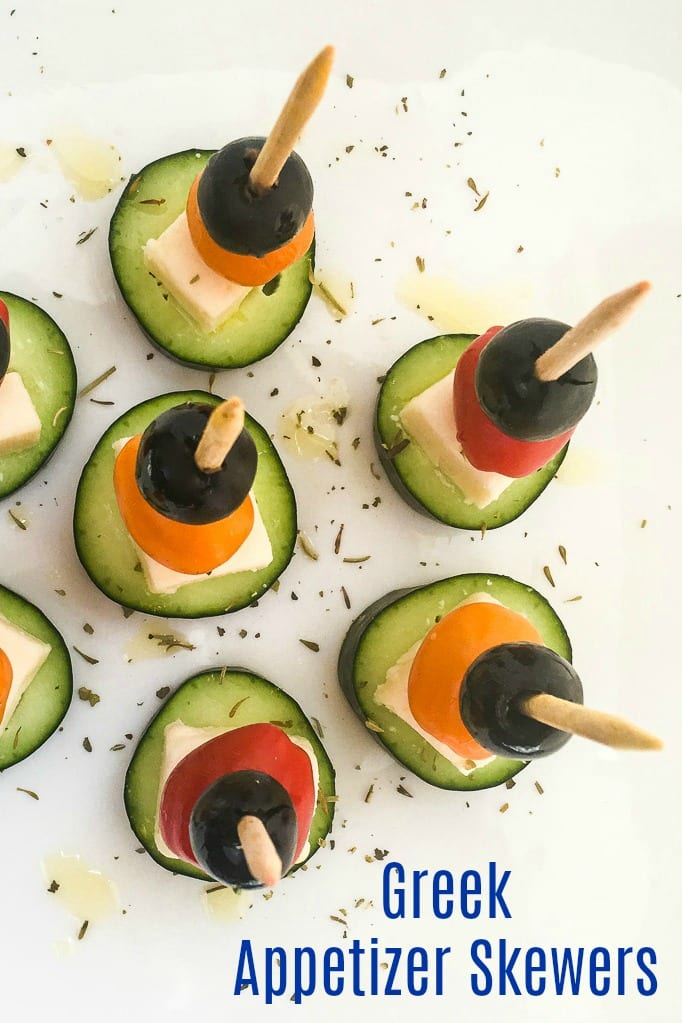 Finger Food for Parties
Simple Appetizer on a Stick Recipe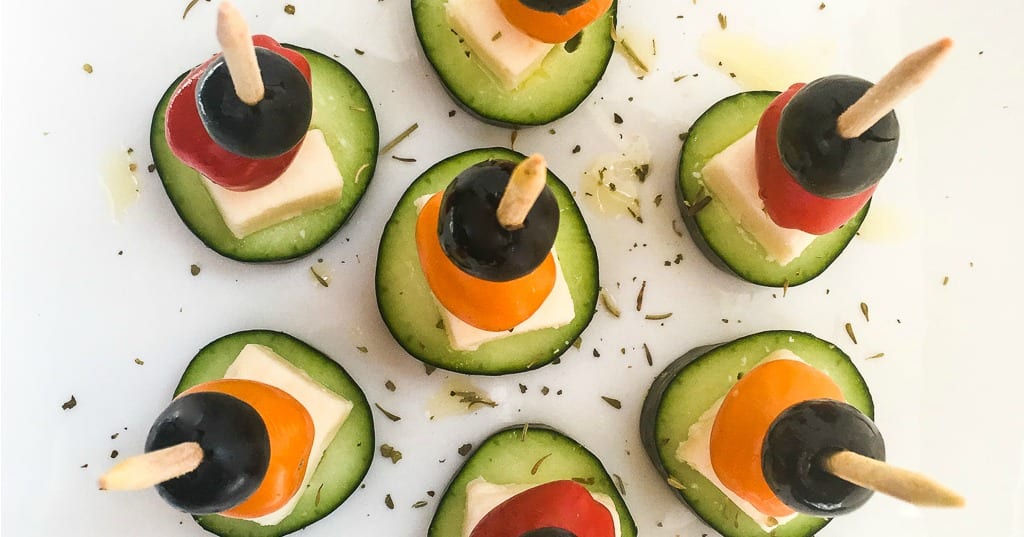 Food on a stick is always fun at parties, so you and your guests will love these simple and delicious Greek appetizer skewers.
The ingredients are what you would expect to be mixed into a Greek salad, but they are reconstructed as a handheld appetizer.
They are quick and easy to make, so you can put them together for a regular snack at home or you can make them for guests.
The recipe makes a dozen little Greek snack skewers, but you can easily scale it up to make enough to feed a crowd.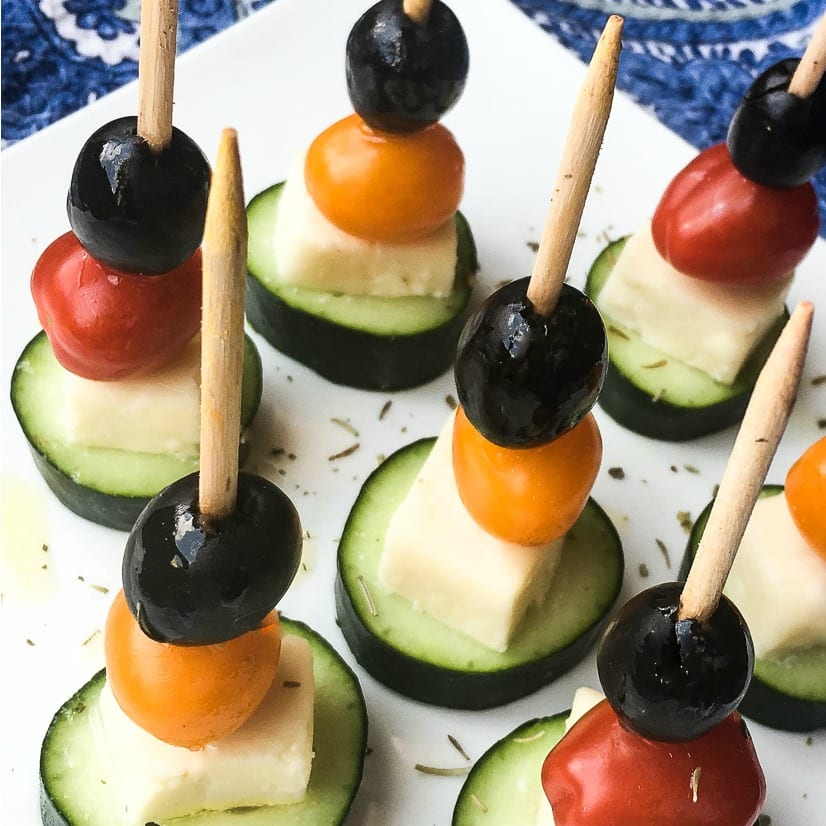 Cucumber slices, feta cheese, sweet tomatoes and black olives are arranged on a skewer.
Then, they are drizzled with extra virgin olive oil and sprinkled with traditional Greek Seasonings.
No cooking is required and you can make it ahead of time to save time, when your guests are about to arrive.
Any color tomato will do, but I like using a mix of red and yellow grape tomatoes.
If you have kids who like to help in the kitchen, they can have fun assembling these colorful appetizers.
Yum!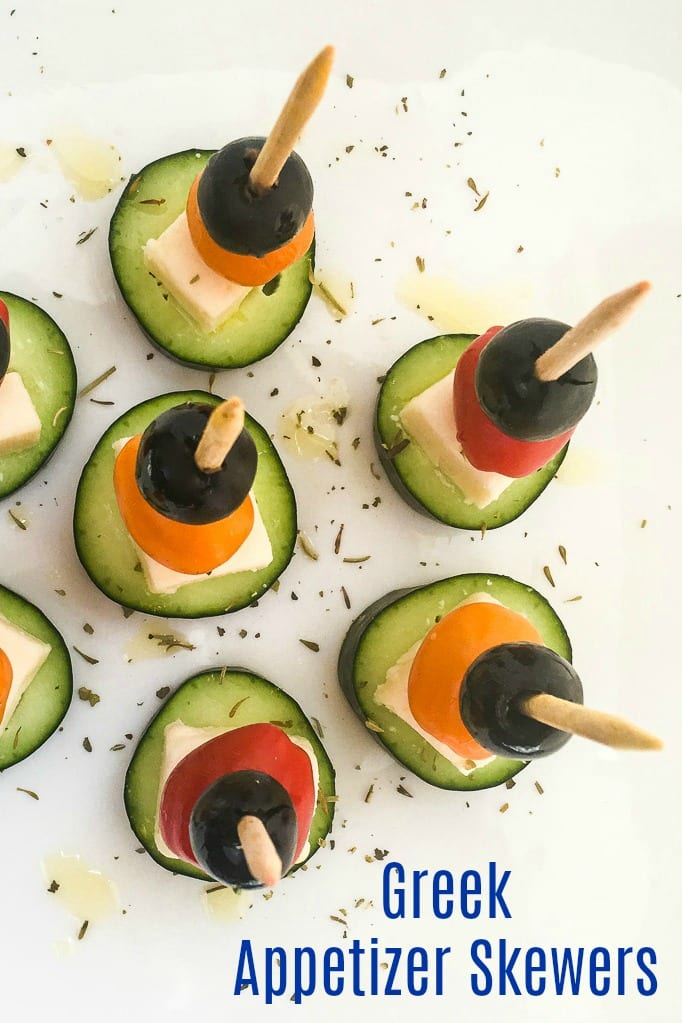 Easy Greek Appetizer Skewers Recipe
Serves 4-6
Ingredients
1 Cucumber, cut into 12 slices
8 oz. block Feta cheese, cut into 12 cubes
12 Grape Tomatoes (Yellow and/or Red)
12 Black Olives
Extra Virgin Olive Oil
1/4 t Thyme, dried
1/4 t Basil, dried
Supplies
12 Bamboo Skewers (8″)
Serving Platter
Instructions
1) Set cucumber slices on a serving platter and top each one with a cube of feta cheese.
2) Gently push the flat end of a skewer through the feta cheese and cucumber. Then add a tomato and black olive. Repeat until all skewers are complete.
3) Just prior to serving, drizzle skewers with olive oil and then sprinkle with thyme and basil.
Following are a few of my favorite appetizer recipes:
Then take a look at the rest of my vegetarian recipes, so you can have even more delicious fun in the kitchen!