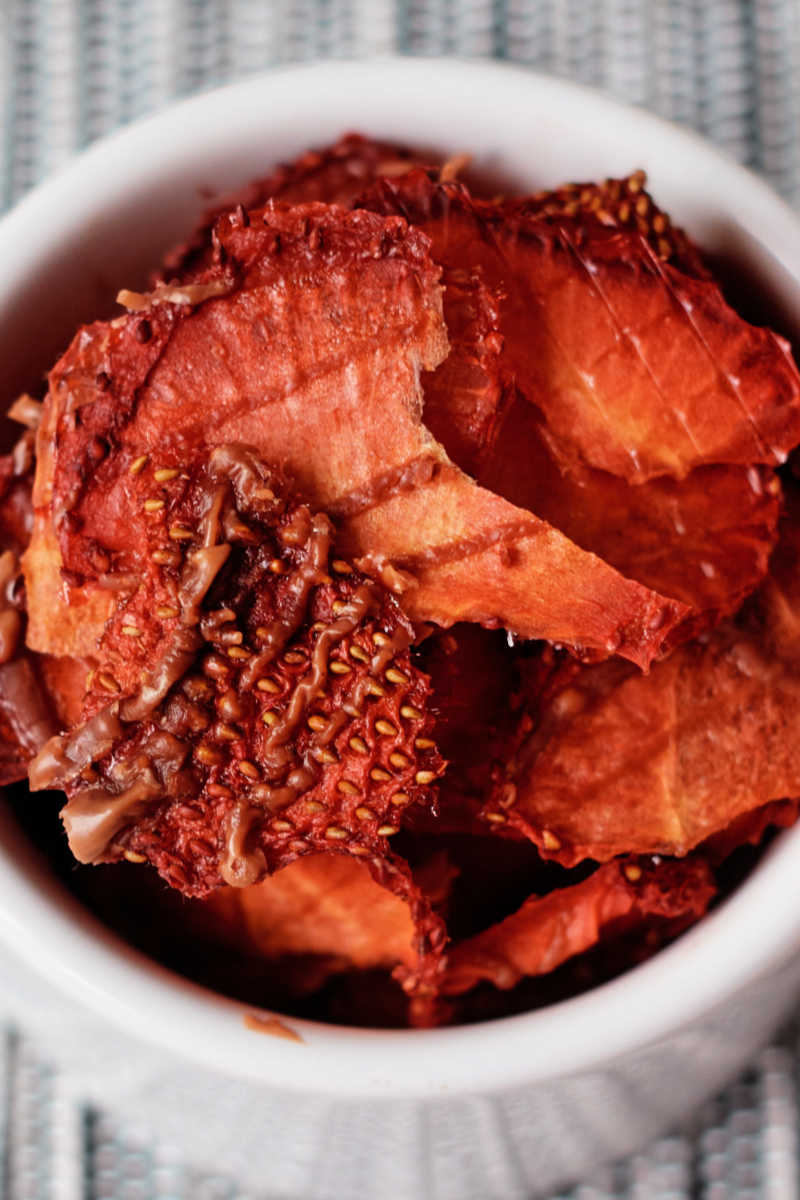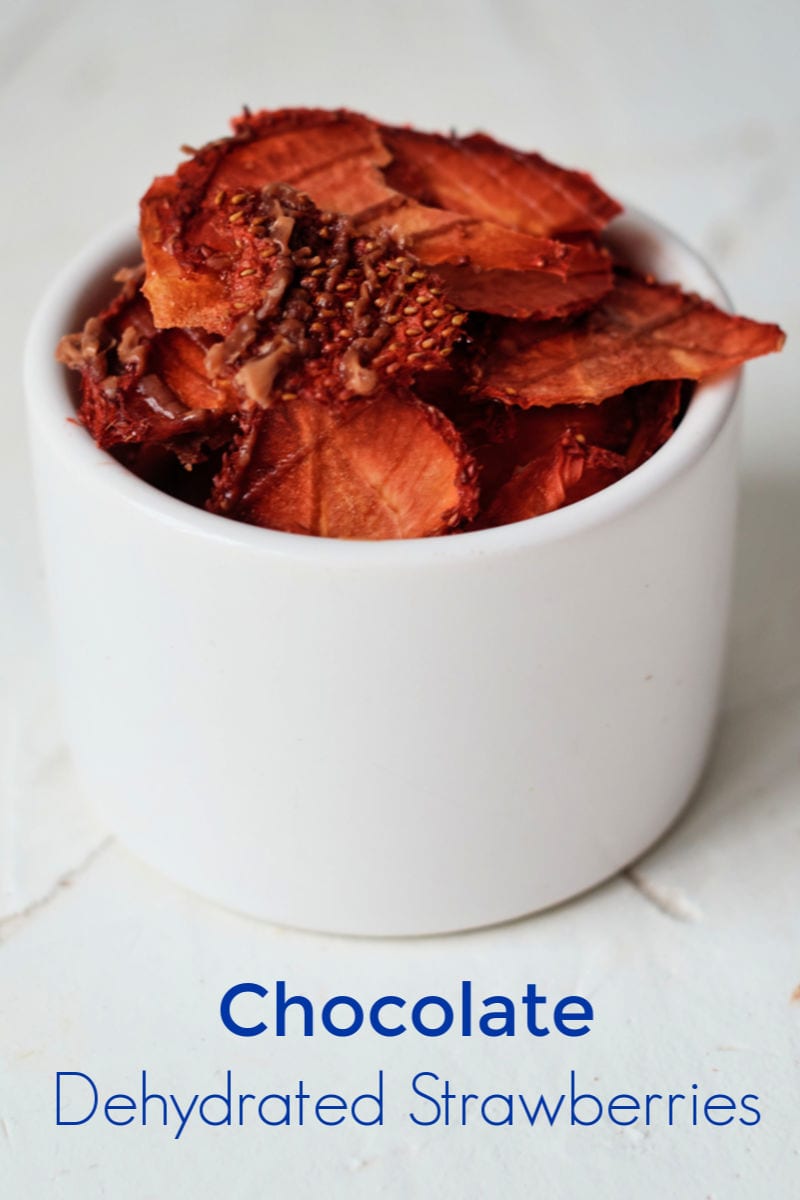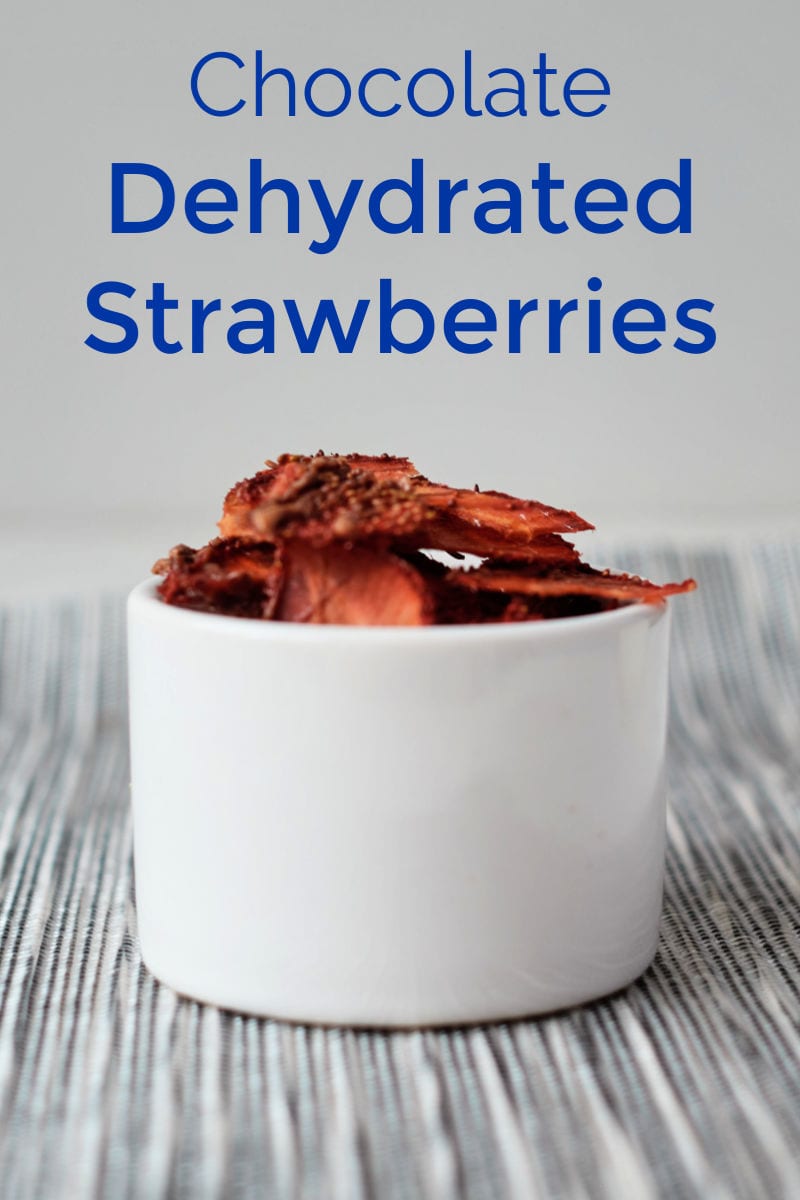 How to Dehydrate Strawberries with Chocolate
in an oven or dehydrator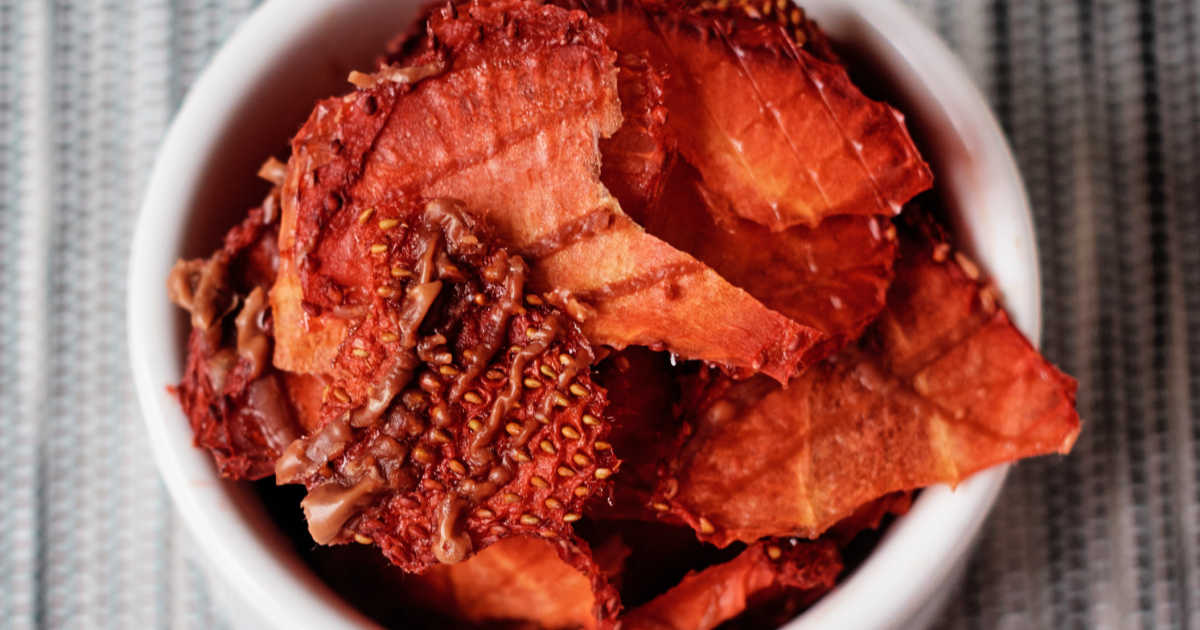 Make these chocolate dehydrated strawberries in your oven or dehydrator, when you want a crispy sweet treat that is delicious!
Dehydrated strawberries are great on their own, but they are extra good with chocolate added.
The crispy snacks are tasty, whether you make them in your oven or a dehydrator.
However, if you are going to be dehydrating a lot, a dehydrator is a good investment.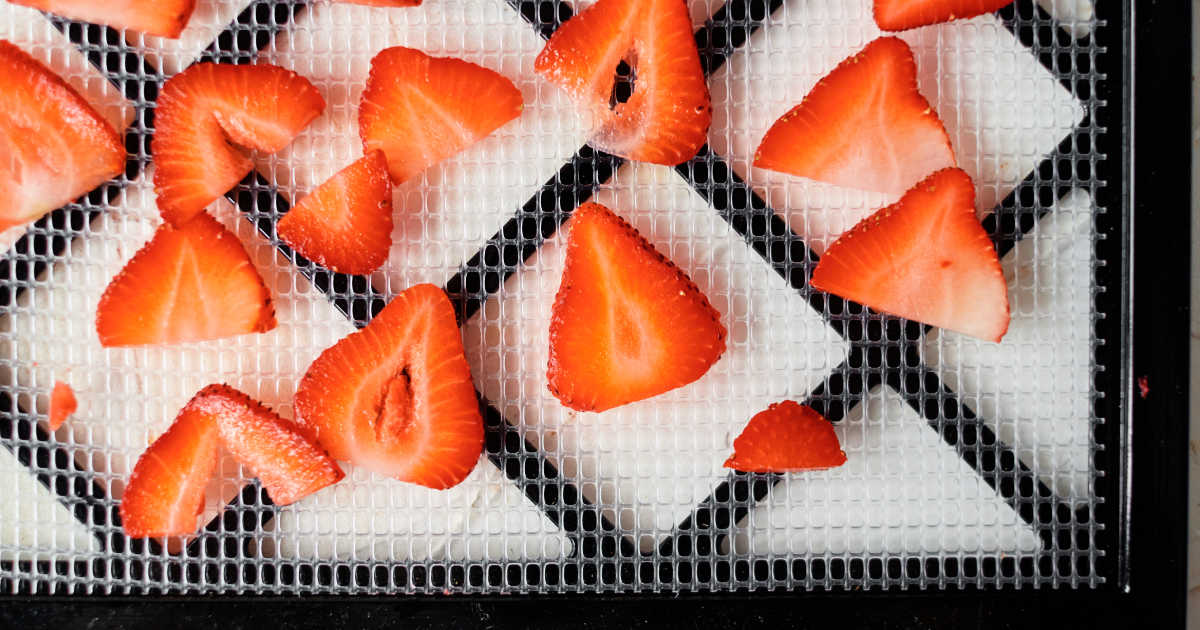 When you are dehydrating, you need to start with thin, even slices of fruit for the best results.
A mandoline is my first choice for consistently sized slices, but a sharp knife can work, too.
Just take your time, so that your slices will dehydrate evenly and be ready at the same time.
The dehydrated fruit is sweet, so I tend to think of these as dessert.
You can, of course, have them for a snack, too.
Enjoy!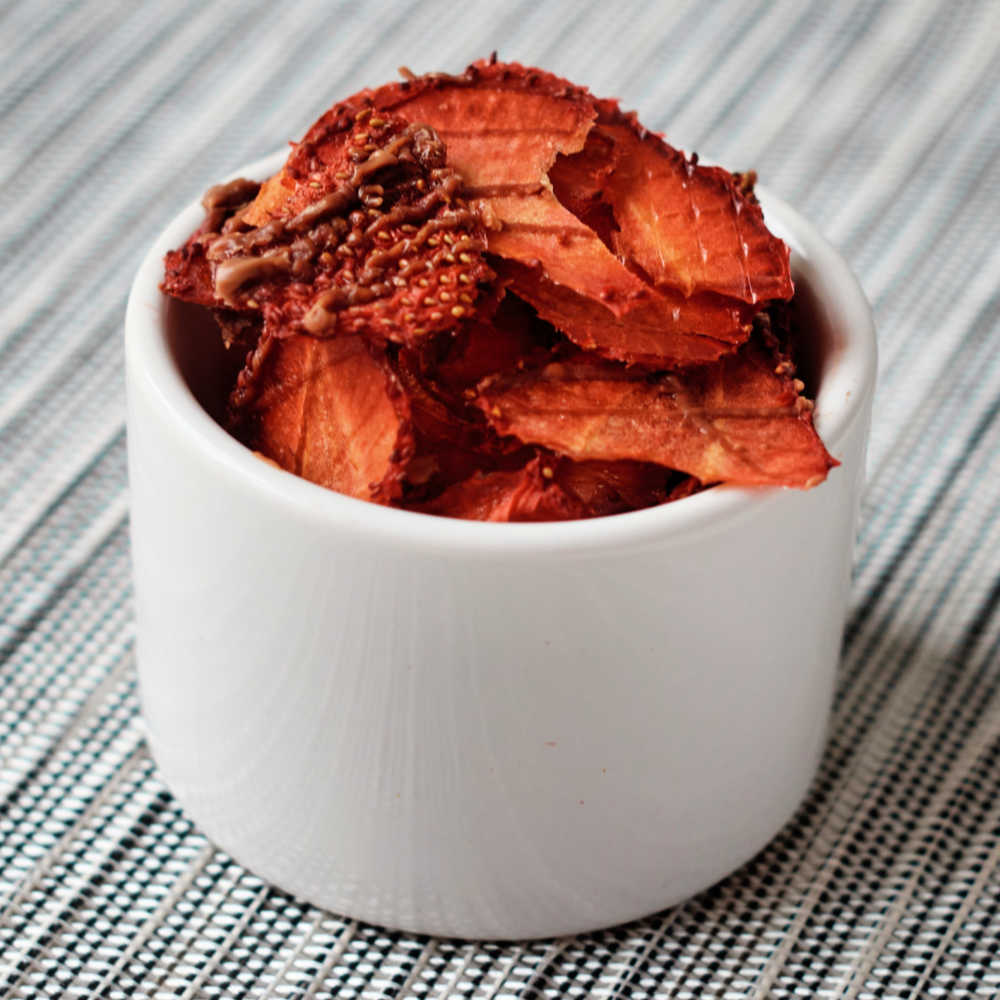 Chocolate Dehydrated Strawberries Recipe
Ingredients
2 cups Strawberries
2 T Chocolate Chips
Supplies
Mandoline or Knife
Small Microwave Safe Bowl
Dehydrator or Oven
Parchment Paper
Rimmed Baking Sheet (if using the oven)
Instructions
1) Cut the strawberries into even ½ inch slices with a mandoline or knife.
2) Line your dehydration tray with parchment paper for the dehydrator method or line the baking sheet with parchment for the oven method.
3) Place the strawberry slices on the parchment paper in a single layer.
4) Melt the chocolate chips in a microwave safe glass bowl. Microwave for 20 seconds and then stir. Repeat in 10 second increments until chocolate is creamy and completely melted.
5) Drizzle the melted chocolate on the strawberry slices lightly, so that there are no big clumps.
6) If you are using a dehydrator, set it to "fruit" and dehydrate for 12 hours. Depending upon your climate and the amount of moisture in your slices, it can take up to 12 hours for your strawberries. Start checking at about 10 hours. Then recheck every 30 minutes or so until they are crispy like chips.
7) If you are using an oven, set the heat as low as possible. It will take approximately 8 to 10 hours. Start checking after 8 hours. Then recheck every 30 minutes or so until done.
8) Enjoy!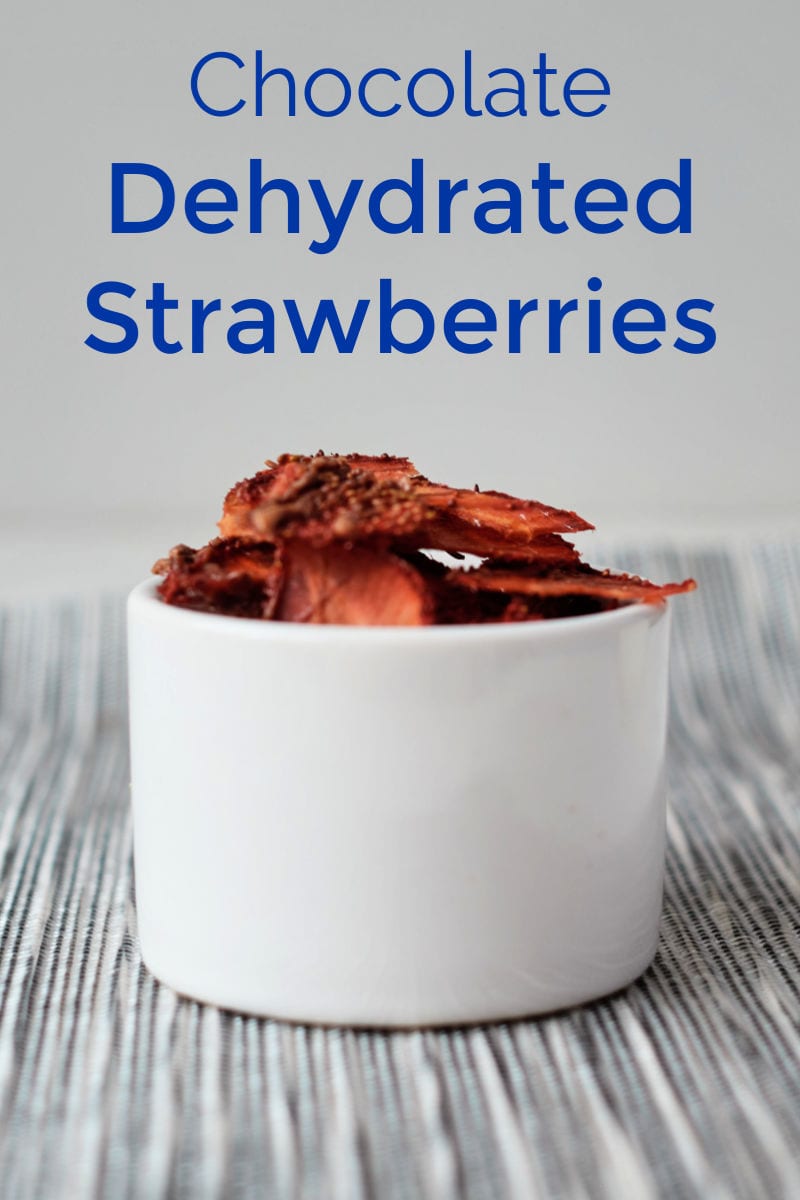 More from Mama Likes To Cook
Check out the rest of my vegetarian recipes, so you can get more great ideas for baking, cooking, blending and juicing.
Dehydrated Food Recipes
Shopping Tips
For a beautiful assortment of kitchen necessities and food gifts for the whole family, check out the deals at these online stores.
Are you ready to have some delicious fun in the kitchen?