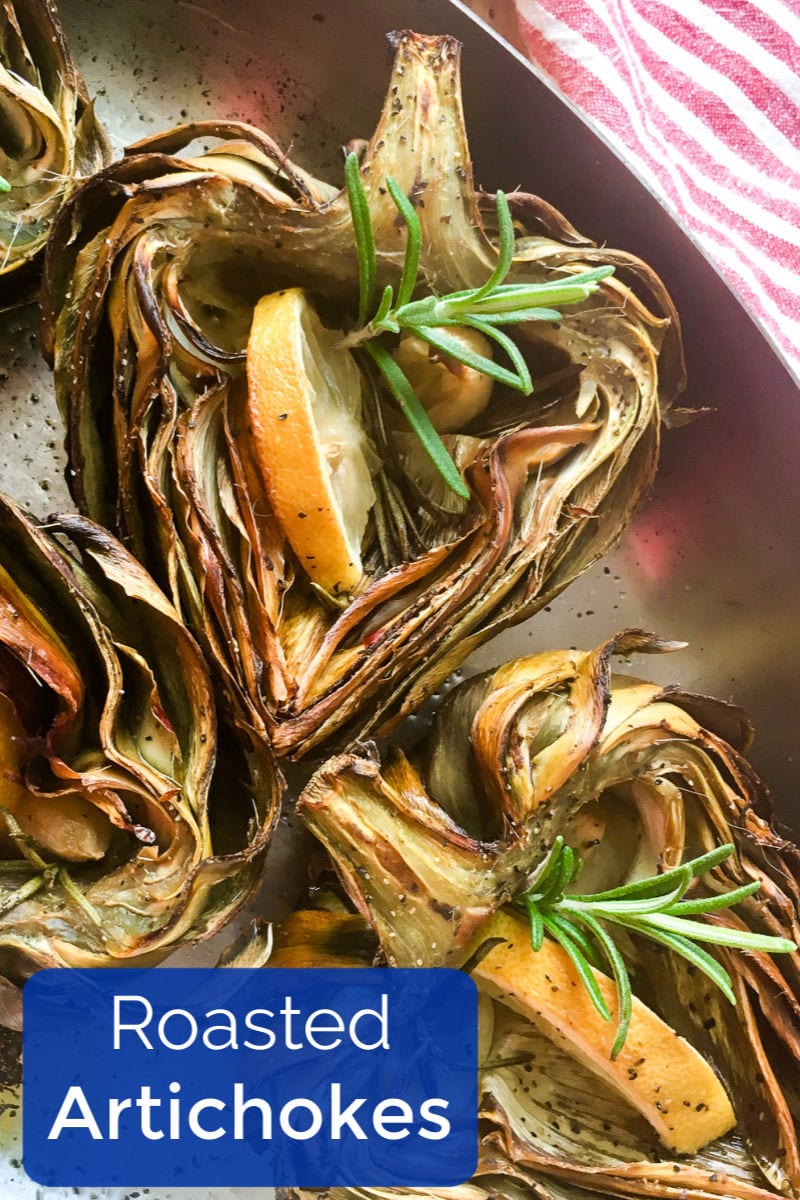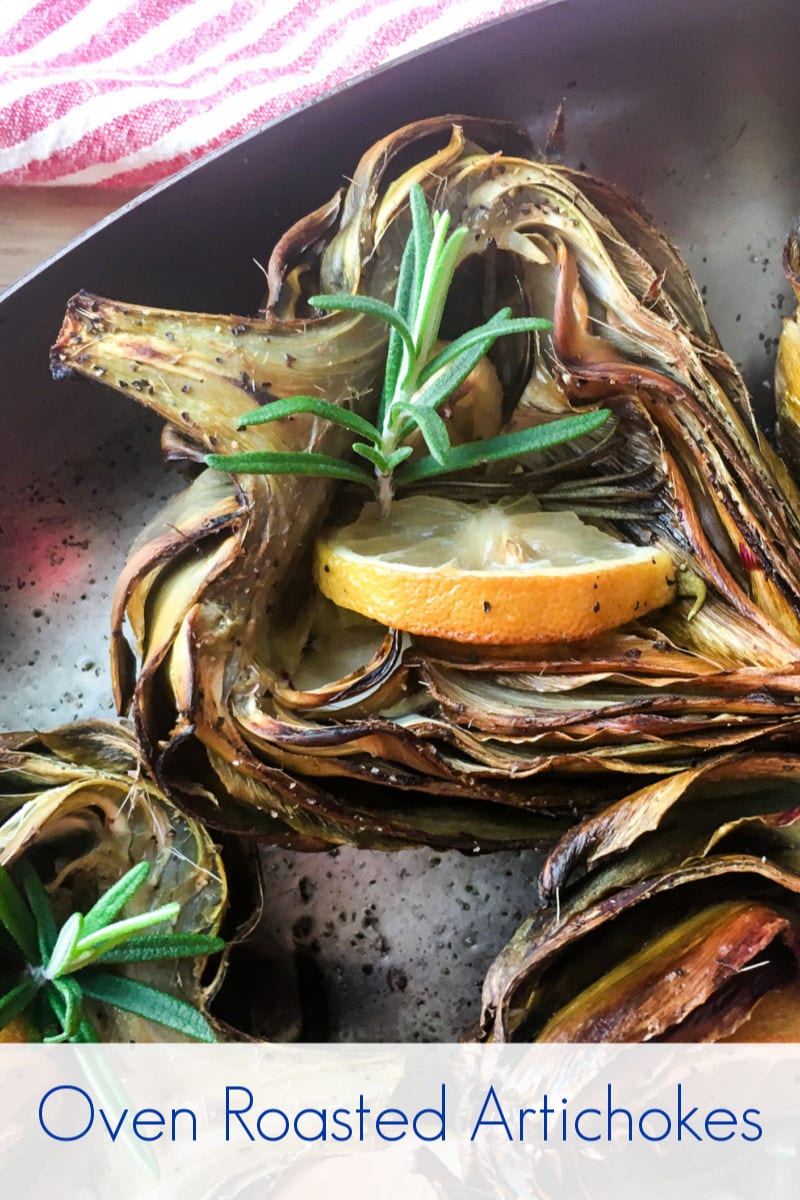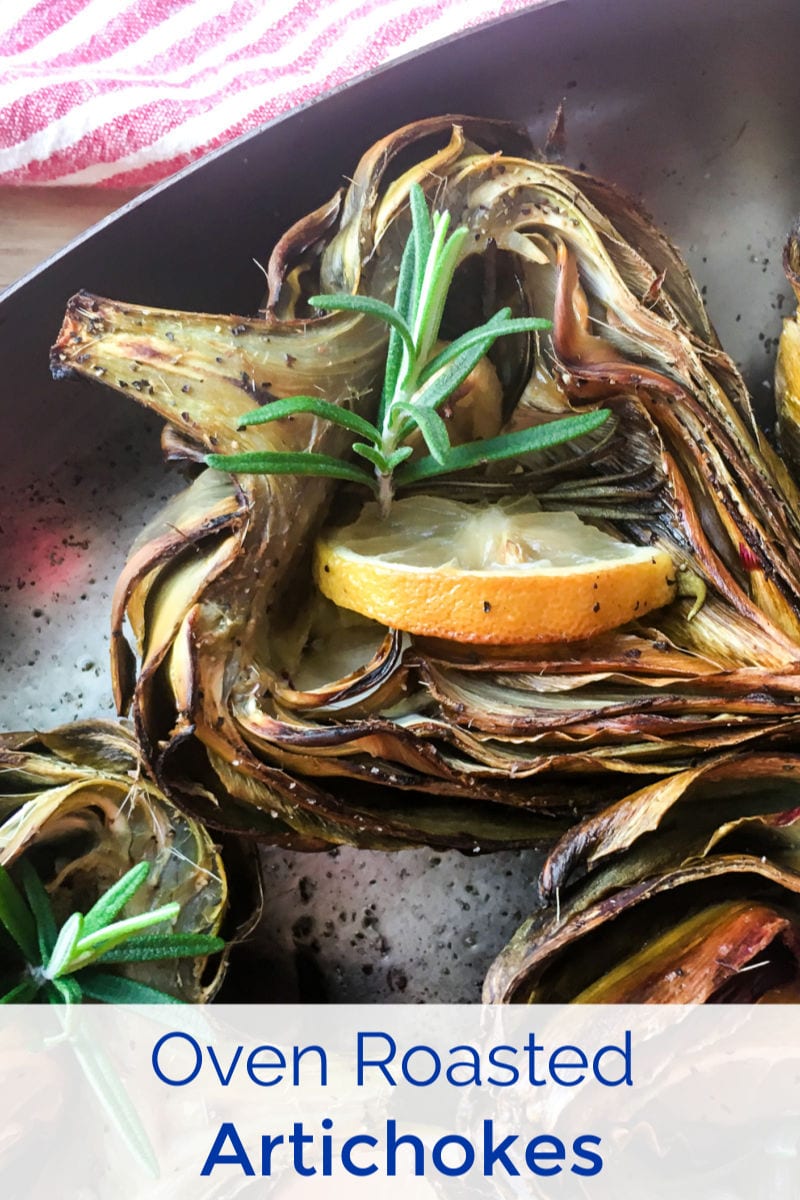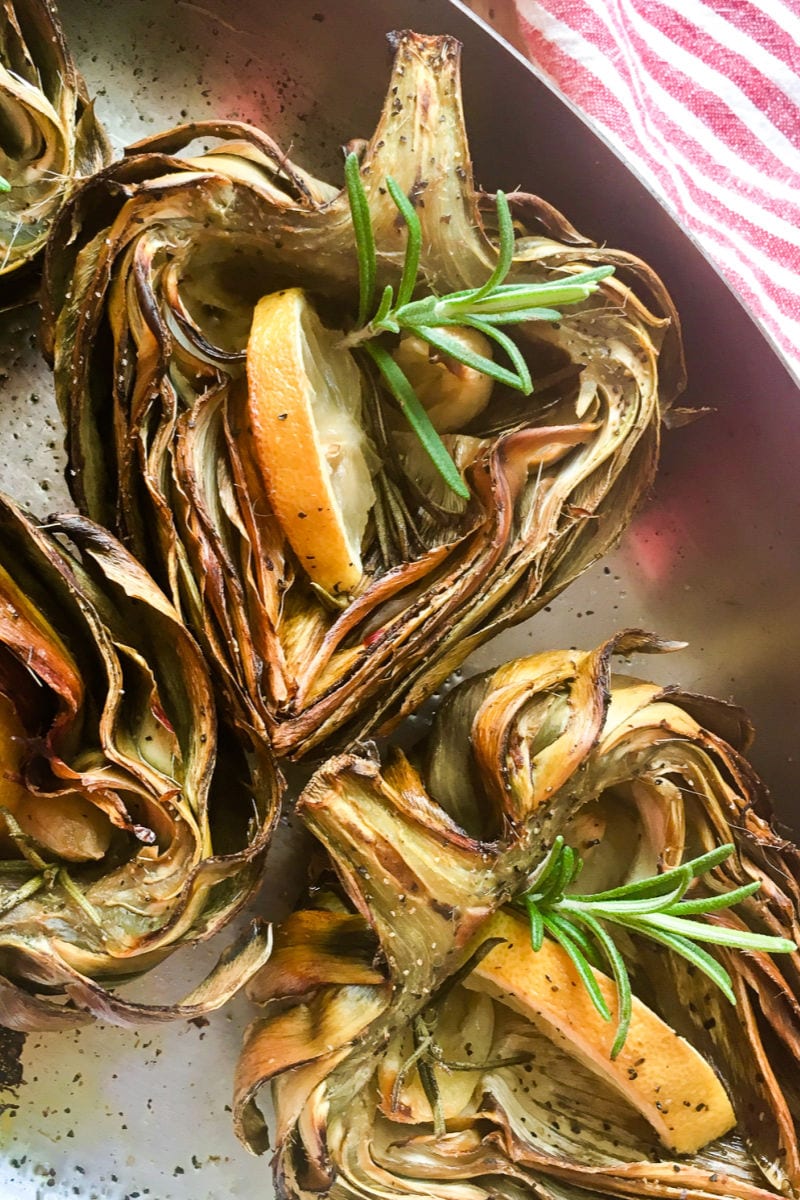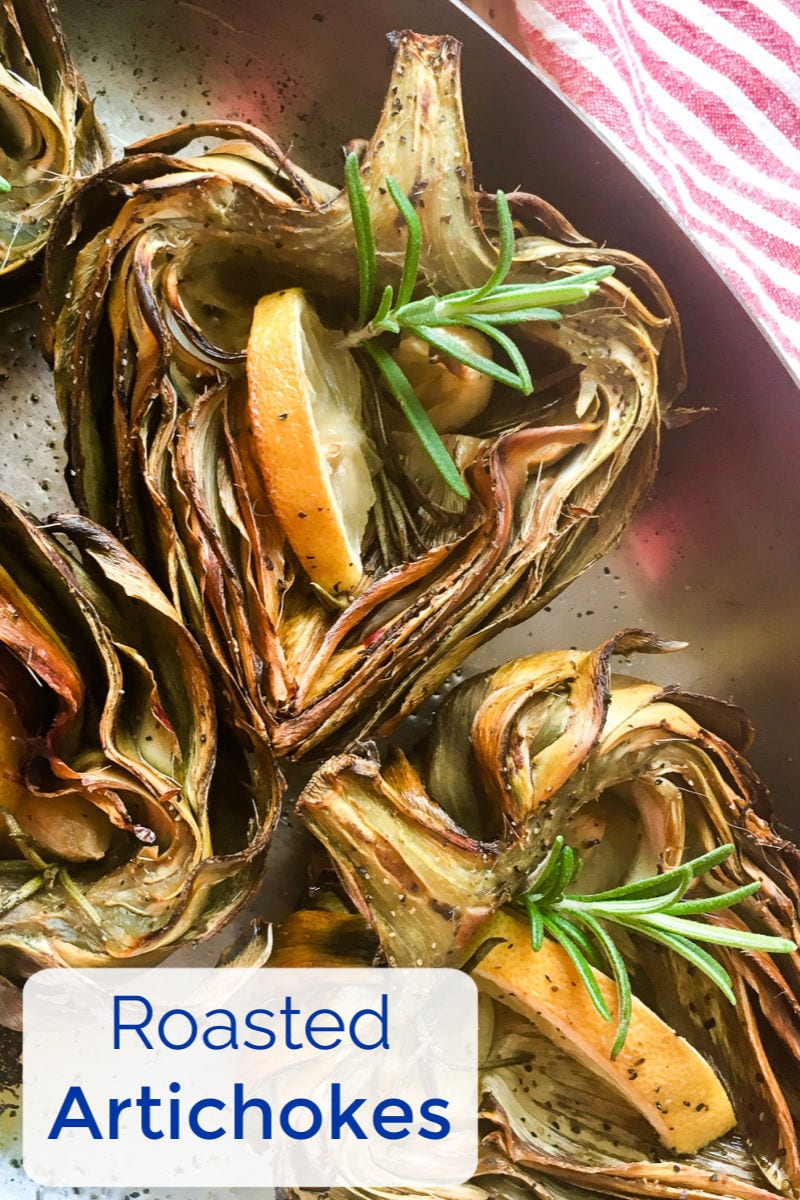 Easy Roasted Artichokes
with Lemon, Garlic and Rosemary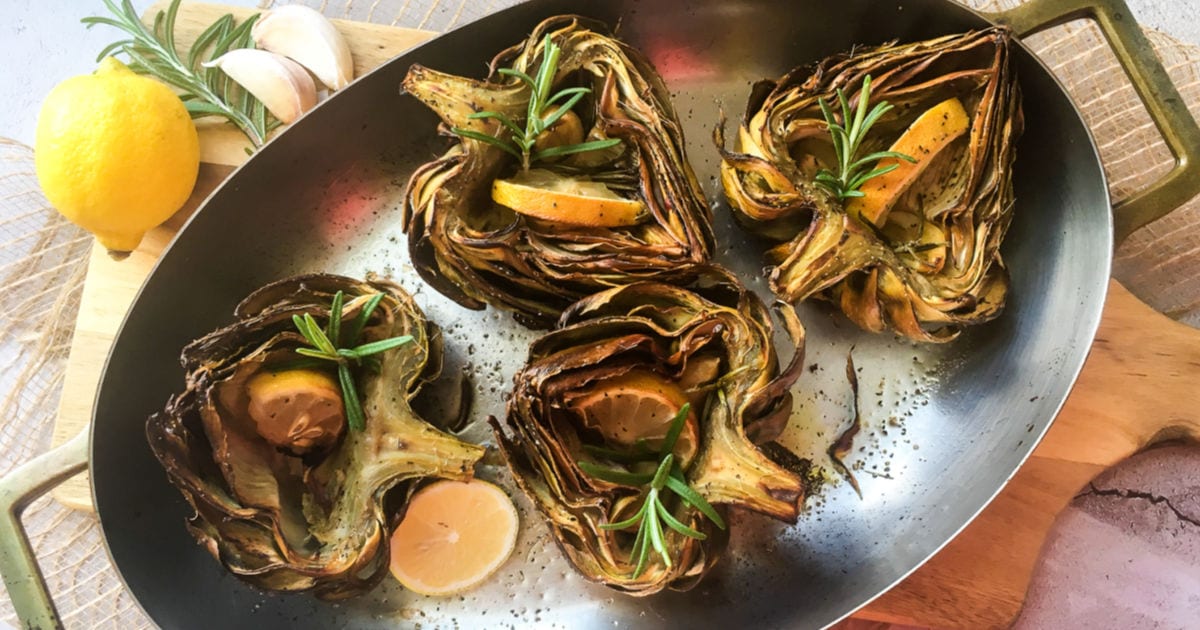 It is easy to make delicious oven roasted artichoke halves, even if you have never attempted to cook this unique food before.
Yes, a whole artichoke can look intimidating, but they can be roasted simply for a side dish that looks impressive and tastes amazing.
Artichokes pair beautifully with a variety of other flavors, so you can get creative with dipping sauces or you can just eat these right out of the oven.
Lemon, garlic and rosemary are roasted along with the artichoke halves, so there is already a lot of flavor cooked into them.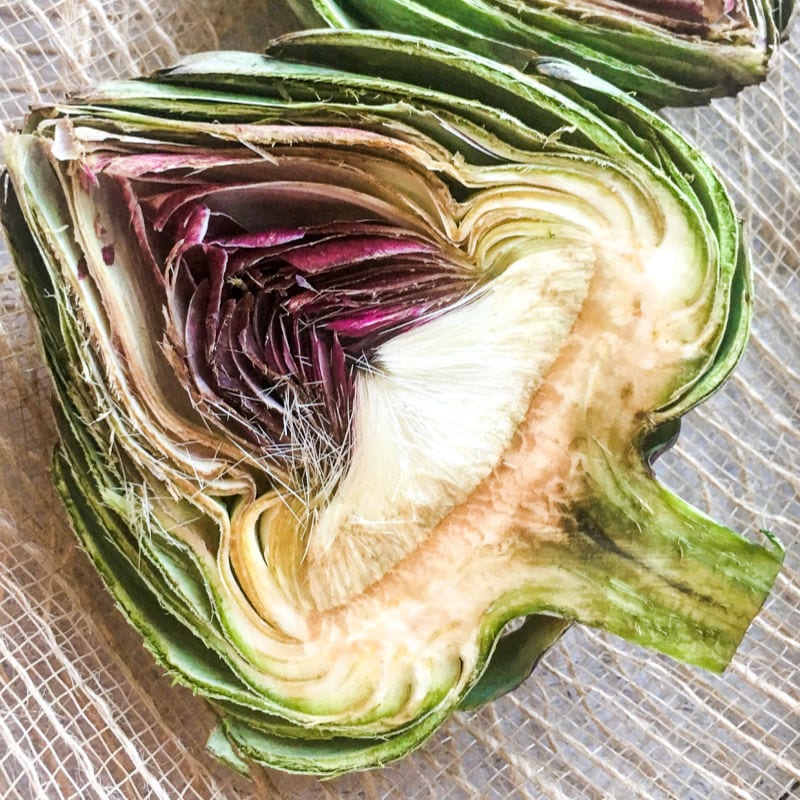 Artichokes are low in calories and contain no fat at all, so they are a great choice for all of us concerned about these things.
Potassium, protein and Vitamin C are just a few of the nutrients you'll get, when you eat an artichoke.
If you follow a keto diet, just make sure you choose your dipping sauce carefully to go along with your low carb artichoke.
Don't you love it, when something has good nutrition and tastes great?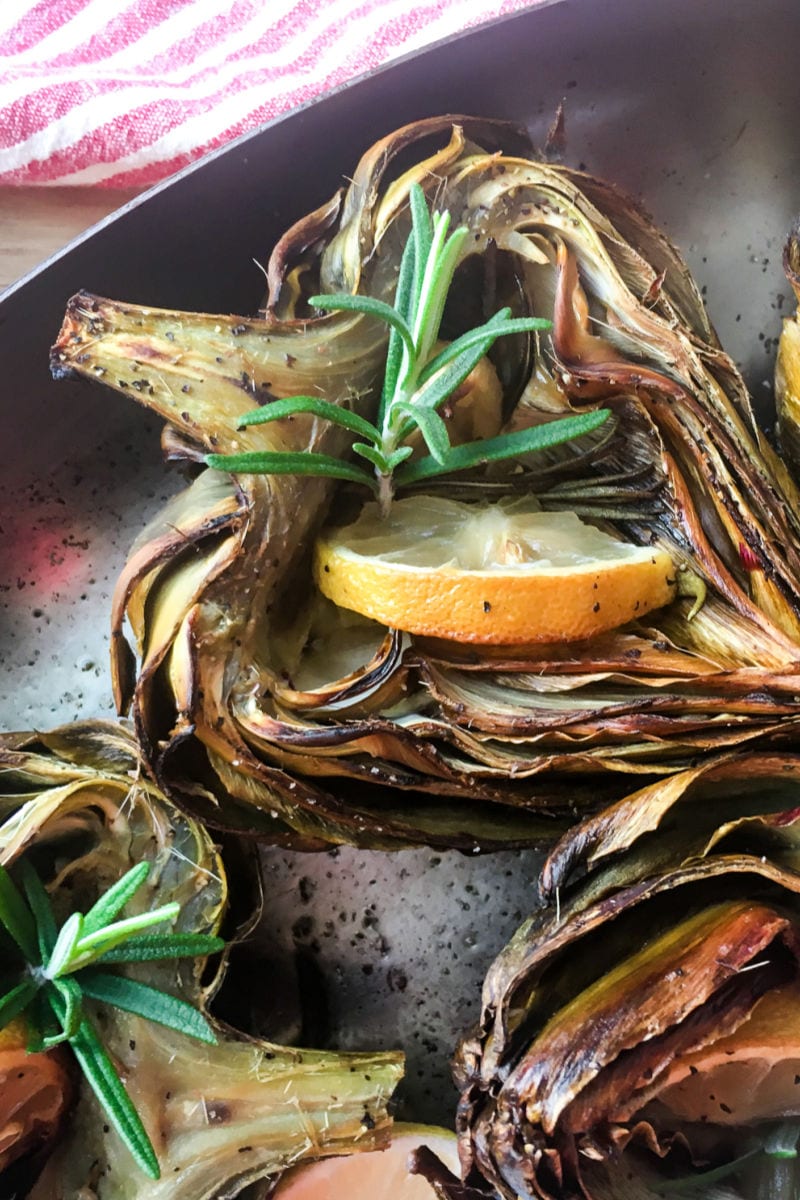 Roasted Artichoke Halves Recipe
Prep time 20 minutes
Cook time 45-50 minutes
Serves 4
Ingredients
2 Artichokes
2 Lemons
4 cloves Garlic
4 stems Fresh Rosemary
3 T Extra Virgin Olive Oil
Salt and Pepper to Taste
Supplies
Roasting Pan
Chef Knife
Instructions
1) Preheat oven to 400°F.
2) Cut artichokes in half from tip to stem. Scoop out the "fuzzy hairs" in the center, so that there is an empty cavity. Cut off the bottom of the stem and trim any sharp edges on outer leaves. Cut 1 lemon into wedges and the other into thick slices.
3) Squeeze a lemon wedge onto each artichoke half and place in a roasting pan. Place a lemon slice, sprig of rosemary and garlic in each artichoke. Then, drizzle with olive oil and add salt and pepper to taste.
4) Roast for about 45 minutes until fork tender. If artichokes appear to be getting too brown, loosely cover with aluminum foil.
5) Serve immediately as is or with melted butter, aioli or another dipping sauce.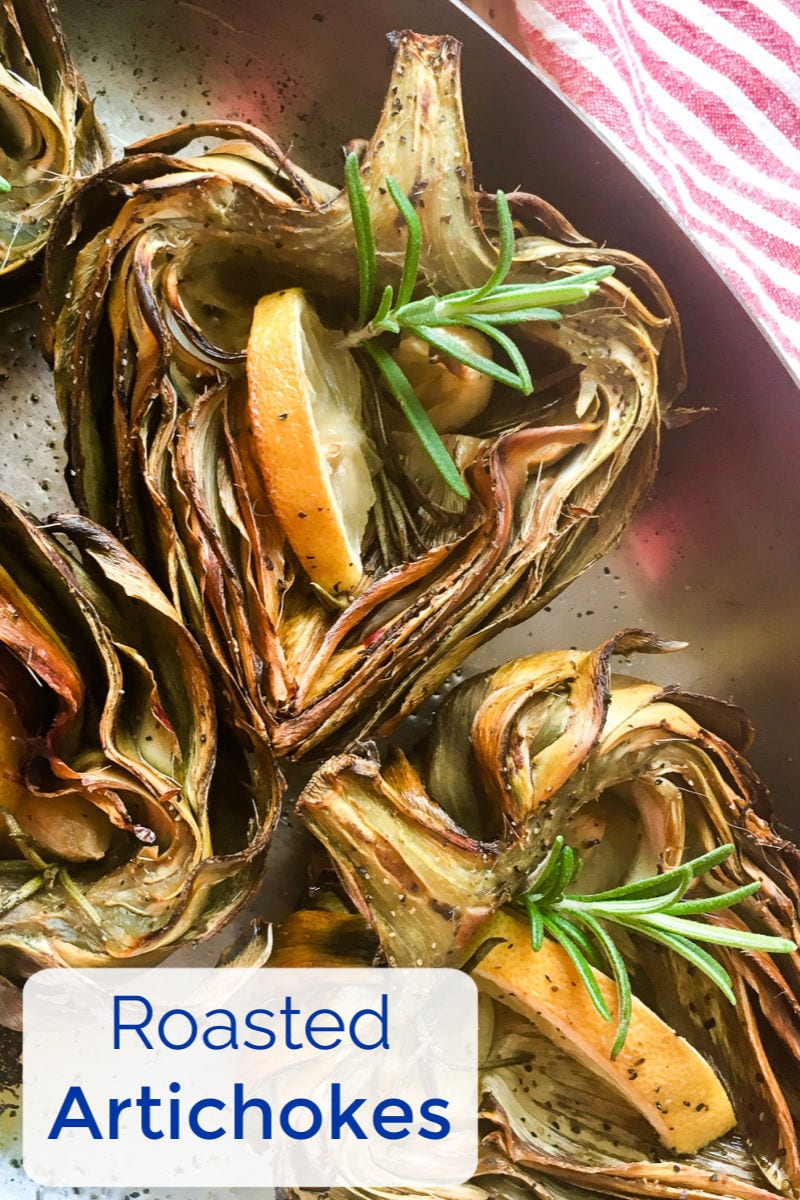 More from Mama Likes to Cook
Check out my other dinner recipes, so you can get more tasty inspiration.
Following are a few of my delicious dinner recipes.
Then take a look at the rest of my vegetarian and vegan recipes, so you can have even more delicious fun in the kitchen!