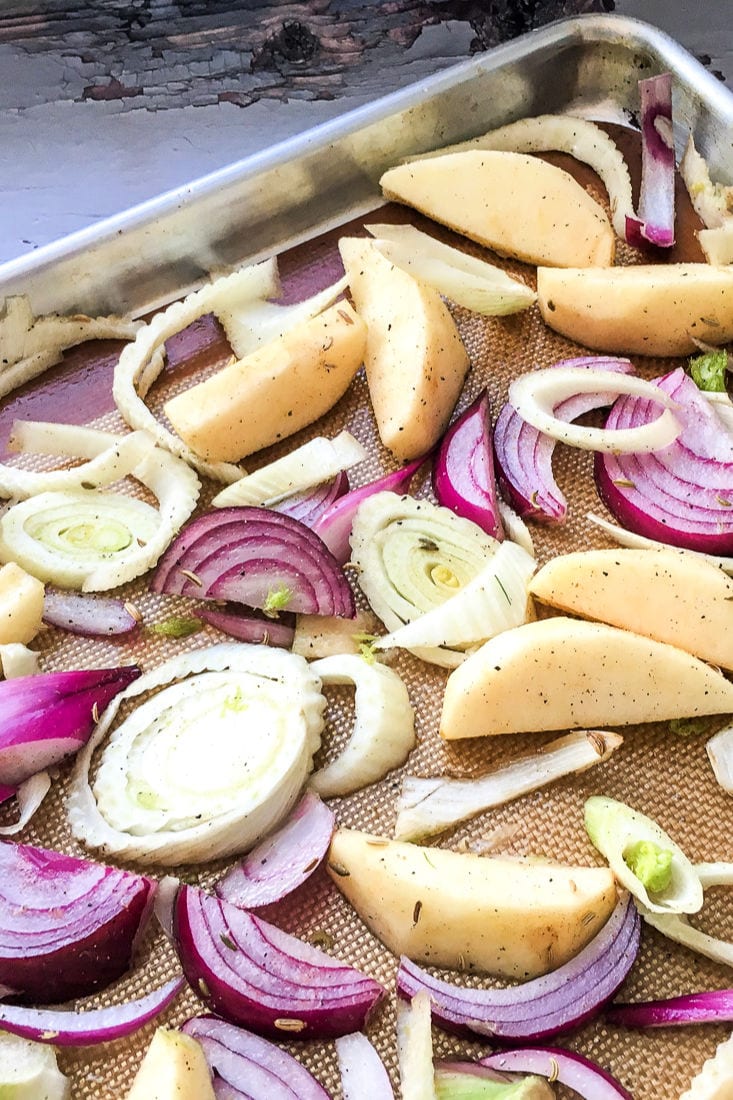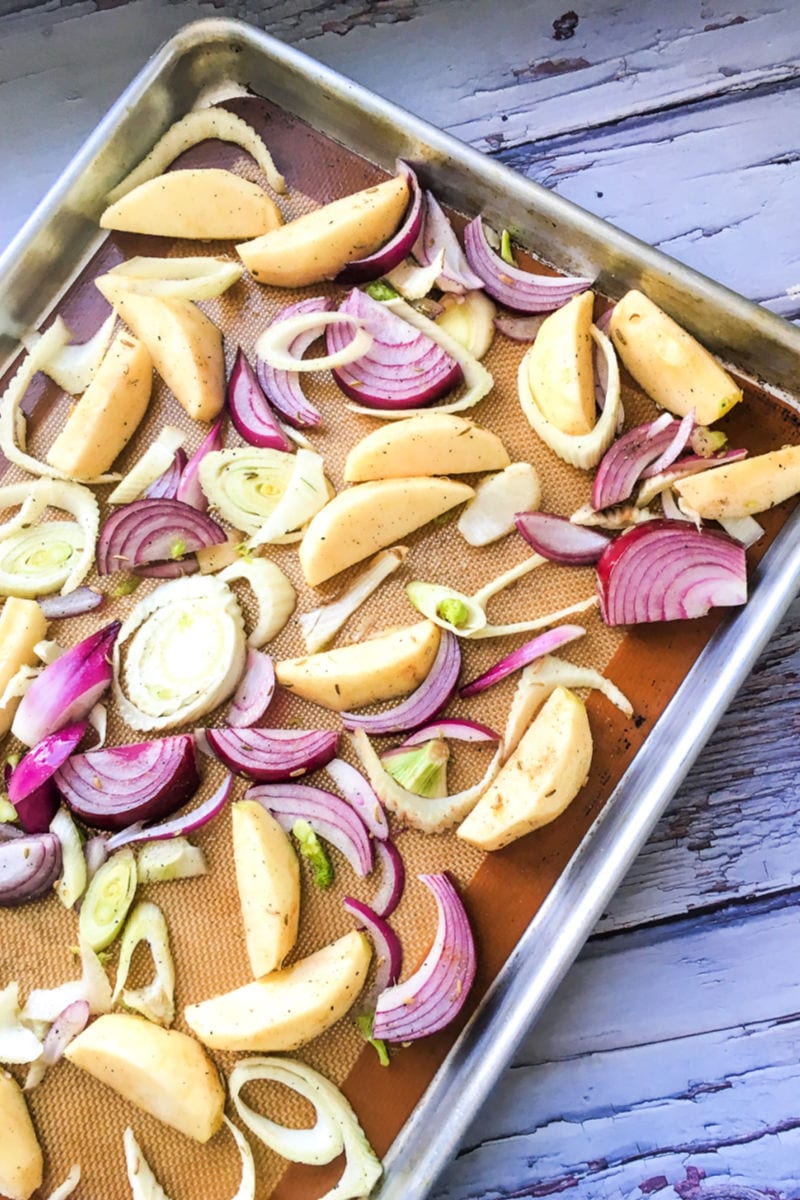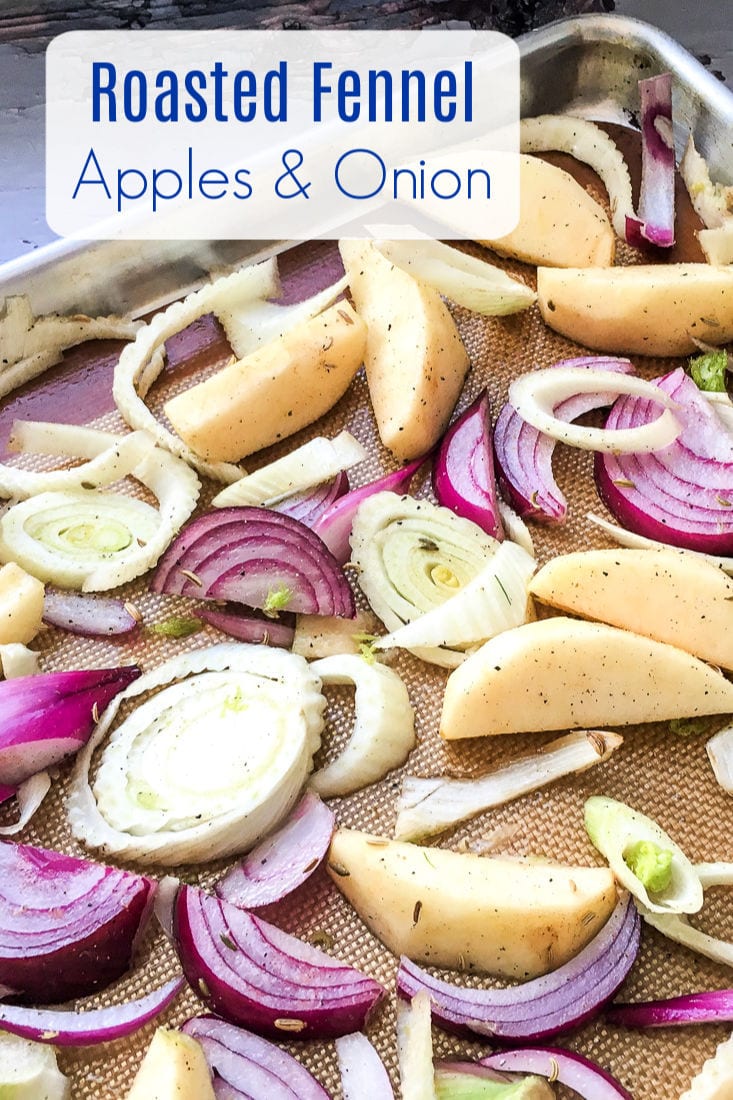 Easy Roasted Fennel
with Apple and Red Onion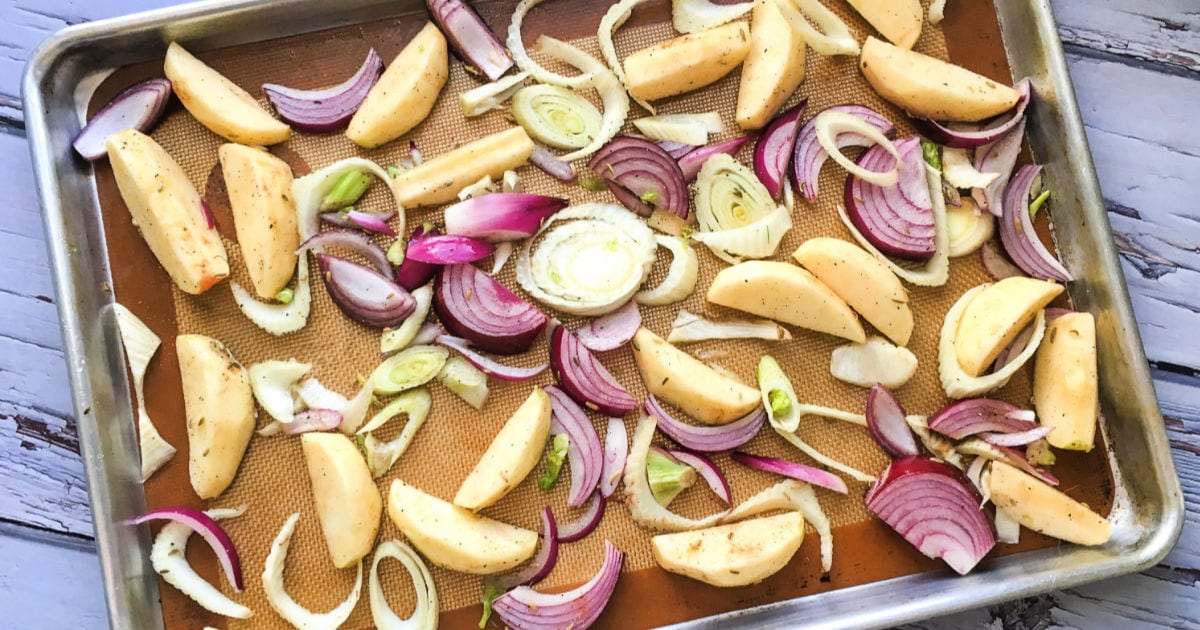 Make my delicious sheet pan roasted fennel, when you want an easy side dish that is just a little bit out of the ordinary.
I love it, when I find a pretty fennel bulb at the farmers market or grocery store.
The leaves and the bulb taste delicious, so I can usually use it for two different dishes.
This recipe combines three very different flavors – fennel, apple and red onion.
They are seasoned and then roasted to bring out their natural sweetness.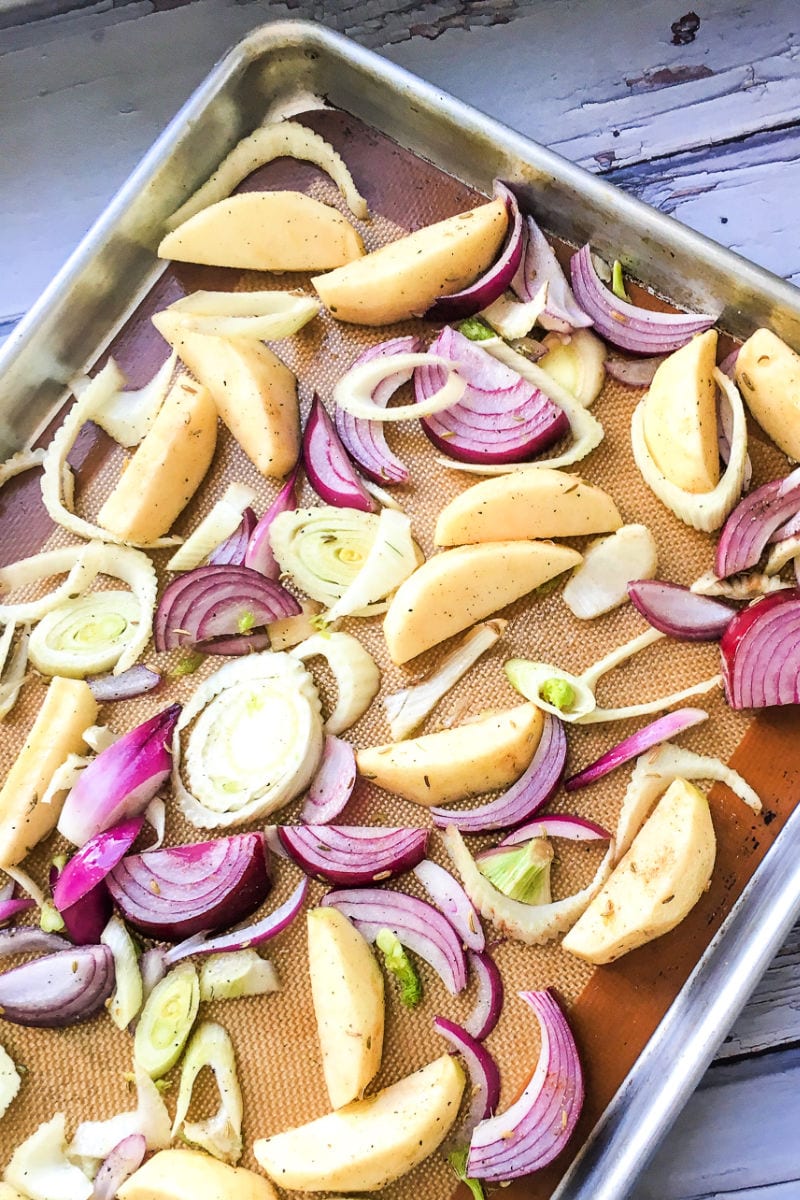 Firm apples are best for roasting and any type will do.
I typically choose red onions, but a sweet Maui onion is good, too.
This dish makes a lovely side dish or it can be incorporated into a Buddha bowl for a vegan lunch or dinner.
Enjoy!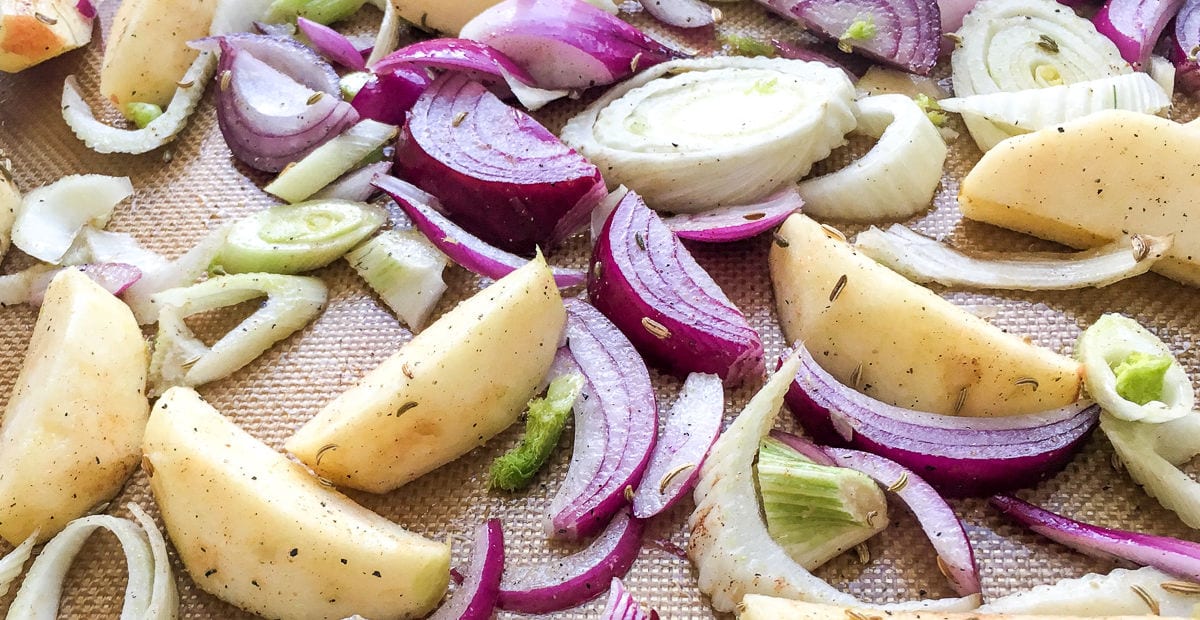 Sheet Pan Roasted Fennel Recipe
Prep time 10 minutes
Cook time 45 minutes
Serves 4
Ingredients
1 Fennel Bulb, trimmed and sliced
2 Firm apples, peeled and cut into wedges
1 Red Onion, sliced
2 T Extra Virgin Olive Oil
2 T Fresh Thyme
1 t Ground Cinnamon
2 t Granulated Garlic
1 t Nutmeg
Salt and Pepper to taste
Supplies
Rimmed Baking Sheet
Parchment Paper or Silicone Baking Mat
Chef Knife
Mixing Bowl
Tongs
Instructions
1) Preheat oven to 400°. Line a rimmed baking sheet with parchment paper or a silicone baking mat.
2) Add the fennel slices, apple wedges and red onion slices to a large mixing bowl. Add in the extra virgin olive oil, thyme, cinnamon, garlic and nutmeg and toss with tongs to combine.
3) Arrange the fennel mixture on the baking sheet in a single layer. Sprinkle with salt and pepper, if desired.
4) Roast for 20 minutes. Remove from oven and turn the veggies and fruit over.
5) Return to the oven and roast for about 30 minutes more until browned.
6) Cool for a few minutes, serve and enjoy!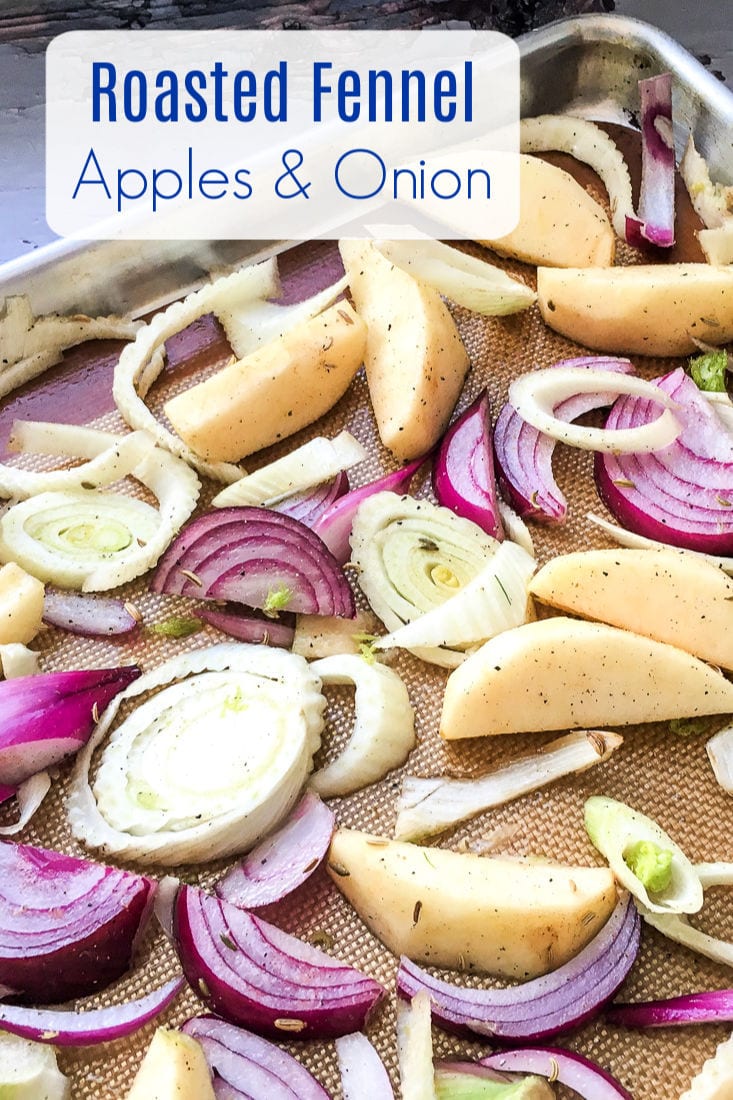 More from Mama Likes to Cook
Check out my other dinner recipes, so you can get more tasty inspiration.
Following are a few of my delicious dinner recipes.
Then take a look at the rest of my vegetarian and vegan recipes, so you can have even more delicious fun in the kitchen!