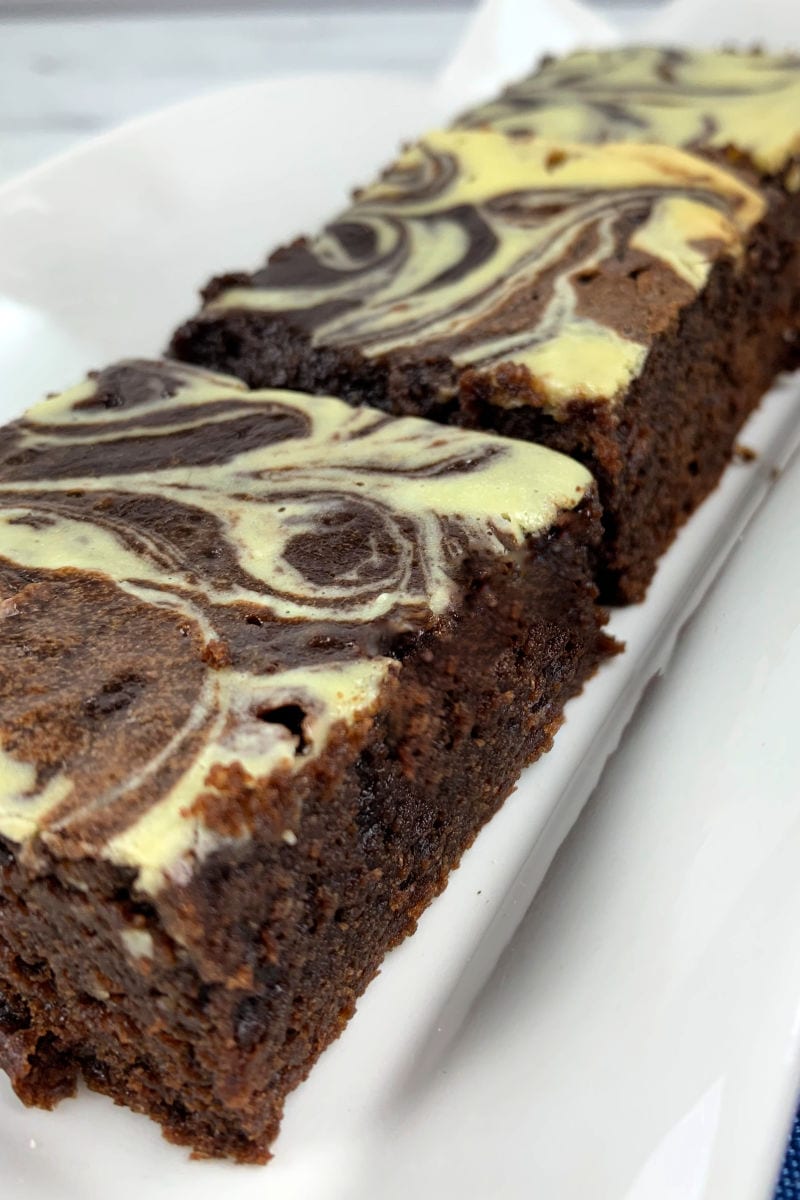 Crock Pot Brownies from Scratch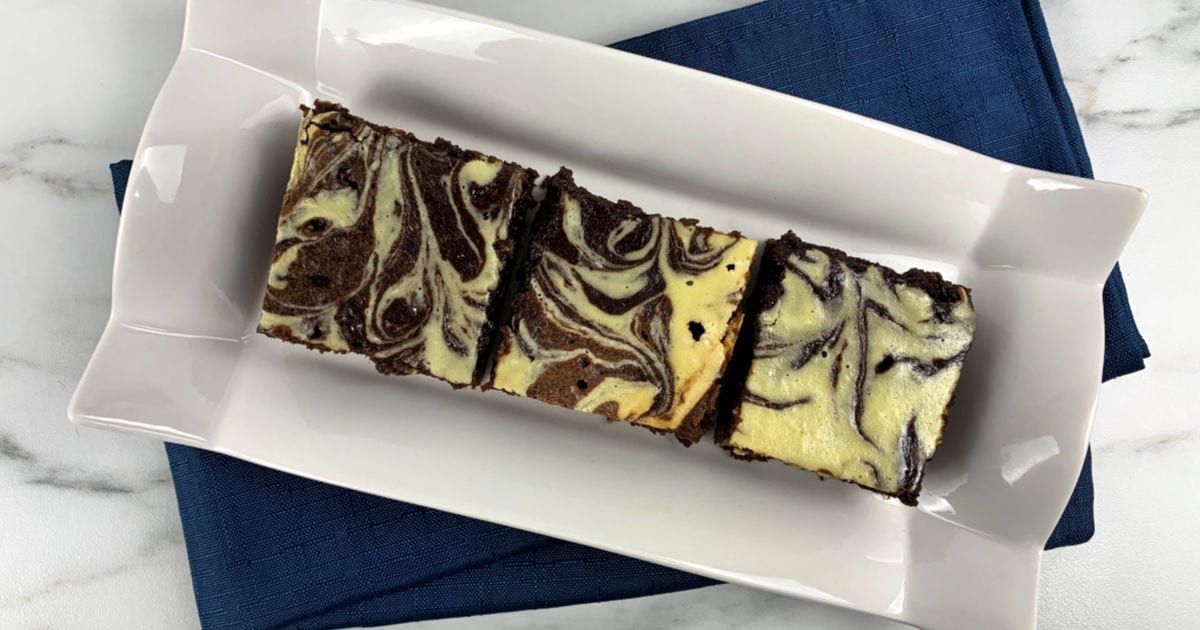 Can you make brownies in a Crock Pot? Yes, you absolutely can make delicious homemade cream cheese swirl slow cooker brownies.
So, not only can you make this dessert in a slow cooker, but you can make it fancy with cream cheese swirls.
This recipe is great for slow cooker fans who like to use their Crock Pots for all sorts of things.
It is also the perfect way to get your chocolate fix, when you don't have an oven, don't want to heat up the house with an oven or have an oven that is being used for other things.
I learned to get creative with my cooking and baking, when I was waiting for a new oven to be delivered and installed.
When you NEED brownies now, you absolutely will find a way!
These tasty Crock Pot brownies can be enjoyed anytime, whether or not there is also an oven available.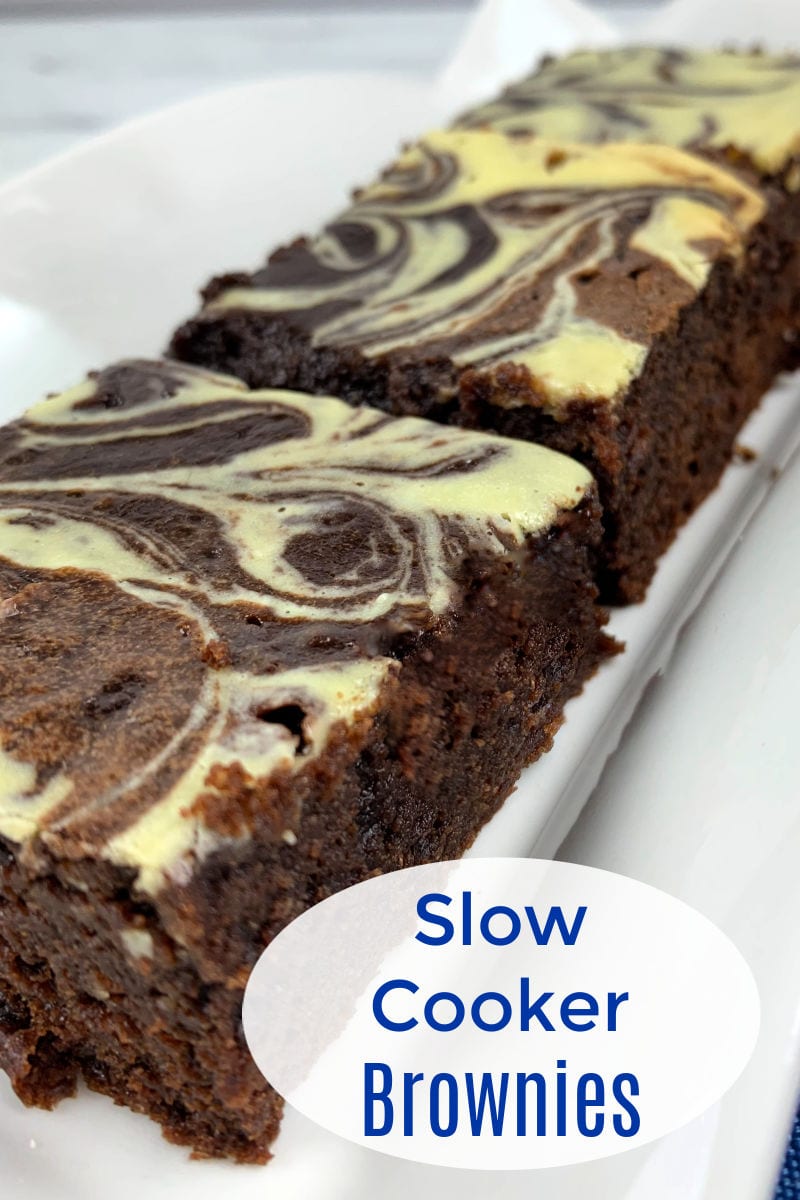 Slow Cooker Brownies Recipe
Ingredients
Brownie
¾ cup All-purpose Flour
⅓ cup Unsweetened Cocoa Powder
½ t Salt
2 oz. Semi-sweet Chocolate, chopped
1 stick Unsalted Butter (8 T)
1 cup Sugar
3 Eggs
¼ cup Vegetable Oil
1 t Vanilla Extract
Cream Cheese Swirl
4 oz. Cream Cheese, room temperature
¼ cup Sugar
1 Egg
Supplies
Slow Cooker
Parchment Paper
Mixing Bowl
Sifter
Whisk
Saucepan
Stand Mixer
Instructions
1) Line slow cooker with parchment paper. .
2) Sift the flour, cocoa powder and salt into a bowl and whisk to combine.
3) Add the chopped unsweetened chocolate and butter to a saucepan set to low heat. Stir occasionally for about 5 minutes, so that it is fully melted.
4) Use your mixer to beat together the sugar and eggs.
5) Add the melted chocolate, vegetable oil and vanilla to the egg mixture and stir to combine.
6) Add in the flour mixture a little at a time, mixing it together with a fork. Stop stirring when just combined – don't overmix.
7) Reserve 1/3 cup of the batter and pour the rest of it into the parchment paper lined slow cooker.
8) Prepare the cream cheese swirl by beating the cream cheese, sugar and egg together with an electric mixer.
9) Drizzle the cream cheese mixture on top of the brownie mixture in the slow cooker. Drag a butter knife across the top to create swirls. Add in the remaining 1/3 cup of brownie and swirl again with the butter knife.
10) Cook for 3 hours with the slow cooker set to high. Turn off the crock pot and cool for 30 minutes or more before cutting.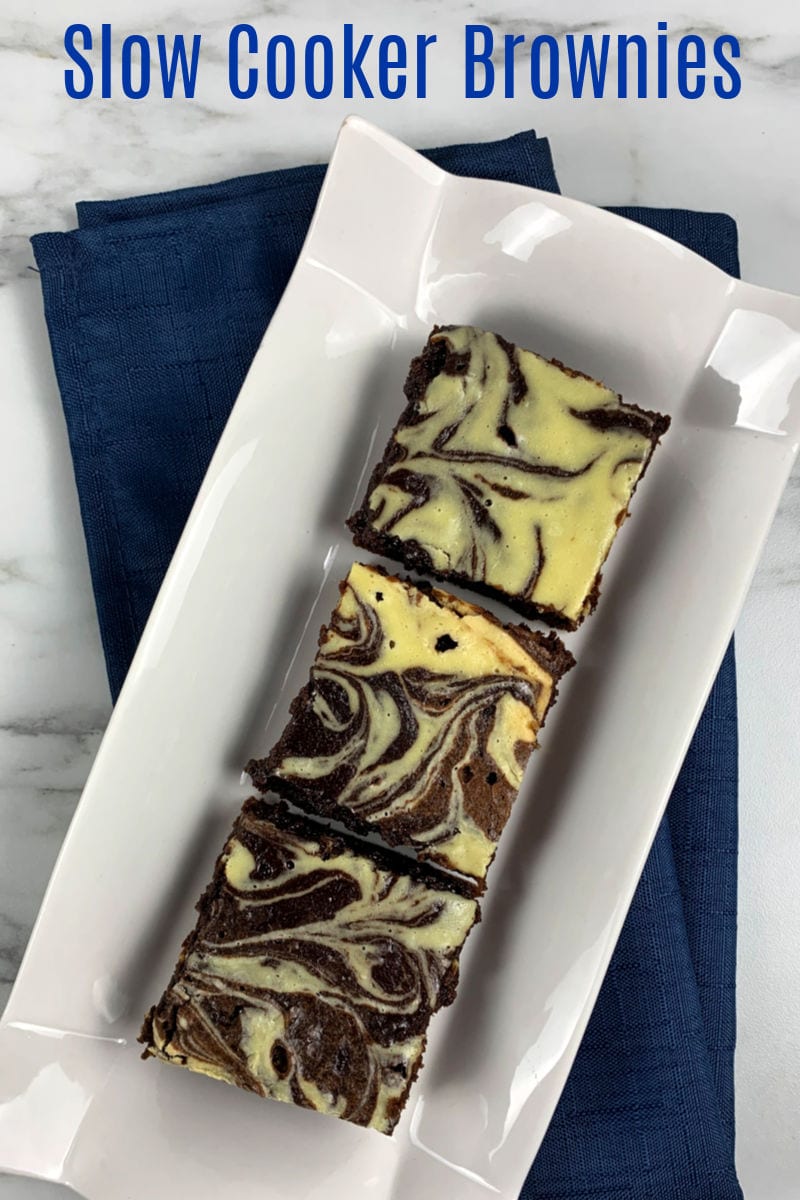 More from Mama Likes To Cook
Check out my other dessert recipes, so you can get more sweet inspiration.
Following are a few of my other delicious dessert recipes:
Then take a look at the rest of my vegetarian recipes, so you can have even more delicious fun in the kitchen!