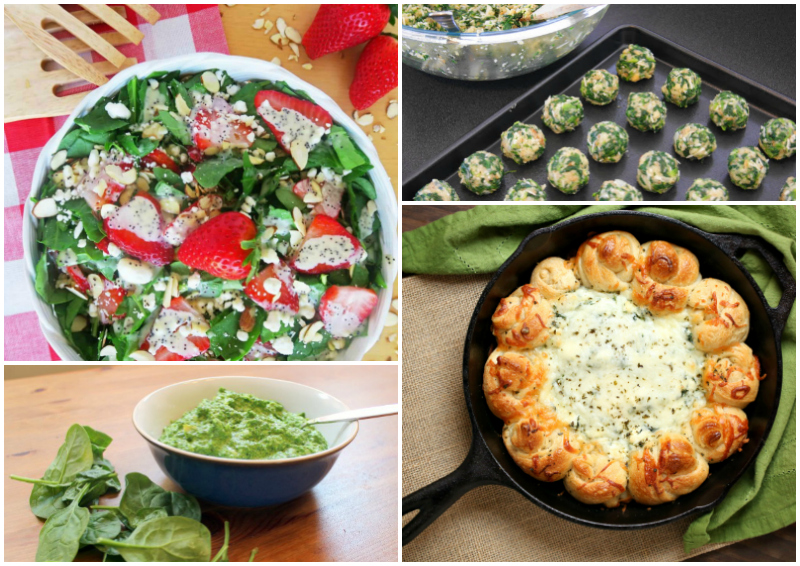 When I was a kid, Popeye encouraged me to eat spinach from a can to make my muscles bulge. These days I prefer buying it fresh. Sometimes I grab a bunch and sometimes I get a package of baby spinach that has been conveniently trimmed and washed.
Spinach works well as the star of a meal and can also be a sneaky add in for extra nutrition in smoothies, casseroles, baked goods and other dishes.
Following is a tasty assortment of recipes made with spinach. Which ones will you try first?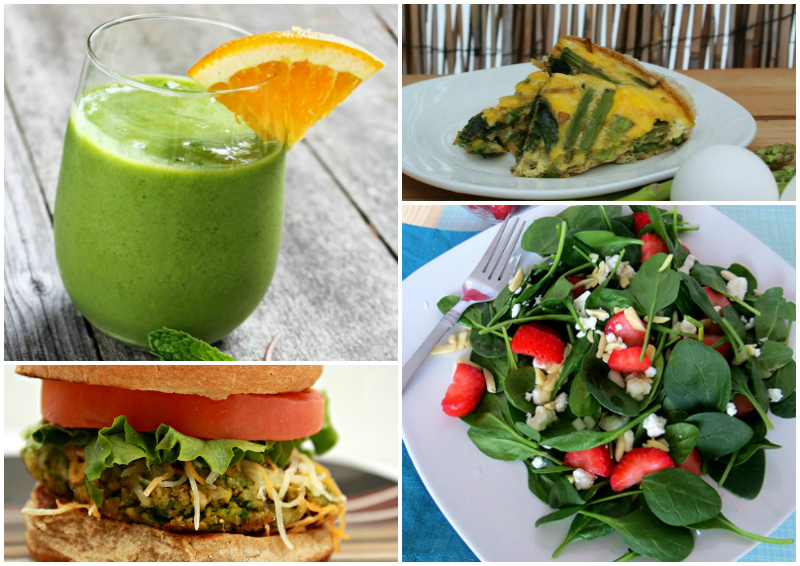 Strawberry Feta Spinach Salad from Mama Likes To Cook
Strawberry Spinach Salad from Happy Mothering
Spinach and Kale Salad with Greek Flavors from Kalyn's Kitchen
Fresh Spinach Salad from Bunny's Warm Oven
Peach and Spinach Salad from Creative Green Living
Strawberry Spinach Salad from Wholesome Yum
Spinach Apple Salad from Trial and Eater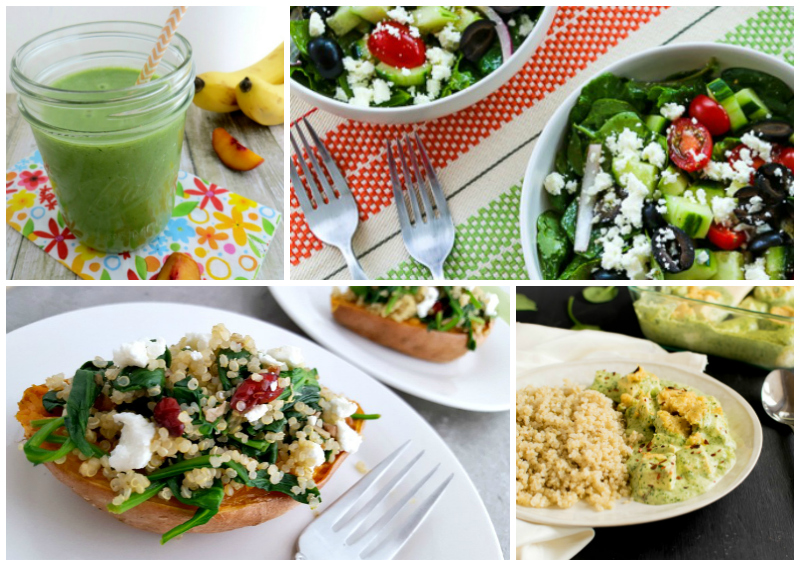 Spinach Hummus from Mama Likes To Cook
Vegetarian Spinach Rolls from The Fit Blog
Greek Spinach and Cheese Triangles from Gorgeous Recipes
Spinach Balls from The Kitchen is My Playground
Spinach Dip Crescent Bites from The Kitchen is My Playground
Spinach Stuffed Mushrooms from Wholesome Yum
Spinach Mozzarella Pizza Rolls from Trial and Eater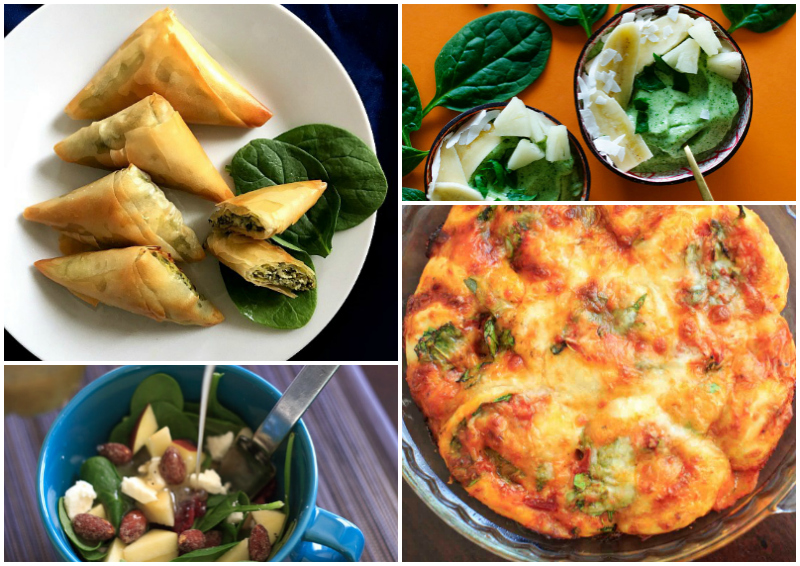 Warm Spinach and Feta Cheese Dip from Mama Likes To Cook
Dairy Free Spinach Artichoke Dip from Home Health and Happiness
Hot Cottage Cheese Spinach Dip from Family Food and Travel
Best Spinach Dip from Slap Dash Mom
Fresh Spinach Dip from Hello Nature
Low Carb Spinach Artichoke Dip Cups from It's Cheat Day Everyday
Spinach Dip from Cooking with Curls
Hot Spinach Dip from Amanda's Cookin'
Warm Cream Cheese Spinach Dip from Little House Living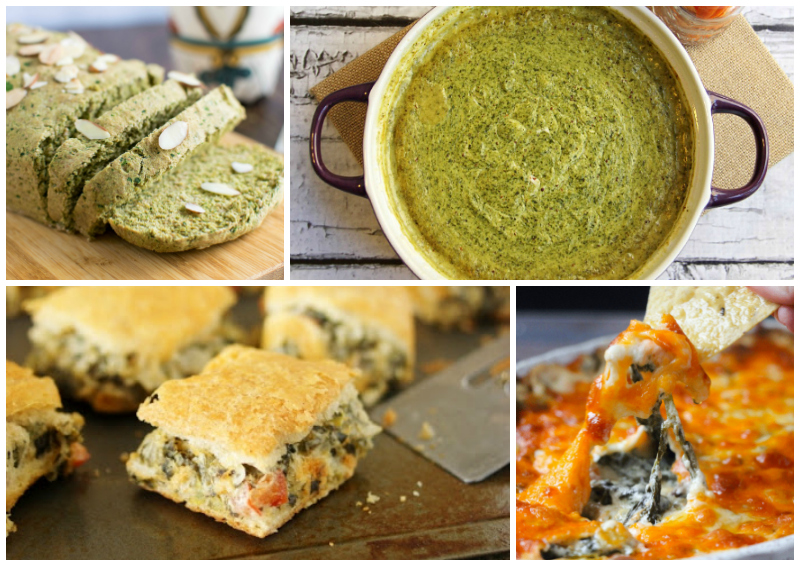 Broccoli and Spinach Soup from Family Food and Travel
Vegan Creamy Spinach Soup from Mama Likes To Cook
Spinach Pesto from Sidewalk Shoes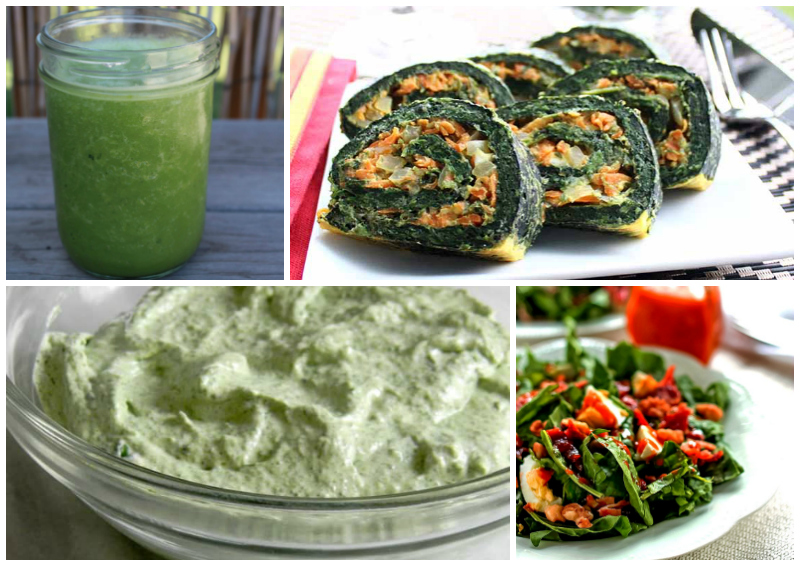 Easy Spinach Souffle from Living Sweet Moments
Spinach and Quinoa Stuffed Sweet Potatoes from Happy Mothering
Spinach and Chickpea Veggie Burger from Slap Dash Mom
Sweet Potato and Spinach Frittata from Mama Likes To Cook
Spinach Asparagus Frittata from Coffee with Us 3
Polenta with Spinach and Tomato from Mama Likes To Cook
Cheesy Spinach Tofu Casserole from Kiip Fit
Spinach Ricotta Rustic Pie from An Italian In My Kitchen
Creamy Spinach Enchiladas from Dukes and Duchesses
Easy Spinach Manicotti from Vegging At The Shore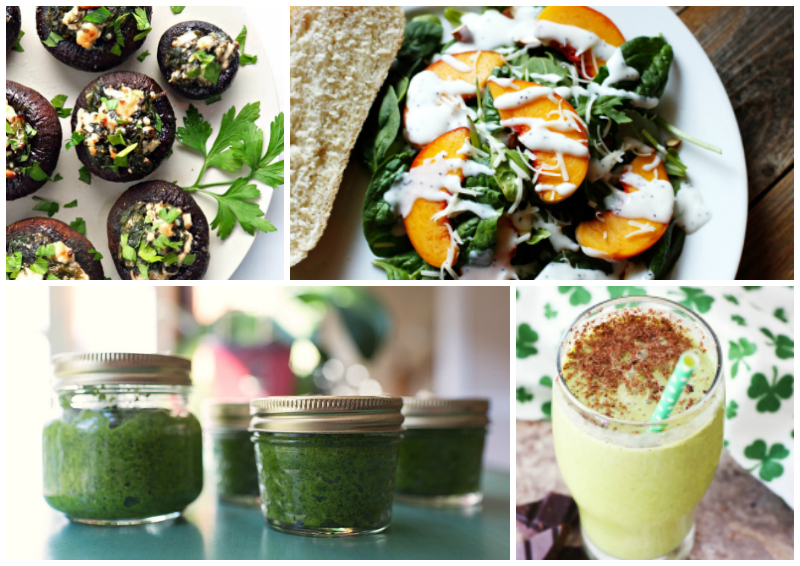 Easy Green Detox Smoothie from Happy Mothering
Cherry Pear Spinach Smoothie from Delicious Obsessions
Feel Good Everyday Drink from The Flying Couponer
Cucumber Spinach Smoothie from Coffee with Us 3
Tropical Greens Smoothie from Creative Green Living
Healthy Mint Chocolate Chip Smoothie from Sizzling Eats
Pineapple Spinach Smoothie Bowl from Amanda's Cookin'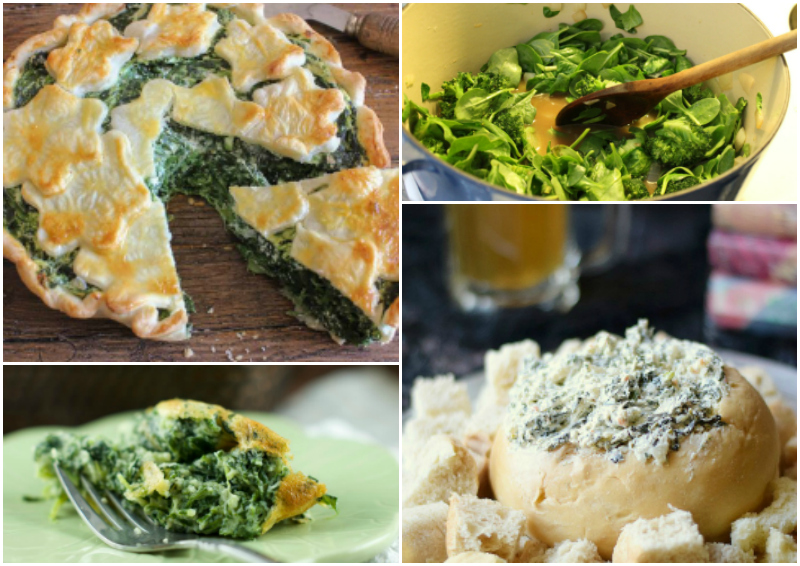 Spinach Chocolate Chip Muffins from Thrifty Jinxy
Quick Spinach Sauce Bread from Kiip Fit