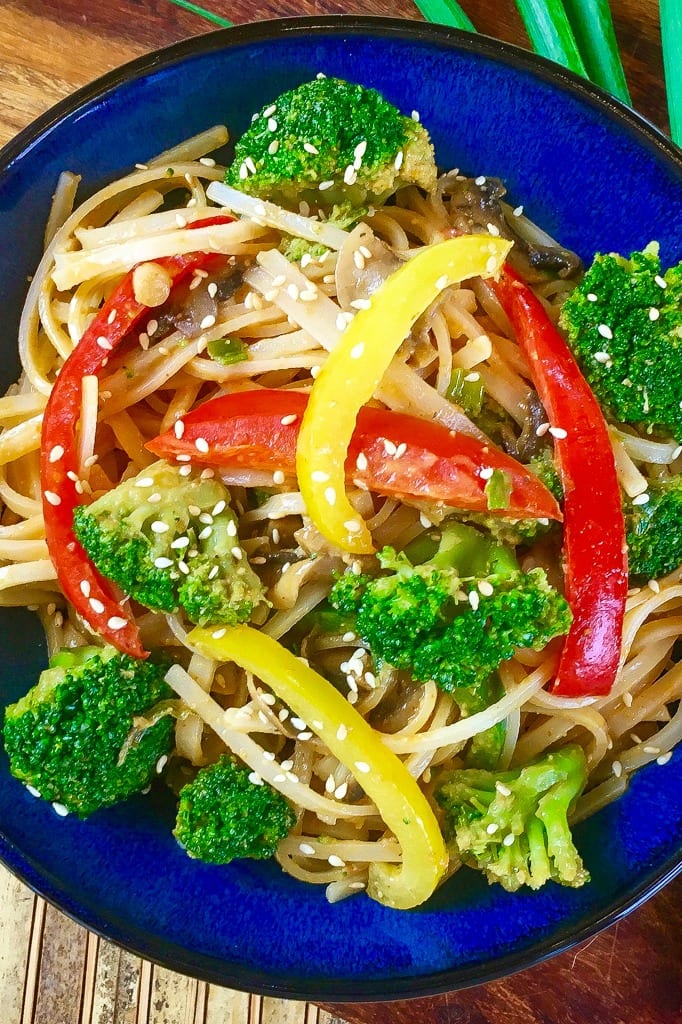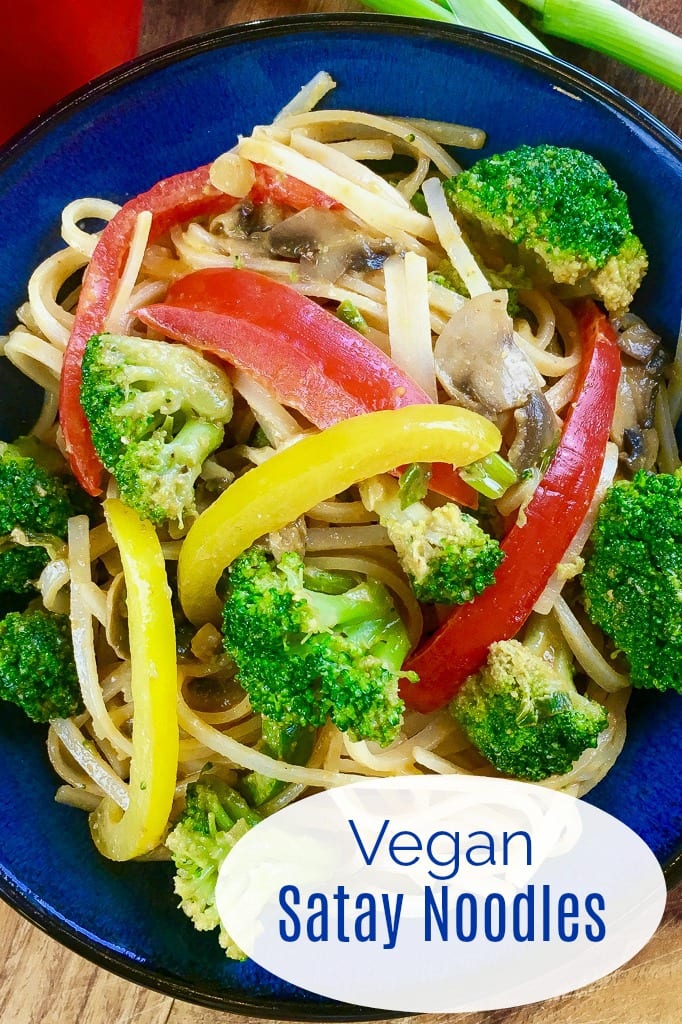 Spicy Peanut Noodles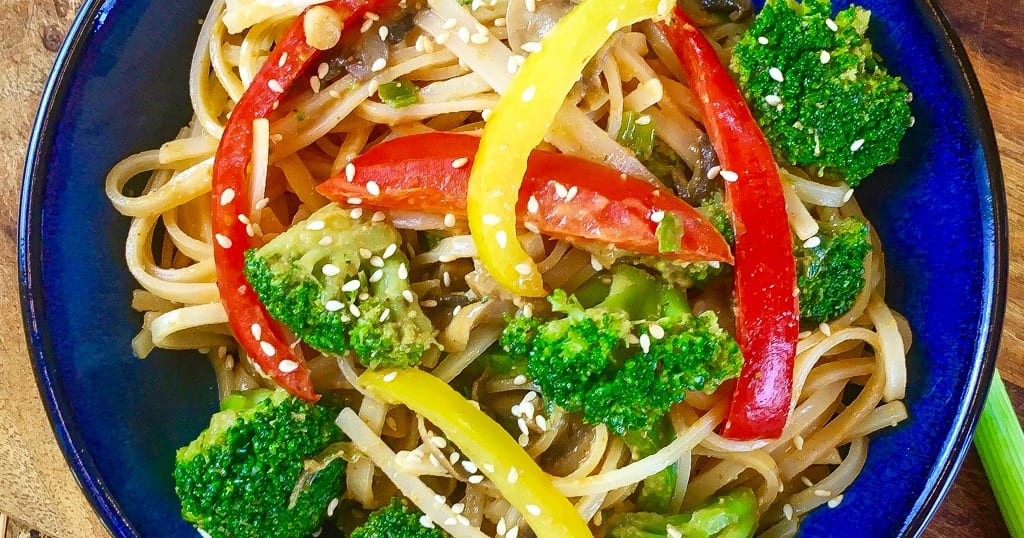 Thai peanut noodles are delicious, so I love that I can easily make vegan satay noodles at home.
There is no fish sauce added, so they are, indeed, vegan.
I love eating out at Asian restaurants, but have learned to be careful when ordering.
A lot of foods that look like they would be vegan aren't, since they are made with fish sauce. That is often true with peanut dishes.
My satay noodles recipe has lots of tasty peanut flavor and no fish sauce at all. Even people who do eat fish won't miss it.
This is a simple meal that is easy to get on the table quickly on a busy weeknight.
And if you happen to have leftovers, you can pack them up for lunch the following day.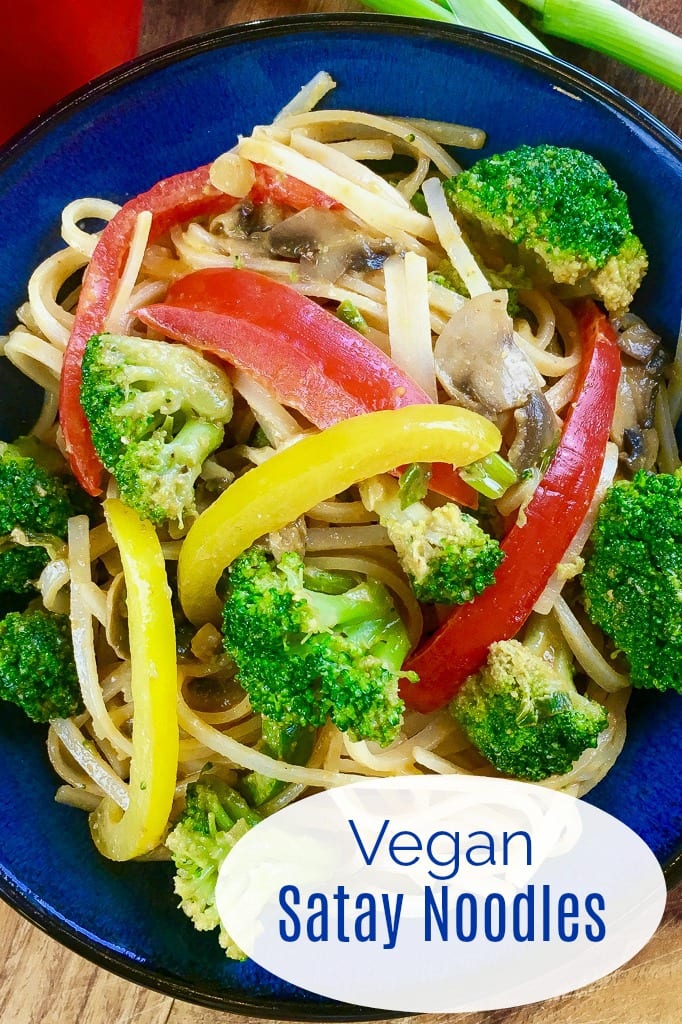 Vegan Satay Noodles Recipe
Prep time- 15 minutes
Cook time- 10 minutes
Serves 6
Ingredients
1 pkg. Rice Noodles (14 oz.)
3 T Sesame Oil
1 lb. Broccoli Florets
8 oz. Mushrooms
1 Yellow Bell Pepper, sliced
1 Red Bell Pepper, sliced
2 Green Onions, sliced
½ cup Peanut Butter
1/3 cup Soy Sauce
2 T Sriracha Sauce
Supplies
Saucepan
Pasta Strainer
Skillet or Wok
Bowl
Whisk
Instructions
1) Prepare noodles according to package directions.
2) Heat 2 T sesame oil in wok on medium-high heat. Add vegetables and cook for approximately 5 minutes, stirring continually.
3) Make the sauce in a bowl by whisking soy sauce, peanut butter, srirach and remaining sesame oil together until smooth. If you'd like it thinner, add a little bit of water.
4) Toss noodles, vegetables and sauce together to combine. Serve immediately.

Check out my other dinner recipes, so you can get more tasty inspiration.
Following are a few of my other vegan dinner recipes.
Then take a look at the rest of my vegetarian recipes, so you can have even more delicious fun in the kitchen!