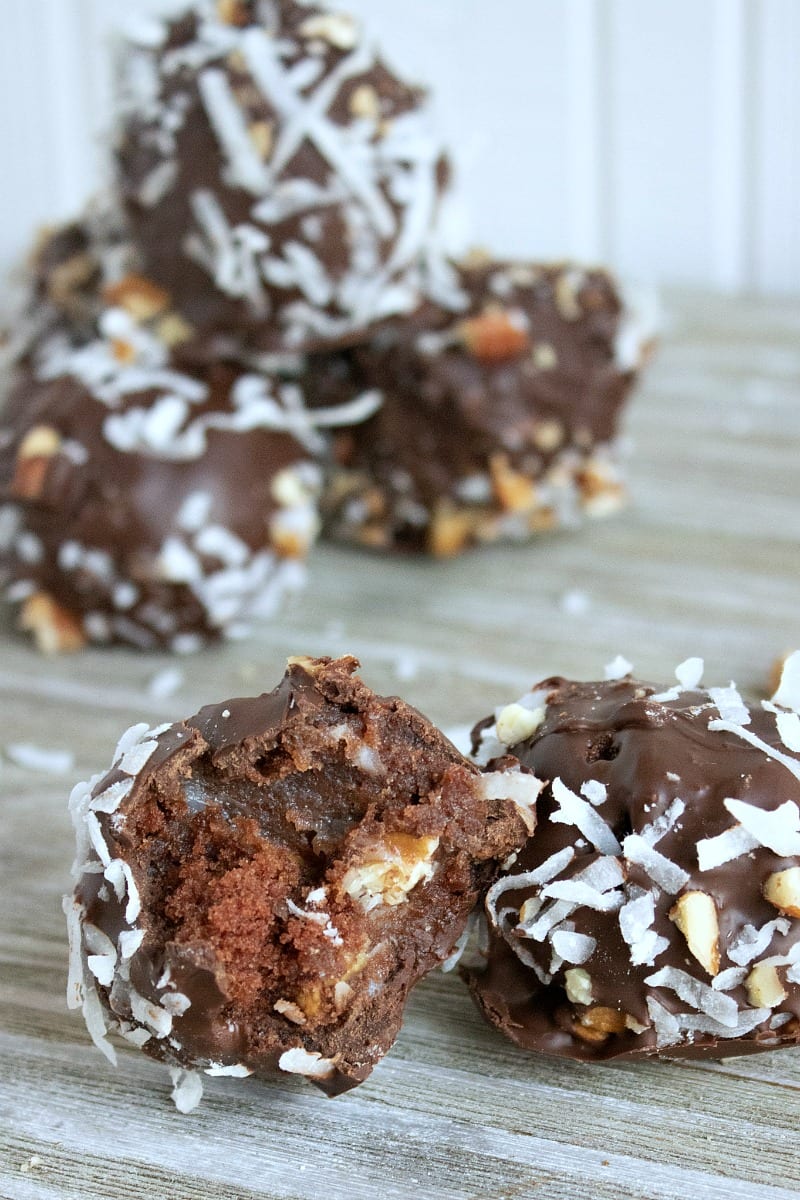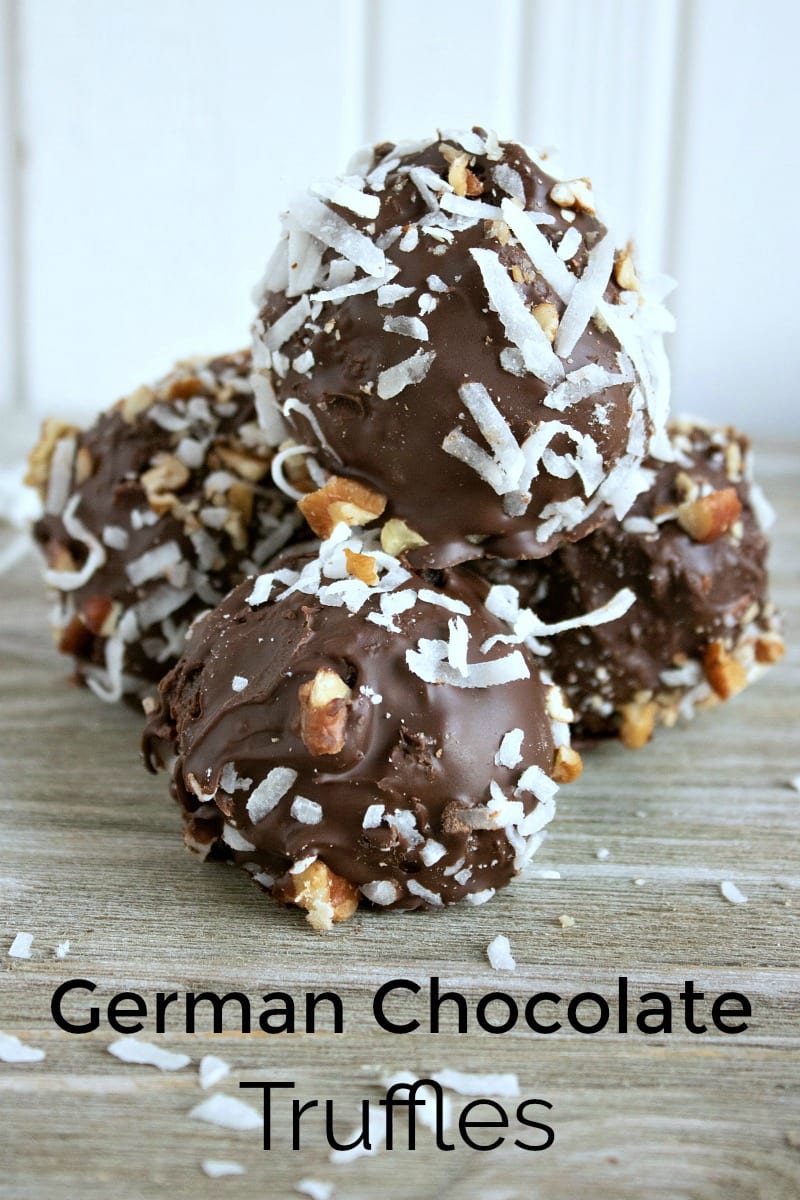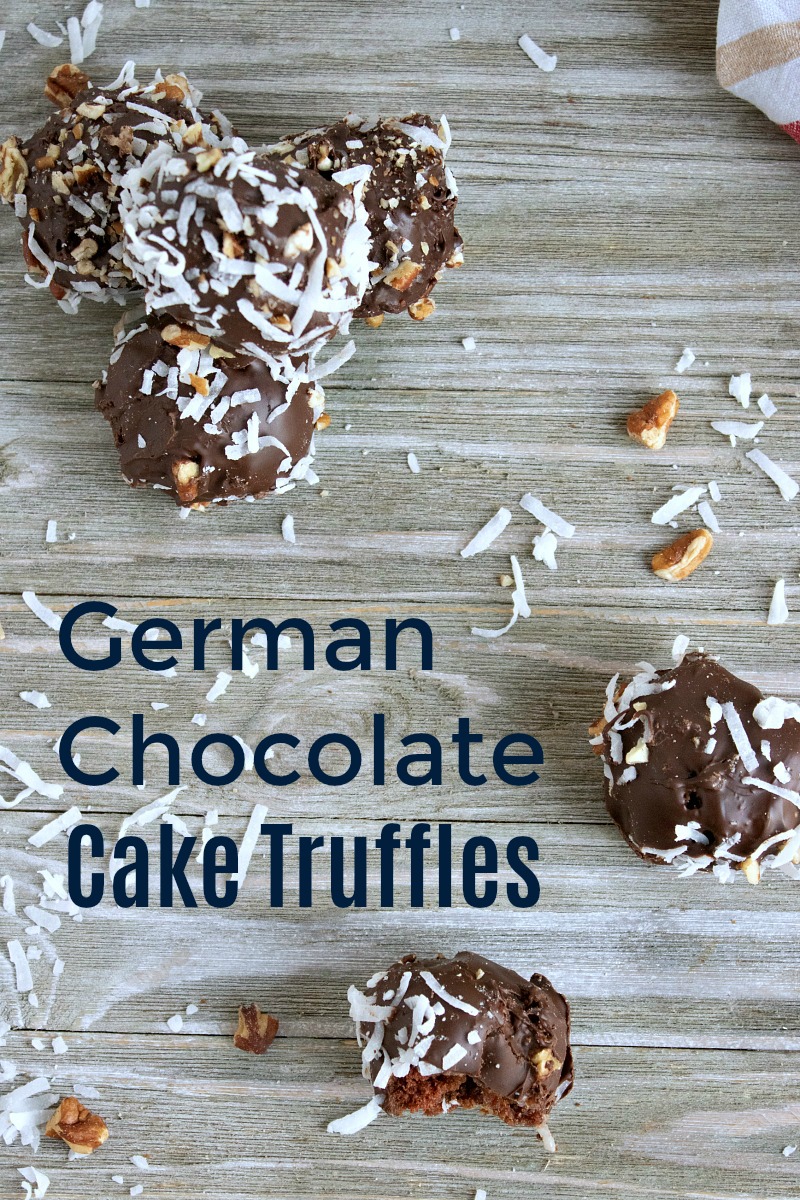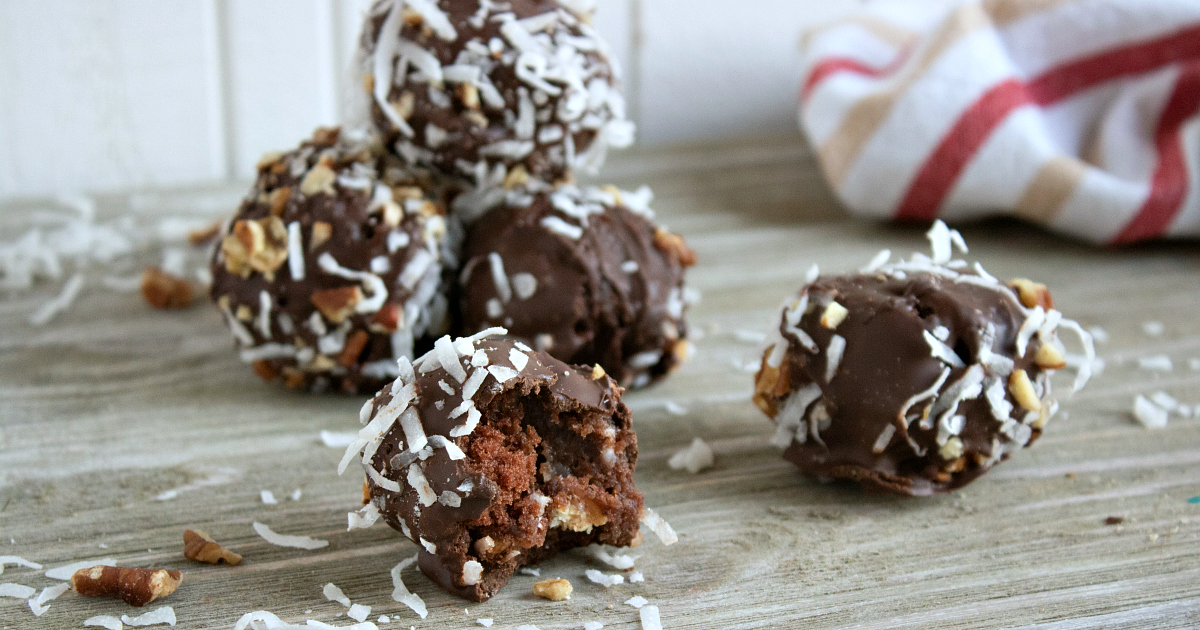 Yummy Chocolate Coconut Dessert
When you a craving a little something sweet that is full of flavor, grab one of my bite sized German chocolate cake truffles.
This is the perfect little dessert to set out for a holiday party.
Your guests can have a treat, but they can also enjoy the other good food on the buffet.
Cake truffles are also a good item to sell at a bake sale, so you can help raise money for your child's school or another worthy cause.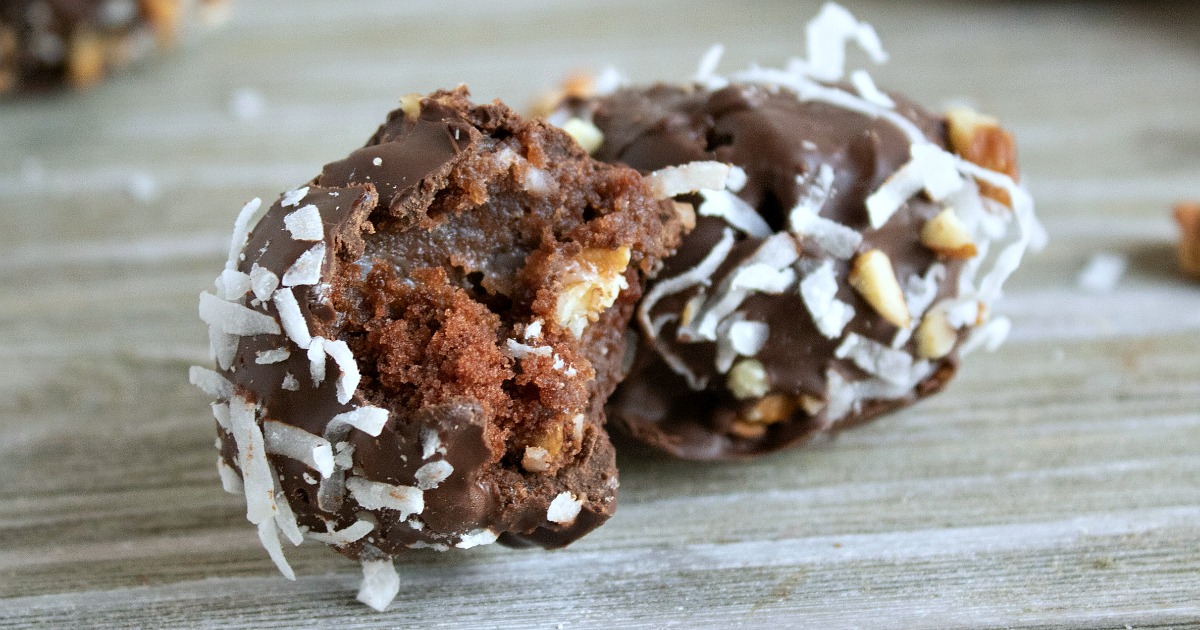 You can use a regular boxed mix for the cake part of this recipe.
Of course, it would also work with a made from scratch cake or even a store bought one.
If you choose store bought, the rest of the recipe is no bake.
Little kids will love to help form the truffles into balls, dip them in chocolate and top with coconut and pecans.
This recipe really does feel like you are playing in the kitchen!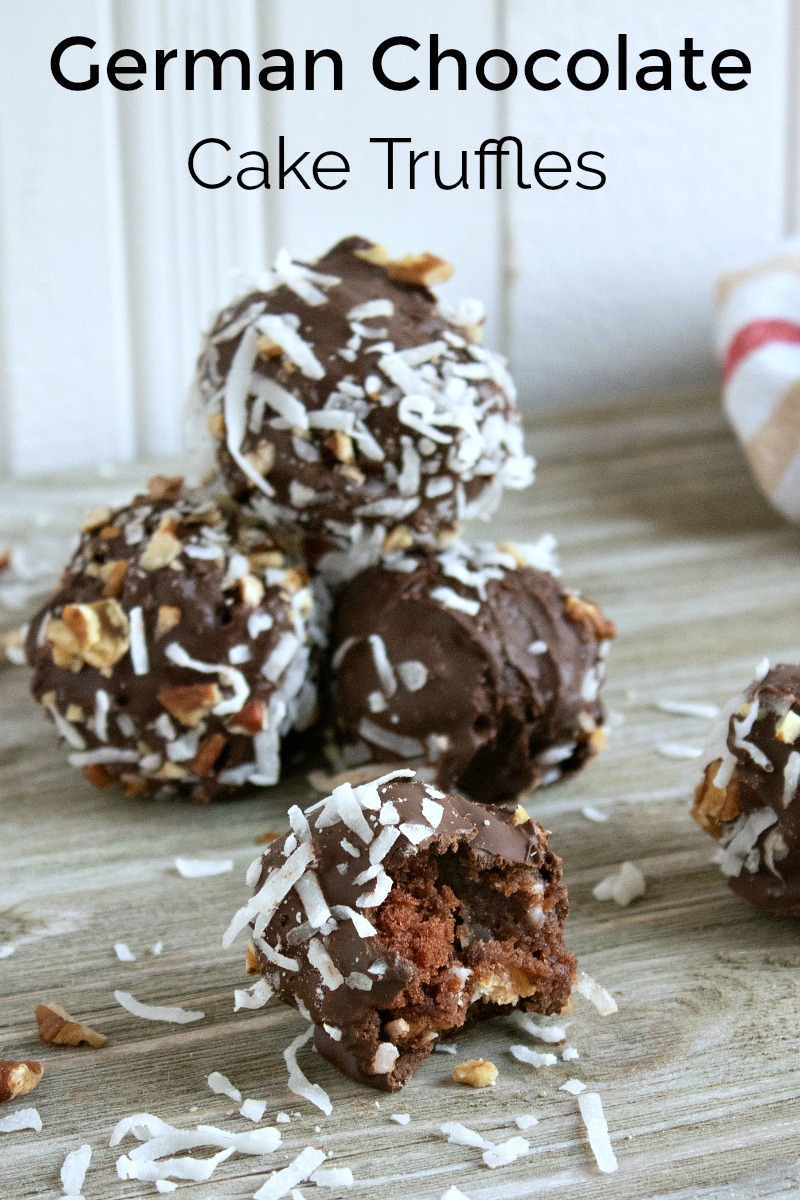 We love all kinds of chocolate desserts, but there is something extra special about German chocolate cake with coconut and pecans.
This is a wonderful combination of flavors and textures, so it is always a hit.
Enjoy!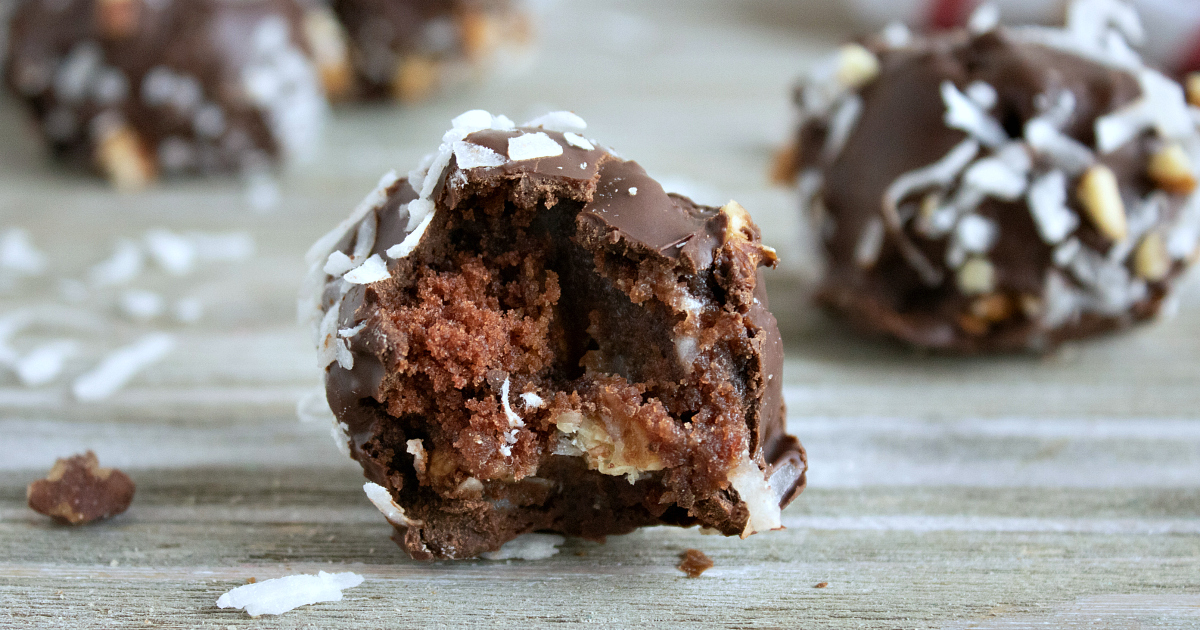 German Chocolate Cake Truffles Recipe
Makes 48 Truffles
Ingredients:
Cake
German chocolate cake prepared according the package instructions
Coconut Pecan Frosting
½ cup Unsalted Butter
1 can Sweetened Condensed Milk (14 oz.)
3 Egg Yolks
2 t Vanilla Extract
1 1/4 cup Shredded Coconut
1 cup Pecans, chopped
Truffles
4 cups Semi-sweet Chocolate Chips
1 cup Shredded Coconut
1 cup Pecans, chopped
Instructions:
Cake
1) Bake cake according to instructions on package.
2) When cake is cool, crumble it and set aside.
Coconut Pecan Frosting
3) Melt butter in a sauce pan.
4) Add sweetened condensed milk and egg yolks.
5) Stir continuously until thick.
6) Remove pan from heat and stir in vanilla extract, coconut and pecans.
7) Set aside and let it cool for 30 minutes or more.
Truffles
8) Combine the crumbled cake and frosting together in a large mixing bowl.
9) Line a baking sheet with parchment paper.
10) Shape the cake and frosting mixture into 1 inch balls and place on the parchment paper.
11) Put the baking sheet in the freezer for about 30 minutes.
12) Melt the chocolate chips in a microwave safe glass bowl. Microwave for 1 minute and then stir. Repeat in 30 second increments until chocolate is creamy and completely melted.
13) Put Coconut and pecans in bowls, so that they are ready to sprinkle on cake balls.
14) Pick up a cake ball with a fondue stick and dip in the warm chocolate to completely coat. Then place on the parchment paper and sprinkle with coconut and pecans while the chocolate is still warm.
15) Repeat until all truffles are dipped. If the chocolate cools down before they are all done, warm it in the microwave.
16) Allow chocolate to set.
17) Serve right away or store in an airtight container.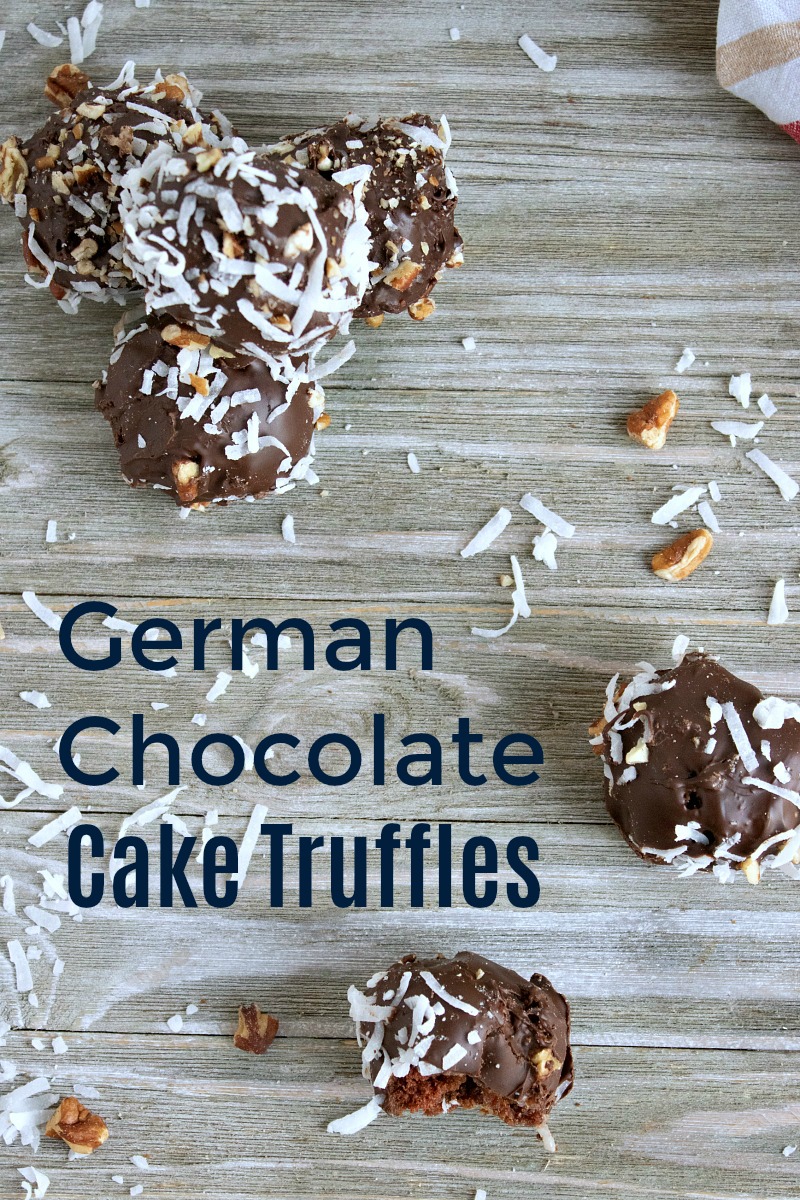 Check out my other vegetarian recipes, so you can get more kitchen inspiration.
Then take a look at my
recipe round ups
, so you can have even more delicious fun in the kitchen!