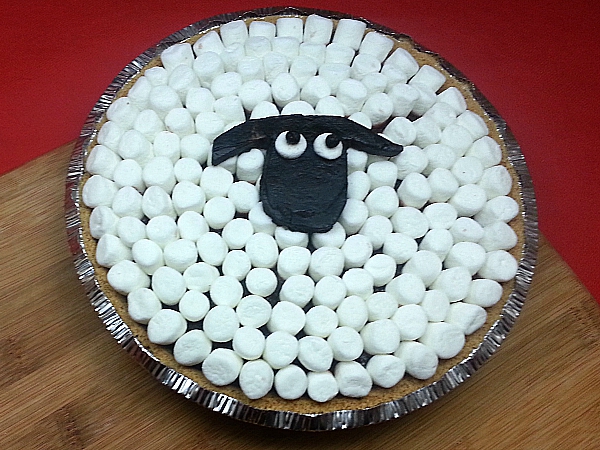 Do you have a Shaun the Sheep fan in your home?
This easy no-bake chocolate pudding pie would be great as a treat before or after seeing the new Shaun the Sheep Movie in a theater.
It would also be fun for a Shaun themed birthday party.
Shaun the Sheep No-bake Chocolate Pudding Pie
Ingredients:
1 Graham Cracker Pie Crust (store-bought or homemade)
1 Box of Pudding, prepared according to pie directions on package
1 10 oz. Bag Mini Marshmallows
1/2 cup Chocolate Chips
1/3 cup Powdered Sugar (Confectioner's Sugar)
10 drops Black Food Coloring
Step 1:
Prepare chocolate pudding using the pie directions on the package.
Pour pudding into pie crust and refrigerate.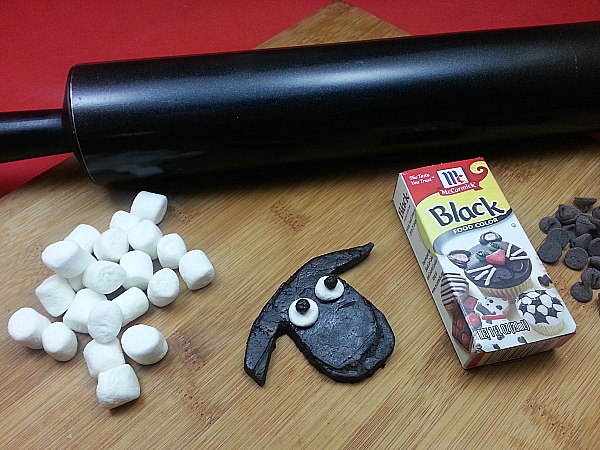 Step 2:
Put 1 cup of the mini marshmallows into a large microwave safe bowl.
They will puff up when heated, so a regular, full size bowl works best even though it's only 1 cup.
Microwave for 45 seconds.
Remove from microwave and quickly stir in chocolate chips and the black food coloring.
If the chocolate chips are not quite melted, put back into the microwave in 10 second increments until melted.
Add in half of the powdered sugar and mix thoroughly.
Add more as needed until it's the consistency of modeling clay.
Place the fondant between 2 layers of plastic wrap.
Using a rolling pin, roll it flat to approx. 1/8″ to 1/4″ thick.
Cut out a "Shaun Shape" with a knife.
For the eyes:
Cut a mini marshmallow in thirds.
You'll use the 2 ends.
Dab the sticky sides with a tiny bit of water and then stick to the fondant Shaun.
Roll 2 tiny fondant balls for the eyeballs.
Dab them with a bit of water to stick them to the marshmallow eyes.
This was my first time to use fondant and I was surprised at how easy it was.
Shaun's face and ears have a forgiving shape, so their is plenty of room for creativity (or a lack thereof) and it will still look like Shaun.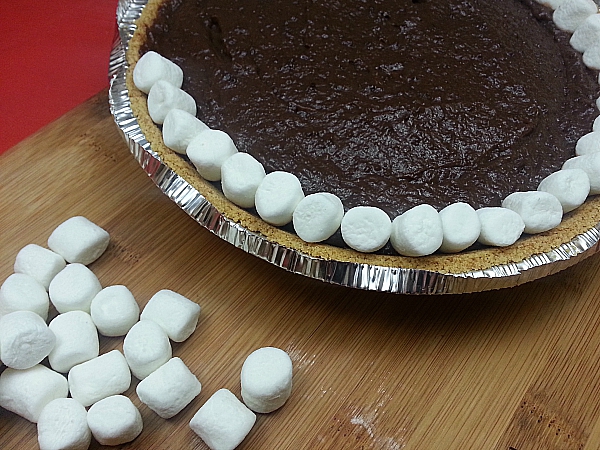 Step 3:
Remove the pie from the refrigerator.
Starting at the outer edge arrange the mini marshmallows around the pie, row by row until you reach the center.
Apply a little bit of pressure as you place each one, so they stick to the pie instead of just resting on top.
Step 4:
Dab a little bit of water on the back of fondant Shaun.
Place on top of the pie.
Eat immediately or refrigerate and serve later.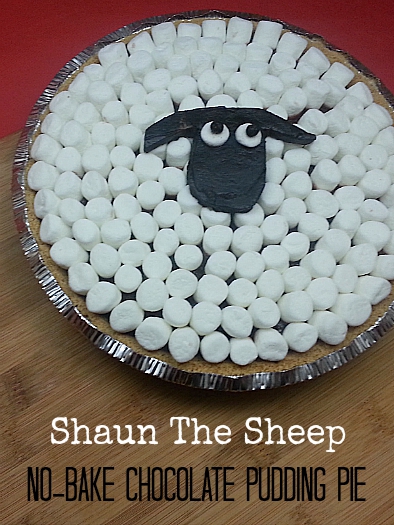 More from Mama Likes To Cook
Check out the rest of my vegetarian recipes, so you can get more great ideas for baking, cooking, blending and juicing.
Pie Recipes
Shopping Tips
For a beautiful assortment of kitchen necessities and food gifts for the whole family, check out the deals at these online stores.
Are you ready to have some delicious fun in the kitchen?