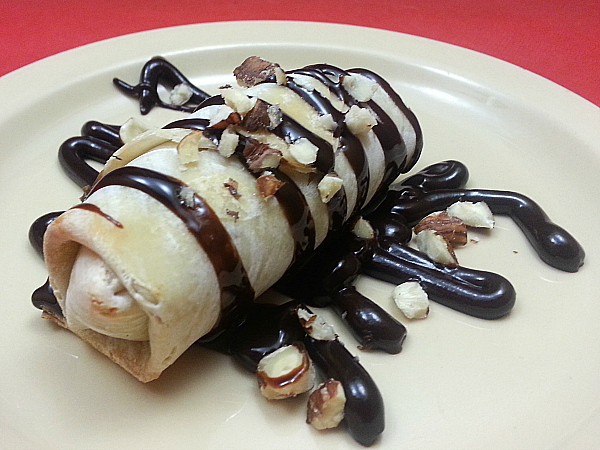 Have you ever made egg rolls? This was my first attempt and now that I know how easy they can be, I will be making these and other egg rolls regularly.
This week I attended a pre-Chinese New Year event at Melissa's Produce. Guests were encouraged to participate in an egg roll competition. I initially said no to the contest, since I had never made an egg roll before and the attendees at these events are generally quite skilled and have professional training. Somehow, I got talked into participating.
I like my cooking and so do my family and friends, but I'm not a professional and tend to figure out ways to make foods that are simple and quick instead of complex dishes like others create. Turns out, I didn't need to doubt my skills or be intimidated. These egg rolls came in 3rd place. Lesson learned… I will now have more confidence.
The egg rolls taste great, look impressive and were really easy to put together. All of the ingredients except for the egg and cream cheese came from Melissa's. If you have kids who like to help in the kitchen, it can be fun for them to help mix, wrap the egg rolls and add the toppings.
Cherry Cream Cheese Dessert Egg Rolls
Ingredients:
8 oz. pkg. Cream Cheese
1/4 cup Melissa's Dried Bing Cherries, chopped
2T Melissa's Organic Blue Agave Syrup
1 pkg. Melissa's Egg Roll Wraps
1 egg, beaten
Melissa's Chocolate Dessert Sauce
Melissa's Hazelnuts, chopped
Instructions:
Pre-heat oven to 375°
Filling:
Mix the cream cheese, agave and cherries together by hand.
Assembly:
Place approx. 1 Tablespoon of the filling on the egg roll wrap. Dab egg on the edges of the wrap to act as "glue" and hold it together.
Roll tightly and place seem side down on a baking sheet that has been lined with a silicone baking mat or parchment paper.
(There is a diagram on the Egg Roll Wrap package that shows how to fill and roll. After a quick glance, I learned the technique and mine were done in just a few minutes)
Bake for 12-15 minutes until lightly browned.
Top with chocolate and hazelnuts prior to serving.