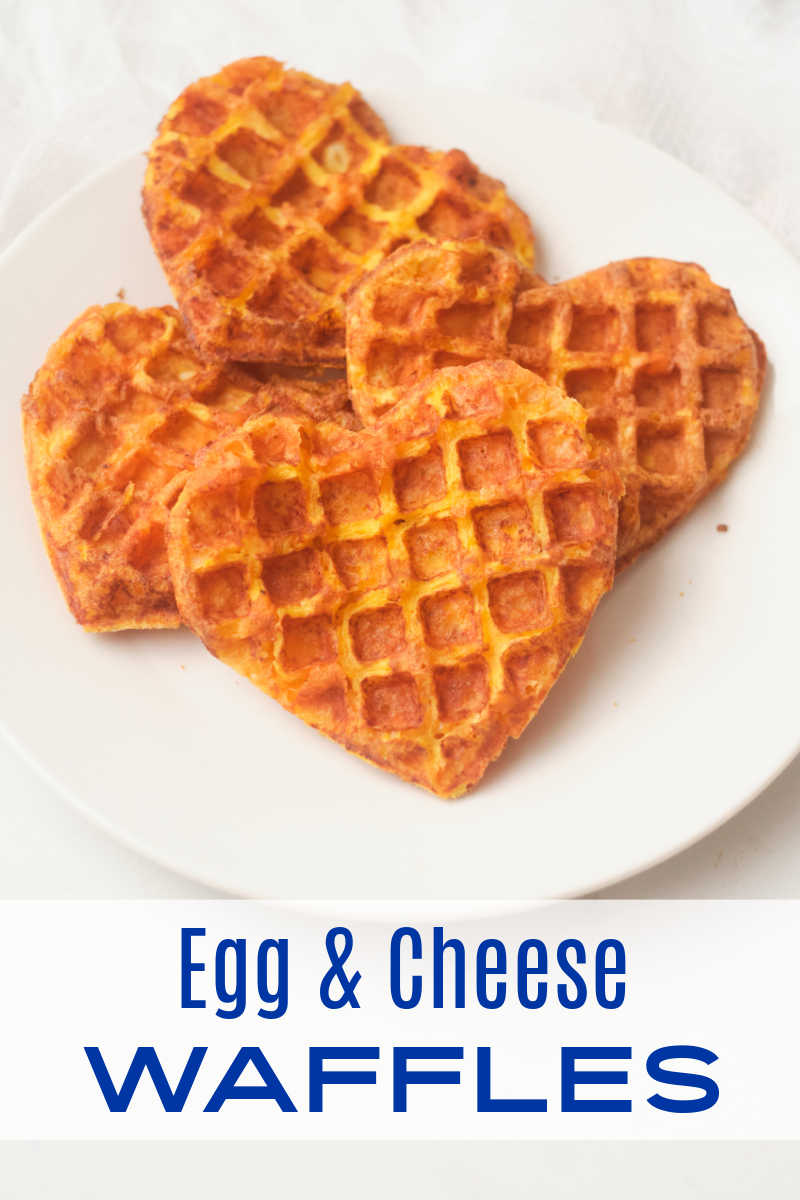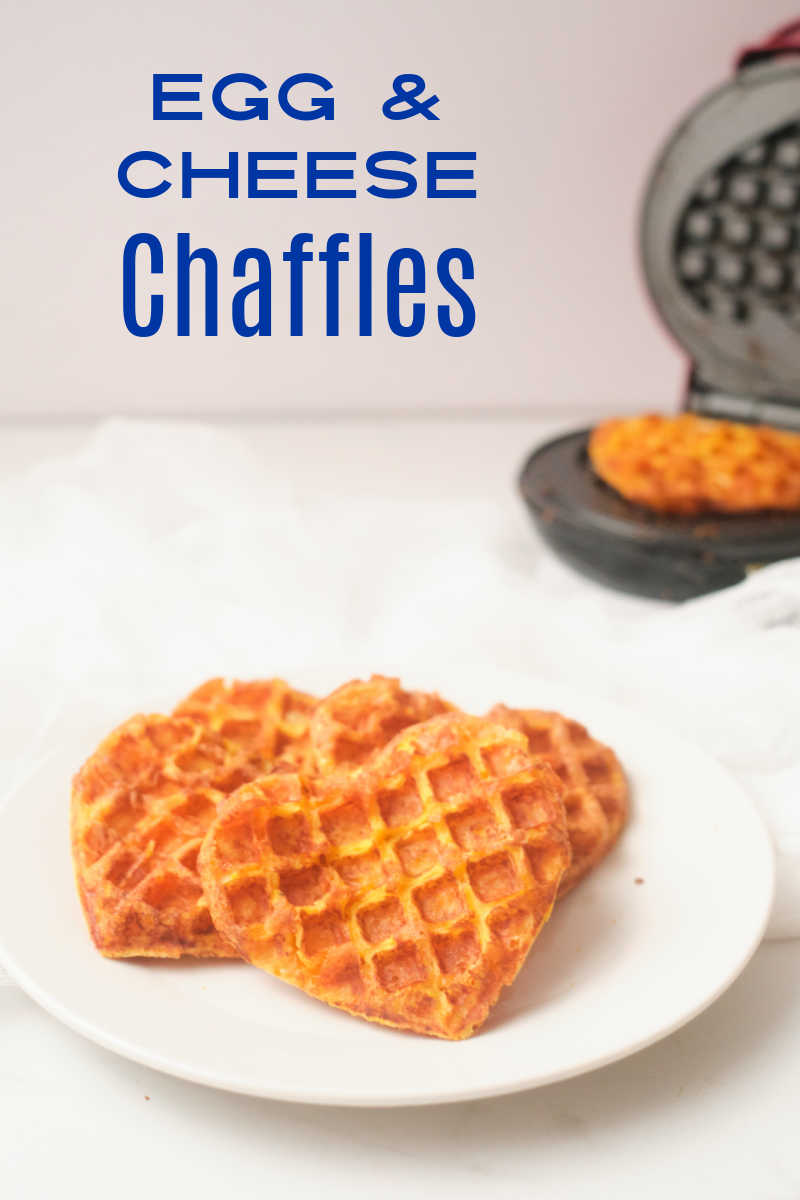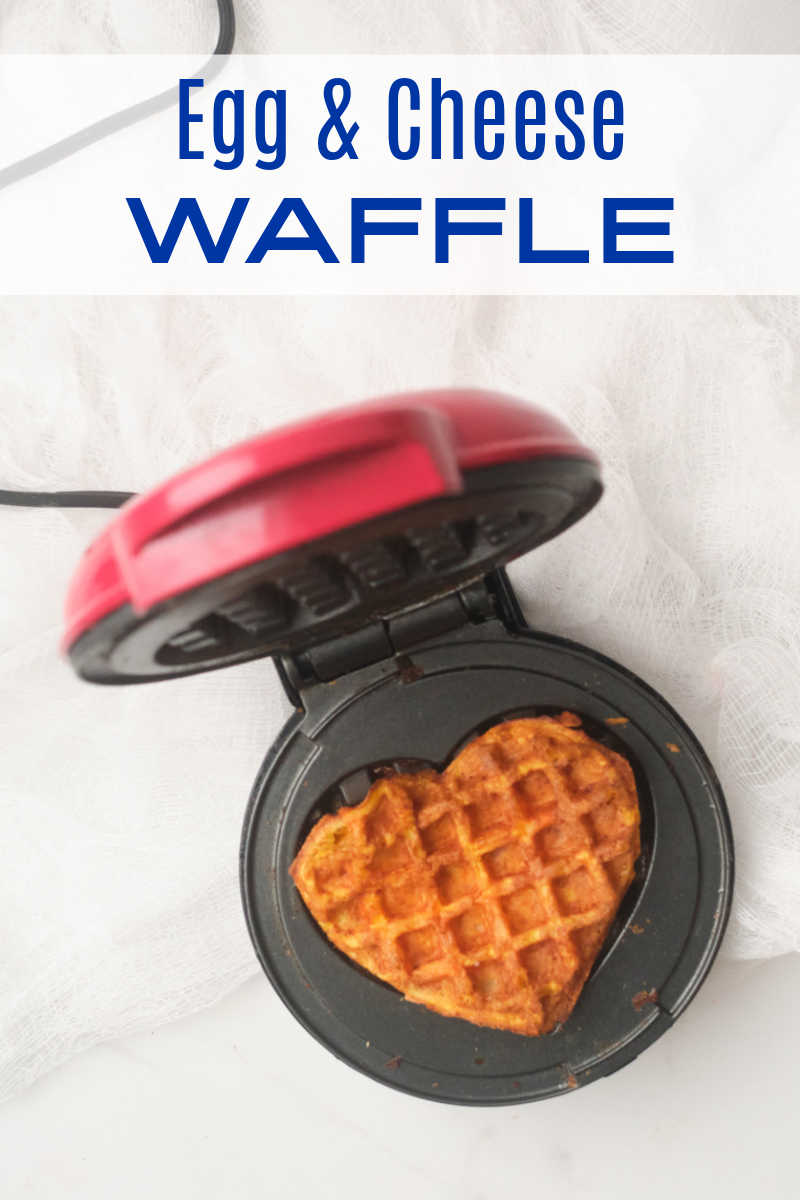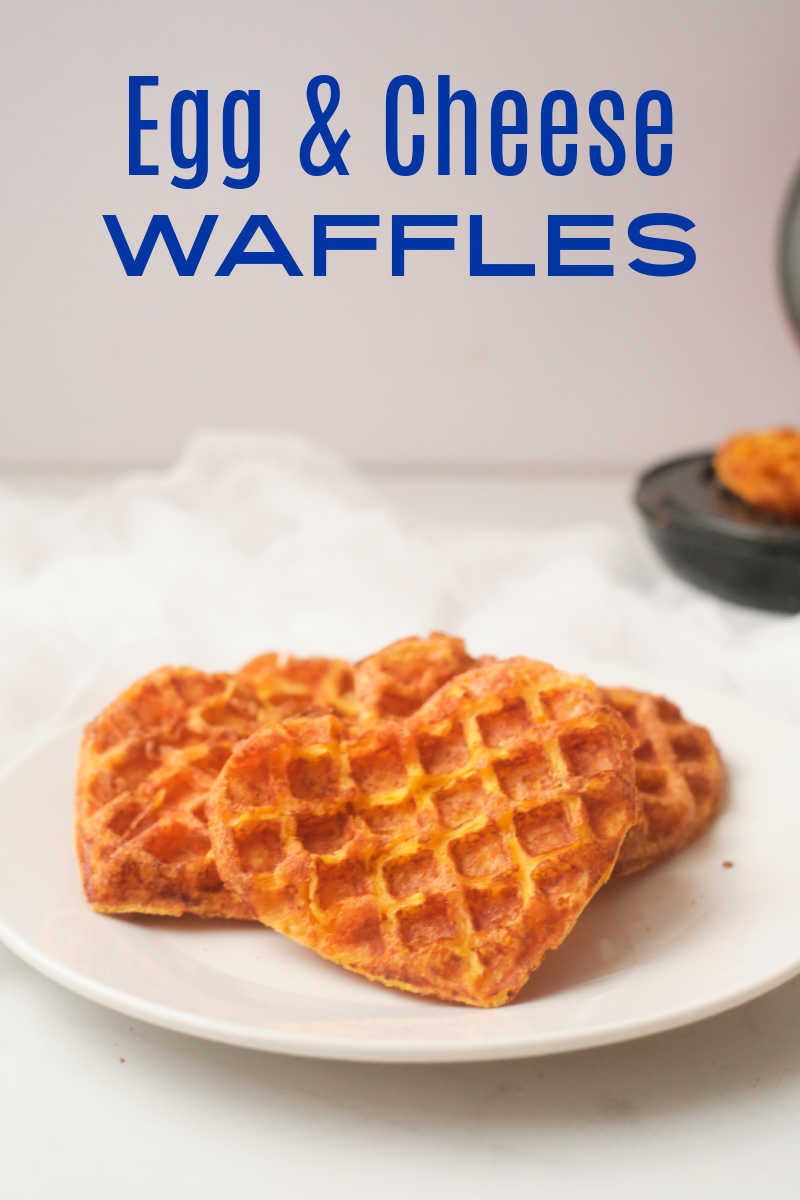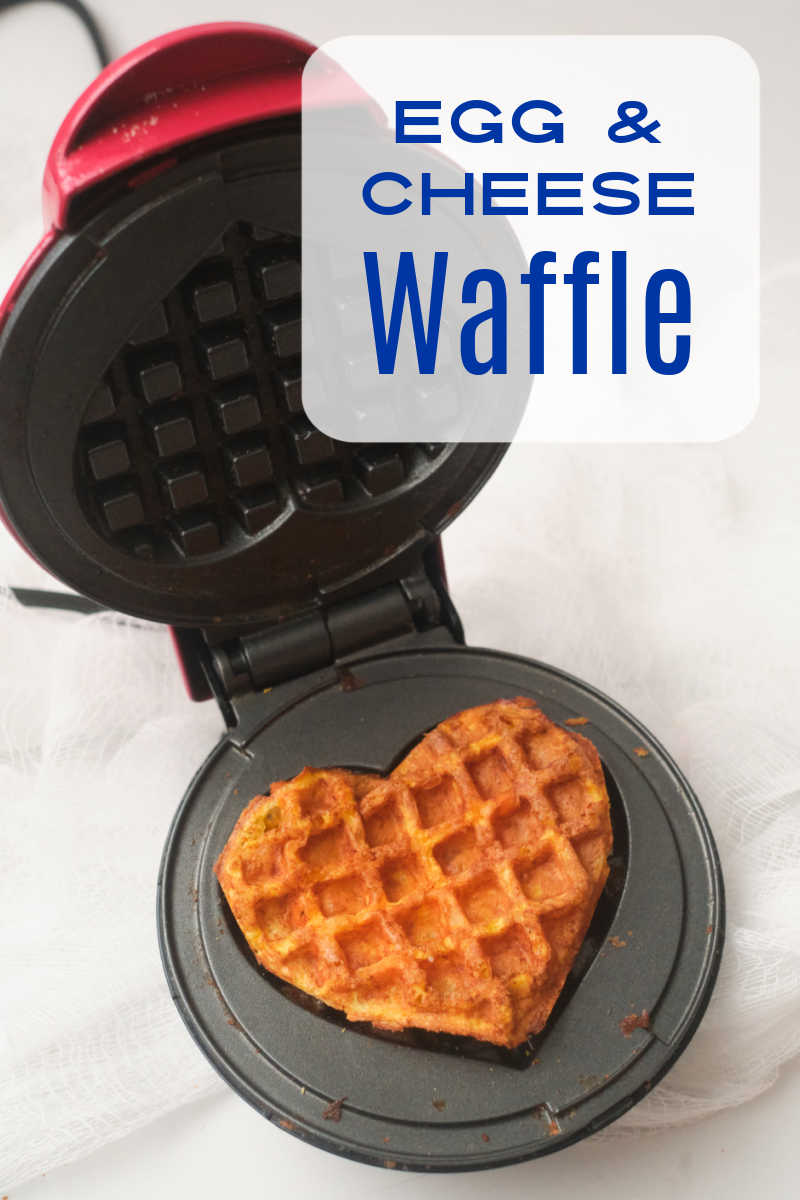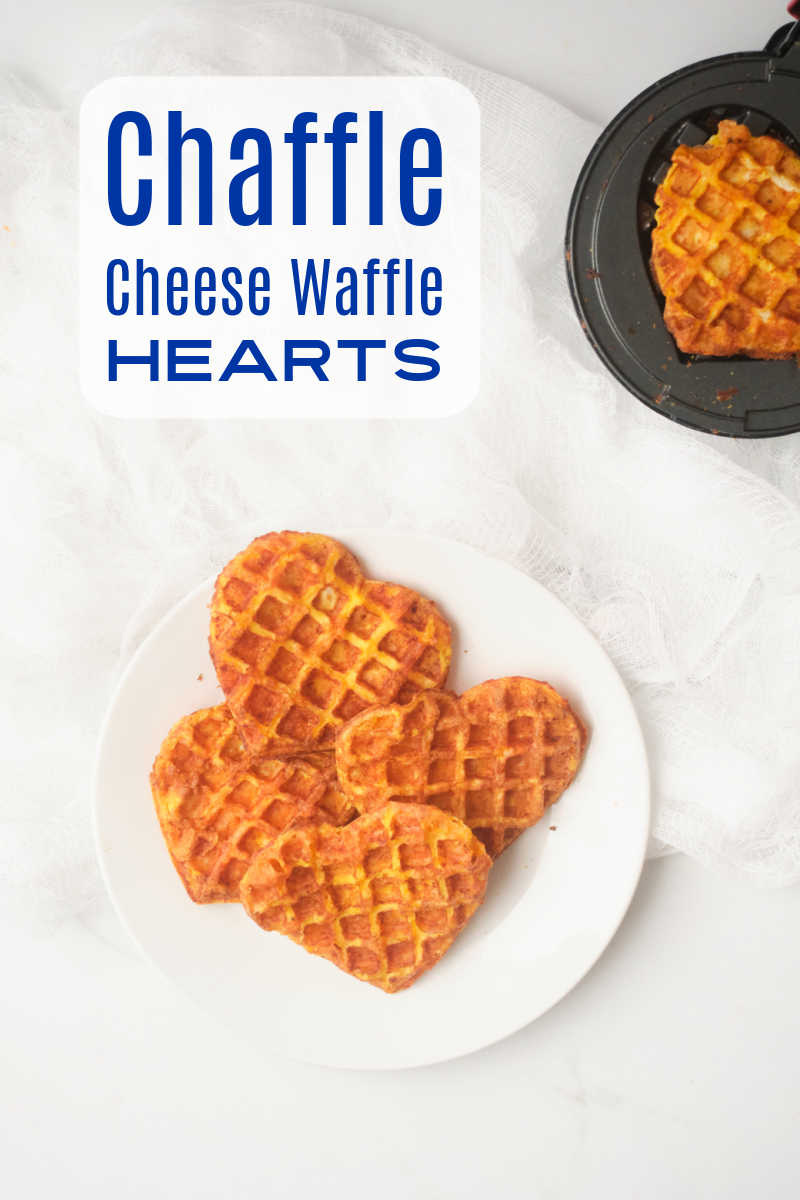 Egg and Cheese Waffles Made without Flour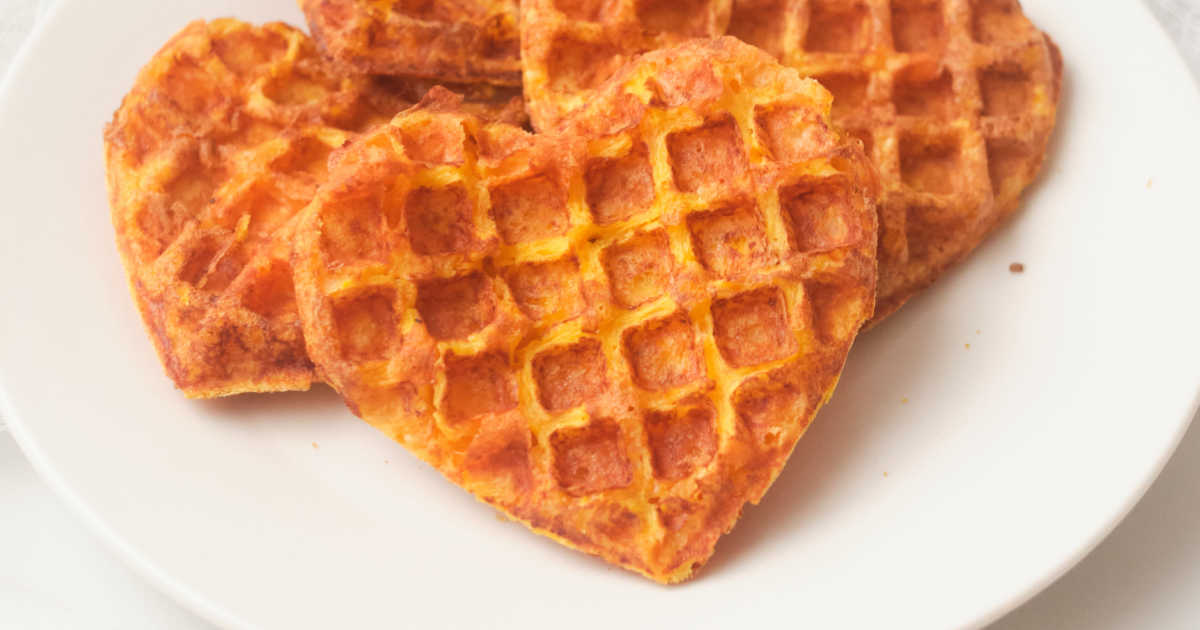 Use my easy cheese waffle recipe, so you can make savory chaffles without flour for a simple breakfast, brunch or snack.
This is a delicious low carb way to enjoy a fun twist on a classic comfort food.
The heart shaped waffles are made with a Dash Mini Waffle Maker, which makes perfect 4 inch waffle hearts.
They are great for a wholesome Valentine breakfast plate or for any other time you want to show love with your cooking.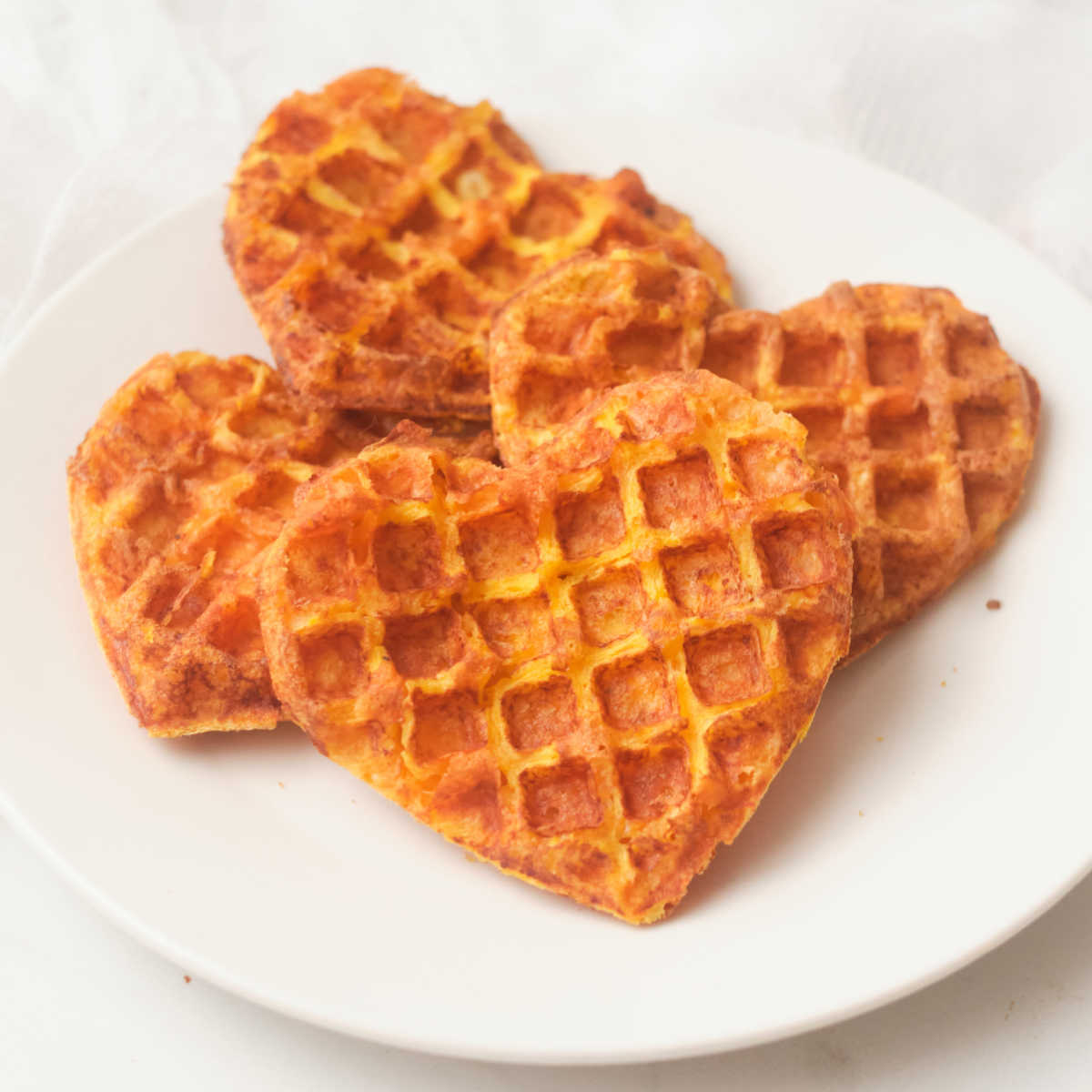 What is A Chaffle?
When you combine the words "cheese" and "waffle," you get a chaffle!
These trendy chaffles are made in a waffle iron for that classic waffle pattern look, but they are not made with flour or a regular boxed waffle mix batter.
Instead, they are made with eggs and cheese.
This is why this tasty food trend is popular with people looking for low carb and keto friendly food.
Anyone can enjoy eating these homemade egg and cheese waffles, even if they don't follow a keto diet and aren't looking to cut carbs.
These heart waffles are good!
What Type of Cheese Is Good in A Homemade Chaffle?
Cheddar and Jack cheese are great to use in this recipe, but you can try other types of cheese, too.
These days it is really easy to buy packaged cheese shreds that are ready to use.
However, you are welcome to shred your own.
I like using a Mexican blend shredded cheese, which works well.
Feel free to experiment with others or just use your own family favorite.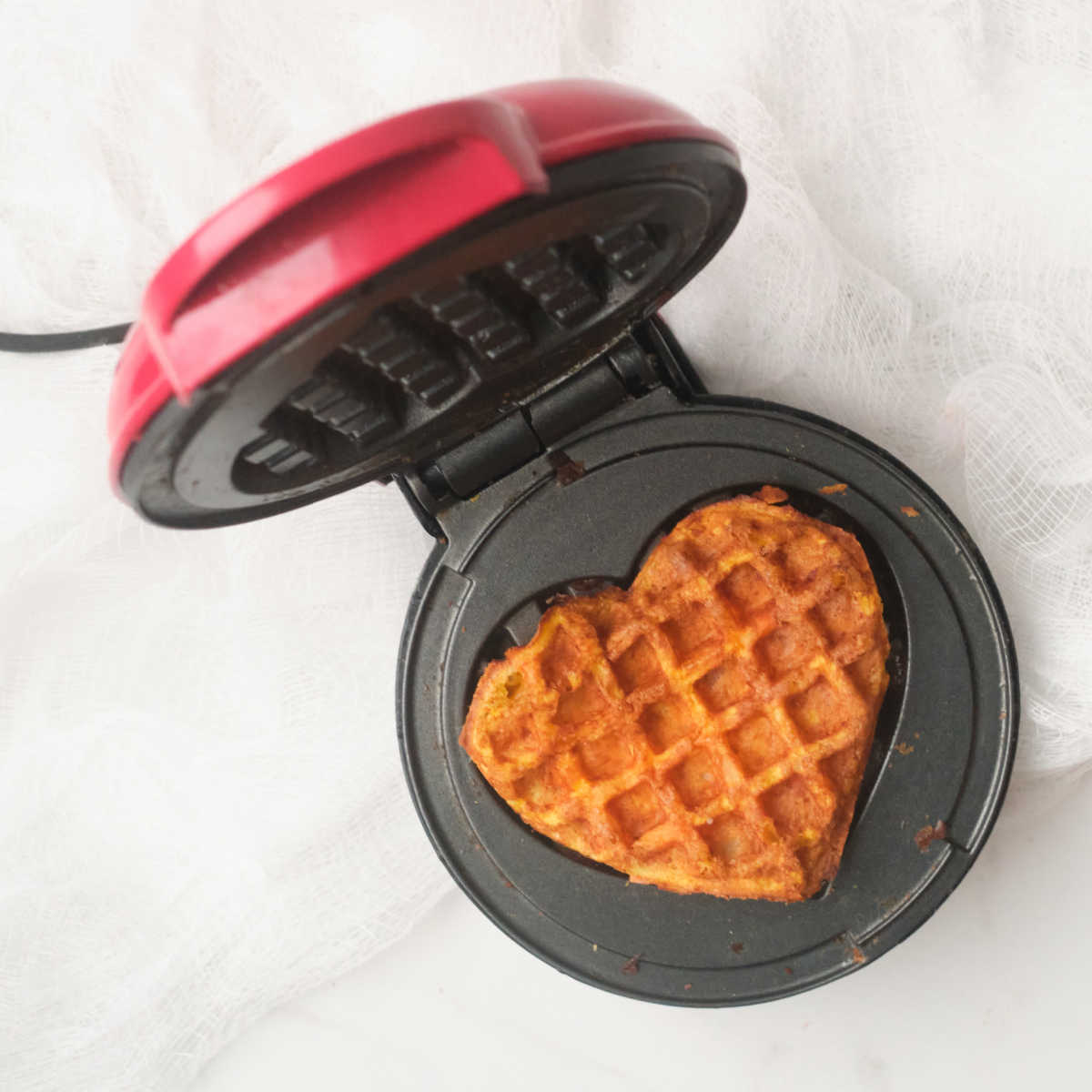 Love this cute little waffle maker!
The Dash Mini Waffle Maker is small, so it doesn't take up much space at all.
It is easy to find a convenient place to store it, even if your kitchen cupboards already seem full.
The tiny appliance makes one 4 inch waffle at a time, so is great for single people and others who don't need a big batch of waffles.
The non-stick surface means perfect waffles will come right out and clean up is a breeze.
The red waffle maker with a heart shaped mold is perfect for Valentine's Day and year round use.
They also have the same small sized waffle maker in different colors and outer designs to suit your style or match your kitchen.
I like heart waffles, but you may prefer a maker for other shapes including round, skull, pumpkin, bunny or pineapple.
It is simple to use, reasonably priced and doesn't take up much space.
I recommend it!
Can I Make This Cheese Waffle Recipe In A Regular Waffle Maker?
If you don't have a cute heart shaped Dash Mini Waffle Maker, you can use whatever type of waffle maker you do have.
The waffles won't be little hearts, but they will still taste good.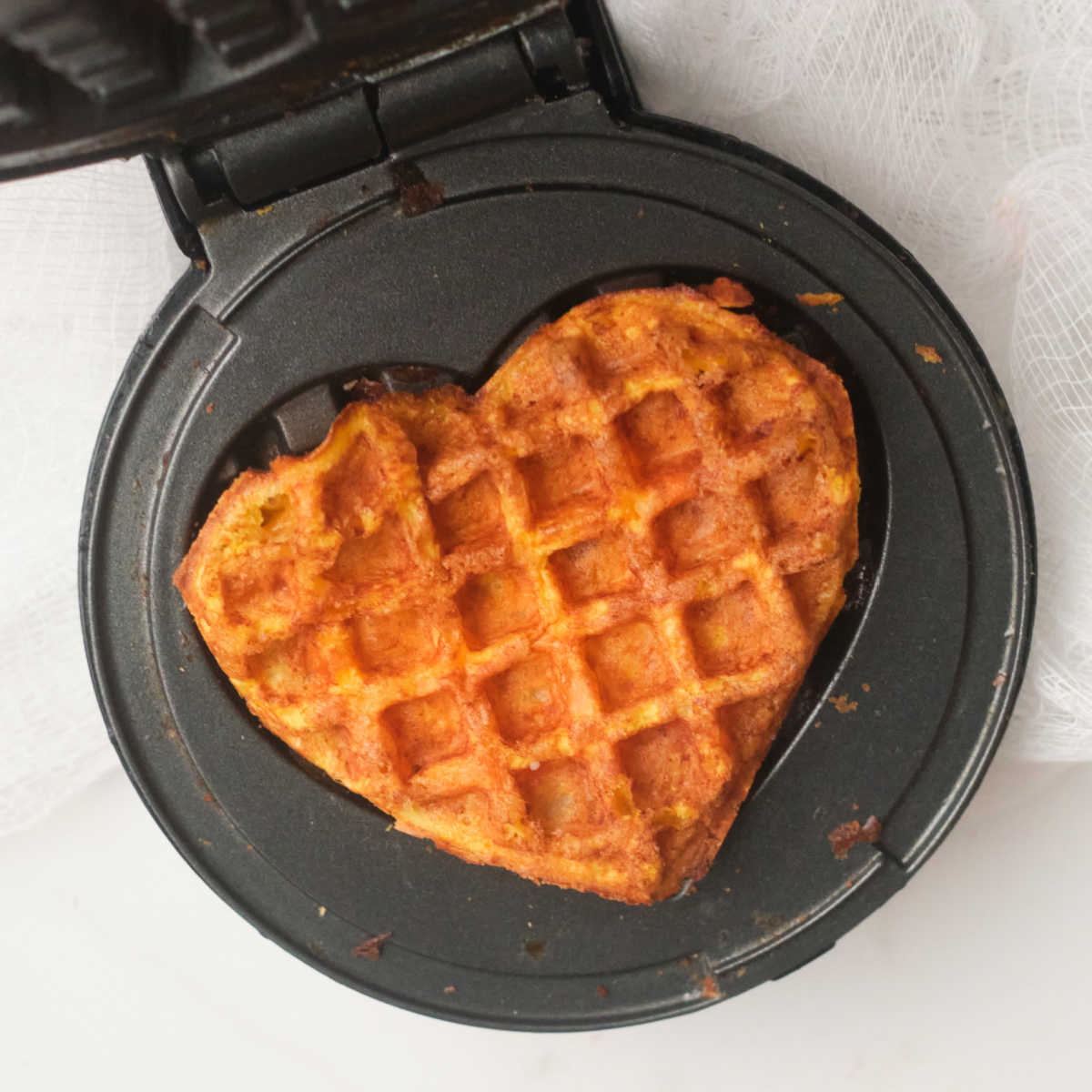 Are Cheese Waffles Gluten Free?
Yes!
Cheese waffles are gluten-free.
No pre-packaged waffle mix is used in the recipe and they are made without flour.
The ingredients do not naturally contain gluten,
As always, check package labels before using, if cross contamination is a concern.
Is This Chaffle Recipe Vegetarian, Dairy-free or Vegan?
Cheese waffle ingredients are vegetarian, but the recipe does include eggs and dairy.
If you want to make chaffles dairy-free, you can easily swap plant based milk and cheese shreds for the regular dairy version that I used.
I haven't tried making a full vegan version of these savory waffles with plant based milk and cheese and an egg substitute.
However, it does sound possible, so please let me know if you try it and are successful.
How to Serve Cheese Waffles
The savory egg and cheese chaffles are delicious as is, but you can also enjoy them with condiments.
Ketchup is an obvious choice that works well or you can choose something else.
Spicy food lovers will enjoy adding hot sauce or chili crisp to a wholesome chaffle for some flavorful heat.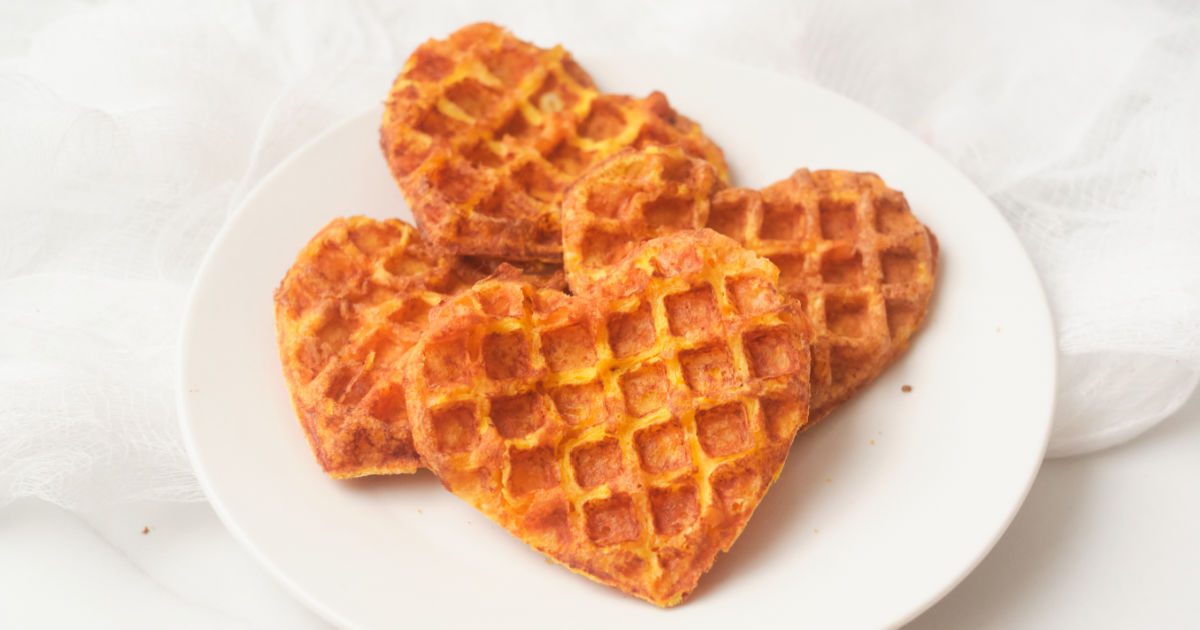 Savory Cheese Waffle Recipe
Prep time: 5 minutes
Total time: 30 minutes
Yield: 6 Waffles
Ingredients
3 Eggs
2 T Milk
½ cup Shredded Cheese
Supplies
Bowl
Whisk
Dash Mini 4″ Heart Waffle Maker
Instructions
1) Whisk eggs and milk together in a bowl.
2) Stir in the shredded cheese.
3) Heat up your waffle maker.
4) Pour a small amount of the egg mixture into the preheated waffle maker and cook until the light indicates that it is done. This will take about 2-3 minutes for each waffle to be cooked through.
5) Remove the cooked waffle and repeat the process, so that all of the waffles are cooked and ready to eat.
6) Eat as is or serve with ketchup, hot sauce or another favorite condiment.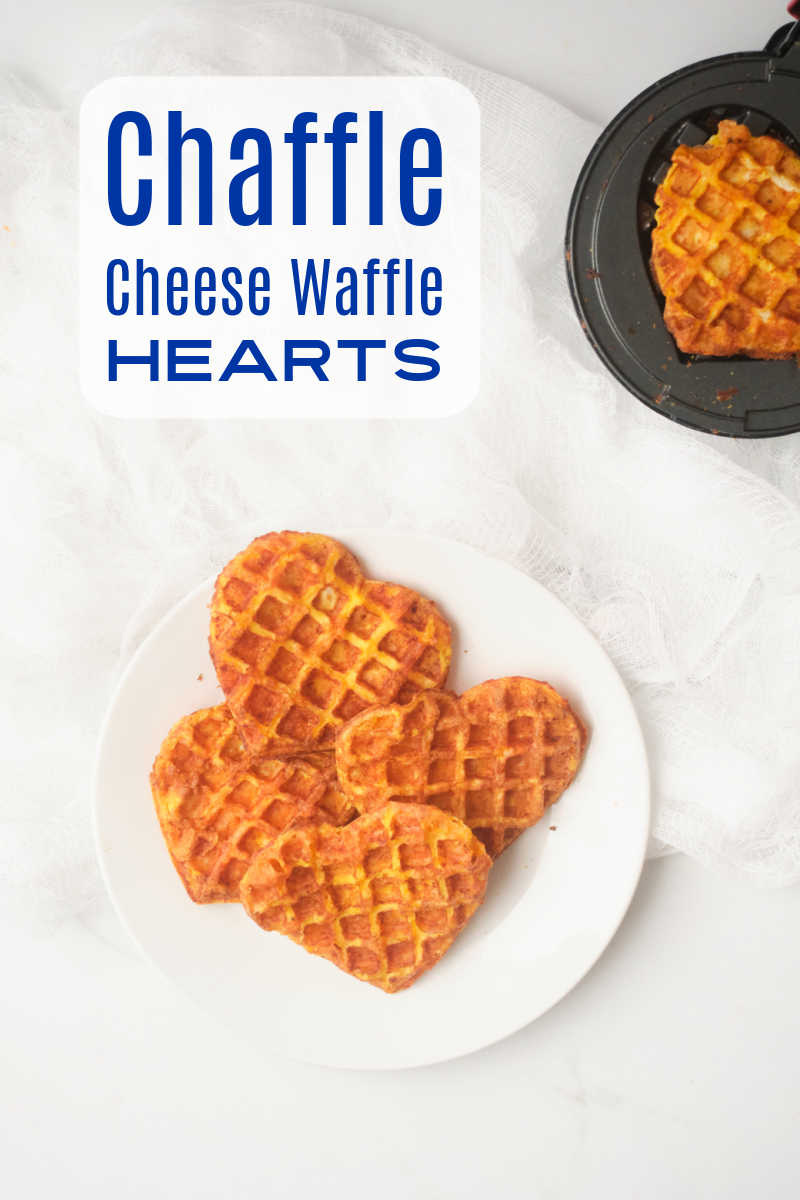 More from Mama Likes To Cook
Check out the rest of my vegetarian recipes, so you can get more great ideas for baking, cooking, blending and juicing.
Waffle Recipes
Egg Recipes
Easy Breakfast Recipes
Shopping Tips
For a beautiful assortment of kitchen necessities and food gifts for the whole family, check out the current deals at these online stores.
Are you ready to have some delicious fun in the kitchen?