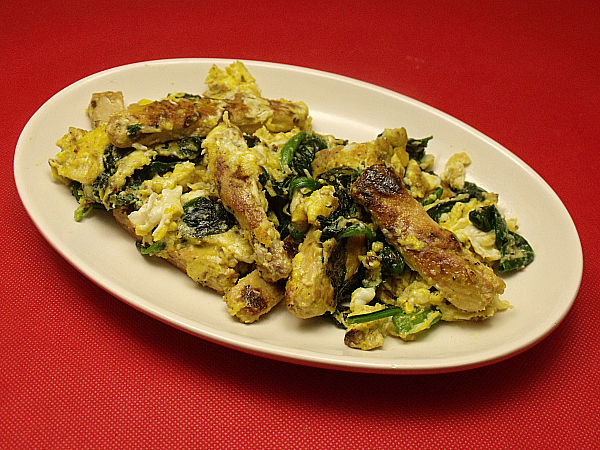 My family enjoys eggs as a quick and easy meal anytime of the day. The "chicken" and spinach in this dish make it feel substantial enough for dinner, but it'll also do for breakfast or lunch.
If you eat meat, you can use actual chicken instead of Beyond Meat's Chicken-free Strips, but this meat alternative is good enough that it satisfies even the meat eaters in my family. The texture and taste is great, so they don't feel like they are 'missing something.'
Vegetarian "Chicken" and Eggs
Ingredients:
1 Package Beyond Meat Chicken-free Strips (Southwest or Lightly Seasoned)
Olive Oil
1 Bunch Spinach
6 Eggs (or vegan egg substitute)
1 t Granulated Garlic

Salt to taste
Instructions:
Heat a few tablespoons of olive oil in a skillet.
Add the chicken alternative to the hot pan. Cook until browned on both sides.
Add the spinach, garlic and salt to the pan. Add additional olive oil, if needed. Cook for a few minutes, stirring regularly.
Crack eggs into the pan. Stir to scramble.