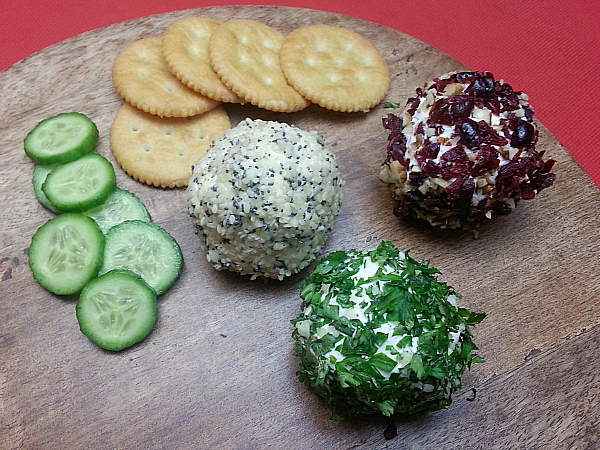 Holiday Party Cheese Balls
I am a big fan of cheese balls, so it always makes me happy to see one on a buffet table at a party. Now that I know how to make mini cheese balls, I can make everyday feel like a party.
The recipe uses Philadelphia Cream Cheese, Planters Pecans and other basic ingredients that I generally keep on hand:
There are three different cheese ball toppings and each is delicious.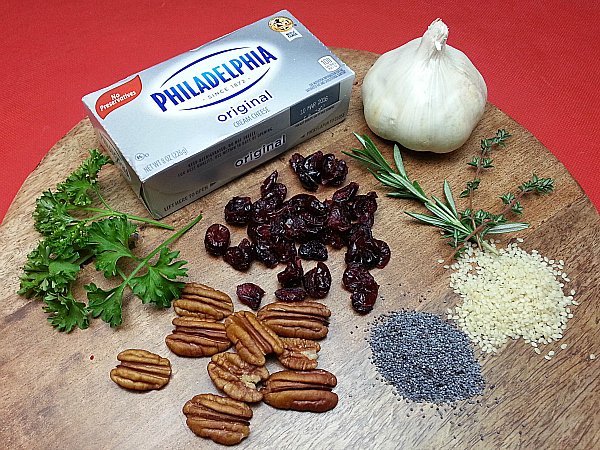 I followed the simple instructions to form the cream cheese into balls.
It's very easy to work with and not as sticky as I expected. Then
I chopped the ingredients and mixed them in little bowls, one for each of the three toppings.
If you've got little ones assisting in the kitchen, this next step is a good one for them.
Just roll the balls of cream cheese into the toppings, so that they are completely covered.
These three flavors look and taste good.
The green, red and white colors are perfect for the holidays.
Each one is unique and I like them all.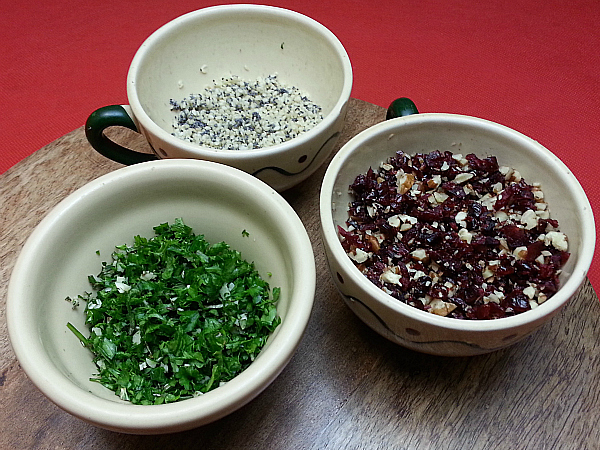 Savory Mini Cheese Balls Recipe
Total Time: 20 minutes
12 Servings, 2 Tbsp. each
Ingredients:
1-1/2 pkg. (8 oz. each) PHILADELPHIA Cream cheese (12 oz.)
2 Tbsp. toasted sesame seeds
1 tsp. poppy seeds
2 cloves garlic, minced, divided
1 Tbsp. finely chopped fresh parsley
2 tsp. chopped fresh thyme leaves
1 tsp. finely chopped fresh rosemary
1/4 cup finely chopped dried cranberries
2 Tbsp. finely chopped pecans
Instructions:
CUT cream cheese into 6 pieces; roll each into a ball.
COMBINE sesame seed, poppy seed and half the garlic in small bowl. Mix herbs and remaining garlic in separate small bowl. Mix herbs and remaining garlic in separate small bowl. Combine cranberries and nuts in third bowl.
ROLL 2 cheese balls in sesame seed mixture, 2 cheese balls in herb mixture and remaining cheese balls in nut mixture.
Serving Suggestion:
Serve these savory mini cheese balls with your favorite crackers and/or cut-up fresh vegetables.
More from Mama Likes To Cook
Check out my vegetarian recipes, so you can get more kitchen inspiration.
Cream Cheese Recipes