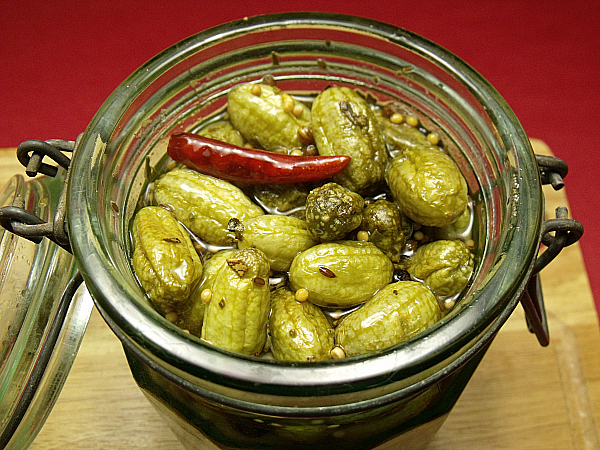 We love pickles of all kinds in my house. Sometimes I serve them on an appetizer tray or with a meal, but they usually get eaten right out of the jar. These would also make a fun garnish for a drink.
When I saw these cute little Watermelon Cucumbers from Melissa's, I just knew I had to pickle them! They look like little tiny watermelon, but they taste like cucumbers. The recipe will also work with other small pickling cucumbers from your grocery store, farmer's market or backyard garden.
Sweet Baby Pickles
Ingredients:
2 cups Small Cucumbers
1 1/2 cups Cider Vinegar
1 cup Sugar
1 T Pickling Spice
1 t Kosher salt
Instructions:
Combine all of the ingredients, except the cucumbers, in a pan and bring to a boil stirring occasionally until sugar is dissolved.
Add cucumbers. Reduce heat to a simmer and cook for 10-15 minutes.
Scoop out the cucumbers and pack them in a pint mason jar. Then add liquid until filled to 1/2 inch from the top of the jar. Let cool and then refrigerate 24-48 hours prior to serving.