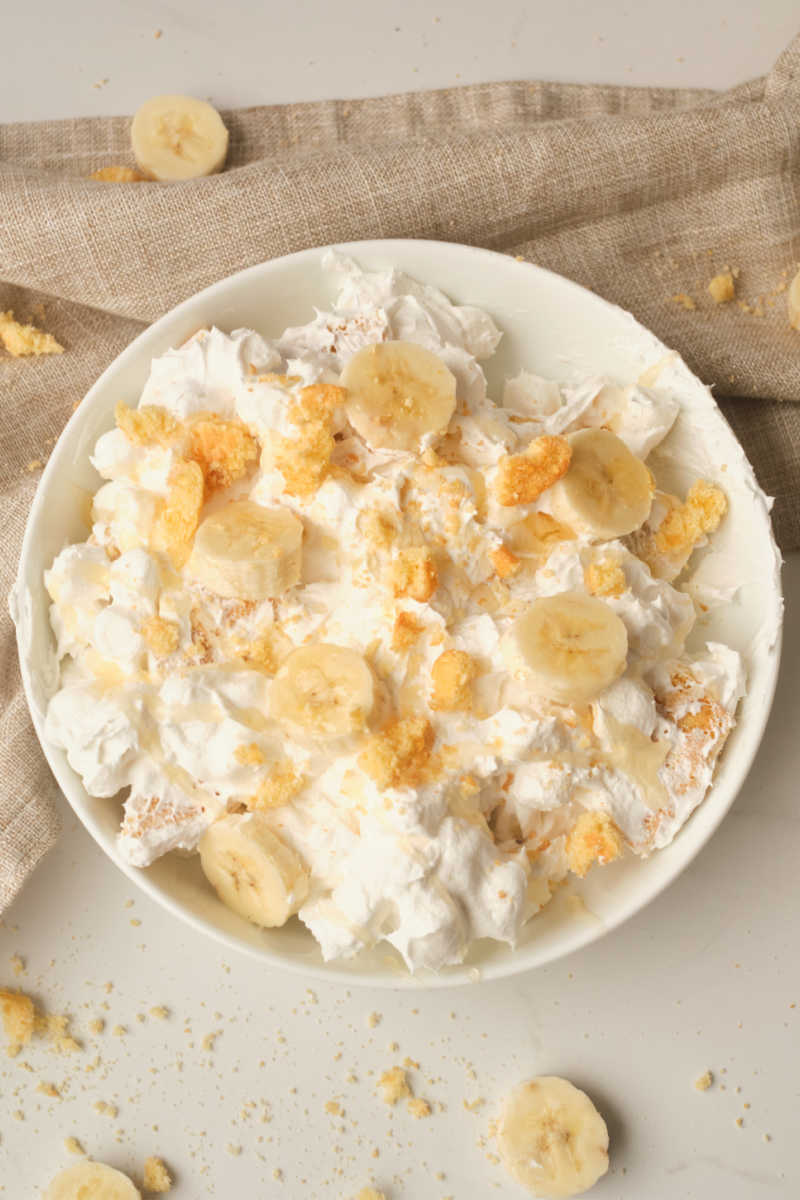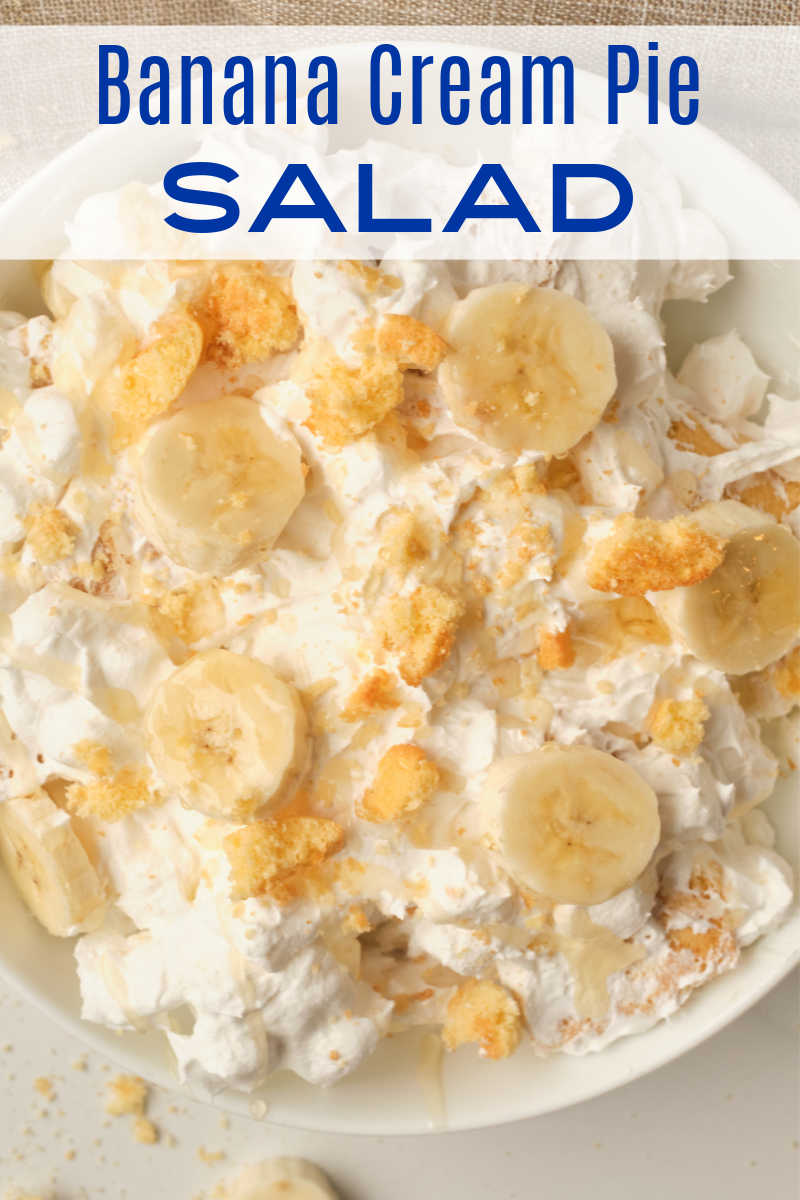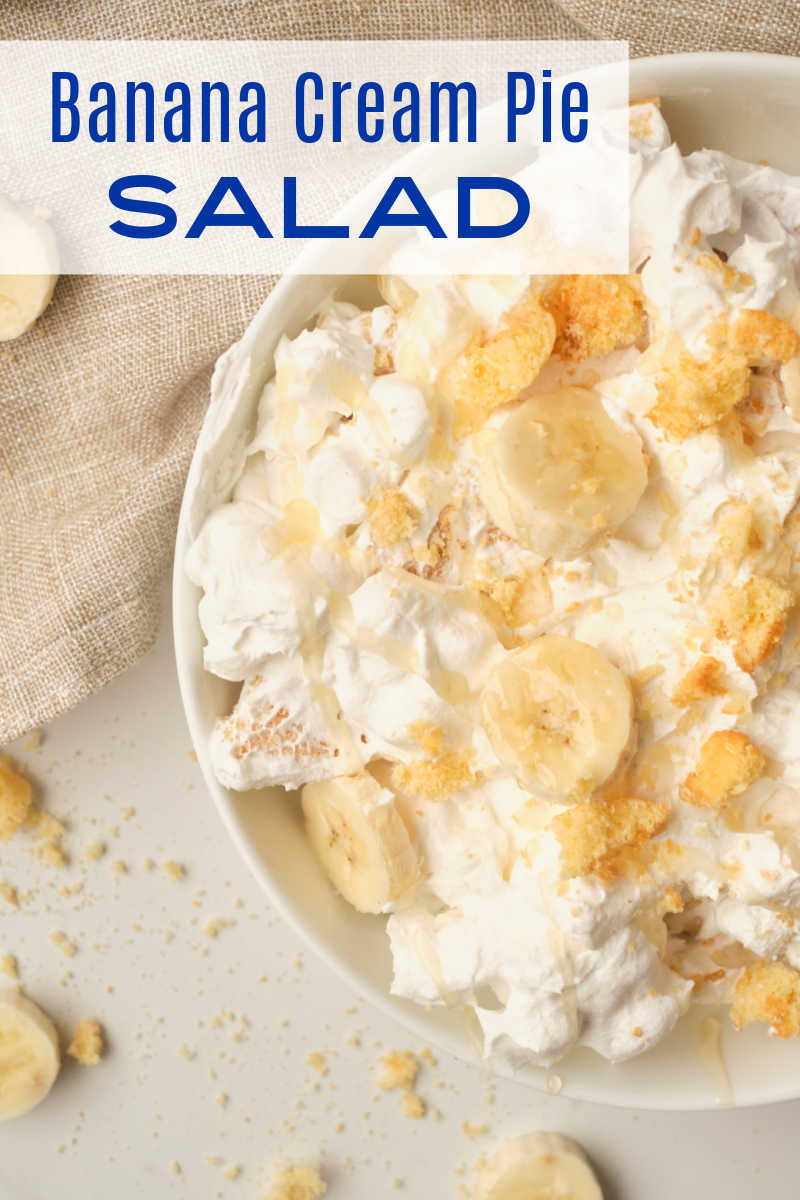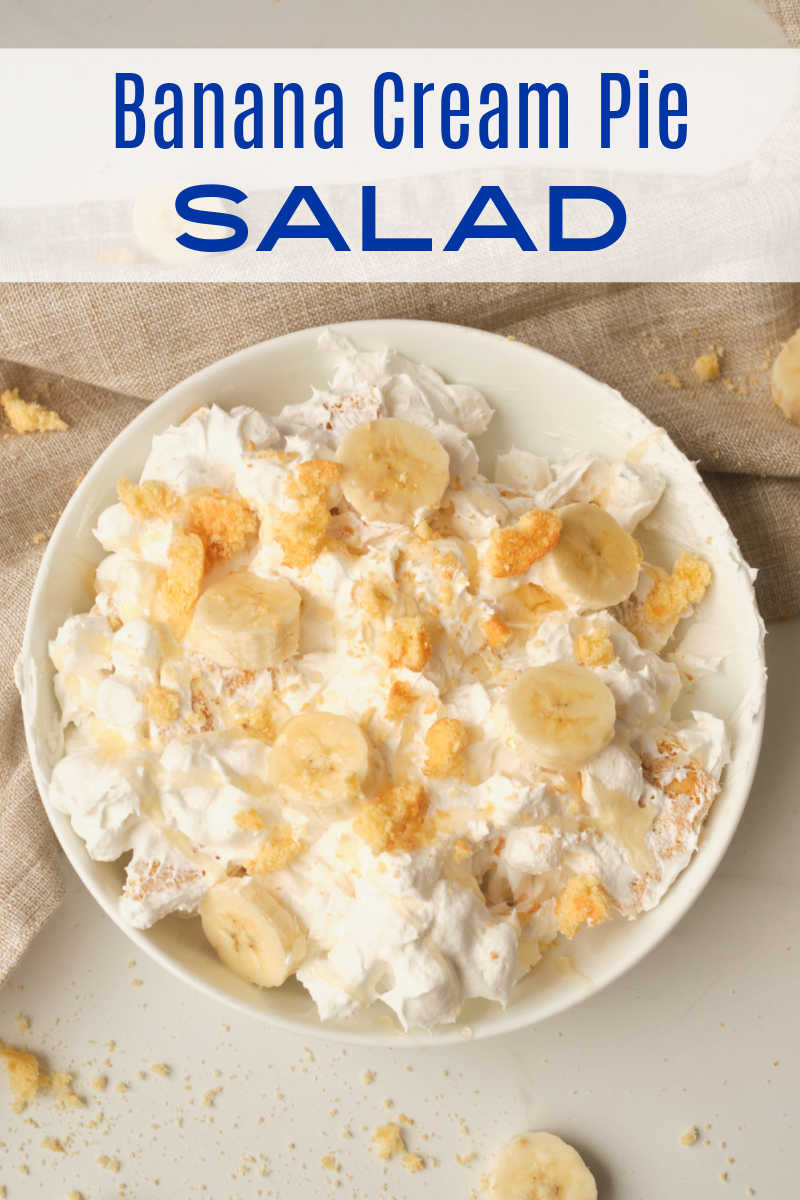 Retro Dessert Salad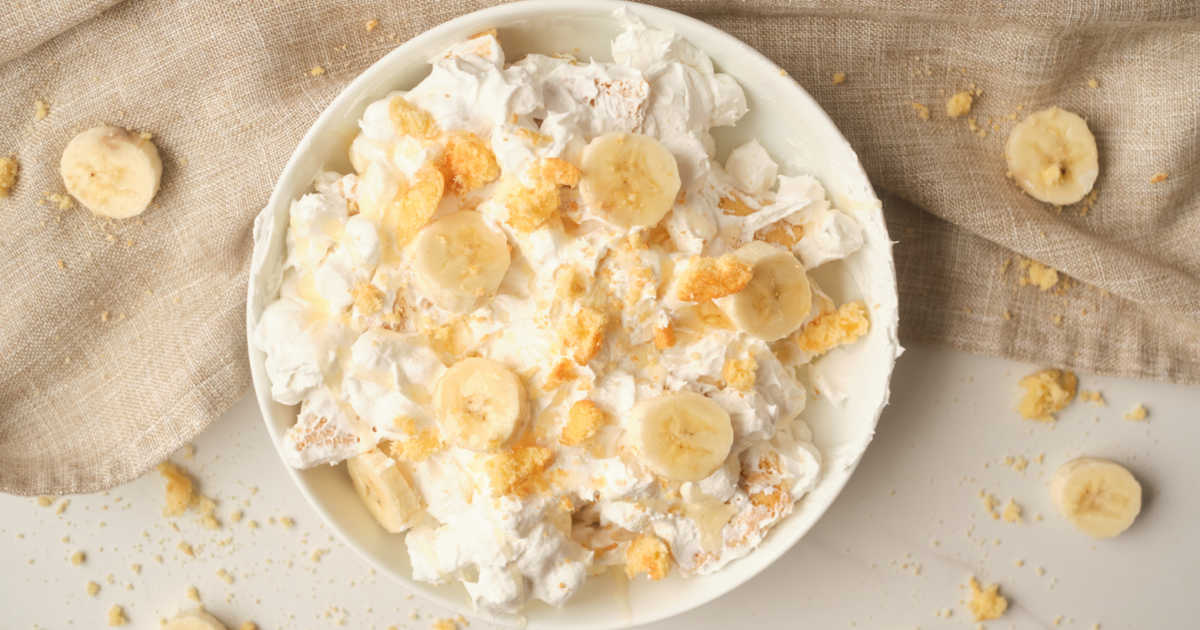 Your family will enjoy eating a trendy dessert salad, when you follow my easy retro banana cream pie salad recipe.
When I was a kid, dessert salads were all the rage.
Every church potluck, neighborhood block part or picnic had dessert salads on the buffet table and the ones with mini marshmallows were always the most popular.
The salads usually had some sort of fruit and could include some of all of the following: Cool Whip, Jello and/or marshmallows.
The Banana Cream Pie Salad does have both Cool Whip and mini marshmallows in it, but there is no Jello added.
What Is A Dessert Salad?
A dessert salad is not the same as a salad that contains lettuce or other greens.
Two similarities are that they are both a mix of ingredients and are generally served cold.
However, a dessert salad is dessert.
My mother's favorite recipe was a green Jello salad with carrots, celery and cabbage in it, which she insisted was part of the meal and not dessert.
It was dessert.
It absolutely was dessert and was made with full sugar Jello.
(Also, it was awful.)
Are A Fruit Salad And A Dessert Salad The Same Thing?
Some fruit salads are also dessert salads, but when there is Cool Whip, marshmallows or Jello involved the dish is generally considered a dessert salad.
When Were Dessert Salads Popular?
Dessert salads were at their peak of popularity in the 1960s and 70s, but this retro dessert is definitely making a comeback.
People are rediscovering vintage recipes and putting a modern spin on them.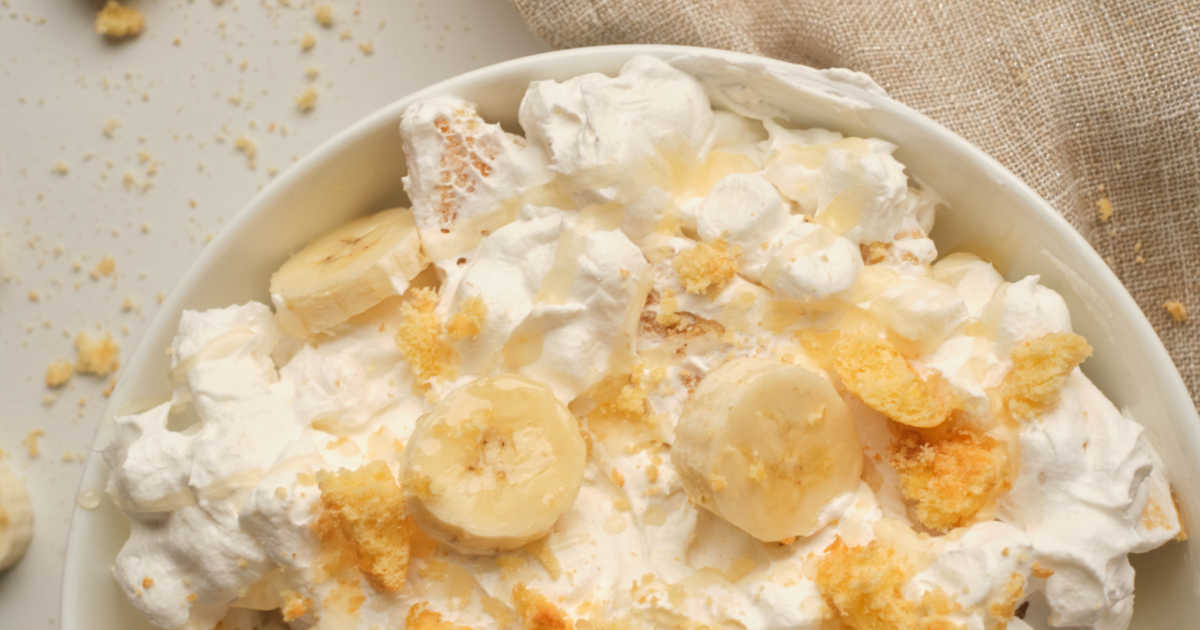 Do Dessert Salads Travel Well?
Yes!
Dessert salads are typically portable and travel well, so this makes them a great choice for potlucks and picnics.
They are also a fun dish to drop off for a neighbor who can use some help with meals.
Is A Dessert Salad Healthy?
A dessert salad is dessert.
There may be some healthy ingredients in the salad, but it absolutely is dessert.
The banana cream pie salad has healthy bananas in it, but the other ingredients definitely push it into the dessert category.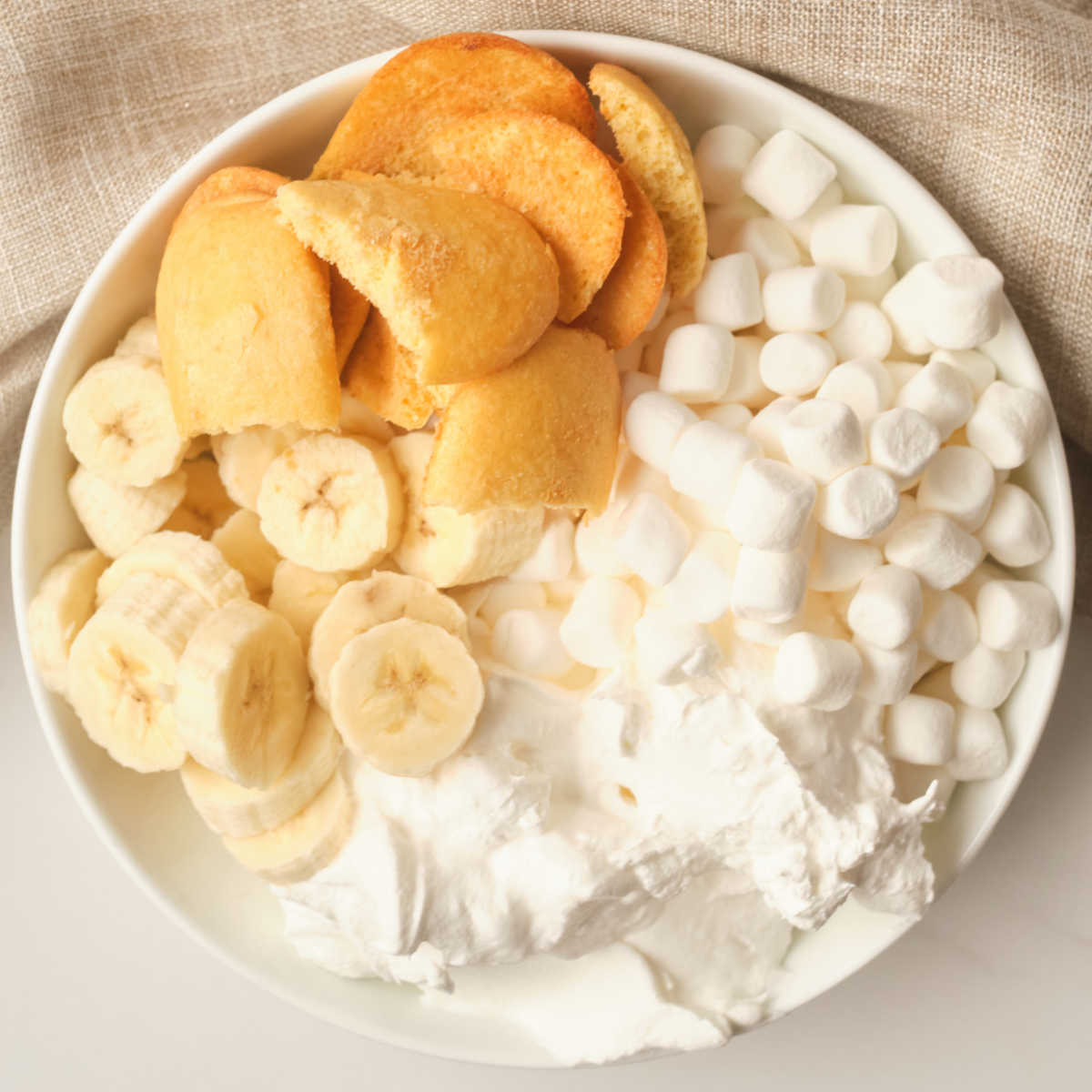 What Is In A Banana Cream Pie Salad?
The ingredients in this recipe are things that are often found in a banana cream pie or banana pudding recipe.
There are bananas, of course.
Other ingredients include Cool Whip, mini marshmallows and vanilla cookies.
You can use Nilla Wafers or another brand, depending upon your preference and what is readily available in your area.
The retro salad is garnished with additional banana slices, crushed cookies and a drizzle of either caramel sauce or honey.
Does A Banana Cream Pie Salad Taste Like Pie?
The retro banana salad does taste similar to a banana cream pie, but is not an exact replica.
This recipe is great for people who like banana cream pie and banana pudding.
However, it is not meant to be an exact copycat.
Can Kids Make A Banana Cream Pie Salad?
This retro dessert salad recipe is fantastic for kids and adults who are short on time and/or have limited kitchen skills.
The recipe calls for only a few basic ingredients and no special skills are needed to put the dish together.
Little kids will have fun helping and bigger kids may be able to make the entire recipe from start to finish with little or no adult assistance.
How To Store Leftover Banana Salad?
If you have leftovers, store them in a sealed container in the refrigerator.
You'll want to eat them fairly quickly before the bananas brown and the cookies get mushy.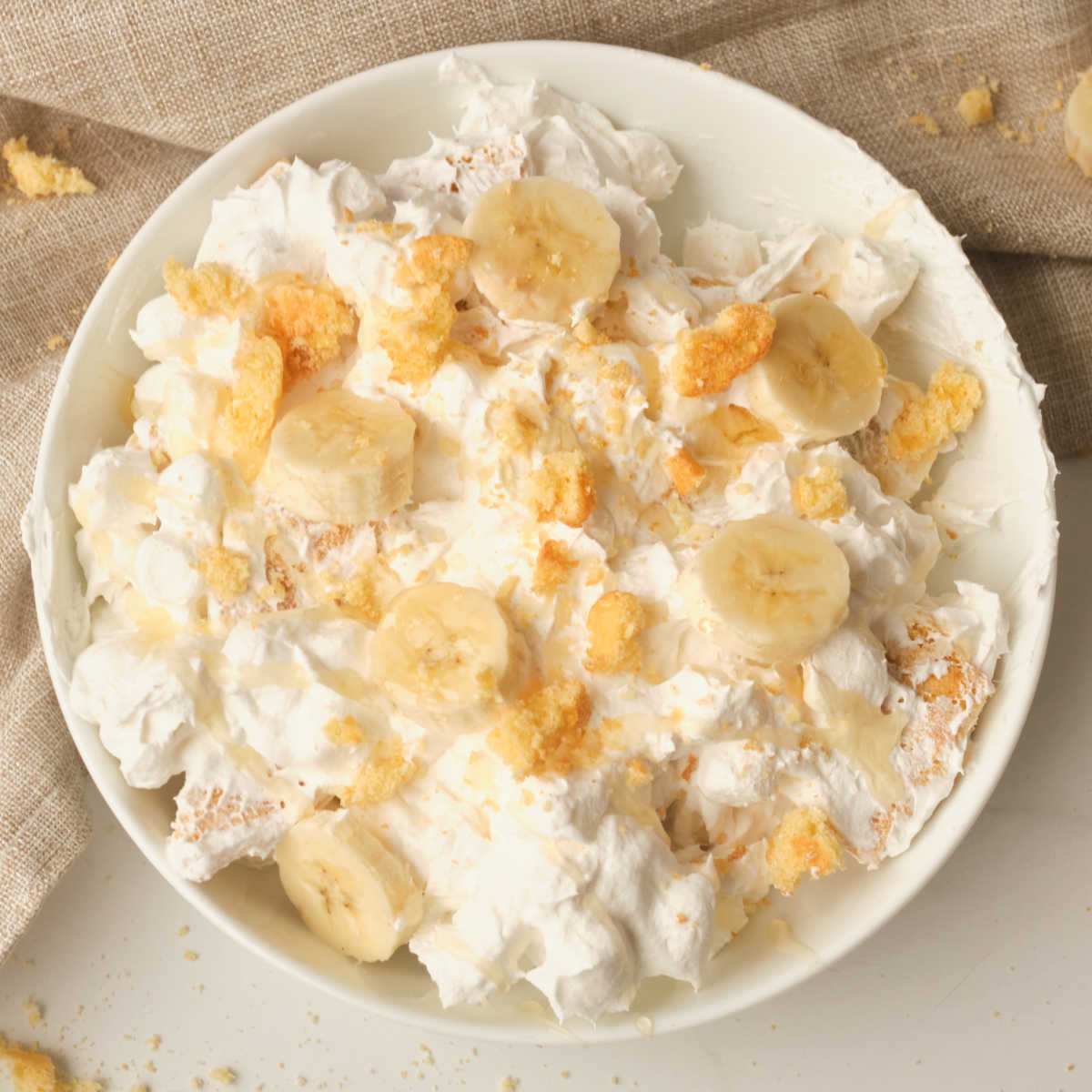 Banana Cream Pie Salad Recipe
Prep time: 5 minutes
Total Time: 15 minutes
Yield: 4 Servings
Ingredients
1 cup Cool Whip
1½ cups Mini Marshmallows
6 Vanilla Cookies
1 Banana, sliced
Garnish
Caramel Sauce or Honey
Vanilla Cookies
Banana, sliced
Supplies
Mixing Bowl
Large Spoon
Instructions
1) Add Cool Whip, mini marshmallows and banana slices to a mixing bowl and gently fold together. Break cookies apart and fold them in, too.
2) Transfer the mixture to a serving dish and garnish with sliced banana, crushed vanilla cookies and a drizzle of either caramel sauce or honey.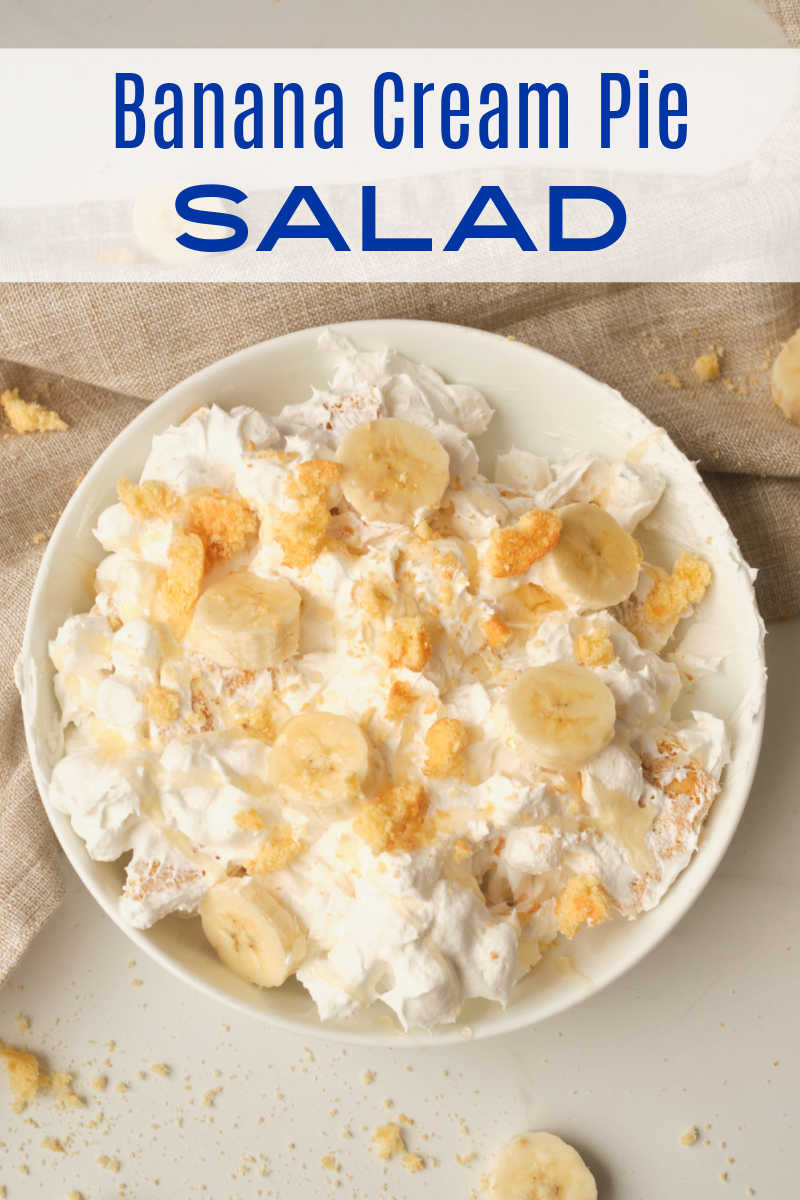 More from Mama Likes To Cook
Check out my vegetarian recipes, so you can get more great ideas for baking, cooking, blending and juicing.
Banana Recipes
Cool Whip Recipes
Jello Recipes
Shop Now
For a beautiful assortment of kitchen necessities and food gifts for the whole family, check out the current deals at these online stores.
Are you ready to have some delicious fun in the kitchen?