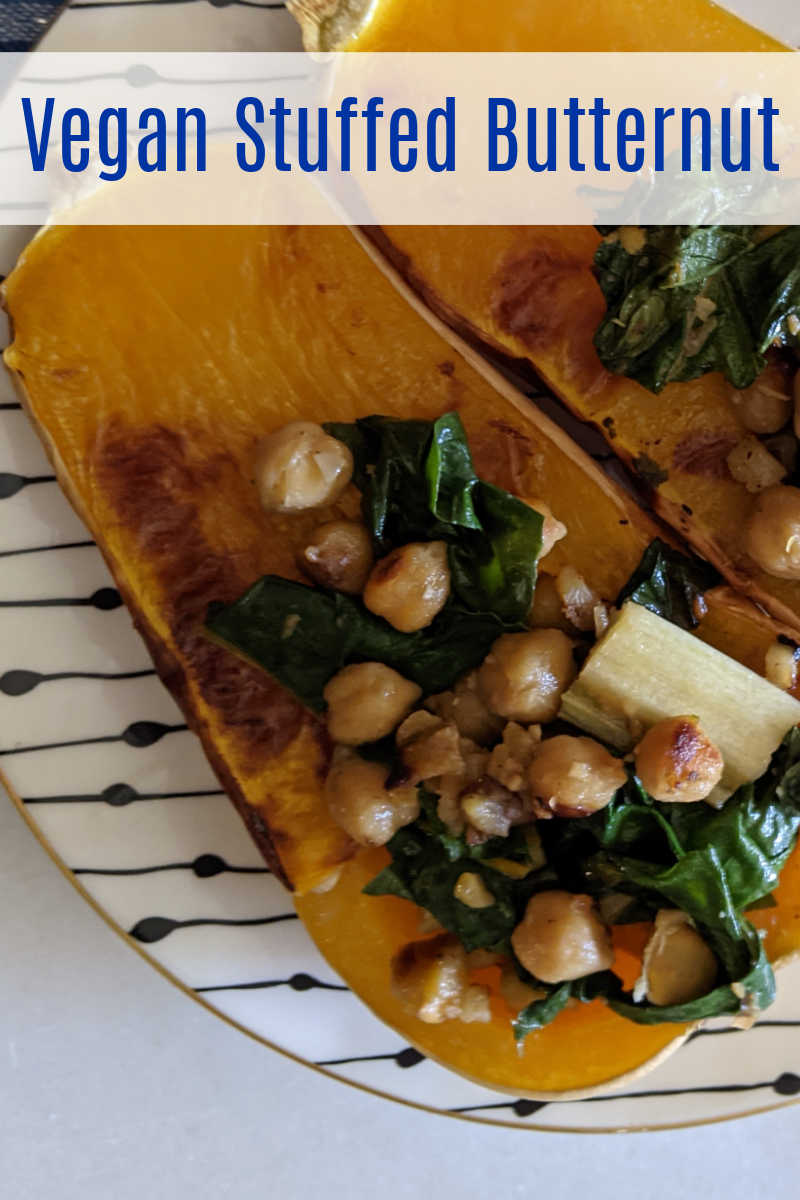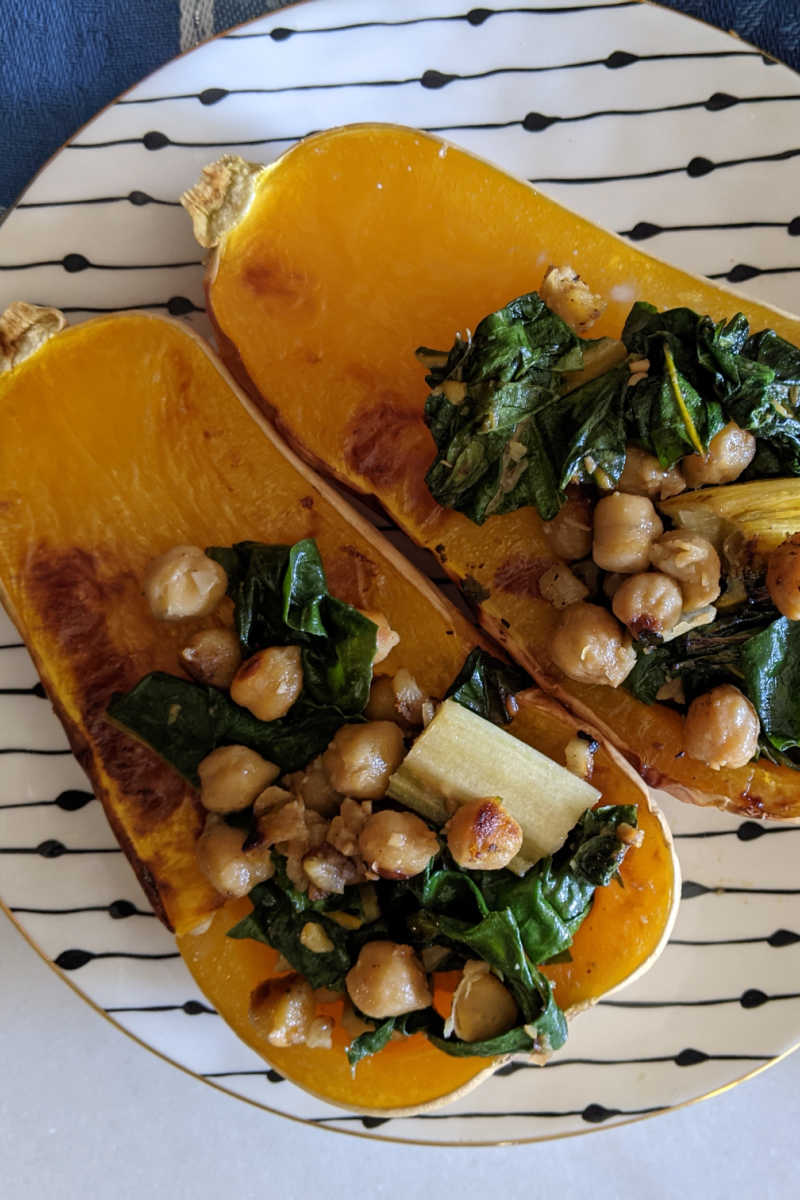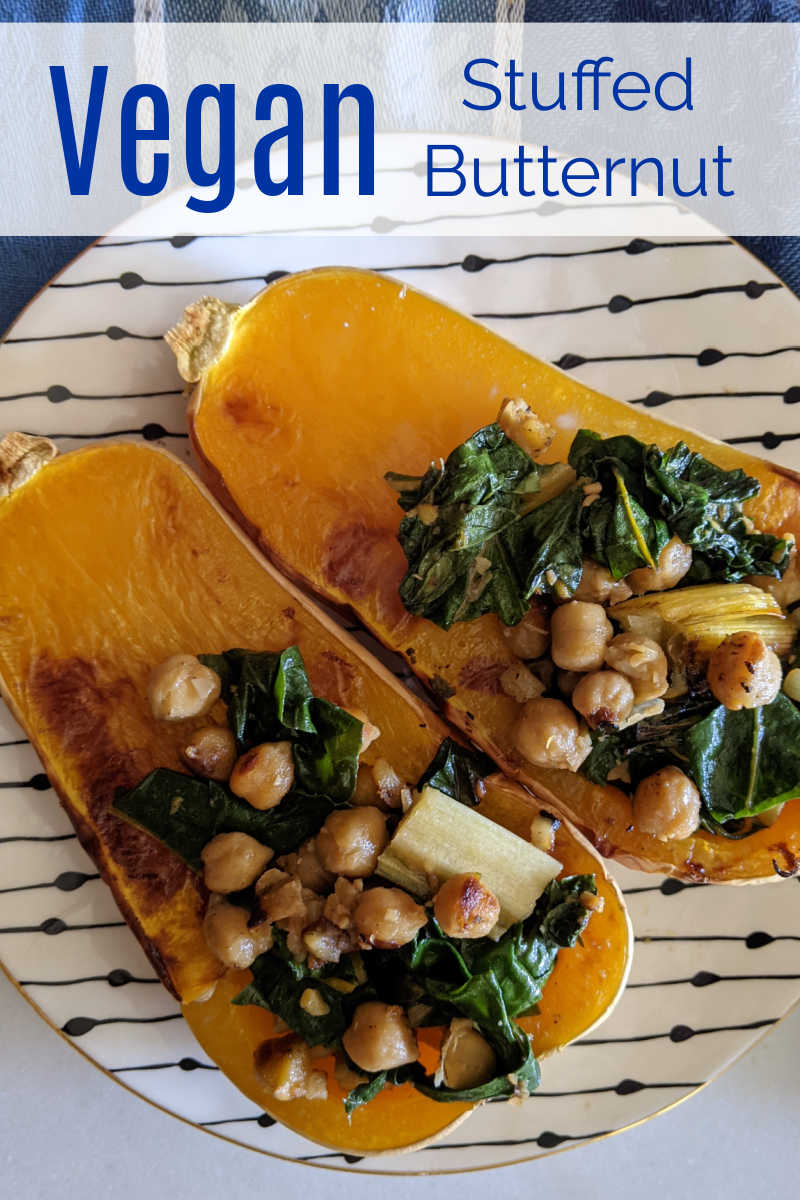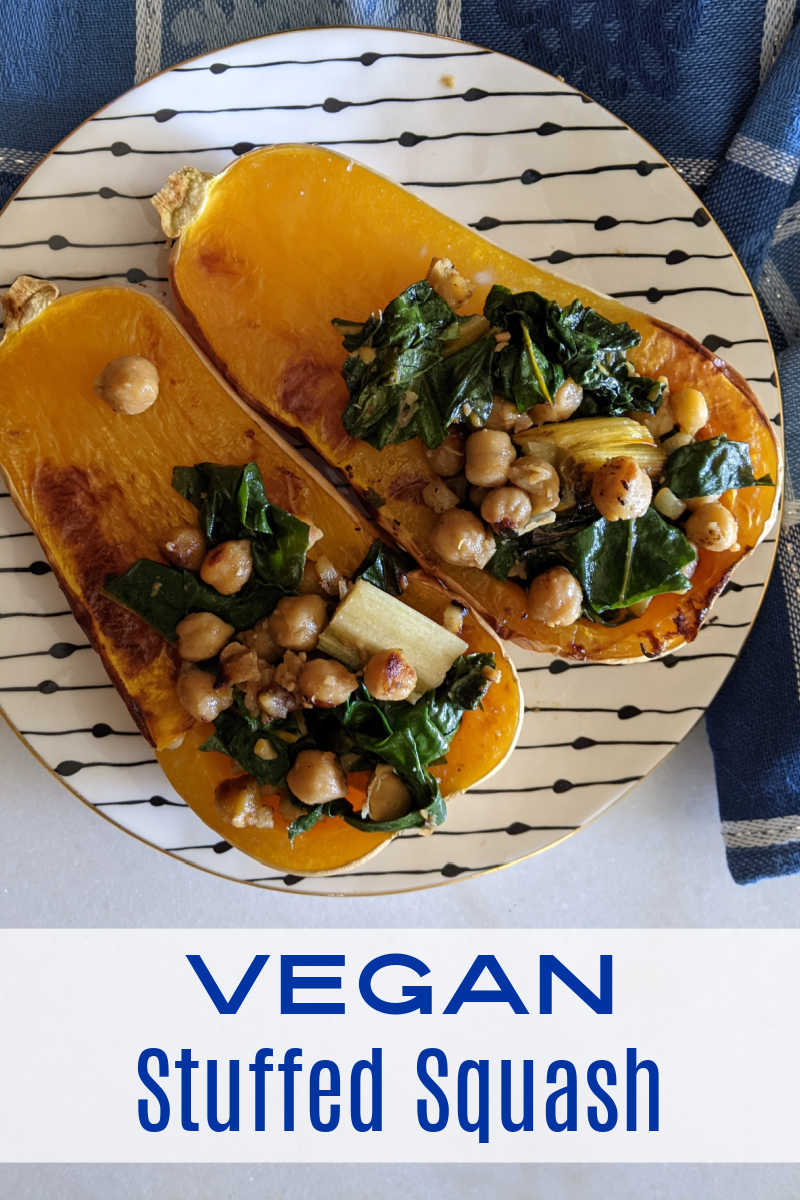 Roasted Butternut Squash
stuffed with chard and chickpeas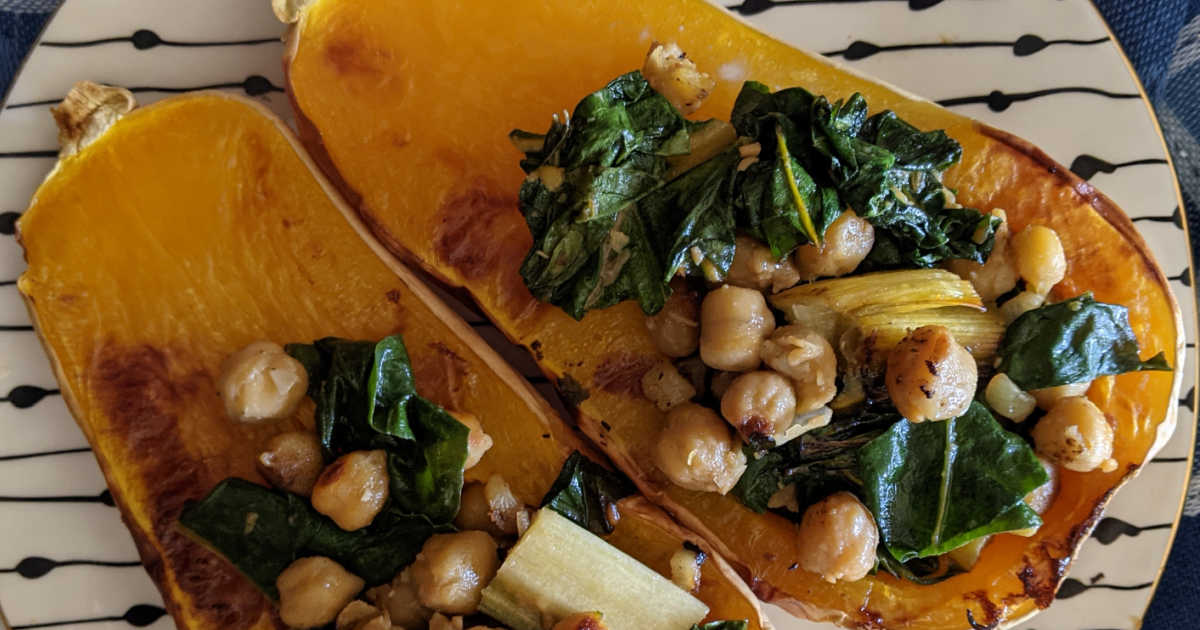 This vegan stuffed butternut squash is roasted is filled with a flavorful mix of chard and chickpeas, so it is delicious.
My family loves butternut squash, so we have been eating a lot of it.
Usually, I roast it, since it is easy and the roasting really brings out the natural flavor of the squash.
By stuffing the butternut with nutritious chard and chickpeas, it becomes the main dish instead of a side.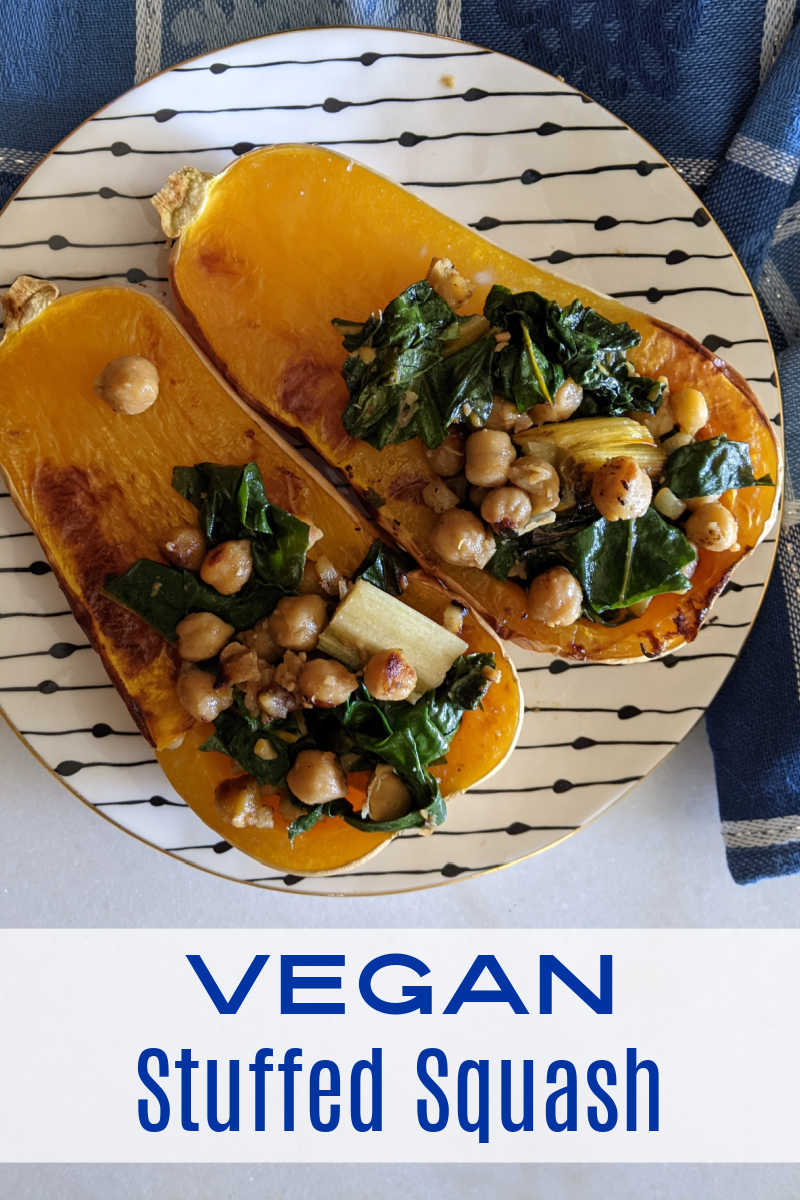 This recipe is flexible, so you can easily make substitutions depending upon what you have on hand and what you prefer.
Acorn or kabocha squash have similar flavor and texture, so they work well with this recipe.
Collard greens or kale are also a good substitute for the chard, if you prefer.
The soybean paste is what really makes this dish pop.
You can use either Japanese miso paste or Korean Doenjang, when you prepare the recipe.
These days I have been enjoying the 'extra funk' of Doenjang, but either is absolutely delicious.
Enjoy!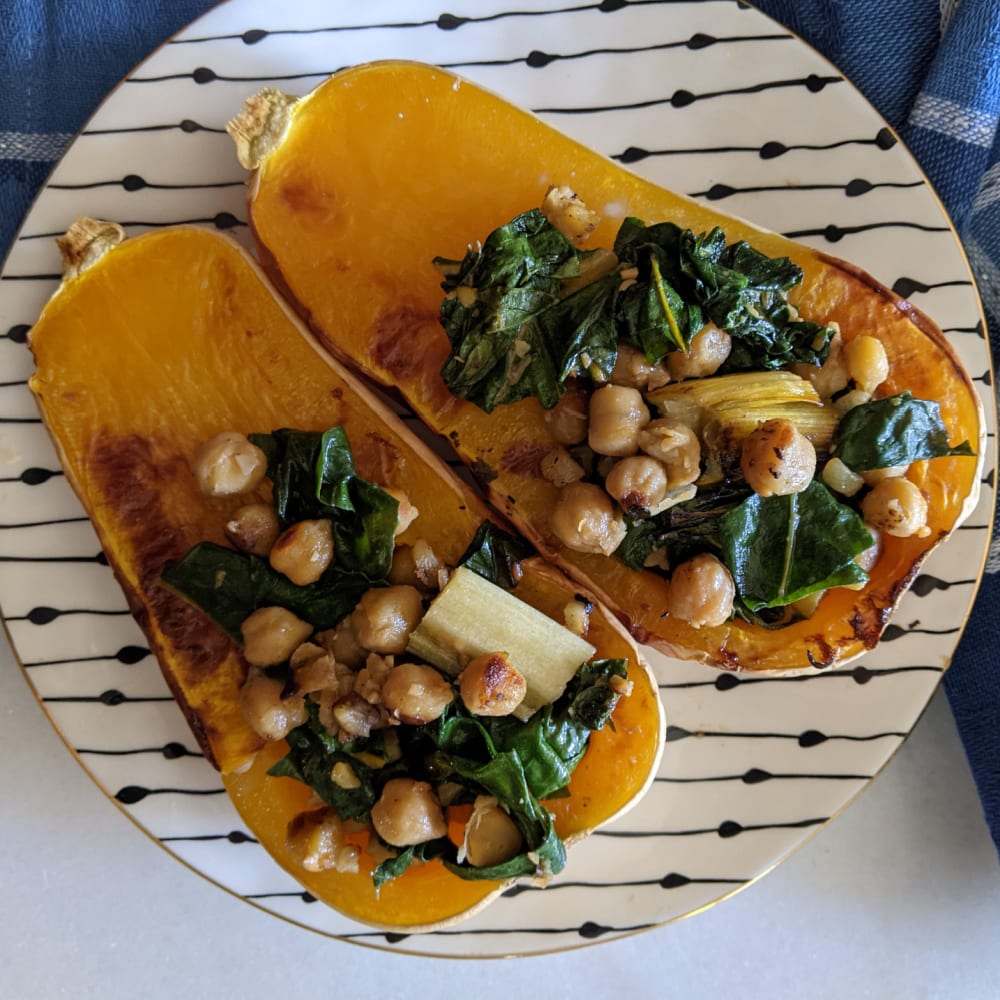 Vegan Roasted Butternut Squash Recipe
Cook Time: 30-40 minutes
Serves: 4
Ingredients
2 Small Butternut Squash
1 T Extra Virgin Olive Oil
2 Cloves Garlic, minced
4 Large Chard Leaves
1 can Chickpeas
1 T Miso Paste or Soybean Paste (Doenjang)
Supplies
Rimmed Baking Sheet
Parchment Paper or Silicone Baking Mat
Skillet with lid
Instructions
1) Preheat oven to 425° and cover baking sheet with parchment paper or a silicone baking mat.
2) Cut the butternut squash in half lengthwise and scoop out the seeds.
3) Place on prepared baking sheet cut side down and roast in the preheated oven for 30-45 minutes until tender. Smaller squash may be ready sooner and larger ones will take a bit longer.
4) While the squash is roasting, prepare the filling. Mince the garlic and roughly chop the chard. IF your can of chickpeas has a lot of liquid in it, drain some of it off.
5) Heat the olive oil in a skillet. When it is hot, add the minced garlic and cook briefly before adding the chopped chard. Cook for a a few minutes, stirring often.
6) Reduce heat to low and stir in the chickpeas and miso paste (or soybean paste). Cover and cook for a few more minutes, stirring occasionally.
7) Remove the roasted butternut squash from the oven and let it cool for a few minutes. Then, plate each squash half and fill with the chard mixture to serve.
More from Mama Likes To Cook
If you are looking for a sweet something, check out my dessert recipes.
Also, take a look at more of my delicious dinner recipes.
Then take a look at the rest of my vegetarian recipes, so you can have even more delicious fun in the kitchen!