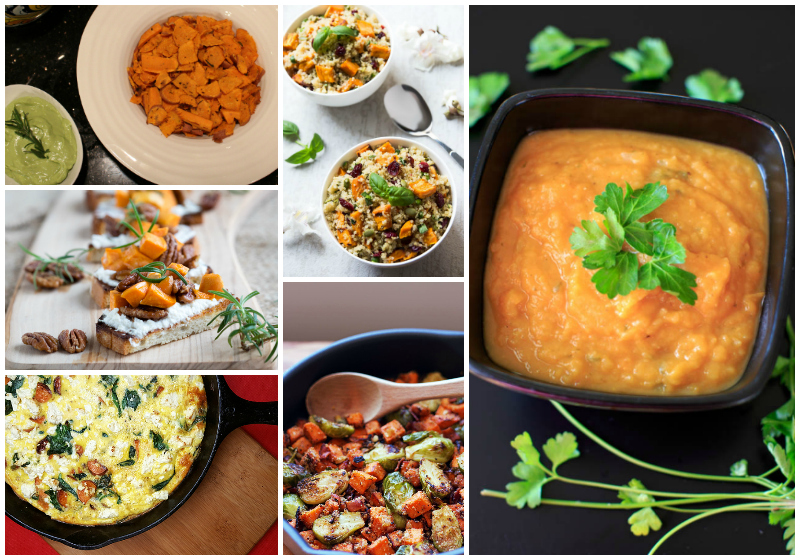 Sweet potatoes are on my shopping list just about every week! I am happy to eat them for breakfast, lunch or dinner. They add a pop of color, delicious flavor and good nutrition to a variety of dishes.
When I was growing up, we had sweet potatoes with brown sugar or marshmallows for the holidays. I was never a fan of this sweet dish, no matter how many different ways I tried it. Once I discovered the delicious joy of savory sweet potato dishes, I was hooked.
Below are a variety of sweet potato recipes from food bloggers. They can be served at parties, holiday gatherings or enjoyed any day of the year. As you can see, the sweet potato is truly a versatile food!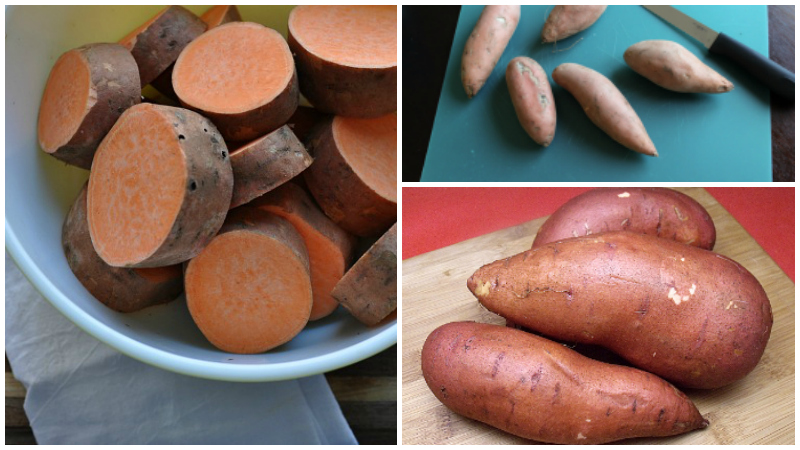 Sweet Potato and Spinach Frittata from Mama Likes To Cook
Sweet Potato and Apple Soup from Trial and Eater
Paleo Coconut Flour Sweet Potato Muffins from Leelalicious
Sweet Potato Veggie Tacos from Trial and Eater
Vegan Sweet Potato and Black Bean Burritos from Mama Likes To Cook
Sweet Potato Gratin from Kalyn's Kitchen
Swiss Chard and White Bean Stuffed Sweet Potato from Vegetarian Gourmet
Brussels Sprouts Sweet Potato Hash from Leelalicious
Sweet Potato Eggs Skillet Meal from Mama Likes To Cook
Pumpkin and Sweet Potatoes with Brown Rice from Mama Likes To Cook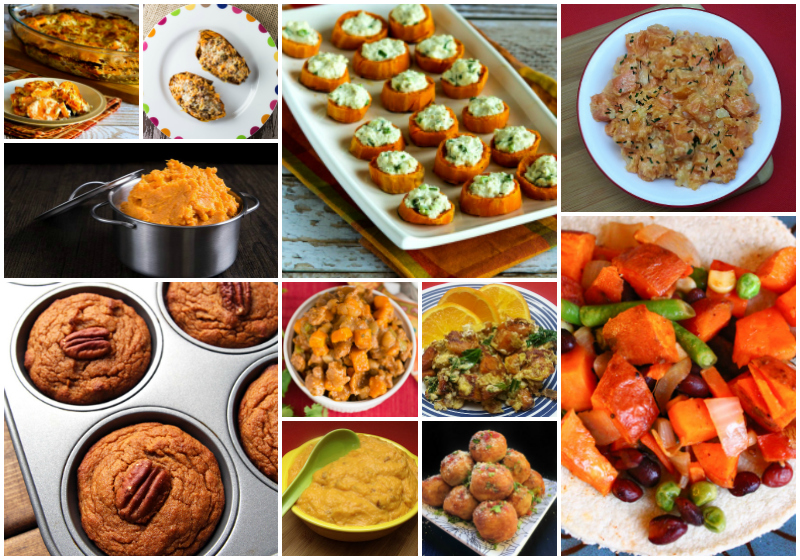 Sweet Potato Appetizer Bites from Kalyn's Kitchen
Sweet Potato and Pecan Bruschetta from The Worktop
Sweet Potato Cranberry Salad from Leelalicious
Easy Sweet Potato Salad from Mama Likes To Cook
Loaded Sweet Potato Bacon Pops from Easy Cooking with Molly
Pressure Cooker Mashed Sweet Potatoes from Pressure Cook Recipes
Slow Cooker Mashed Sweet Potatoes from Mama Likes To Cook
Sweet Potato Souffle from Savvy Age
Sweet Potato Buns from Dining with Alice
Sweet Potato Chips from Phruitful Dish
Sweet Potato Fries from Saving Dollars and Sense
Twice Baked Sweet Potatoes with Leeks and Sausage from Sidewalk Shoes
Sausage and Sweet Potato Chili from The Weary Chef
Sweet Potato Bacon Hash from Searching for Imperfection