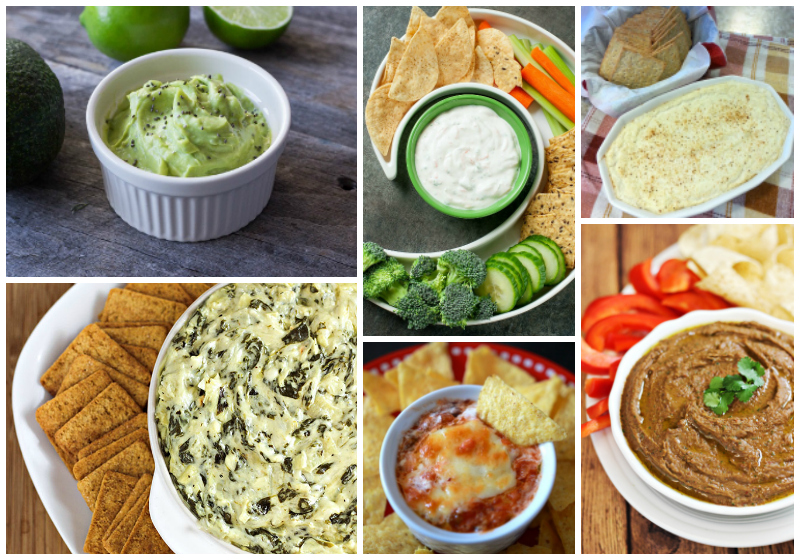 Dip! Do you love dip? Of course, you do!
Dip is great for parties, potlucks and other big and small celebrations. You can whip some up for a quick snack, casual meal or game day get together. You can serve it at a fancy gathering or romantic candlelit dinner for two. You can make one dip as a stand alone dish or fill a table with many. Whether you are dipping veggies, crackers, chips, pretzels, bread or fruit, dip is delicious and fun to eat.
I've put together a huge assortment of over 100 recipes for savory and sweet dips that can be served as a snack, meal or dessert. Check them out!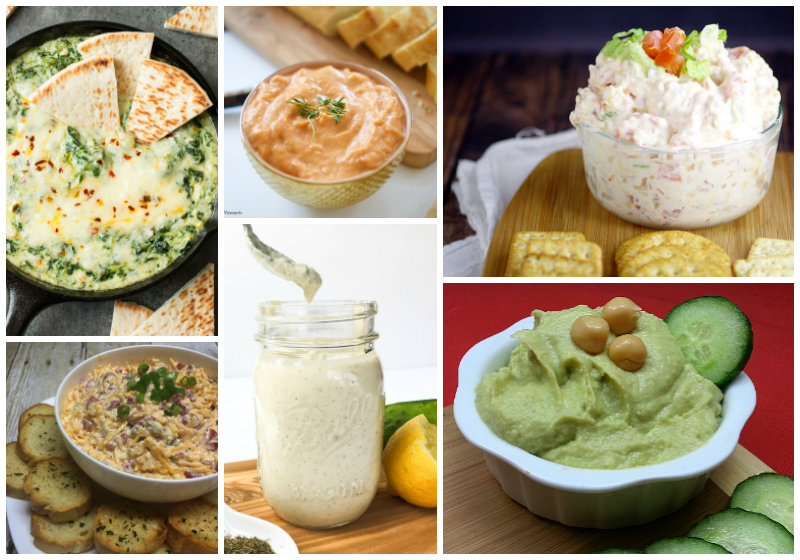 Cheese Dip
Homemade Queso Dip from Little House Living
Crockpot Queso Dip from Quirky Inspired
Cheesy Green Pepper Dip from Kennary
Dairy Free Queso Dip from This Mama Loves
4 Layer Cream Cheese Dip from Joyfully Thriving
Three Cheese Dip from Saving Dollars and Sense
Cheesy Pesto Dip from Amanda's Cooking
Ranch Cheddar Beer Dip from The Gracious Wife
Three Ingredient Chip Dip from Coffee with Us 3
Warm Cream Cheese Spinach Dip from Little House Living
Warm Spinach and Feta Dip from Mama Likes To Cook
Warm and Cheesy Brussels Sprouts Dip from Mama Likes To Cook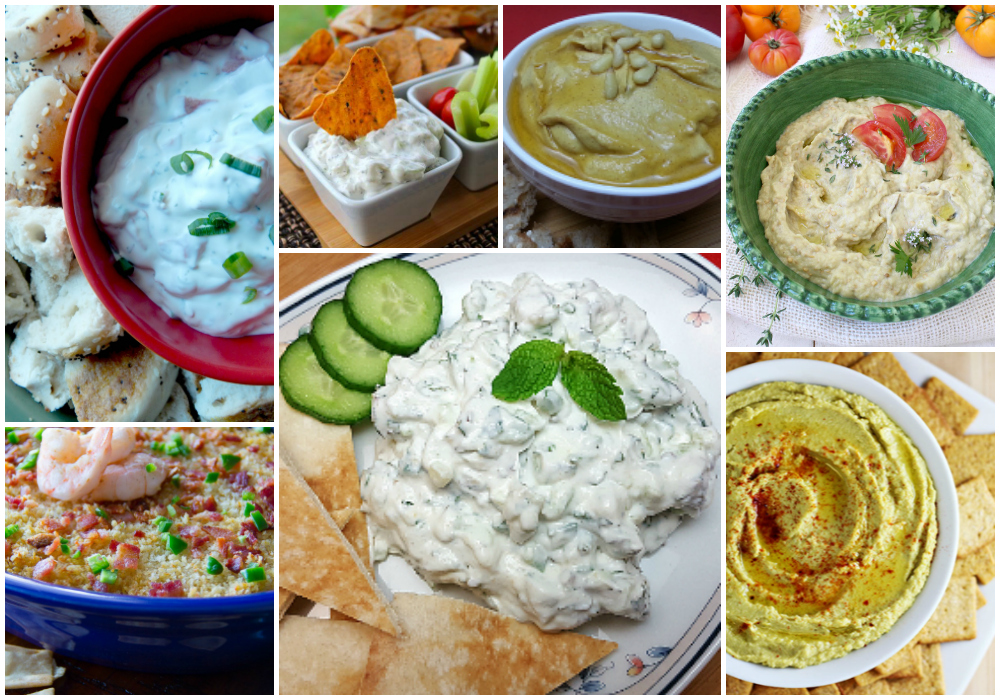 Mediterranean Dip
Labne Cucumber Mint Dip from Mama Likes To Cook
Family Favorite Tzatziki from Menu Musings
Easy Tzatziki Dip from ABCs and Garden Peas
Vegan Tzatziki from The Crunchy Chronicles
Roasted Red Pepper Baba Ghanoush from Living Sweet Moments
Grilled Eggplant and Roasted Red Pepper Dip from Cook Eat Paleo
Roasted Eggplant Dip from Ciao Florentina
Lebanese Eggplant Dip from Vegetarian Gourmet
Greek Salad Dip from This Mama Loves
Greek Yogurt Tahini Dip from Kalyn's Kitchen
Spiced Red Lentil and Herb Dip from Vegetarian Gourmet
Hummus
Spinach Hummus from Mama Likes To Cook
Pumpkin Spice Hummus from Mama Likes To Cook
Avocado Hummus – Guacahummus from Mama Likes To Cook
Classic Hummus from Mission to Save
Garlic Turmeric Hummus from Phruitful Dish
Baked Hummus Dip with Tabouli Topping from Two Healthy Kitchens
Edamame Hummus from Two Healthy Kitchens
Simple Roasted Red Pepper Hummus from Mama Likes To Cook
No Fuss Jalapeno Hummus from Home Cooking Memories
Slow Roasted Tomato Hummus from Kalyn's Kitchen
Lemon Dill Hummus from Mama Likes To Cook
Black Eyed Pea Hummus from Mama Likes To Cook
Easy Roasted Garlic Hummus from Mama Likes To Cook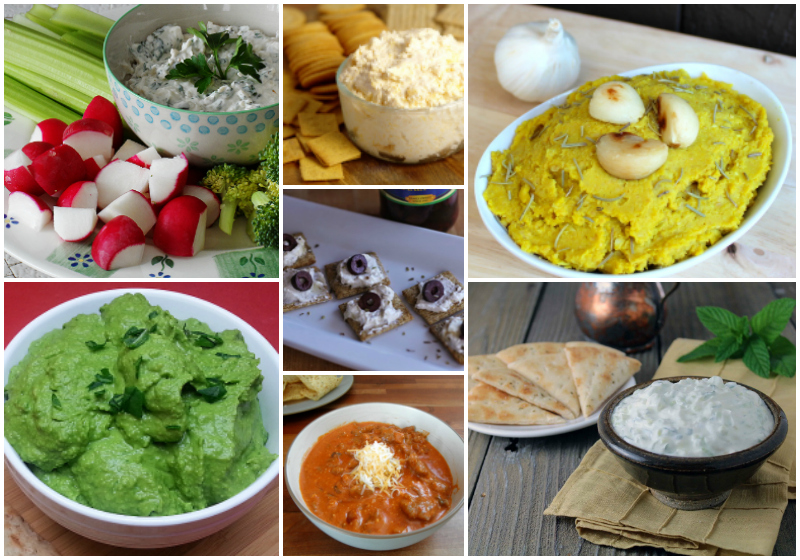 Artichoke Dip
Cheesy Kale and Artichoke Dip from Ann's Entitled Life
Black Olive Artichoke Dip from Nerdy Mamma
Broccoli Artichoke Dip from Dear Creatives
Hot Spinach and Artichoke Dip from She Saved
Warm Feta Artichoke Dip from Ally's Sweet & Savory
Slow Cooker Spinach and Artichoke Dip from Home Cooking Memories
Ranch Dip
Homemade Ranch Dip from Dinner at The Zoo
Southwestern Ranch Dip from Kalyn's Kitchen
Three Minute Paleo Ranch from Recipe This
Ranch Cottage Cheese Dip from To Simply Inspire
Grandma's Ranch Style Dip from Kalyn's Kitchen
Skinny Ranch Dip from Table for Seven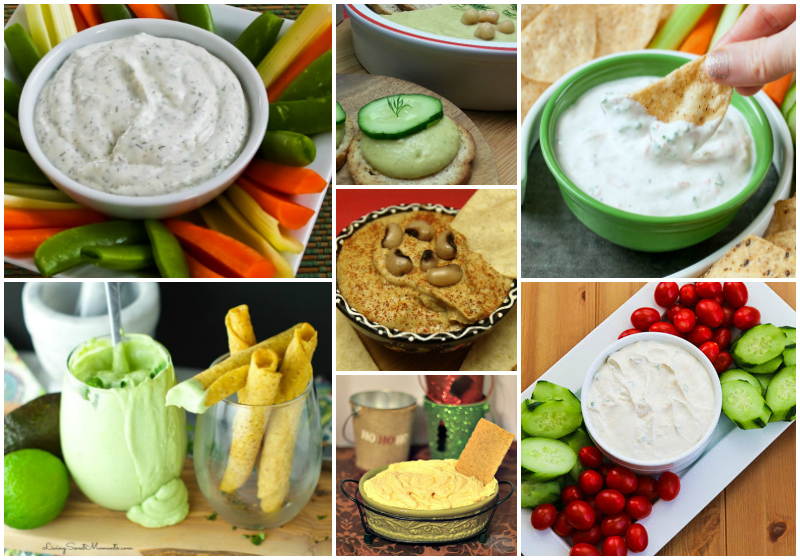 Meaty Dip
BLT Dip from The Gracious Wife
Baked Ricotta Dip with Bacon from Coffee with Us 3
Cheesy Bacon Ranch Dip from Quirky Inspired
Easy Slow Cooker Nacho Dip from Nerdy Mamma
Easy Cheese Pizza Dip from Cincy Shopper
Chili Dip from My Heavenly Recipes
One Dish Chili Dip from My Heavenly Recipes
Cheesy Chili Dip from The Typical Mom
Seven Layer Taco Dip from Little House Living
Sausage Dip from My Heavenly Recipes
Crock Pot Sausage Dip from Nerdy Foodie Mom
Sausage Dip from Newlywed Survival
Reuben Dip from Two Healthy Kitchens
Reuben Dip from Midwestern Moms
Dried Beef and Green Onion Bagel Dip from Ally's Sweet & Savory Eats
Creamy Chicken Dip from All She Cooks
Creamy Chicken Dip from Recipe This
Easy Buffalo Chicken Dip from Couponing for 4
Cheesy Buffalo Chicken Dip from Couponing for 4
Buffalo Chicken Dip from Frugal Navy Wife
Ranch Buffalo Chicken Dip from Table for Seven
Seafood Dip
Cream Cheese Tuna Dip from All She Cooks
Shrimp Jalapeno Popper Dip from Say Grace Blog
Salmon Dip from A Lady in France
Cheesy Baked Shrimp and Spinach Dip from Peas and Crayons
Hot Crab Dip from Newlywed Survival
Avocado Dip
Roasted Garlic and Chia Guacamole from Eat Thrive Glow
Avocado Cilantro Cream from Living Sweet Moments
Vegan Avocado Yogurt Dip from Mama Likes To Cook
Easy Guacamole from Mama Likes To Cook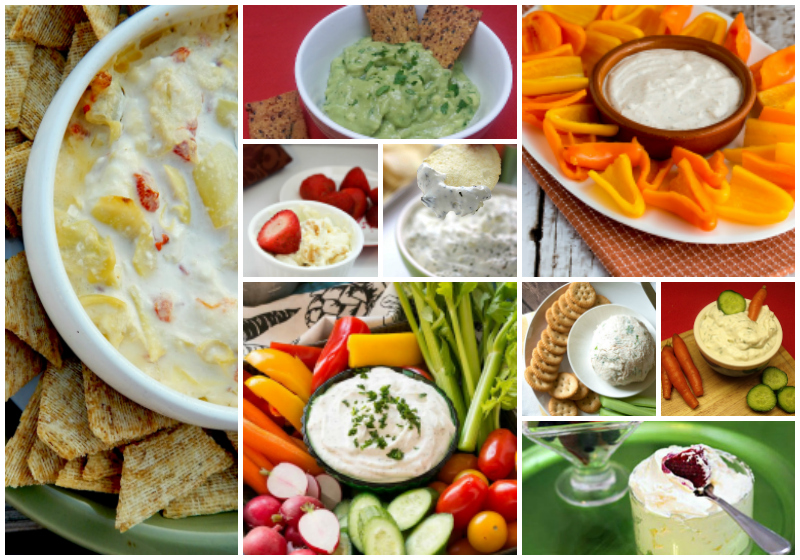 More Dip
Dill Pickle Dip from Cincy Shopper
Dill Dip from Little House Living
Healthy Garden Veggie Dip from Peas and Crayons
Jalapeno Popper Dip from Cincy Shopper
Jalapeno Popper Dip from Midwestern Moms
Quick and Easy Garlic Dip from She Saved
Skinny French Onion Dip from Amanda's Cooking
Hot Onion Spinach Dip from Snappy Gourmet
Sweet Pepper Cream Cheese Dip from Mama Likes To Cook
Cream Cheese and Yogurt Dill Dip from Mama Likes To Cook
Taco Dip from Kids Creative Chaos
5 Layer Bean Dip from A Lady in France
White Bean Dip from To Simply Inspire
Easy Black Bean Chipotle Dip from Home Cooking Memories
Chipotle Corn Dip from Snappy Gourmet
Easy Chipotle Onion Dip from A Magical Mess
Jalapeno Lime Dip from Midwestern Moms
Dessert Dip
Cheesecake Chocolate Chip Dip from Little House Living
Eggless & Dairy Free Cake Batter Dip from Nerdy Mamma
Easy Chocolate Cream Cheese Dip from She Saved
Cannoli Dip from Bride on a Budget
Peanut Butter Silk Pie Dip from Two Healthy Kitchens
One Minute Greek Yogurt Fruit Dip from Coffee with Us 3
Yogurt Fruit Dip from Little House Living
Peanut Butter Fruit Dip from Little House Living
Lemon Cake Yogurt Fruit Dip from A Magical Mess
Pina Colada Fruit Dip from A Magical Mess
Pumpkin Spice Dip from A Magical Mess
Cake Batter Fruit Dip from A Magical Mess
Birthday Cake Dip from Six Dollar Family