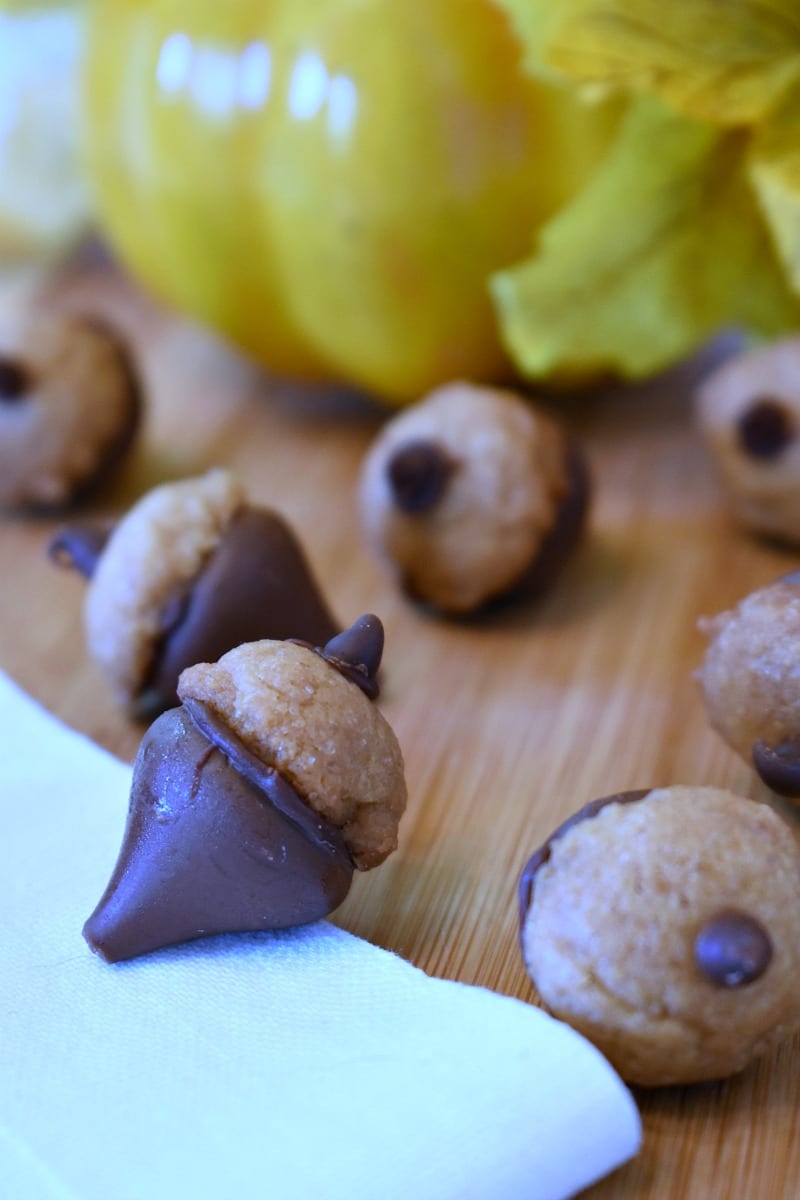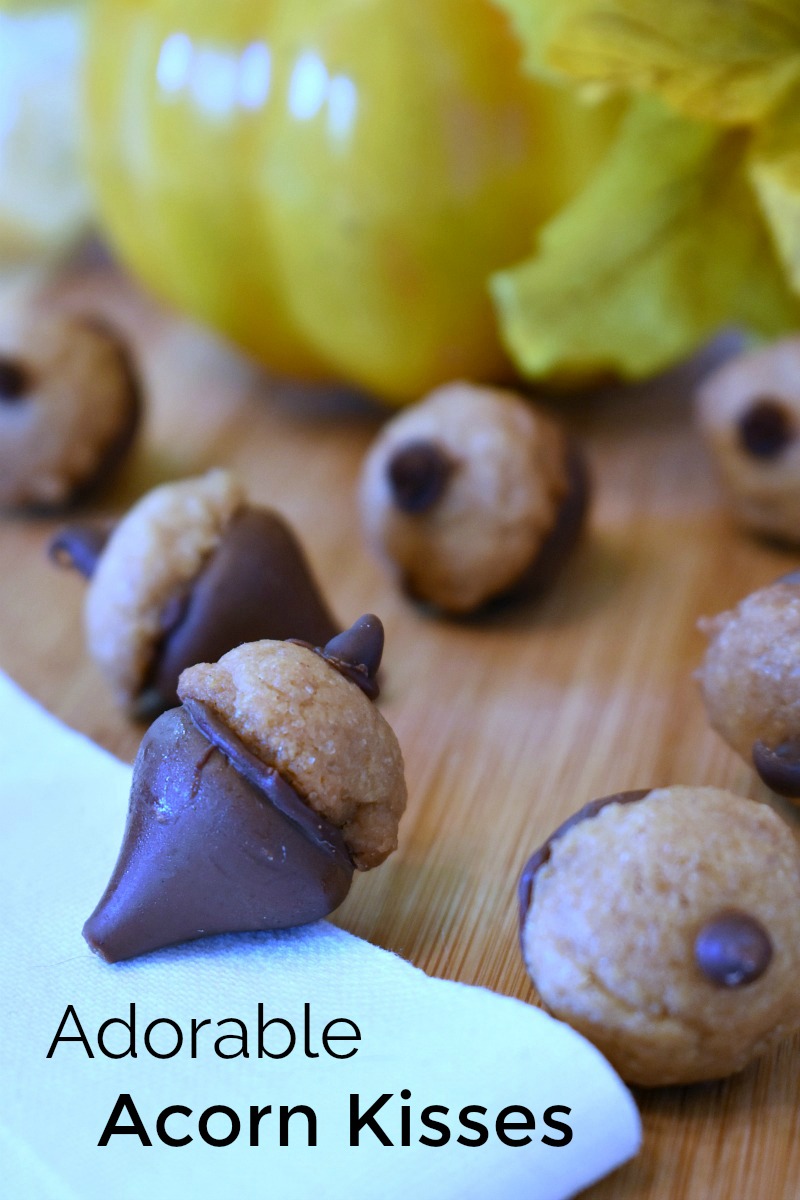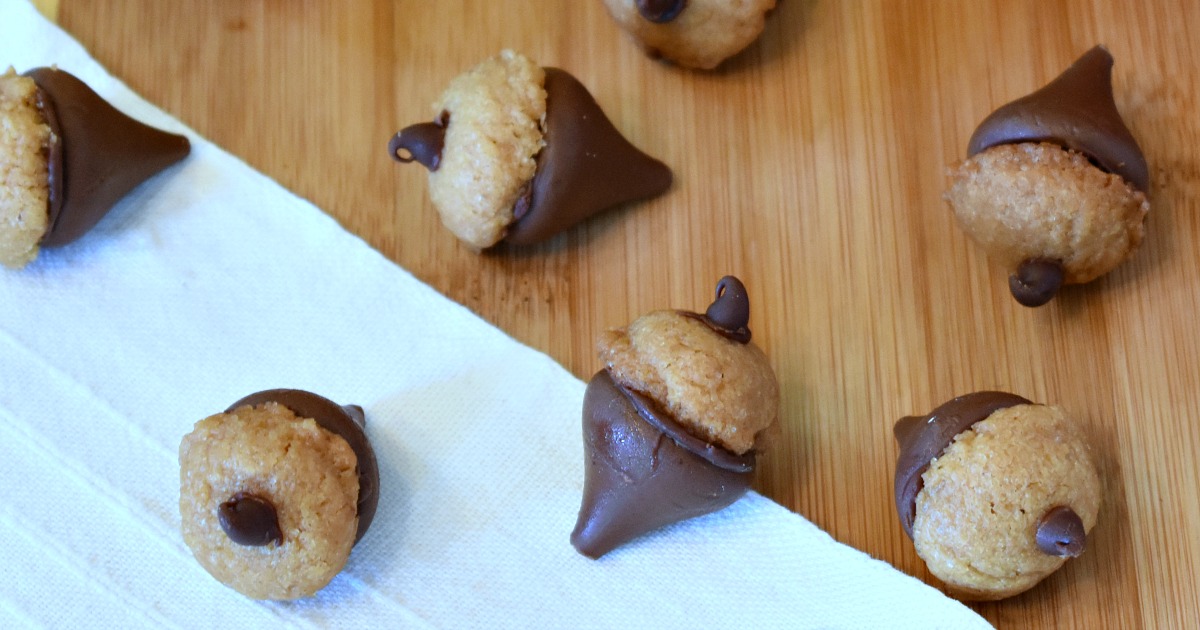 These adorable acorn kisses are cute and delicious, so they are fun to make and fun to eat.
A Hershey's Kiss is good as is, but is even better with a little homemade cookie on top.
The tiny peanut butter cookies are a nice crunchy contrast to the smooth chocolate acorn.
Of course, chocolate and peanut butter are always a good flavor combination.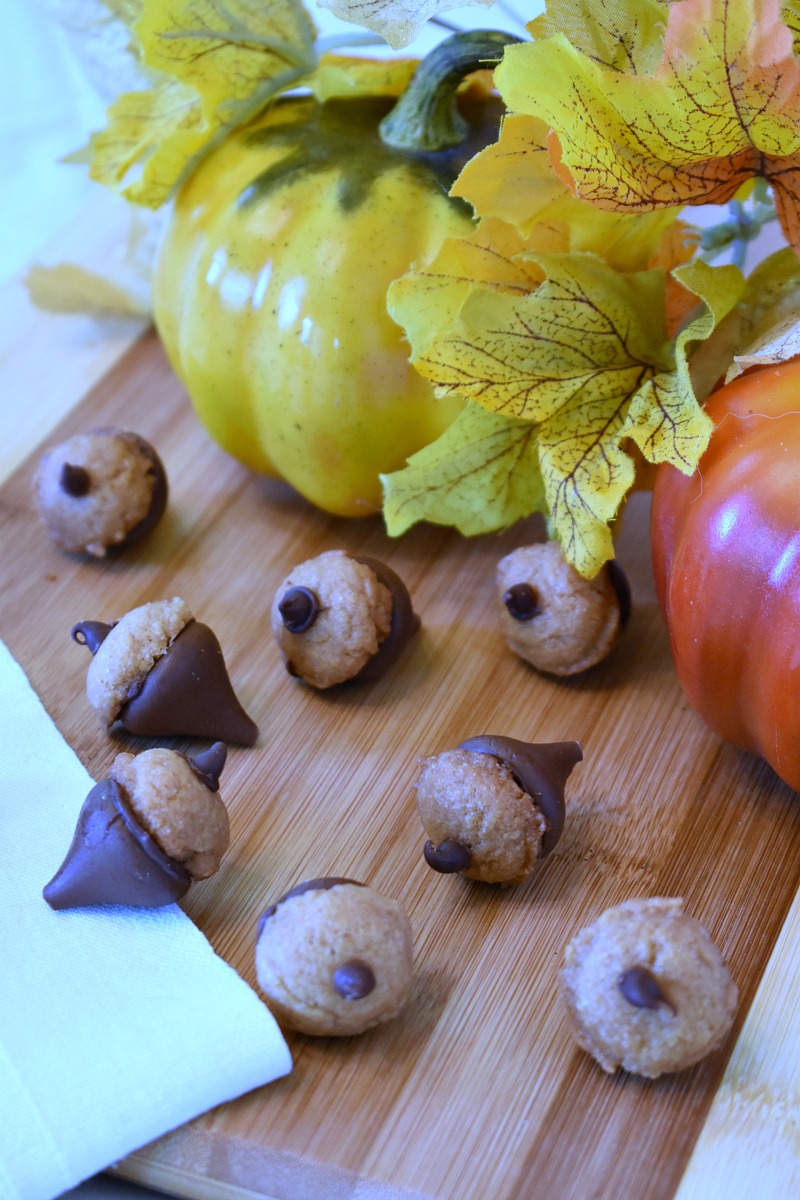 This is a perfect treat to serve at Fall gatherings.
They are always popular, when sold at a bake sale or given as a gift.
If you are planning a woodland themed baby shower or birthday party, these are lovely to set out on the dessert table.
We all know that from little acorns mighty oaks grow, so the cookies are a cute way to tie that into a celebration for a baby on the way or a small child.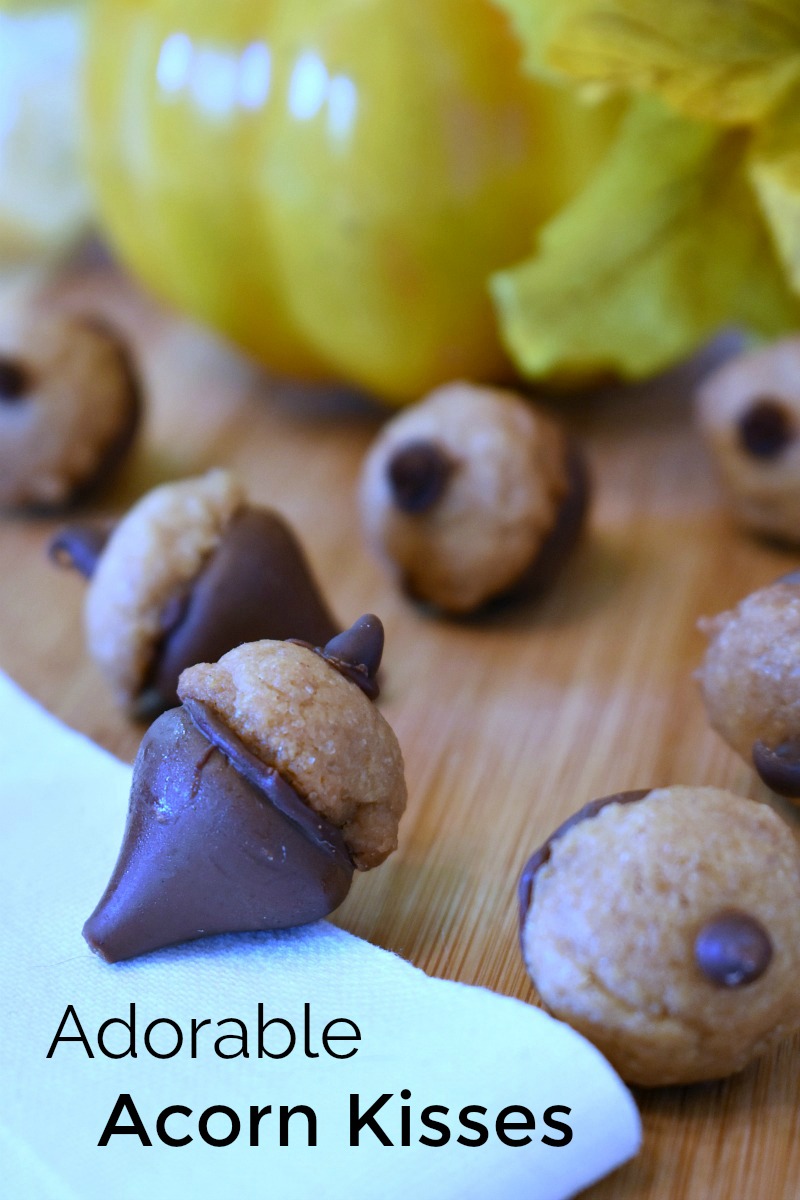 If you have kids who like to help in the kitchen, this recipe is a great choice.
The acorn kisses are cute, of course.
They are also easy to make.
Kids can help mix up the cookie dough and they can help assemble the acorns.
Even little ones will have fun putting the acorns together.
Enjoy!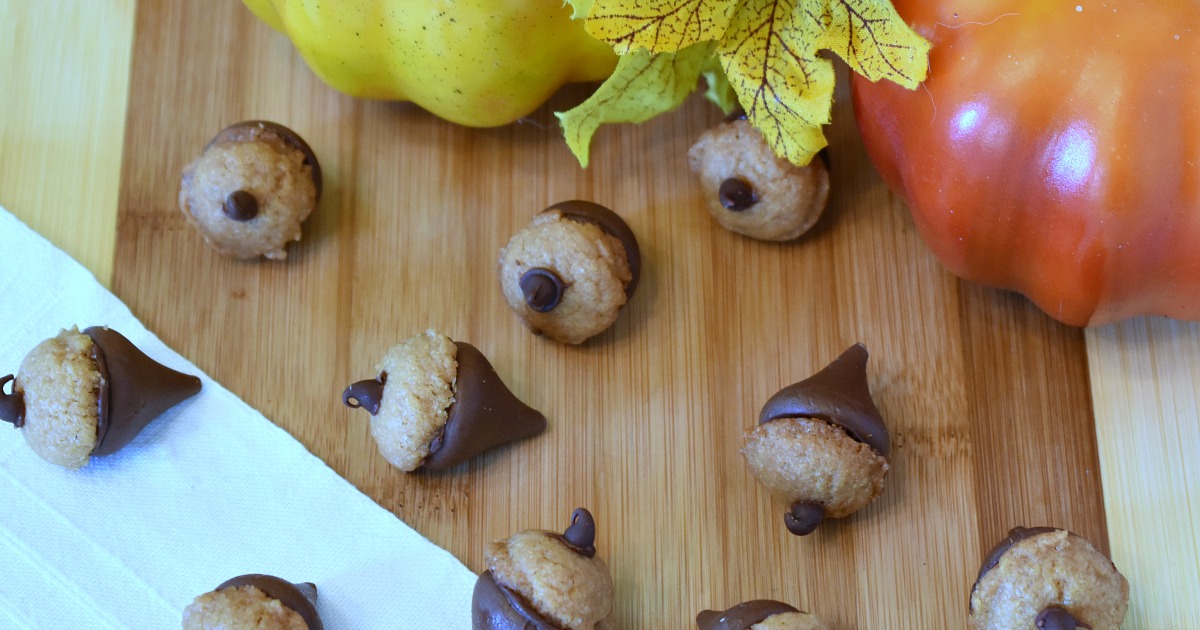 Adorable Acorn Kisses Recipe
Makes 5 dozen
Ingredients:
¾ cup Peanut Butter (smooth)
1 Egg
¾ cup Sugar
1 t Vanilla Extract
1 T All Purpose Flour
1/4 t Salt
1/2 cup Mini Chocolate Chips
60 Hershey's Kisses, unwrapped
Instructions:
1) Preheat oven to 350°.
2) In an electric mixer, beat together peanut butter, sugar, vanilla extract, egg flour and salt.
3) Drop dough by rounded ¼ teaspoon onto a baking sheet and form dough into dome shape.
4) Bake for approx. 10 minutes until golden brown around the edges.
5) Let cookies begin to cool on baking sheet for 5 minutes.
6) Transfer to cooling rack to finish cooling.
7) Microwave half of the mini chocolate chips on high for 10 seconds and stir. Repeat until chocolate is completely melted and smooth.
8) Use the melted chocolate "glue" to assemble the acorns. Dip the flat part of a Kiss in the chocolate and then attach a cookie acorn top to it.
9) Attach a mini chocolate chip stem to the top using the same method.
10) Repeat until all of the acorn kisses are assembled.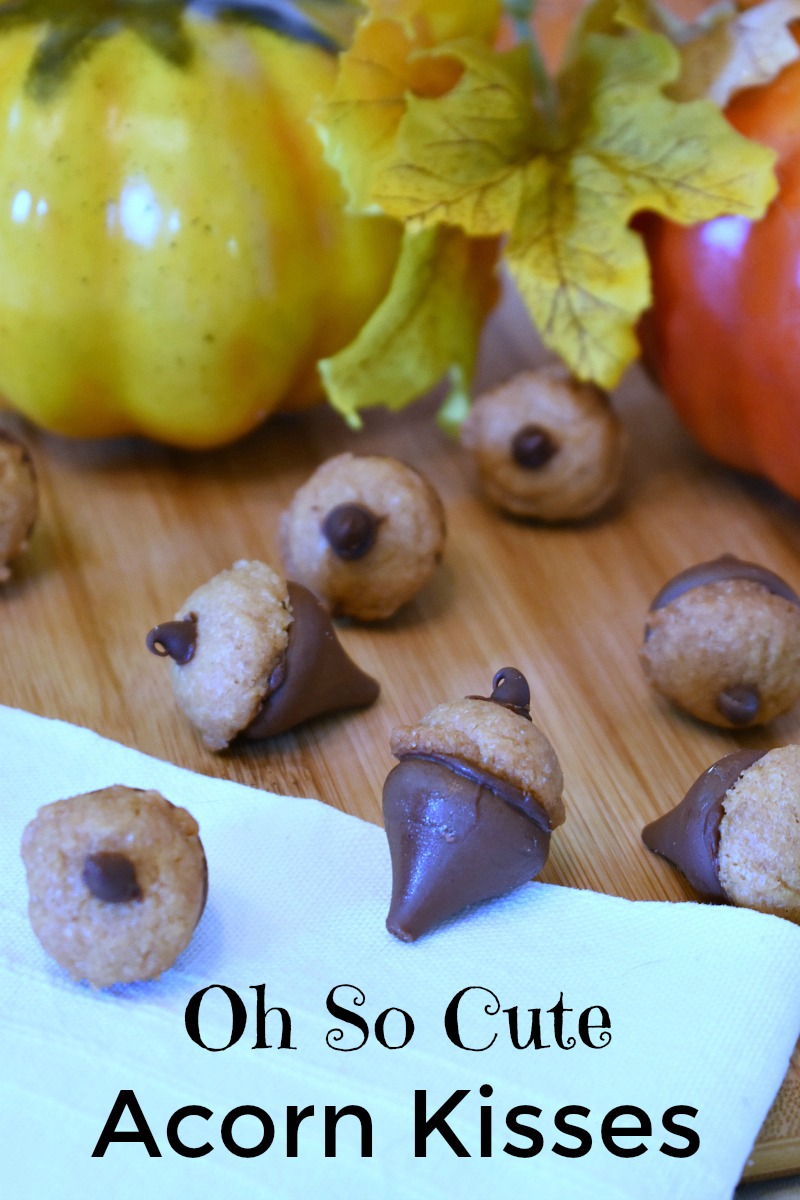 More from Mama Likes To Cook
Check out the rest of my vegetarian recipes, so you can get more great ideas for baking, cooking, blending and juicing.
Peanut Butter Recipes
Cookie Recipes
Holiday Cookie Recipes
Shopping Tips
For a beautiful assortment of kitchen necessities and food gifts for the whole family, check out the deals at these online stores.
Are you ready to have some delicious fun in the kitchen?