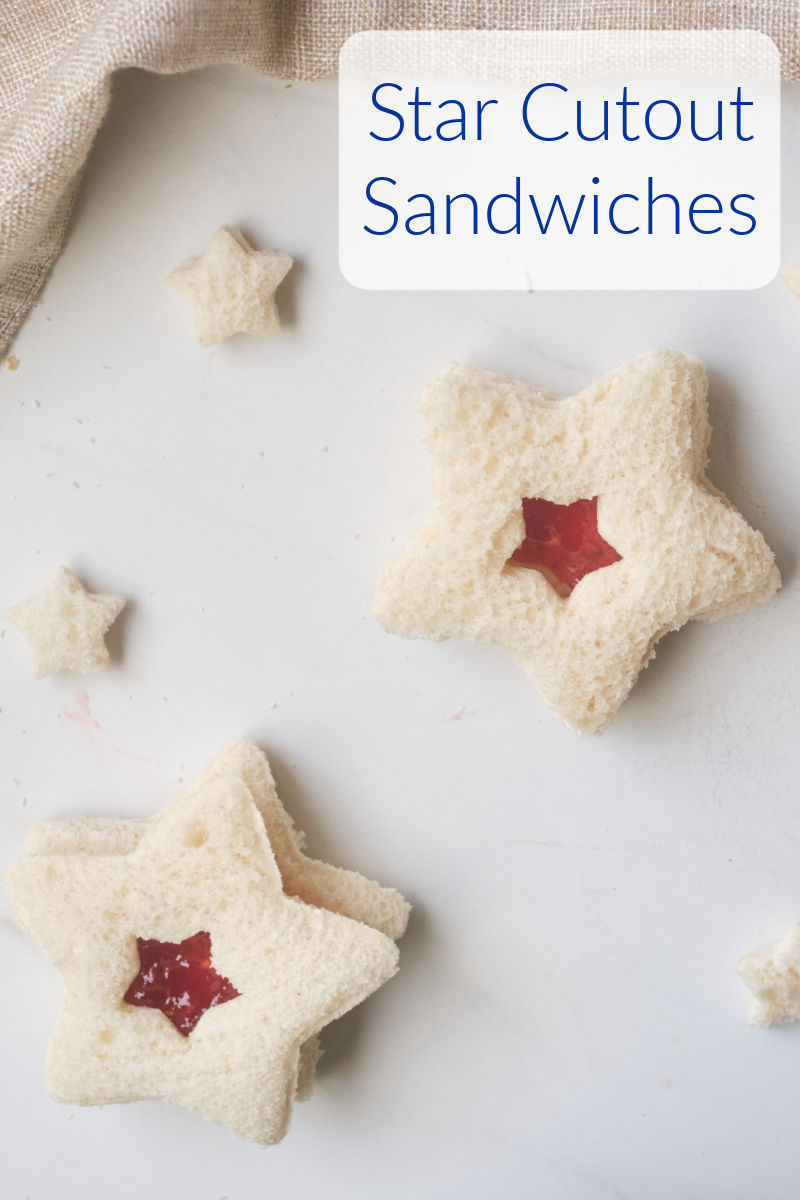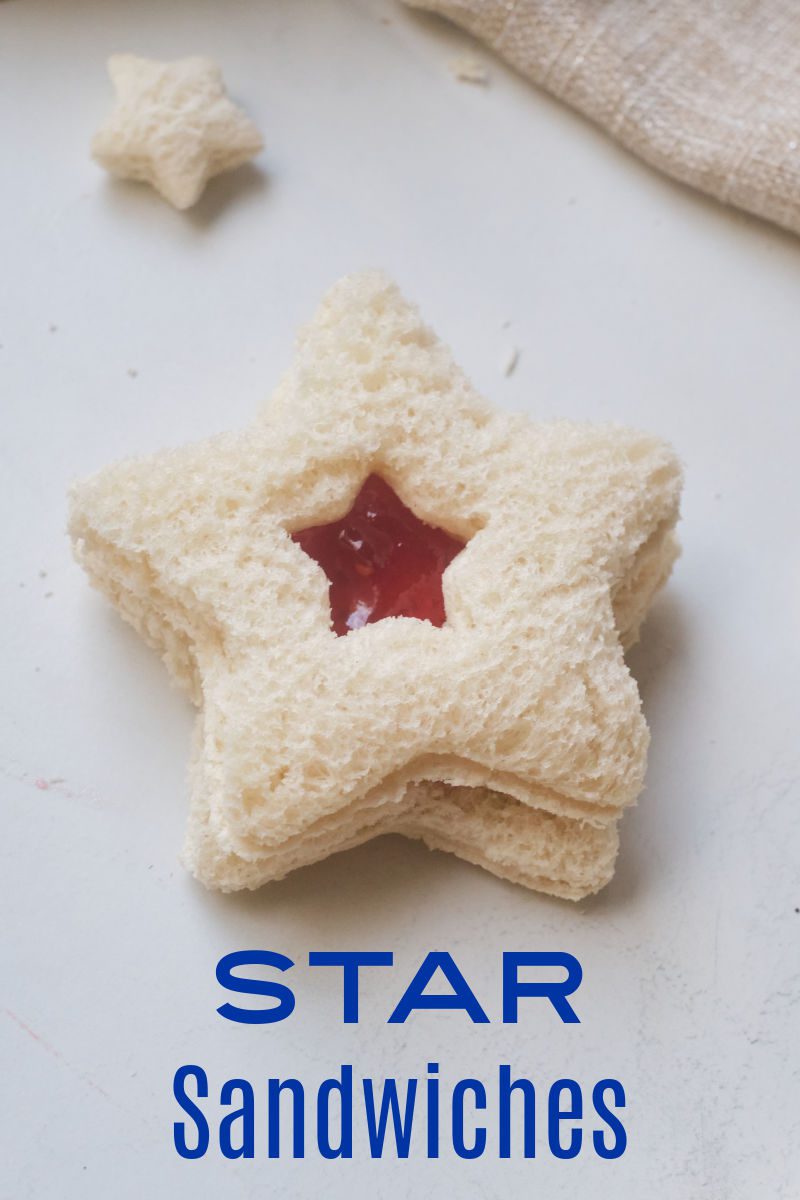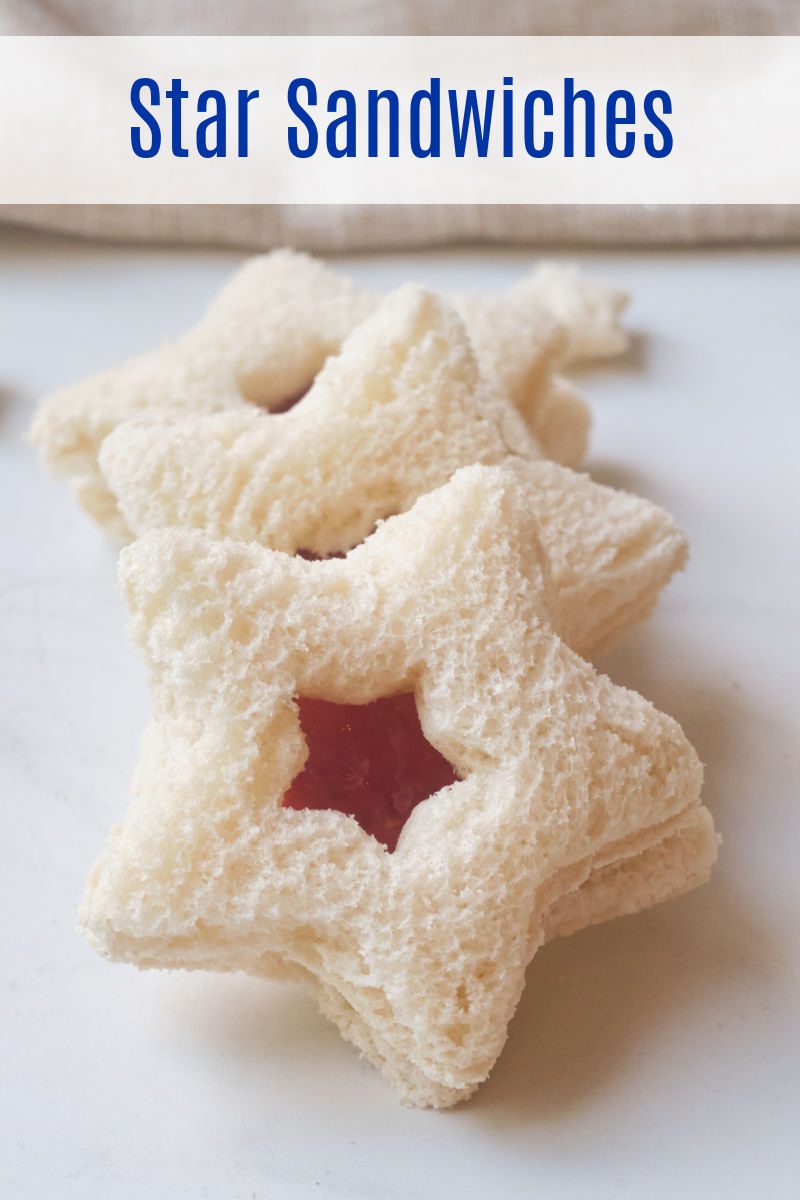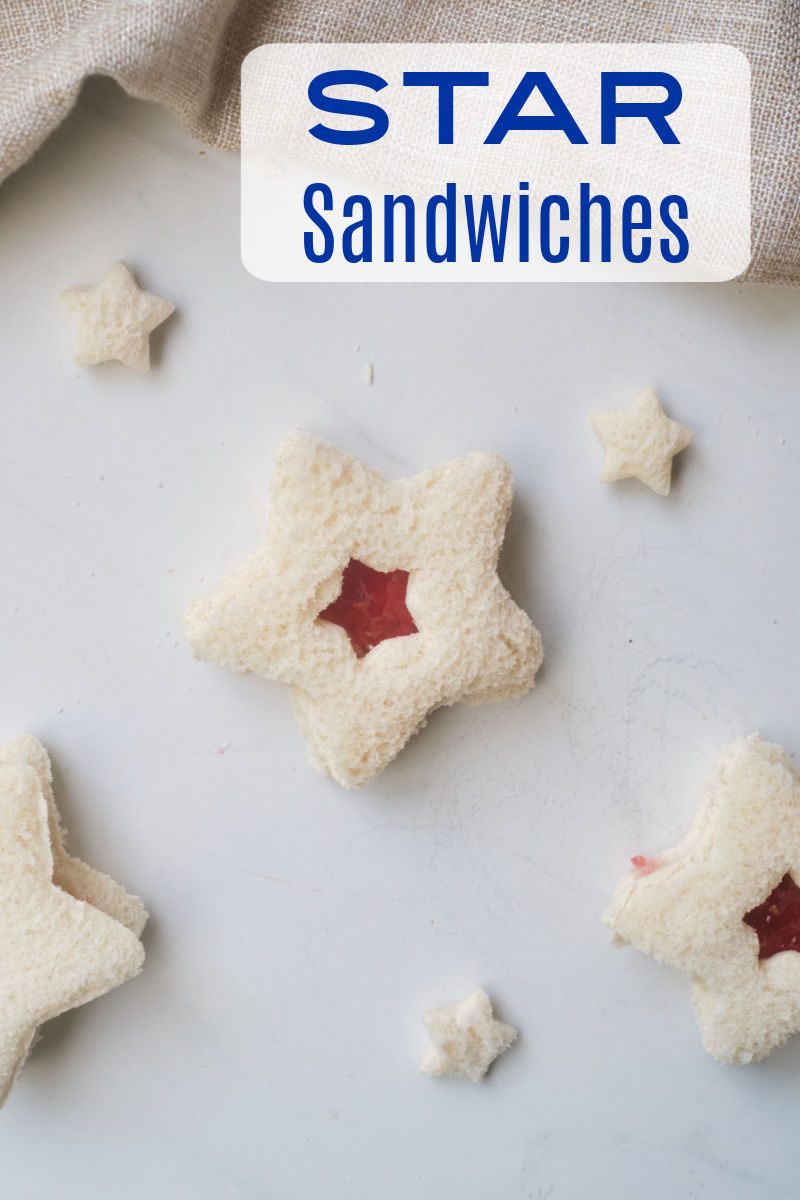 Cute & Fun Sandwich Recipe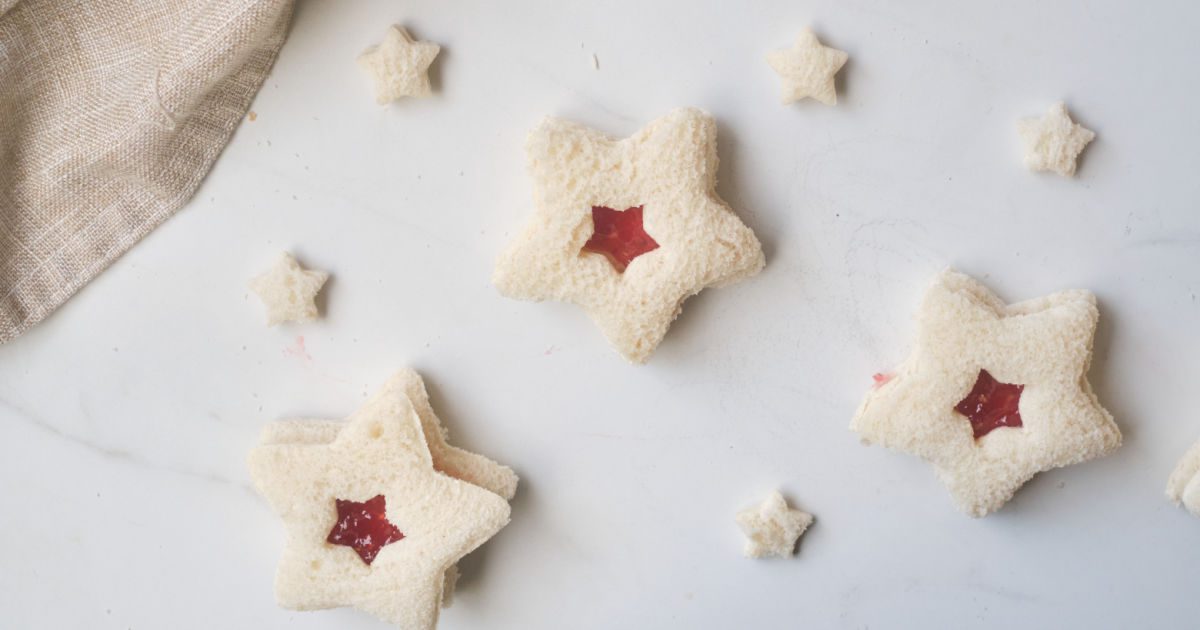 Make my kid friendly cutout star sandwich recipe, when you want a fun addition to a buffet table or lunch box for the holidays or anytime.
These cute sandwiches are a fun option for picky kids (or adults) and are a great addition to your holiday spread.
It's nice to have something that looks festive that isn't on the desert table.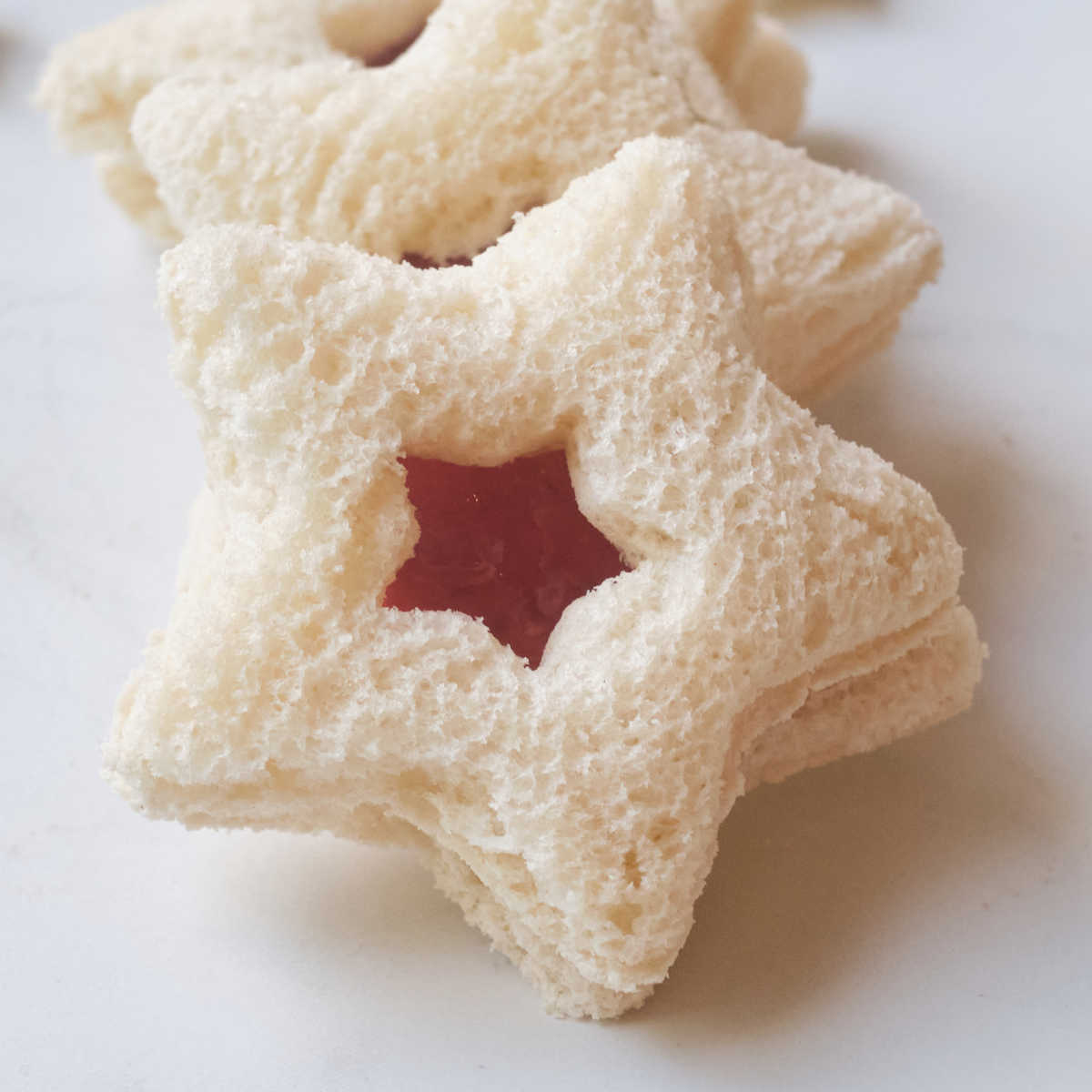 Are These Sandwiches Just for Kids?
These cutout star sandwiches are definitely kid friendly, since they look cute, can be eaten by hand and taste good.
However, adults can enjoy them, too.
If you have them out on a buffet table, there is a good chance that kids won't be the only ones eating these fun star-shaped sandwiches with a "window" to see the jam.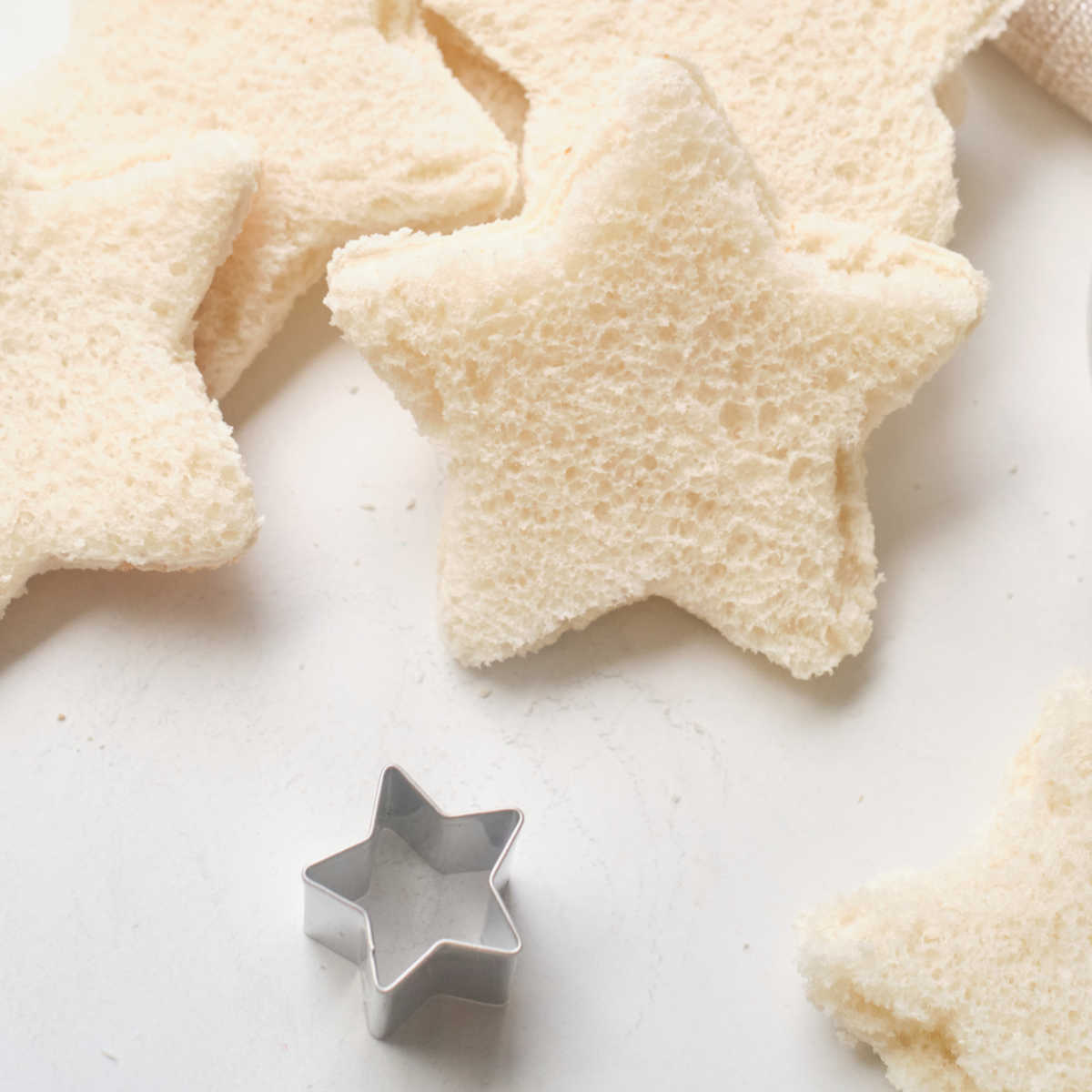 Can Kids Help Make The Cutout Sandwiches?
Making cutout sandwiches is a fun activity that doesn't involve dangerous equipment, so kids can join in and help.
Cookie cutters are fun, whether they are used for these sandwiches, cookies or Play-doh.
No sharp knives are needed, since a table knife is all you need to spread the jam.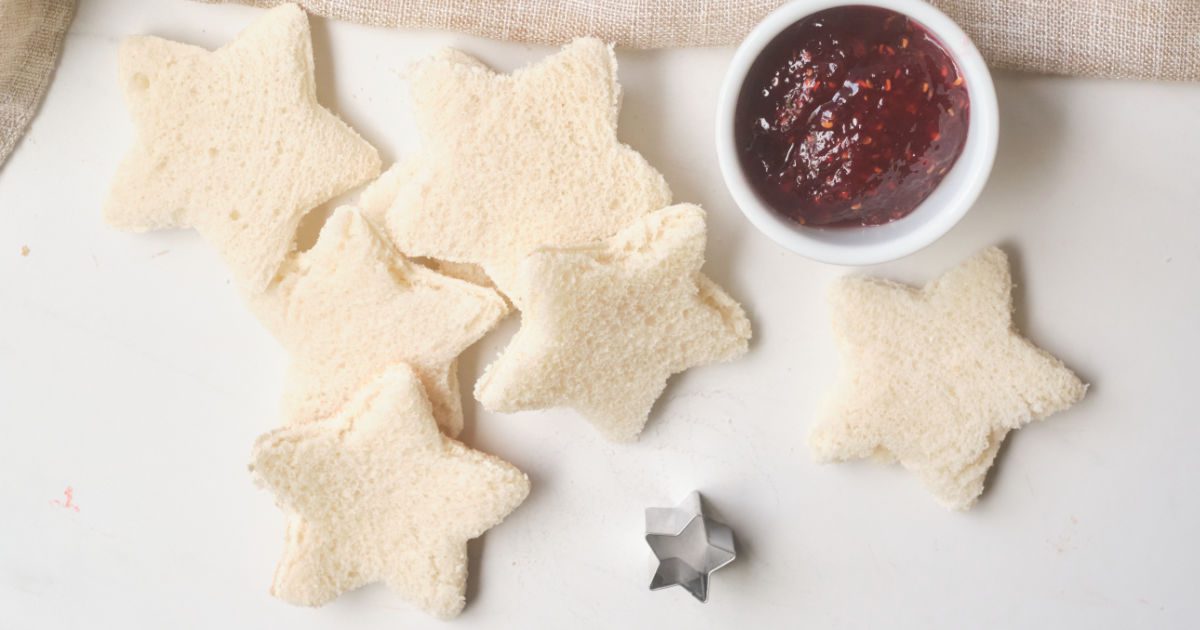 Can I Make These Into PB & J Cutout Sandwiches?
Yes!
My sandwiches have just jam in them, but you can add peanut butter, almond butter or another spread, too.
I recommend putting the nut butter on the bread first and then adding the jam and cutout top piece of bread.
That way you'll still see the pretty color of the jam in the center of the star.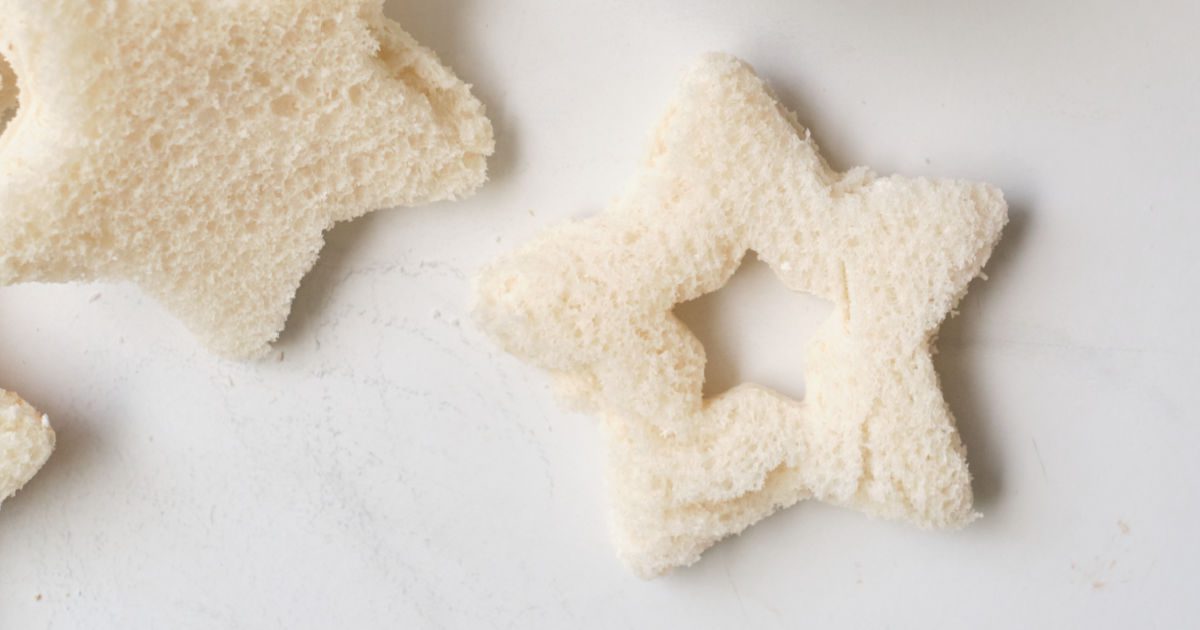 Is This Sandwich Recipe Gluten Free?
You can make these sandwiches gluten-free, if you'd like.
Soft, spongy bread works great with cookie cutters, so keep that in mind when choosing a loaf.
Are The Cutout Sandwiches Vegan or Vegetarian?
The holiday sandwiches are vegetarian and can be vegan as long as you use vegan bread.
Some bread brands add dairy to their loaves, so check the labels before purchasing.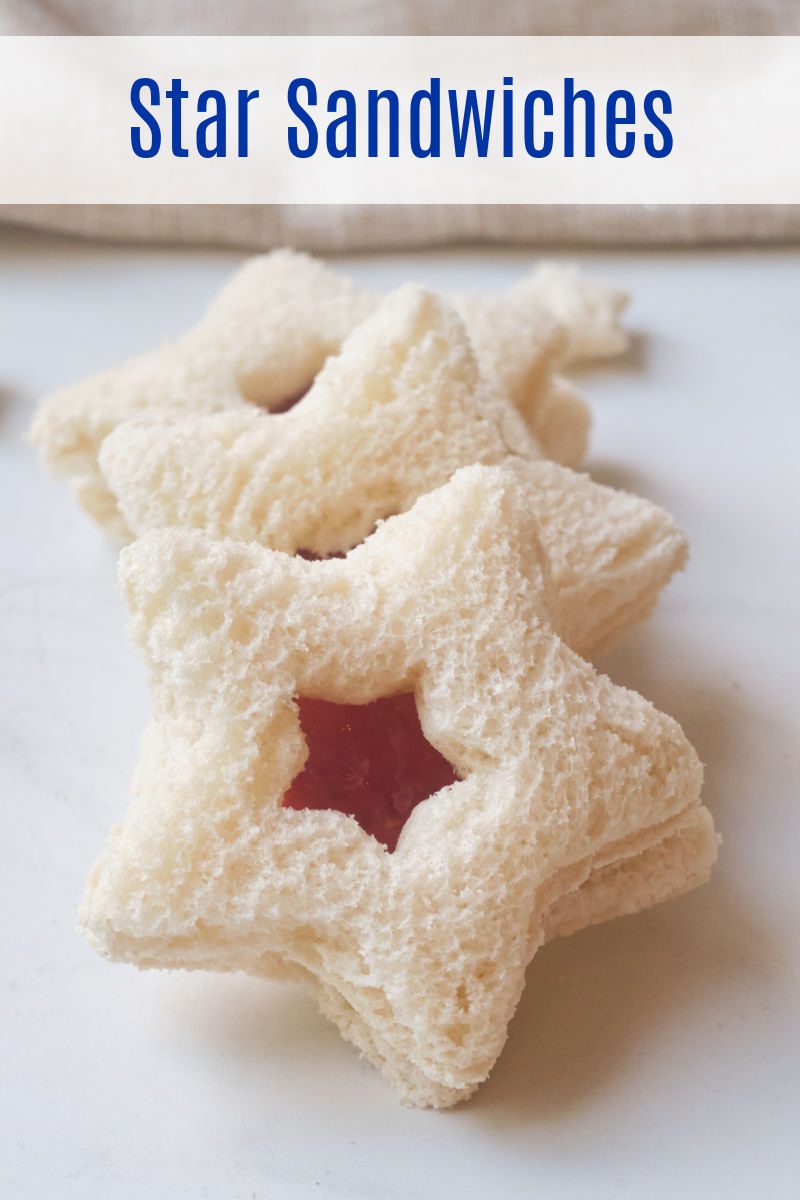 Tips To Make Ahead for a Party
These star sandwiches can be made ahead of time to save you from a last minute rush.
If you are making ahead, store the sandwiches in an airtight container or on a platter that is covered completely with Saran Wrap (or similar).
Keeping the air out is a must, since you don't want the bread to dry out.
What to Do with The Leftover Bread?
The crust and bread that is left over after you've cut out the star shape with a cookie cutter doesn't have to go to waste.
The easiest use for the bread during the holiday season is to cut it into smaller pieces and add it to whatever other bread you are using for stuffing.
Another idea is to let it dry out and crumble it to use as bread crumbs in other recipes.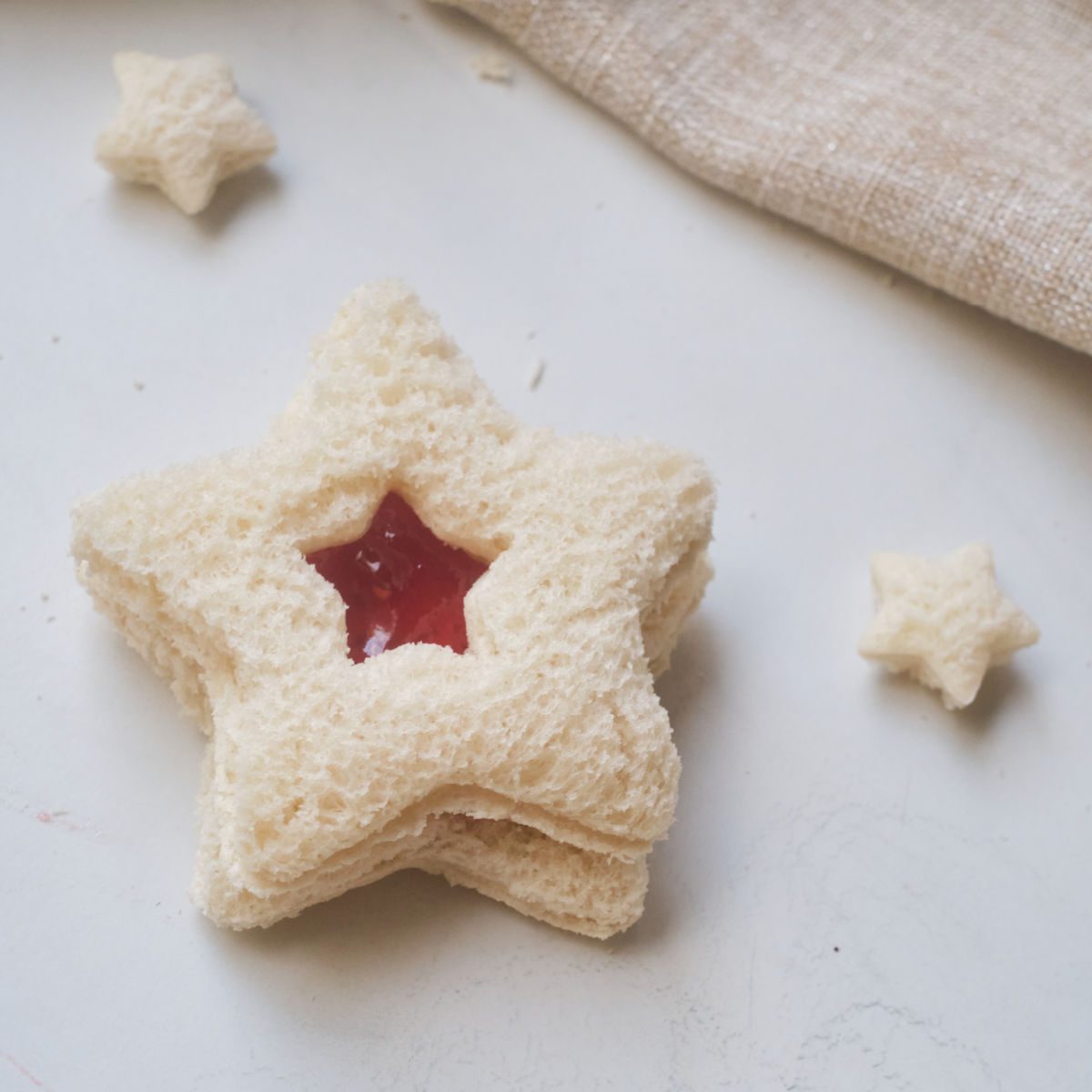 Cutout Star Sandwich Recipe
Prep time: 10 minutes
Total time: 20 minutes
Yield: 5 Servings
Ingredients
10 slices Bread
¼ cup Jam
Supplies
Star Cookie Cutters (small and large)
Table Knife
Instructions
1) Use the large star cutter to cut a star shape from each piece of bread.
2) Cut small stars in the middle of 5 of the star shaped bread slices. These slices will be the tops for the sandwiches.
3) Spread a small amount of jam on each of the 5 bottom star shaped bread without the little star hole in them. Use just a little bit and don't spread it too close to the edges, so it doesn't ooze out of the sandwich.
4) Serve immediately or store in an airtight container or wrap in plastic wrap to serve later.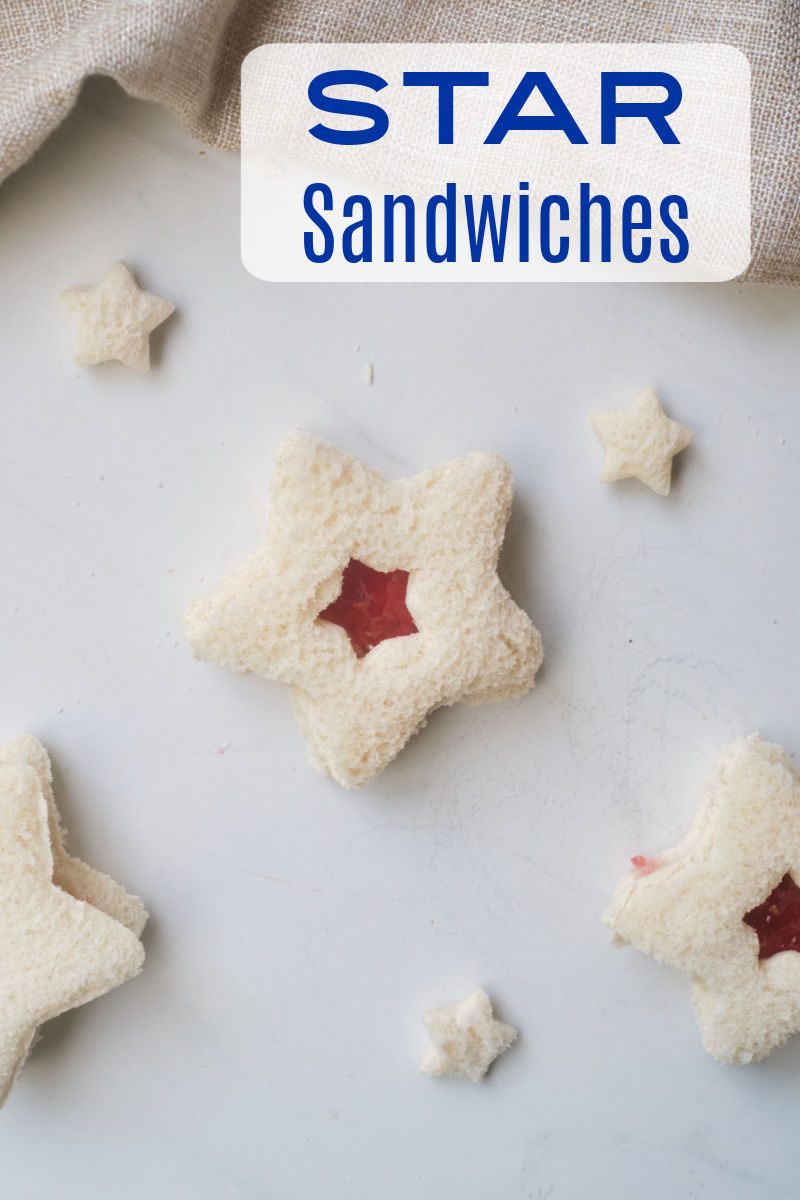 More from Mama Likes To Cook
Check out the rest of my vegetarian recipes, so you can get more great ideas for baking, cooking, blending and juicing.
Easiest Grape Jam Recipe
Dip Recipes for Parties
Party Appetizers
Holiday Party Punch for The Family
Christmas Cookies
Shop Now
For a beautiful assortment of kitchen necessities and food gifts for the whole family, check out the current deals at these online stores.
Are you ready to have some delicious fun in the kitchen?