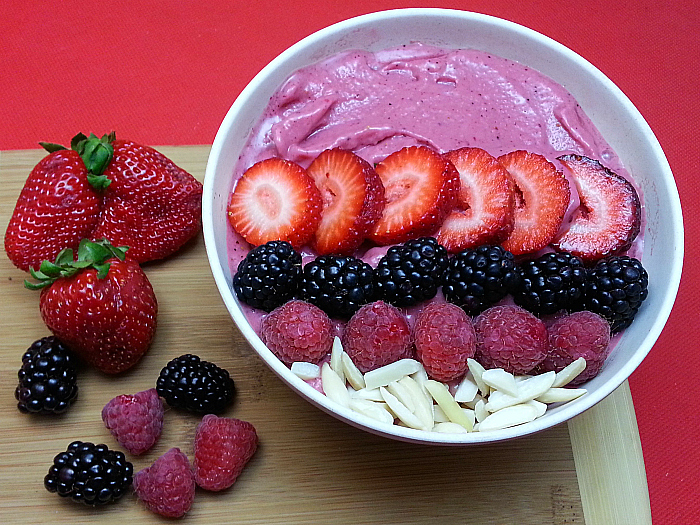 A smoothie bowl is made with good, healthy ingredients. It's also a great way to enjoy a breakfast that tastes like dessert.
When berries are in season, full of flavor and cheap, I buy a lot of them. We eat some fresh and I pack a lot of them into freezer bags and pop them in the freezer. Then I can make smoothies and smoothie bowls anytime.
This recipe can be adjusted depending upon what type of berries you have on hand. Any combo will be delicious. If your berries are tart, you may want a little more sweetener. Of course, you can get creative with you toppings, too.
Berry Smoothie Bowl
Ingredients:
1 cup Milk Alternative (almond, soy, rice, hemp etc.)
1/3 cup Plain Greek Yogurt
1 t Vanilla Extract
1 T Agave or other sweetener – more or less to taste
2 cups Frozen Berries (strawberries, raspberries, blackberries, blueberries)
Toppings:
Fresh Berries
Nuts
Seeds
Instructions:
Add all ingredients to a high speed blender in the order listed.
Blend until smooth.
Put in a bowl and add toppings.