This is a quick and easy salad that works well on the side or as a meal. The cheese and pecans add protein and the veggies are packed with nutrition.
Blue Cheese and Pecan Salad
Ingredients:
Romaine Lettuce
English Cucumbers, sliced
Veggie Sweet Pepper, sliced
Green Onions, sliced
Pecan Halves
Blue Cheese, crumbled
Instructions:
Toss all ingredients together.
Top with your choice of salad dressing.
I've used this with a variety of dressings. This time I used rice vinegar for a light salad. You can also use something rich and creamy like blue cheese or ranch.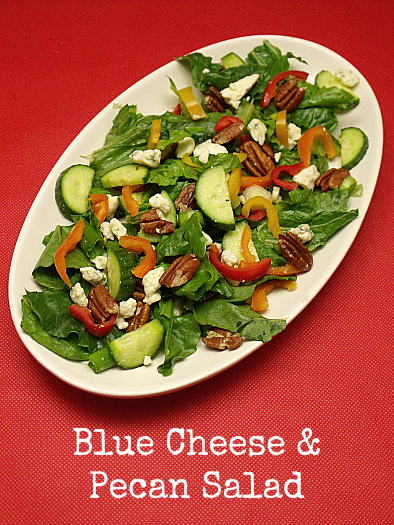 More from Mama Likes To Cook
Check out my salad recipes, so you can get more delicious inspiration.
Following are some of my favorite salad recipes:
Then take a look at the rest of my vegetarian recipes, so you can have even more delicious fun in the kitchen!