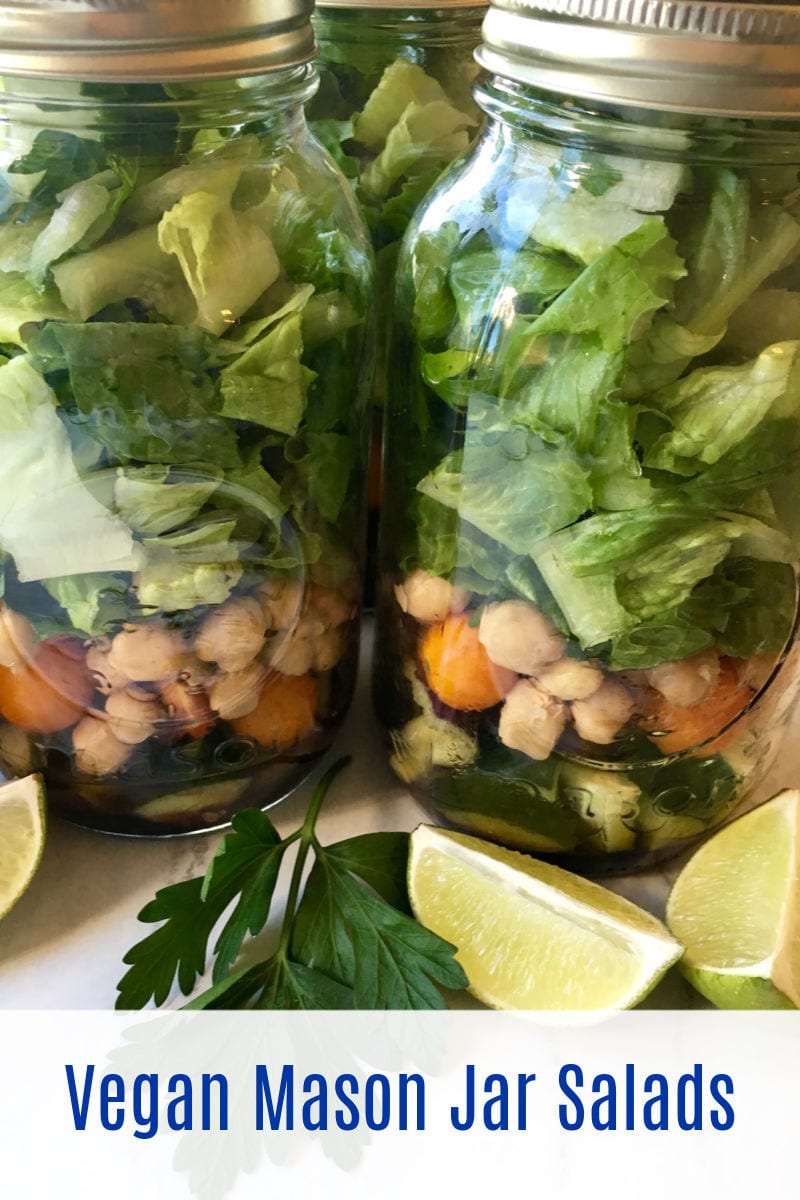 Salad in a Jar
Vegan Meal Prep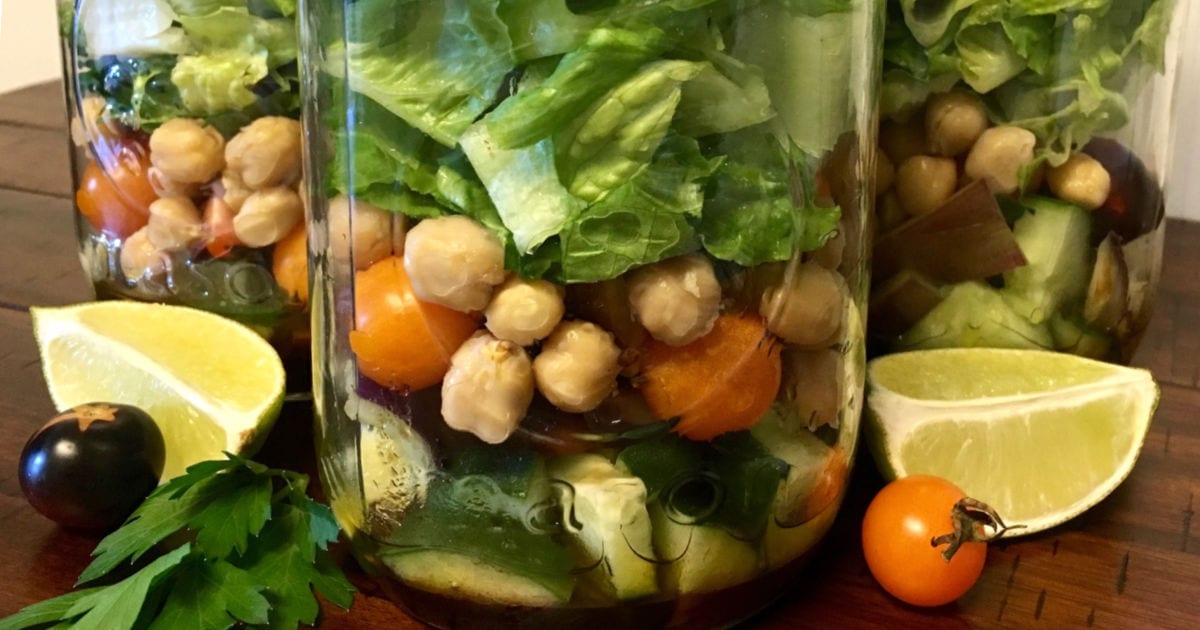 Whether you are doing meal prep for the week or making a family meal ahead of time, a vegan mason jar salad looks and tastes amazing.
You can pack the salad and take it to go or simply pull it out of the refrigerator for a quick and easy meal.
Anyone can benefit from an easy, packable meal, but it's especially handy for vegans, vegetarians and anyone else with a dietary restriction.
Fast food is often expensive and lacking in nutrition, but they often don't even have anything resembling a balanced meal for a vegan.
When you plan ahead and make salad in a jar, you'll be sure to have quick and easy access to feel good food.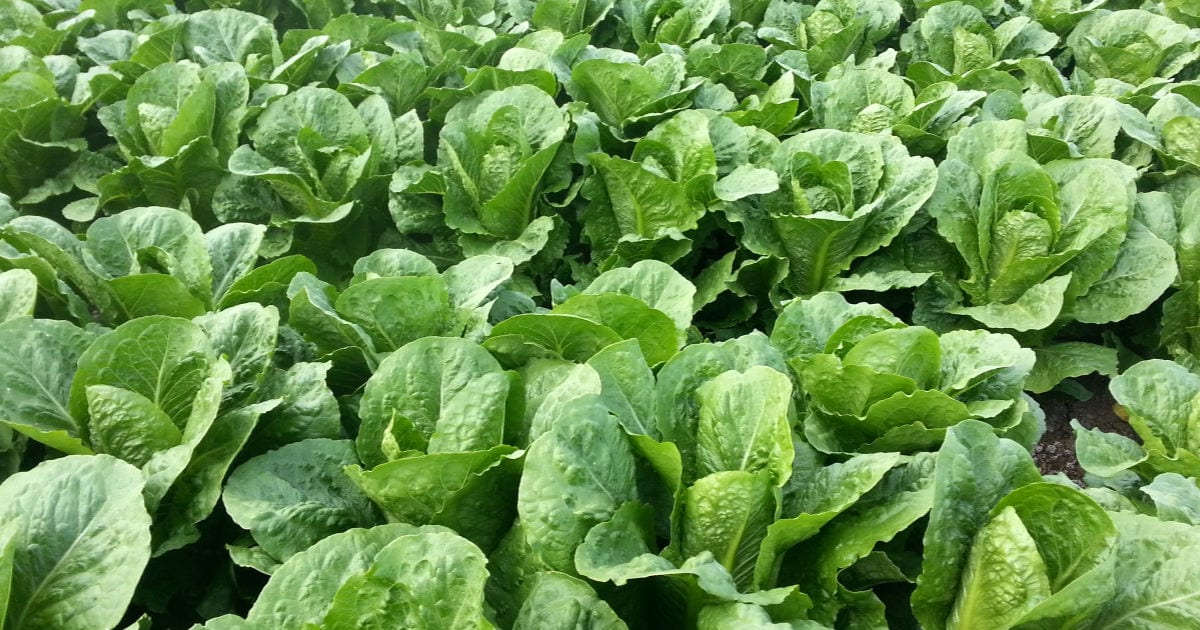 How do you keep salad from getting soggy?
No one wants a soggy salad, but it is easy to avoid that by adding ingredients in the proper order.
First, add the dressing to the bottom of the jar.
Then, add the harder vegetables followed by softer vegetables and legumes.
Finally, top your salad jar with the lettuce and herbs.
This way your salad won't get soggy, since the lettuce won't even touch the dressing until you serve the salad.
You can use this same packing method, whether you follow my recipe exactly or change up the ingredients to suit your own taste.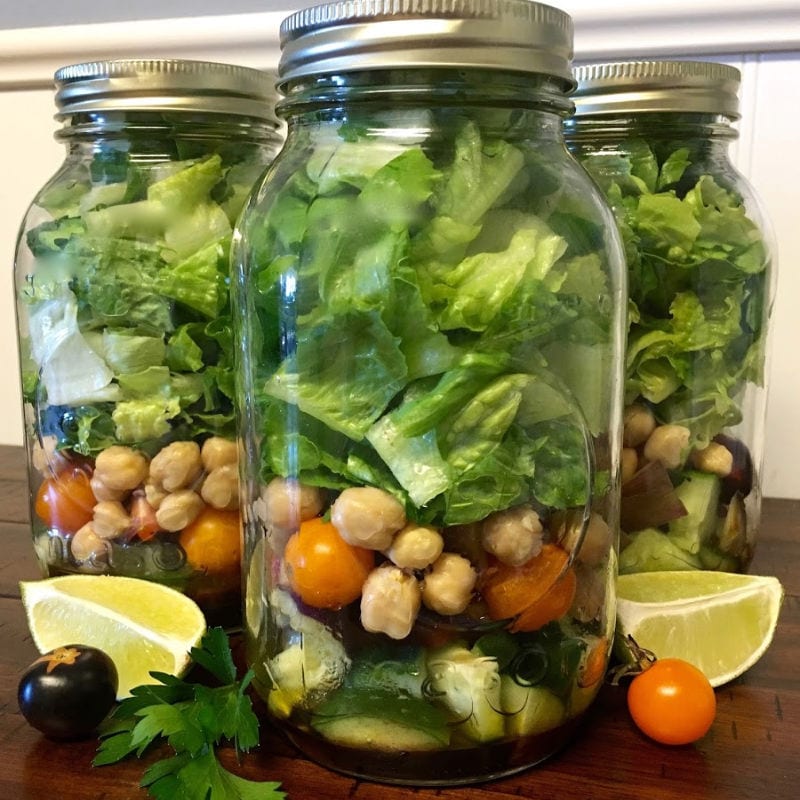 How long do mason jar salads last?
These mason jar salads will stay fresh for about 4 to 5 days, so you can prep your weekday lunches or dinners in advance.
This is a real time saver, so you can easily just grab a jar on your way out the door.
If you are eating them for dinner, it is really nice to be able to just open up the refrigerator and have your meal waiting for you ready to enjoy.
These vegan mason jar salads make it really easy to eat healthy and enjoyable meals.
An added bonus is that you won't be tempted to order expensive fast food or take out, when good food is ready to be eaten.
When you are ready to eat your mason jar salad, simply dump it out into a bowl.
Enjoy!
Vegan Mason Jar Salad Recipe
Prep time 30 minutes
Cook time n/a
Yields 6 Jar Salads
Ingredients
Balsamic Dressing
2/3 cup Extra Virgin Olive Oil
1/3 cup Aged Balsamic Vinegar
3 T Lime Juice
2 T Dijon Mustard
Salt and Pepper to taste
Salad
2 English Cucumbers, chopped
2 Bell Peppers, chopped
1 can Chickpeas (15 oz.), rinsed and drained
1 cup Grape or Cherry Tomatoes, halved
2 heads Romaine Lettuce, chopped
½ cup Fresh Basil, chopped
Supplies
Bowls
Whisk
Chef Knife
6 quart-sized Mason Jars
Instructions
1) Prepare the dressing by whisking together the extra virgin olive oil, aged balsamic vinegar, lime juice and mustard. Add salt and pepper, if desired.
2) Distribute the dressing evenly among the 6 quart sized mason jars.
3) Add even layers of the other ingredients in this order: cucumbers, bell peppers, chickpeas and tomatoes.
4) Then top each jar with lettuce and basil until jars are full.
5) Place lids on the jars and store in the refrigerator for up to 4 or 5 days until ready to serve.
6) To serve, remove mason jar from refrigerator and pour into a salad bowl.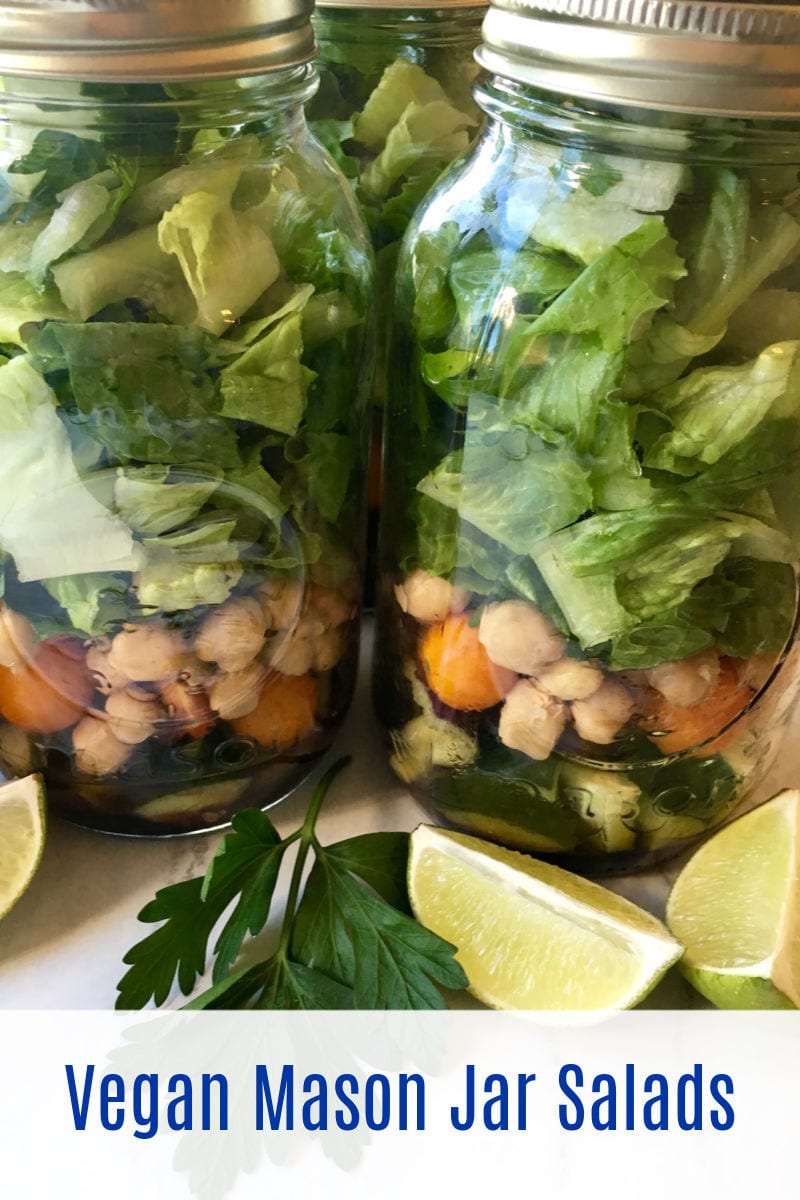 More from Mama Likes To Cook
Check out my salad recipes, so you can get more delicious inspiration.
Following are some of my favorite salad recipes:
Then take a look at the rest of my vegetarian recipes, so you can have even more delicious fun in the kitchen!