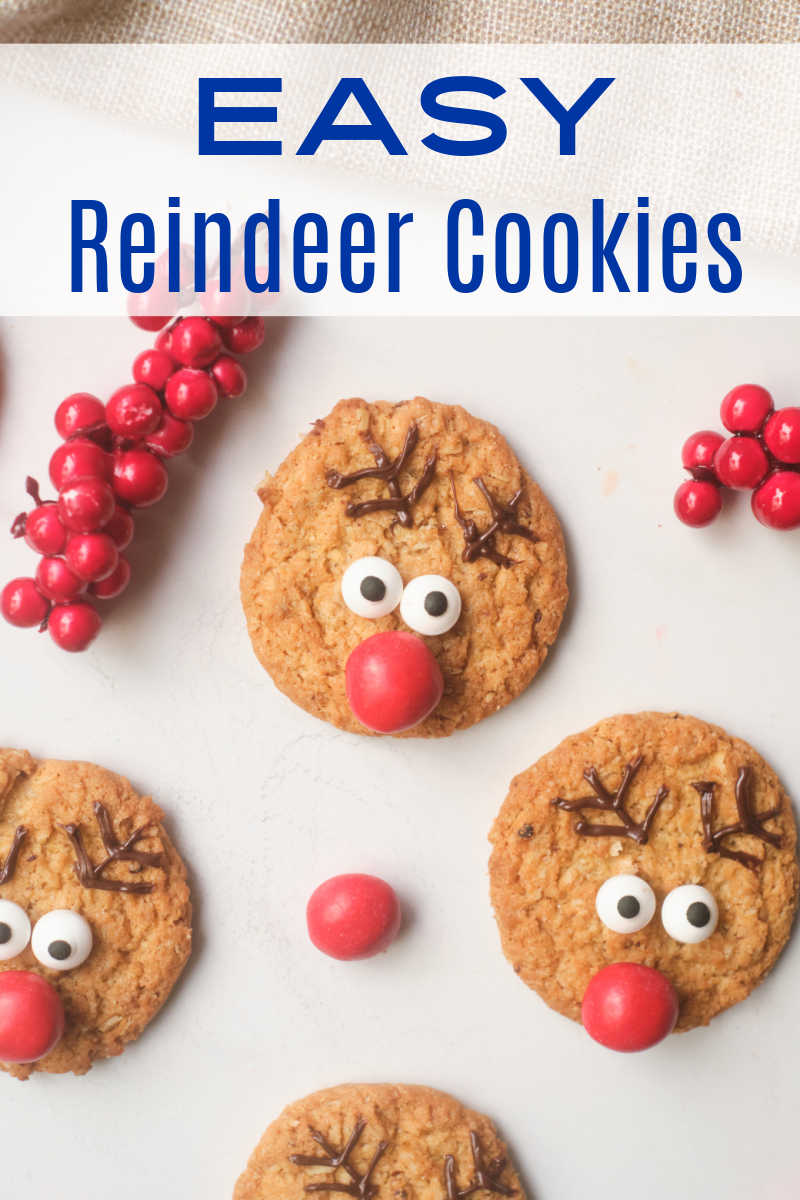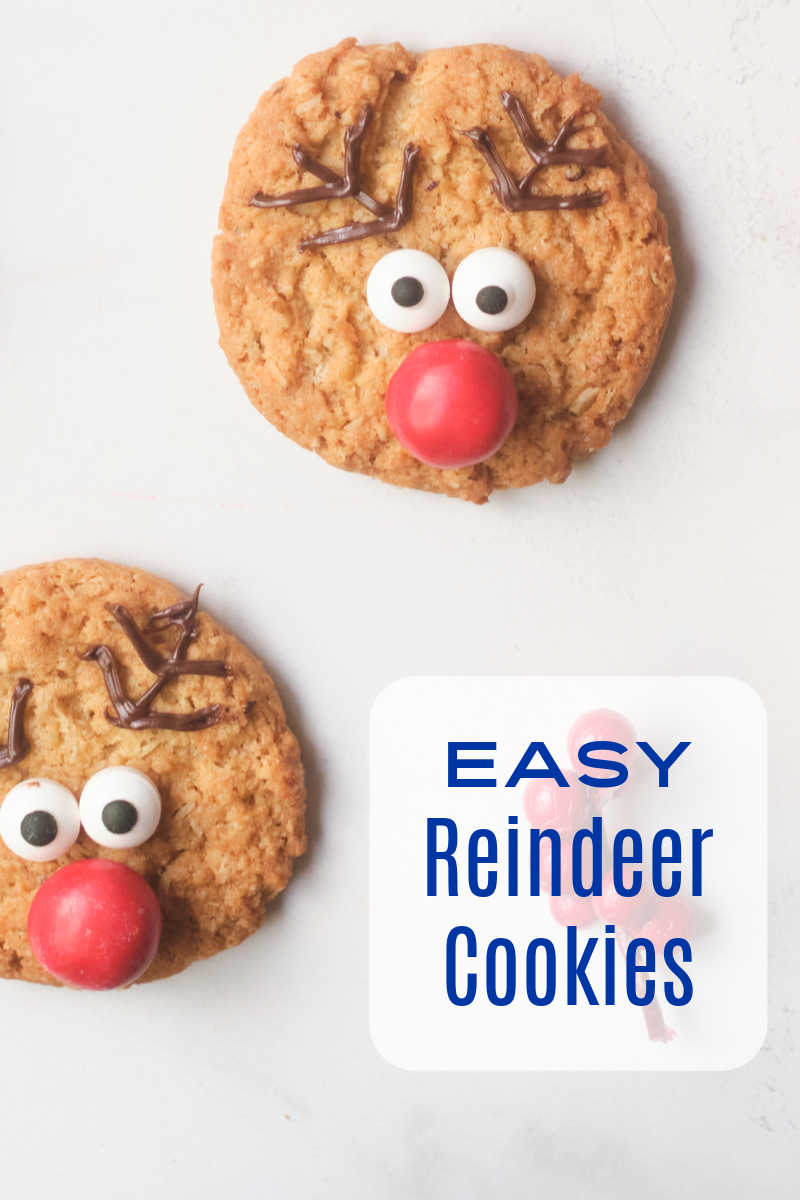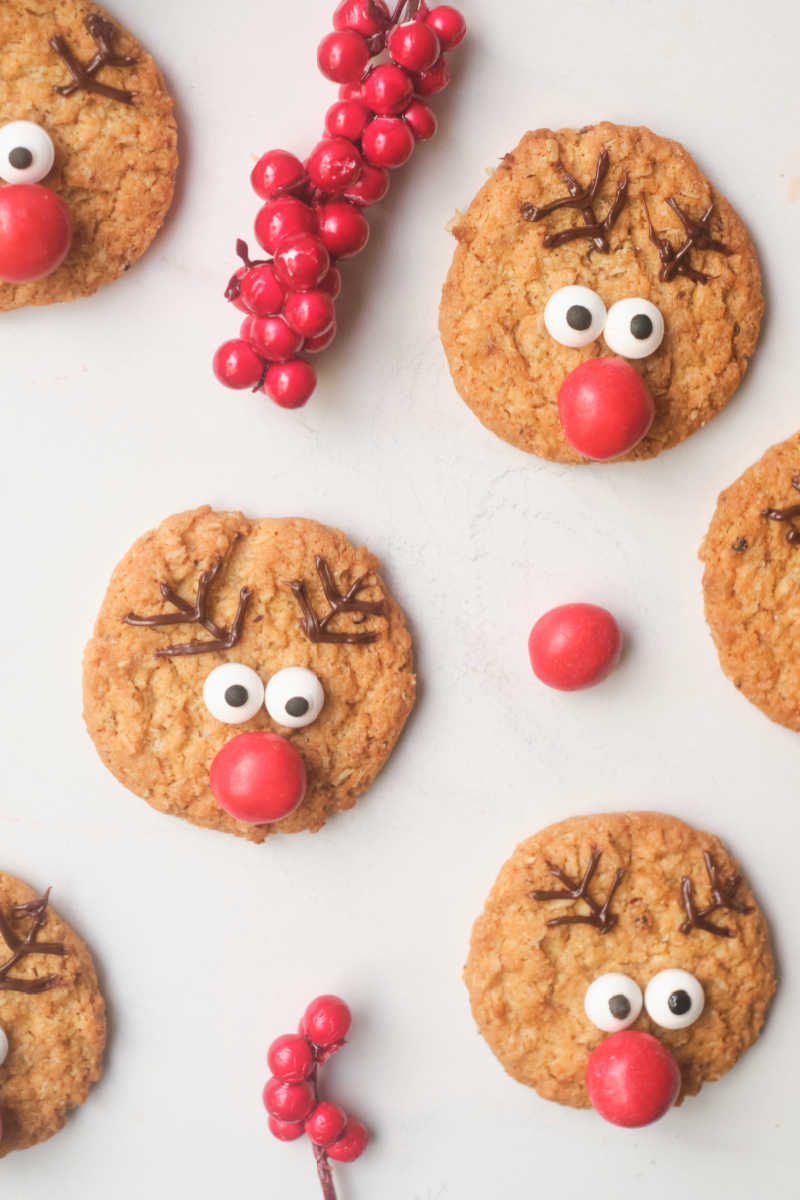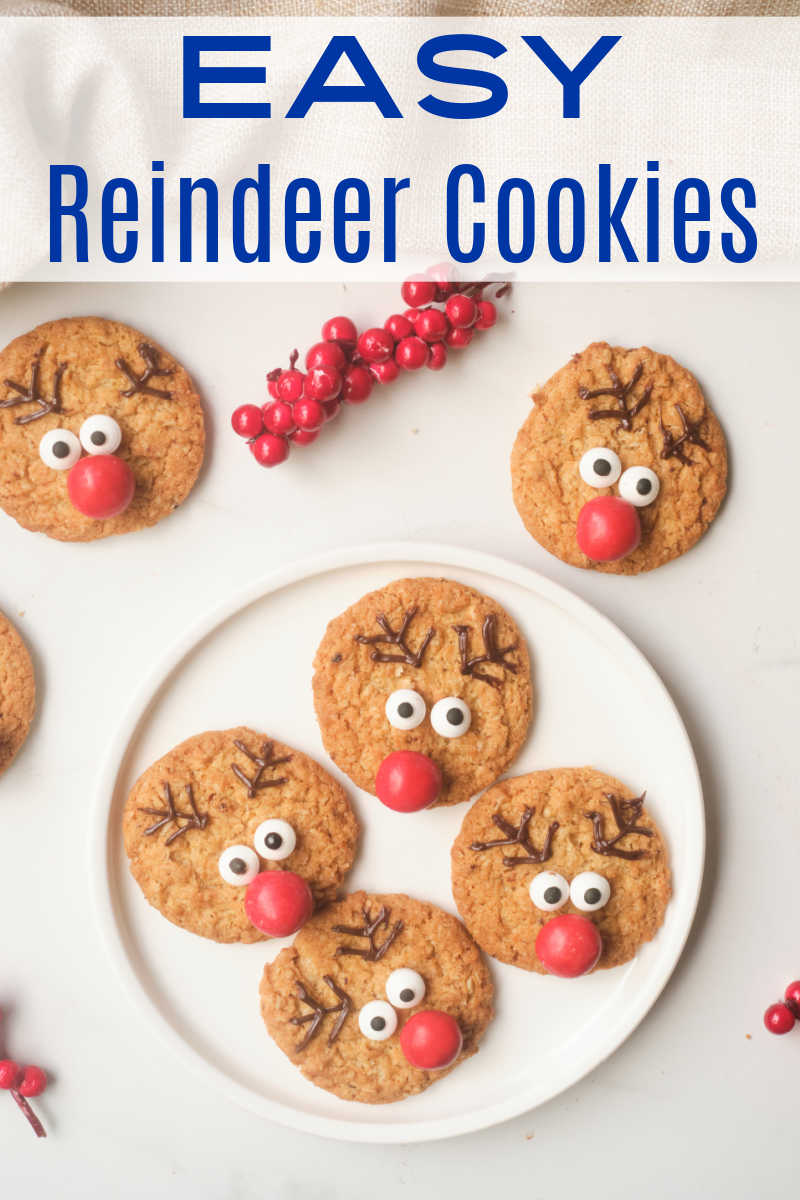 Make Cute Reindeer Cookies with Nutella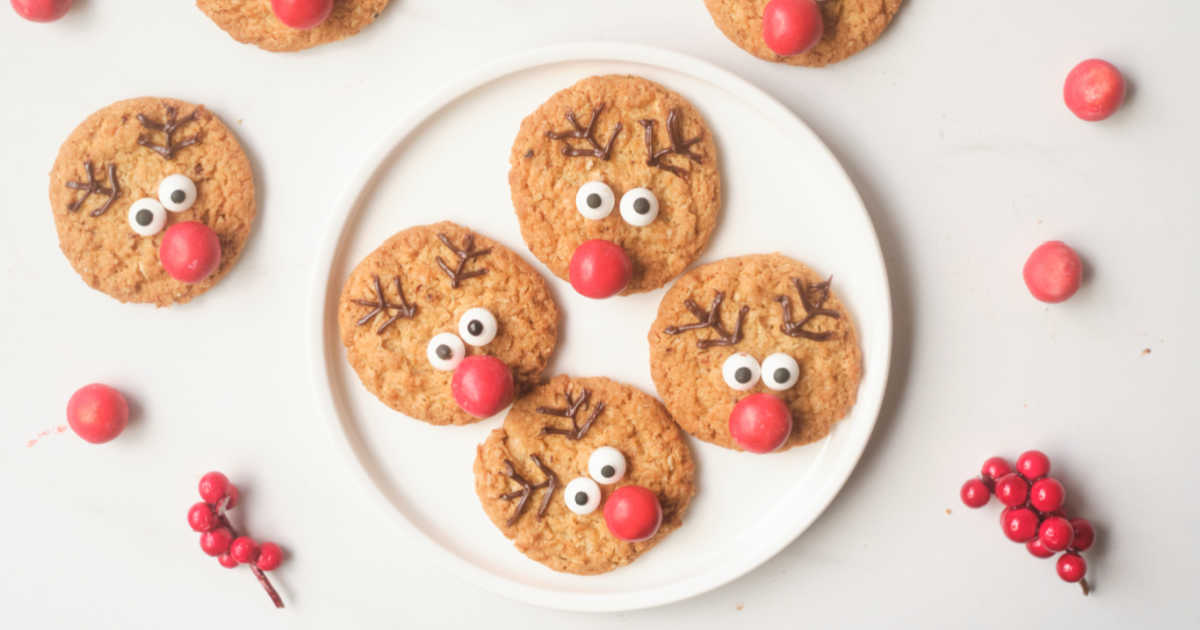 Kids and adults can have fun learning how to decorate reindeer cookies, when they follow these easy Christmas cookie instructions.
Start with pre-packaged oatmeal cookies from the grocery store or bake your own at home.
Then you will add antlers made with delicious Nutella chocolate hazelnut spread, candy eyes and, of course, a bright red candy nose.
They really are cute and fun to decorate!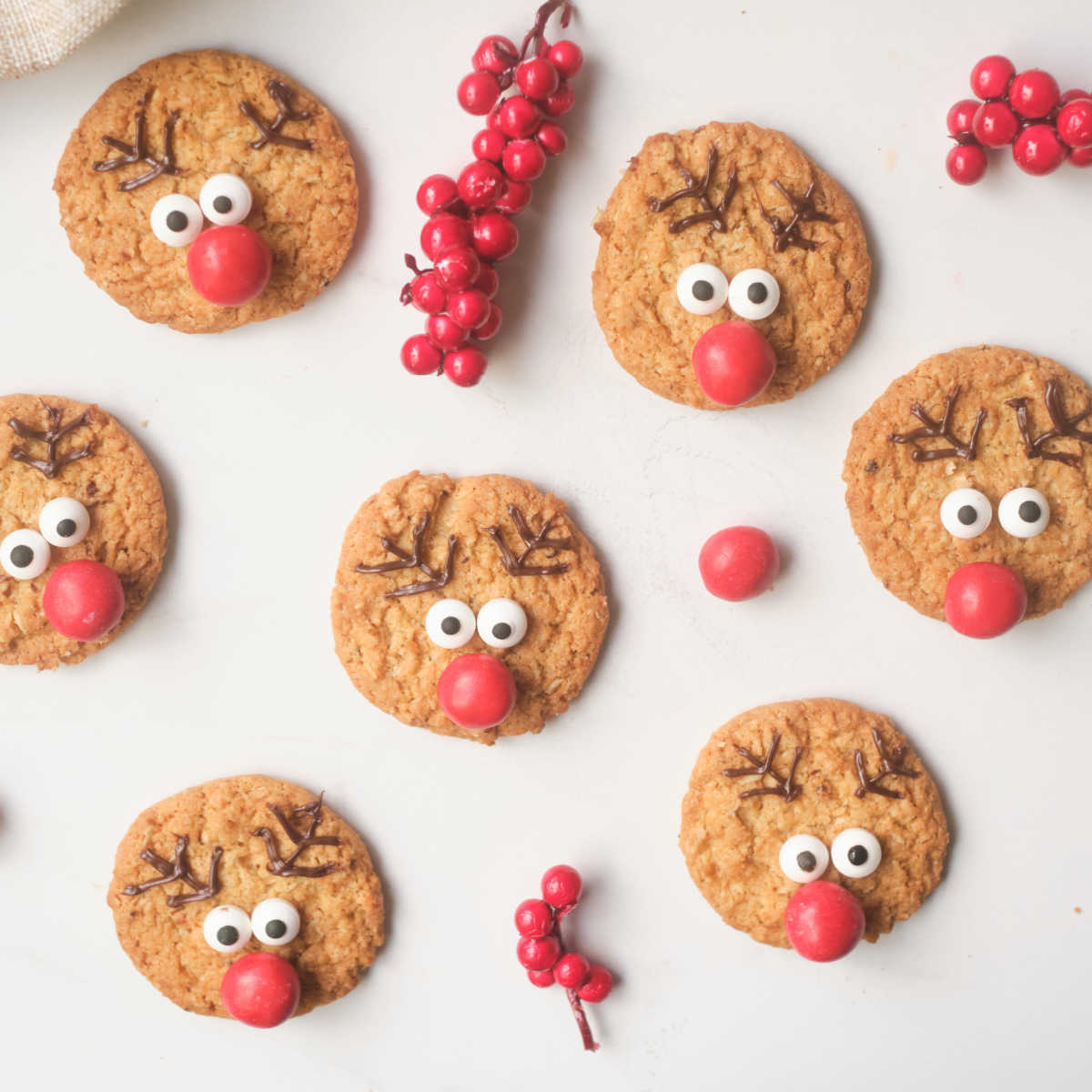 Is It Easy To Decorate Reindeer Cookies?
These reindeer cookies are easy to decorate, but the process does involve using a piping bag and decorating tip to "draw" Rudolph's antlers onto the cookies.
It isn't difficult, but may take a little bit of practice for someone who hasn't worked with a piping bag before.
Kids and adults who are new to decorating can practice on parchment paper before decorating the cookie.
Also, if a mistake is made, it is easy to wipe the Nutella off the cookie and try again.
There is plenty of room for creativity from decorators of all ages, so antlers don't need to look exactly like mine to be cute.
Adding the candy eyes and red nose are very easy, even for a small child who wants to help.
This whole cookie decorating process is extra easy, when you start with pre-packaged store bought cookies.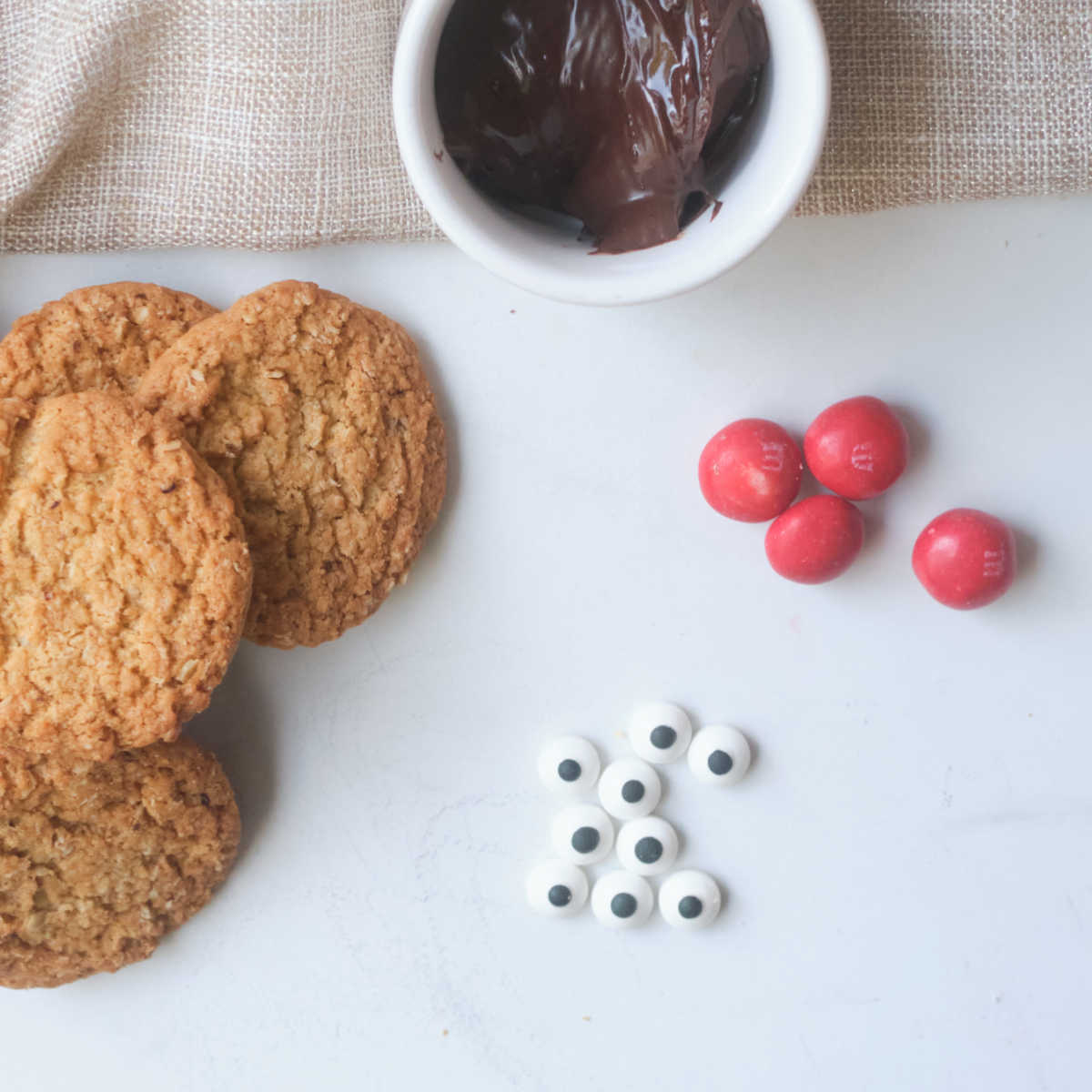 What Kind of Cookie Is Good for Making Reindeer Cookies?
Oatmeal cookies look great for reindeer, since you can use your imagination to think the texture makes it look like a reindeer's face.
Homemade is great, if you have the time and are in the mood to bake.
Pre-packaged oatmeal cookies are really easy to use and look nice when decorated.
I recommend not using oatmeal cookies with raisins, since they can make the cookie lumpy and harder to decorate.
Gingerbread or sugar cookies would make cute reindeer, too.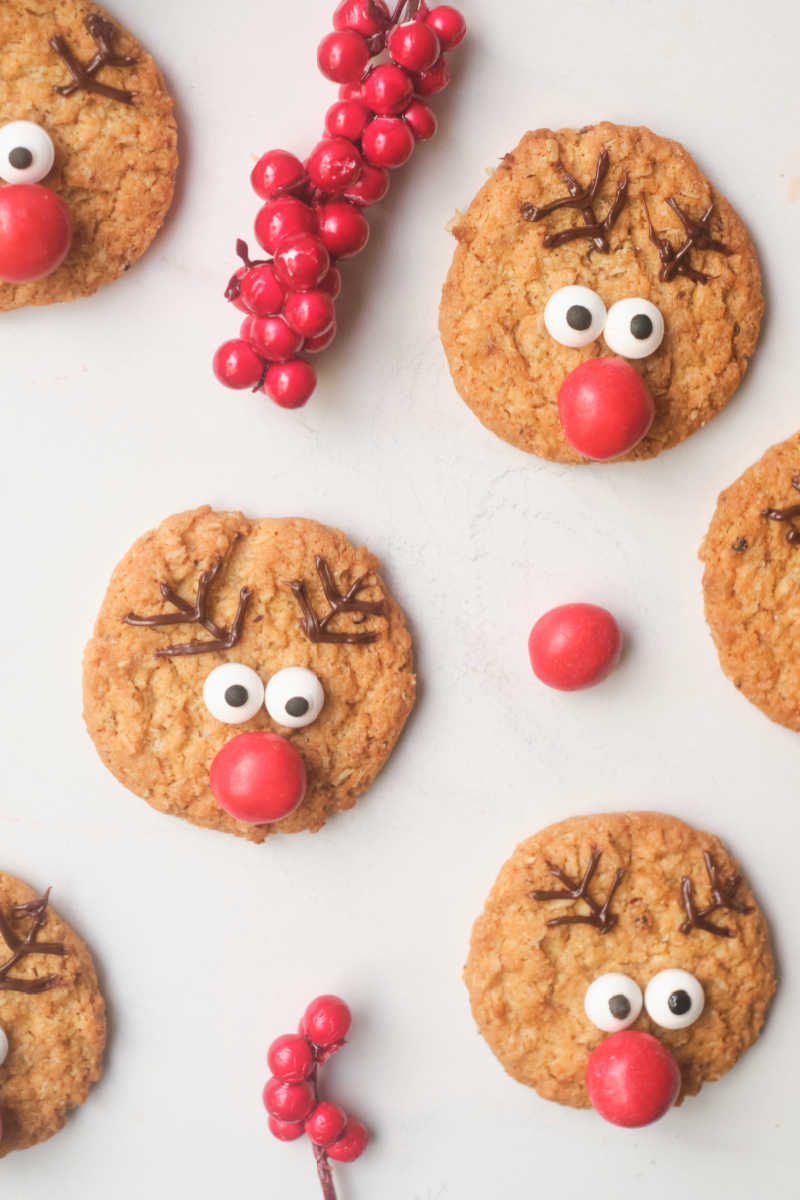 Do I Need to Use Nutella Brand Chocolate Hazelnut Spread or Can I Use A Substitute?
Nutella is the most popular brand of chocolate hazelnut spread, since it tastes so delicious.
Also, it is very creamy, which is what you will need to pipe the little antlers onto the Christmas cookies.
Other brands can also taste good, but the ones I've tried are not anywhere near as creamy as Nutella.
Substitute, if you'd like.
But … keep in mind that you do need to be able to squeeze the chocolate hazelnut spread through the piping bag to form delicate antlers for Rudolph.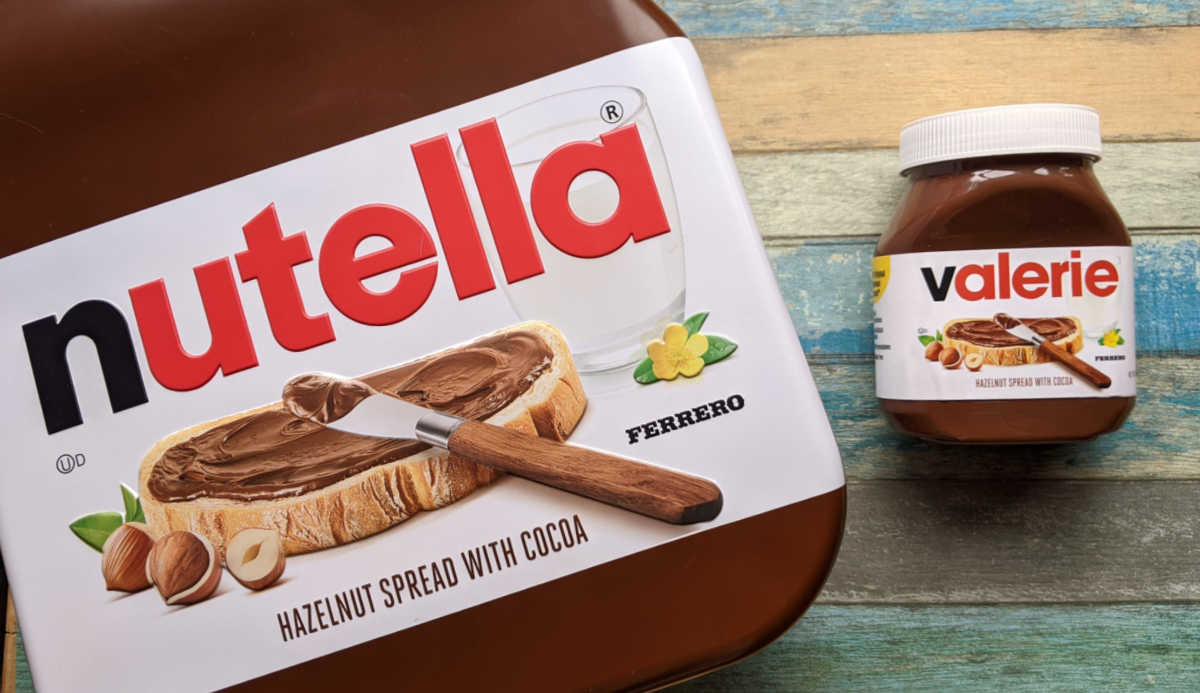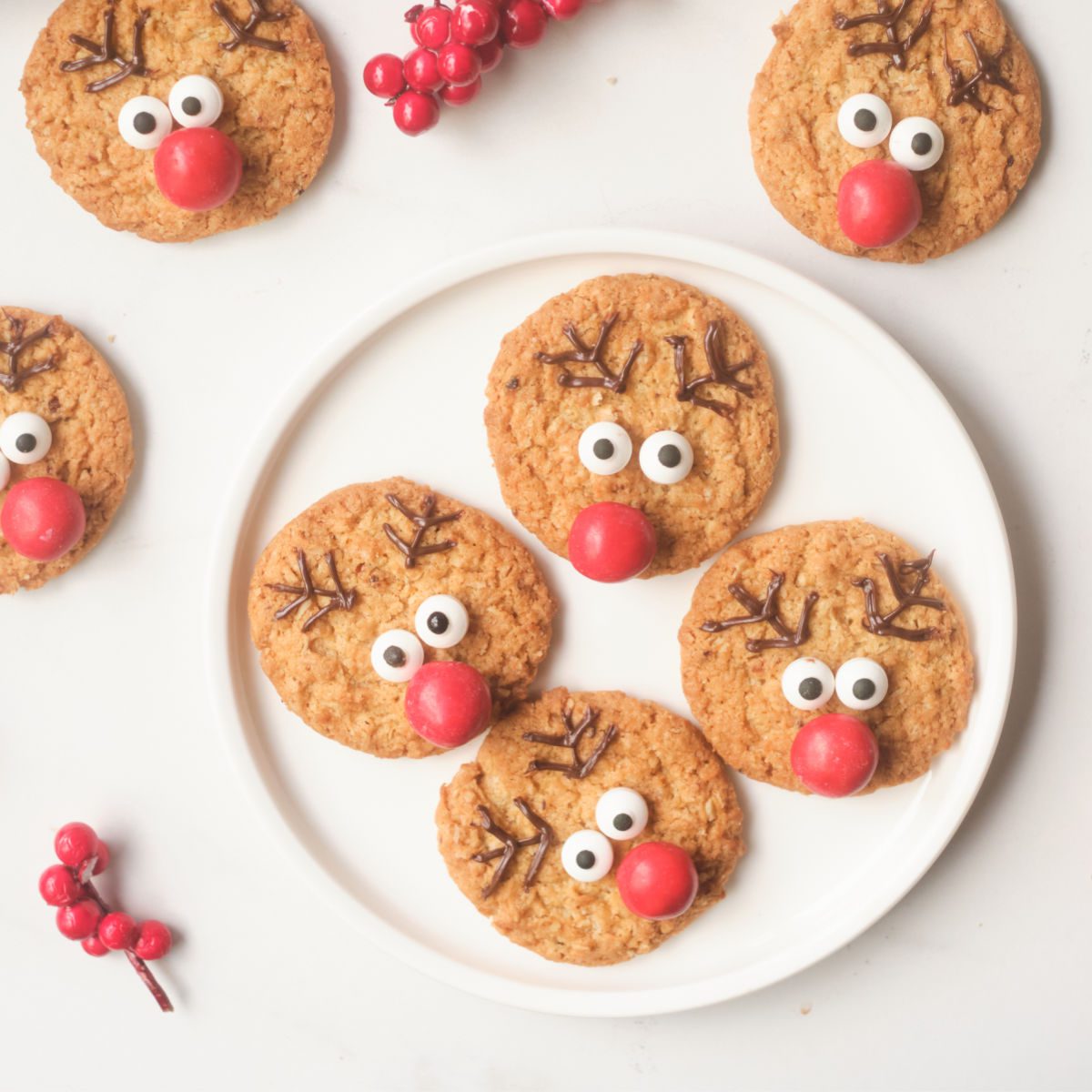 What Type of Candy Is Good To Use for A Red Nose When Decorating Cookies?
My first choice for Rudolph's nose is a red peanut M&M candy, but you can substitute.
A plan M&M, Red Hot or other red candy will be cute, too.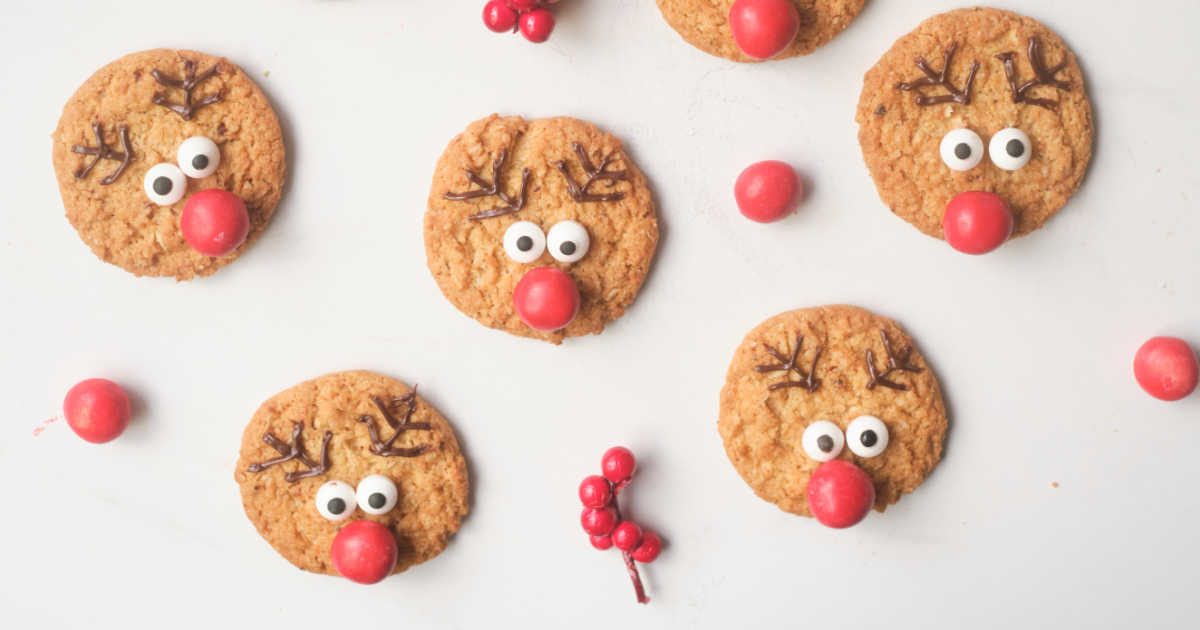 How Do I Store Decorated Christmas Cookies?
The decorated cookies can be stored in an airtight container or on a plate covered with plastic wrap.
Let the cookies air dry for a little while after you decorate them before covering them.
The cookies should still be handled with care, so that Rudolph doesn't lose his eyes or red nose.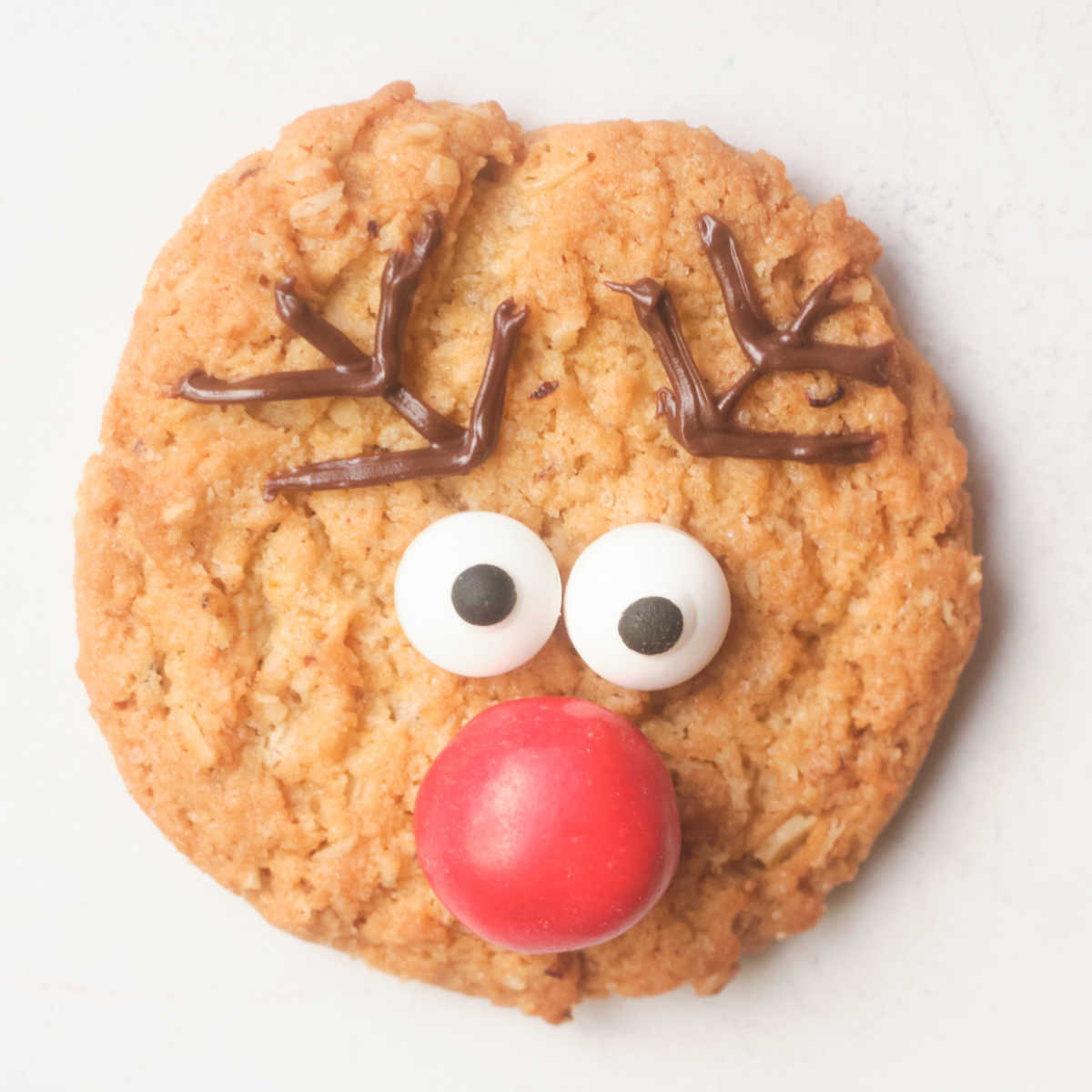 How To Decorate Reindeer Cookies
Prep time: 10 minutes
Total time: 20 minutes
Yield: 5 Servings
Ingredients
10 Oatmeal Cookies (Pre-packaged or Homemade)
2 T Nutella
Red Candy (M&Ms, Red Hots…)
Candy Eyes
Supplies
Piping Bag
Narrow Round Piping Tip
Instructions
1) Use a table knife or spatula to add the Nutella to the piping bag with a small round decorating tip.
2) Test out the piping bag to get an idea or how much pressure you'll need to get a controlled stream of Nutella on your cookies.
3) Squeeze the piping bag gently to make two antler pattern shapes on each cookie. If it doesn't look the way you want, simply wipe it off and try again.
4) Use the Nutella as "glue" to stick the eyeballs and red nose to the cookie.
5) Leave out to dry a bit before serving or storing the Rudolph cookies.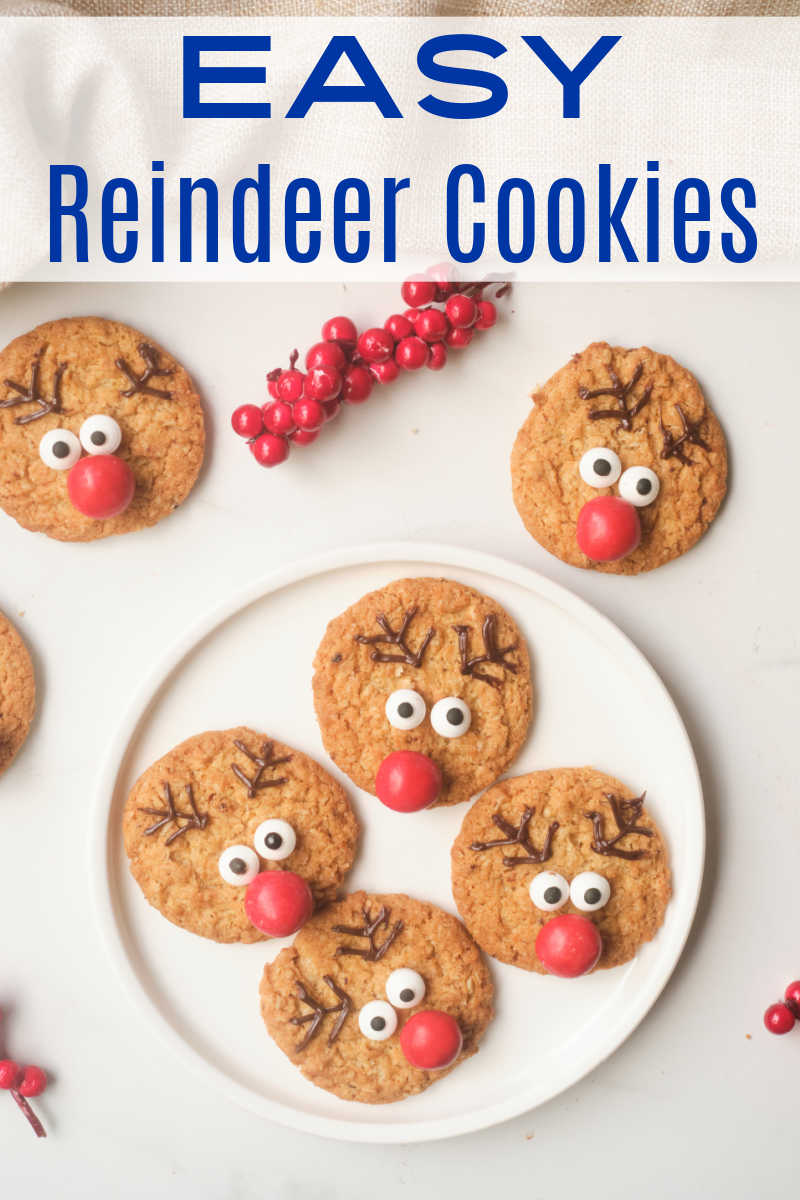 More from Mama Likes To Cook
Check out the rest of my vegetarian recipes, so you can get more great ideas for baking, cooking, blending and juicing.
Christmas Animal Recipes
Holiday Party Drinks without Alcohol
Holiday Cookie Recipes
Cookie Recipes
Let's Go Shopping
For a beautiful assortment of kitchen necessities and gifts for the whole family, check out the deals at these familiar online stores.
Are you ready to have some delicious fun in the kitchen?