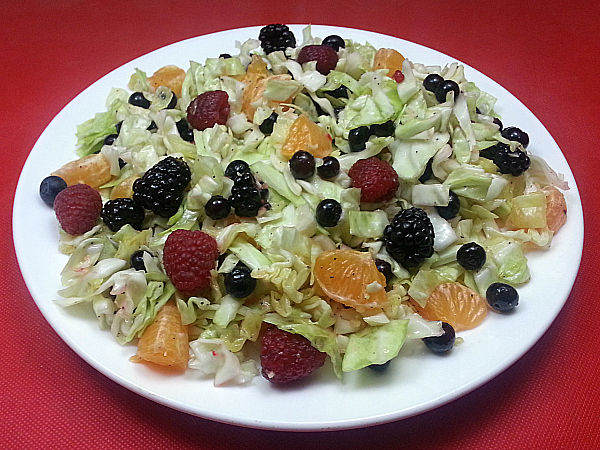 This is a delicious salad that takes advantage of fresh berries and citrus fruit that are in season. Since it's made with cabbage, it doesn't wilt or get soggy the way lettuce and more tender greens do.
It can easily be made ahead of time for a party or to take to a picnic or potluck. The fresh ingredients make this an ideal choice for those of us who are vegan, vegetarian or gluten free. The simple recipe is free from common allergens… and it tastes wonderful!
Fresh Fruit Slaw Salad
Ingredients:
One Medium Cabbage, chopped
1T Fresh Ginger, chopped
2T Lemon Juice
2T Olive Oil
2T Honey
1/2t Salt
1/4t Black Pepper
2 Tangerines, peeled, sectioned and halved
1 6oz. pkg Blackberries
1 6oz. pkg Blueberries
1 6oz. pkg Raspberries
Instructions:
Combine cabbage, ginger, lemon juice, olive oil, honey, salt and pepper in a large bowl. Mix thoroughly.
Add fruit and toss gently to combine.
Chill and serve.
Thank you Melissa's Produce for the delicious Ojai Pixie Tangerines!