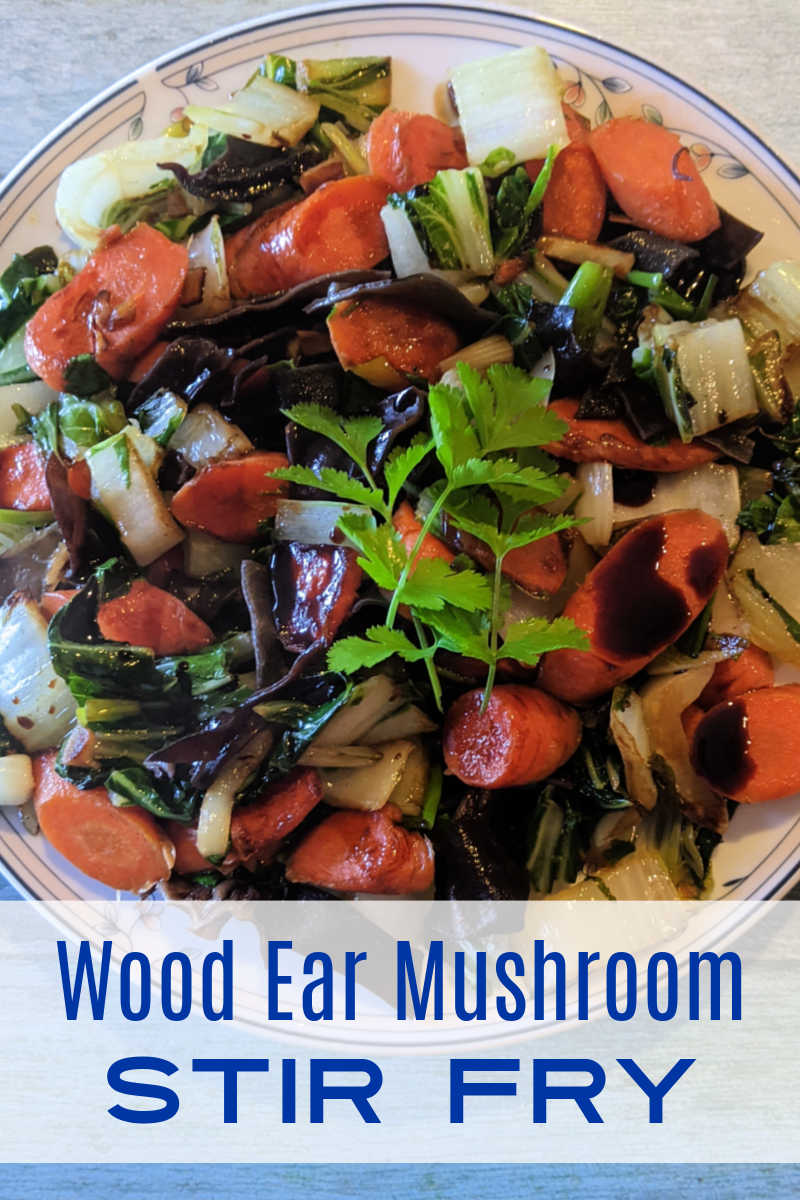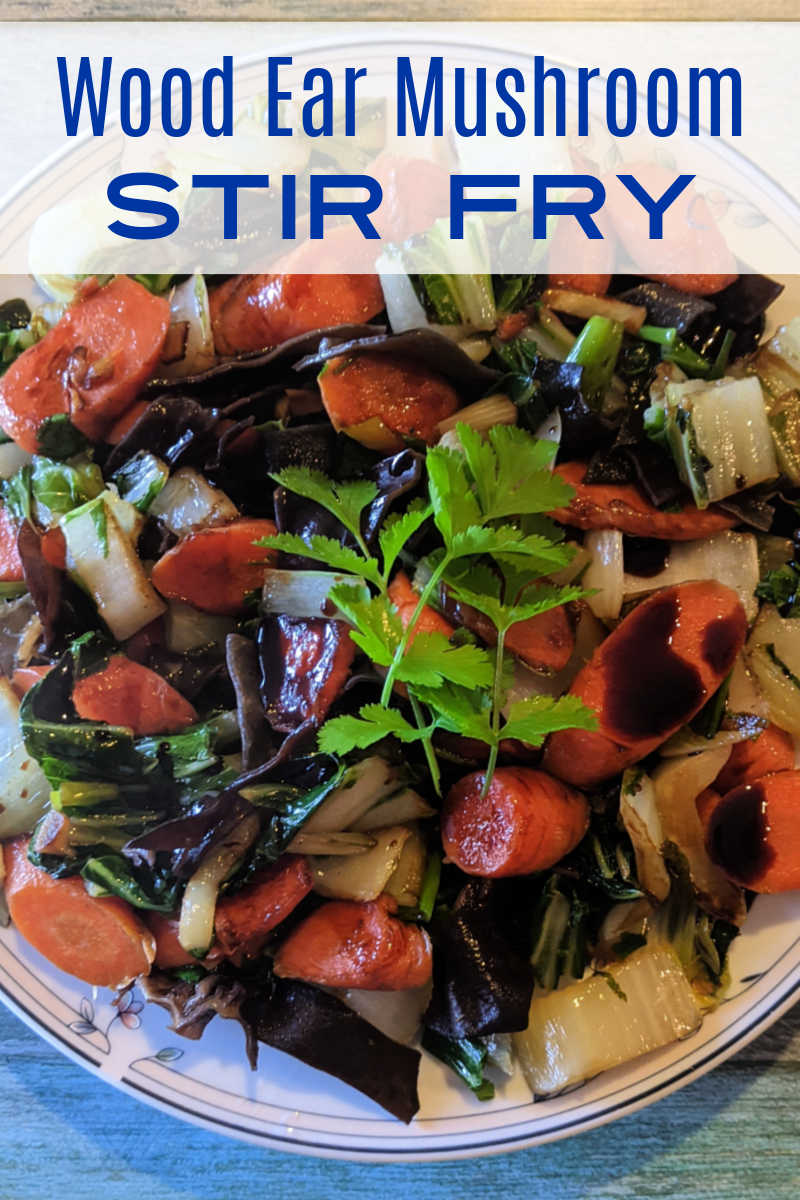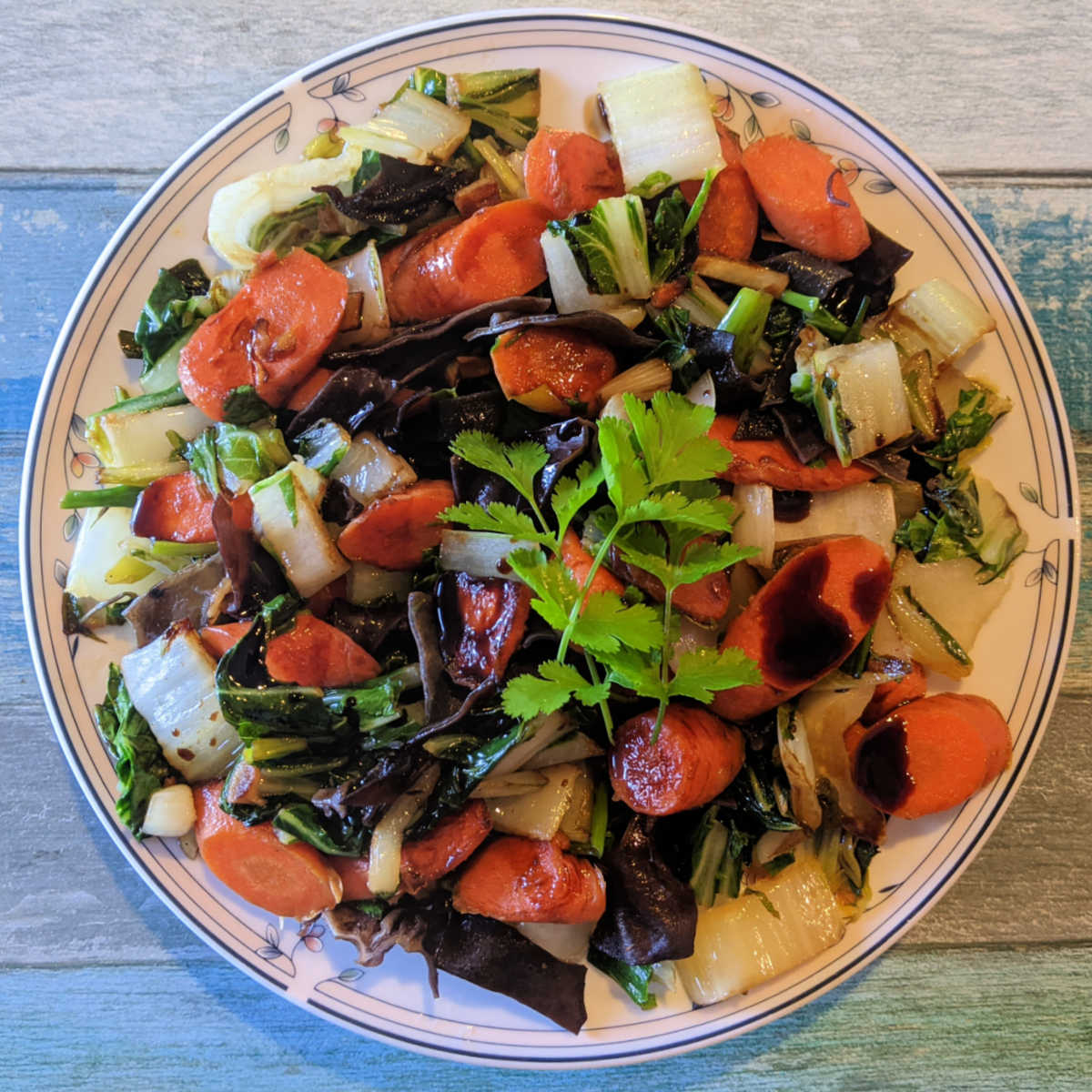 This wood ear mushroom stir fry made with bok choy and carrots is a feel good vegan dish that is easy to prepare for dinner or lunch.
Each bite is a treat with a variety of flavors and textures that work well together.
The stir fry is delicious on it's own or you can serve it with rice or noodles.
Bok choy does contain protein, but you could also add tofu or another protein if you'd like.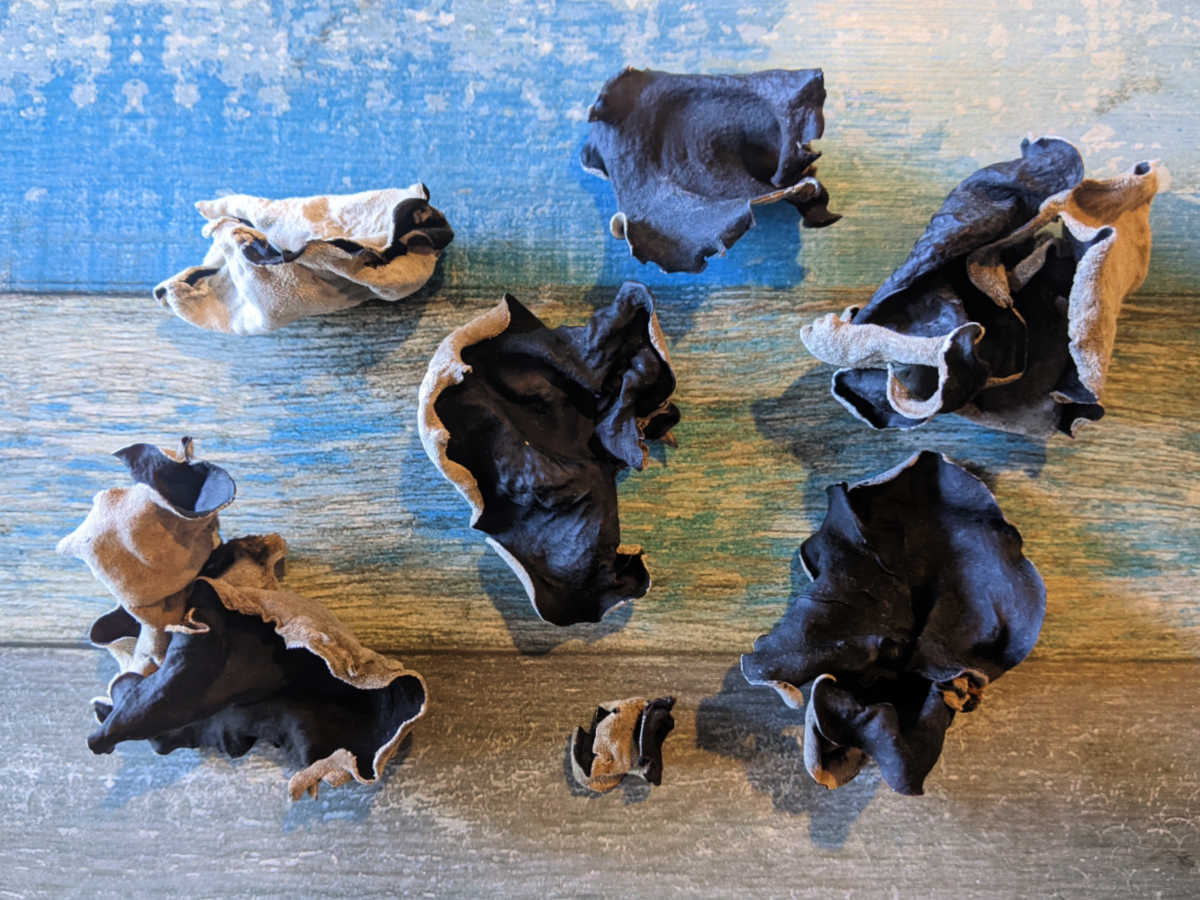 Delicious wood ear mushrooms are common in Asia and are also available here in the United States.
The mushrooms have a thin, ear-like shape and the fungi grows on trees or logs, which is why they are called wood ear mushrooms.
They are a delicate mushroom that can sometimes be purchased fresh.
However, dried, shelf stable wood ear mushrooms are easy to purchase year round and easy to use whenever you'd like.
The chewy texture of a cooked wood ear mushroom reminds me of seaweed.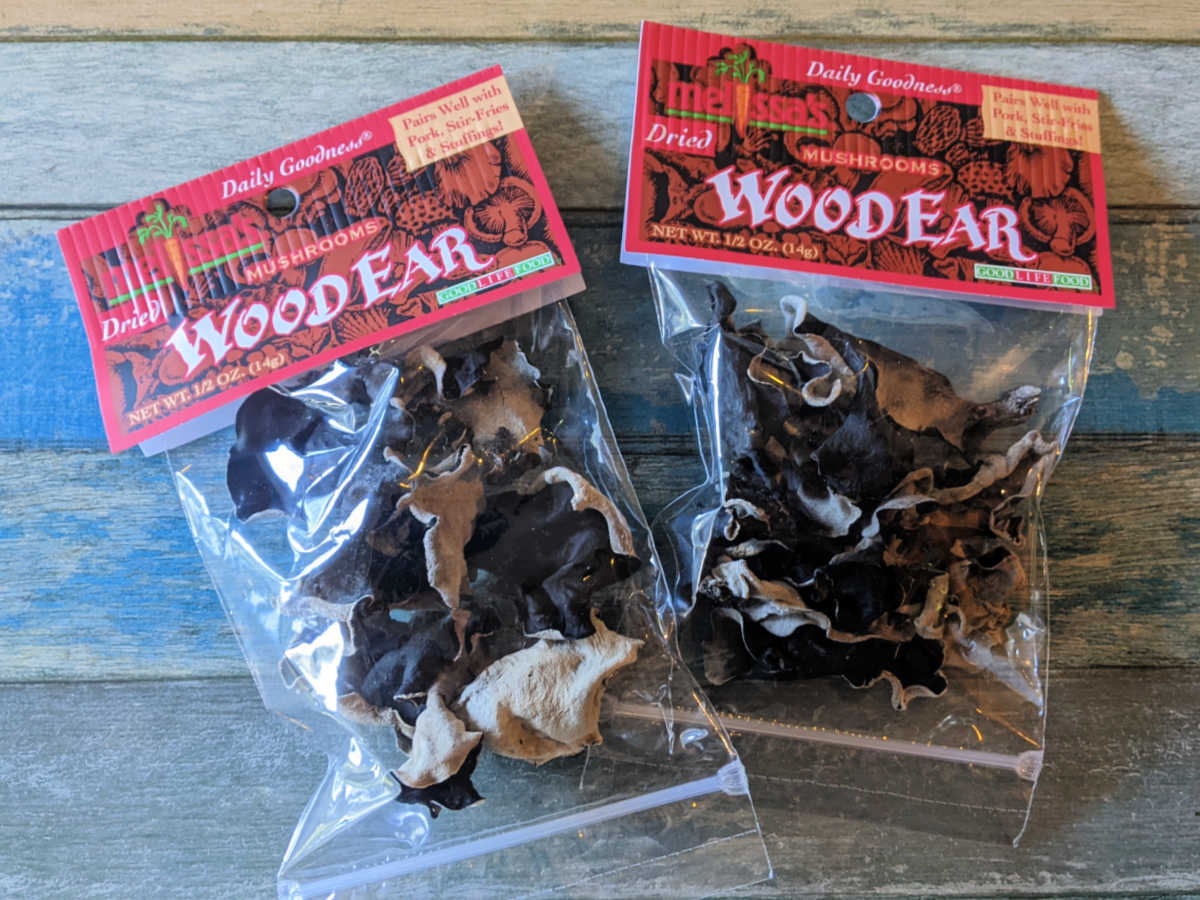 How to Rehydrate Wood Ear Mushrooms
It is simple to reconstitute wood ear mushrooms to use in this dish.
Soak them in a dish of lukewarm water for about 30 minutes to rehydrate and soften them.
Then, they are ready to use.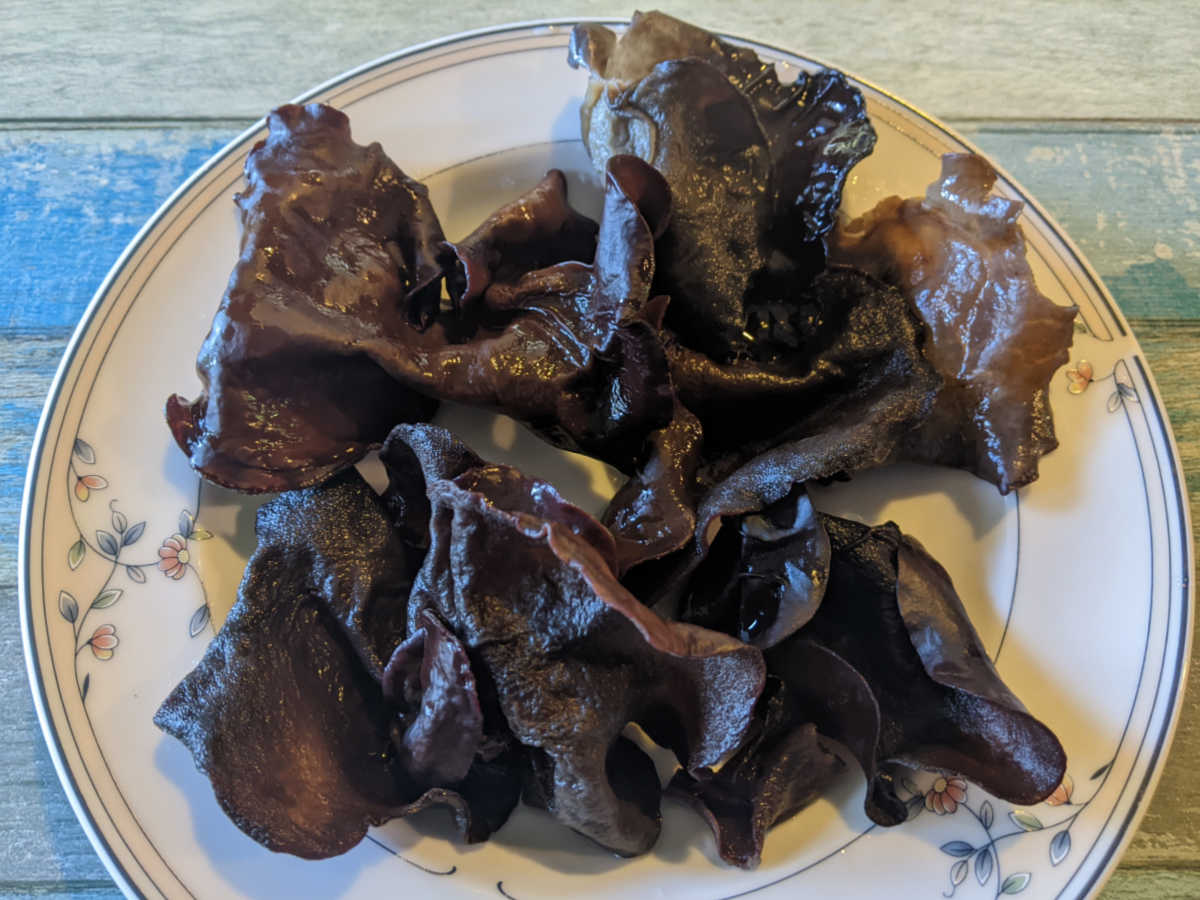 Bok Choy
When you are making a stir fry, bok choy is an excellent green to add to your dish.
Bok choy is a type of Chinese cabbage that is readily available in grocery stores and farmer's markets.
The crunchy stems and dark green leaves are both edible and packed with nutrition.
You can use baby bok choy, a larger bok choy or a package of trimmed bok choy leaves, when you make this stir fry.
I used Melissa's bok choy leaves this time, which helped me get our meal on the table quickly.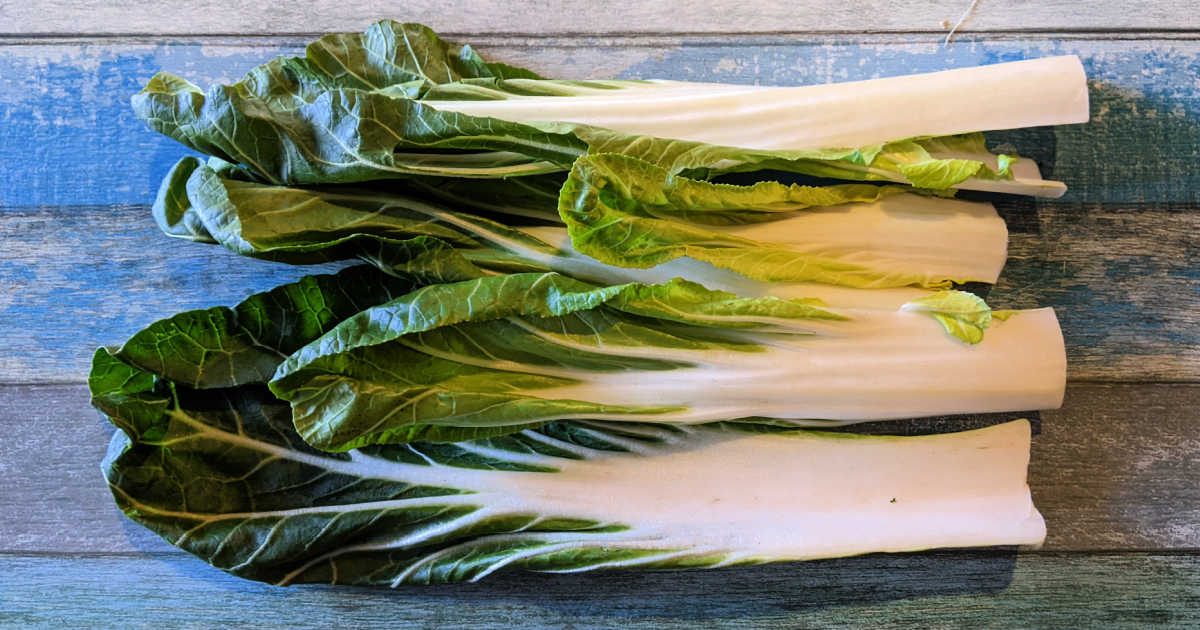 Carrots
Beautiful and delicious carrots are a wonderful sweet addition to the stir fry.
When I'm cooking carrots, I don't usually bother to peel them.
The peel is perfectly edible, so there's no need to waste it.
Just make sure you give the carrots a good scrub, so that they are clean before you add them to the pan.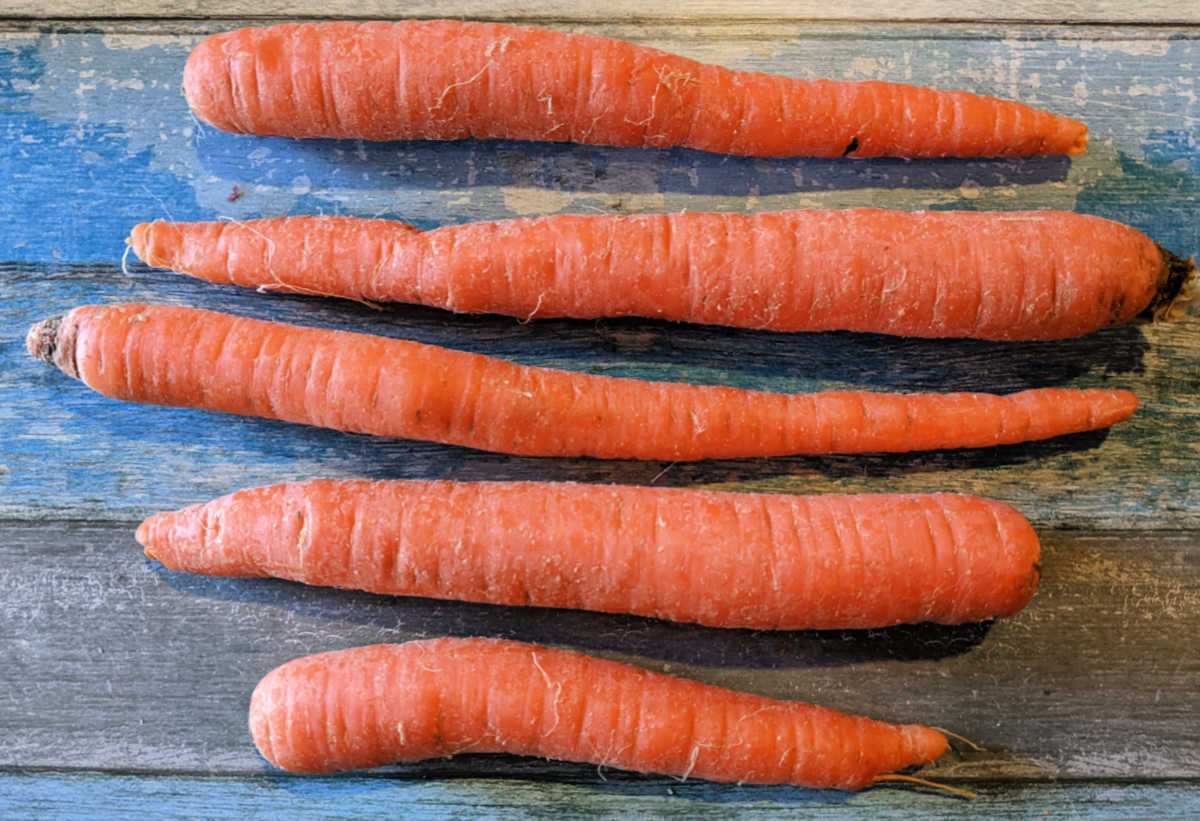 Cilantro
There are two types of people in the world: those who love cilantro and those who hate cilantro.
My family is in the "we really love cilantro" camp, so I grow it in the garden year round and we eat it often.
I enjoy the flavor and pretty dark green color that it gives this mushroom stir fry.
And, I find it enjoyable to go out to the garden to pick cilantro before cooking.
If you are someone who doesn't care for cilantro, the recipe will still be good if you leave it out.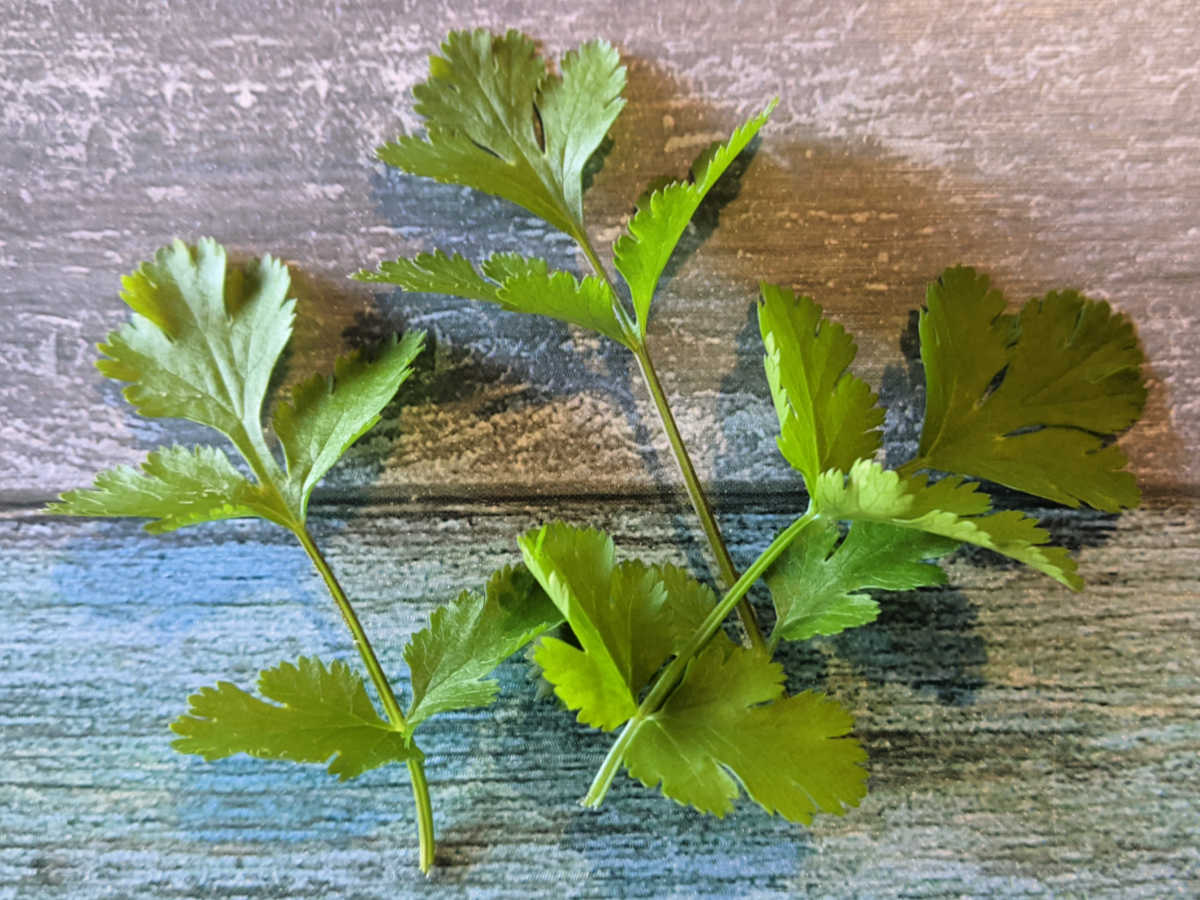 Balsamic Vinegar
When you want to add instant bold flavor to a dish, balsamic vinegar is a great way to do it.
Balsamic vinegar has the "bite" of a regular, distilled white vinegar.
However, the flavor profile is sweet, rich and much more complex.
You can use soy sauce for this recipe, but it's fun to switch things up and add the sweet, bold taste of balsamic vinegar.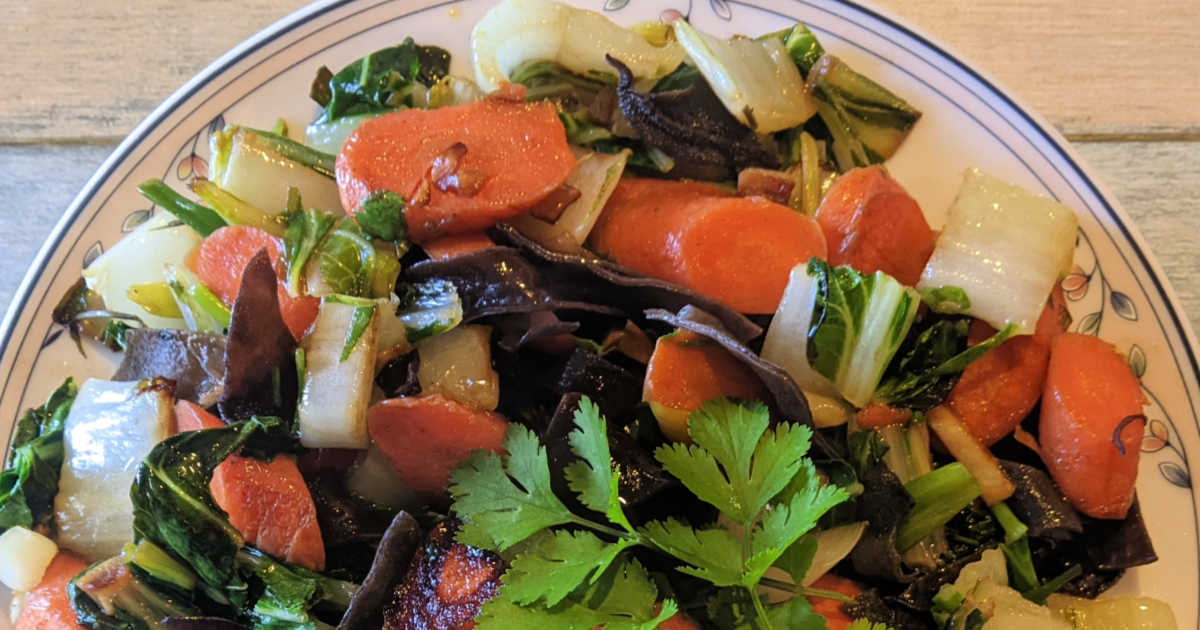 Prep. Time: 30 minutes
Cook Time: 10 minutes
Yield: 2-4 Servings
Ingredients
½ oz. pkg. Dried Wood Ear Mushrooms
1 T Extra Virgin Olive Oil
1 lb. Carrots
1 lb. Bok Choy
4 cloves Garlic
1 bunch Green Onions
2 T Cilantro, minced
1 T Balsamic Vinegar
Salt to Taste
Supplies
Chef Knife
Skillet
Turner
Instructions
1) Soak the dried wood ear mushrooms in lukewarm water for about 30 minutes to rehydrate them. Slice the mushrooms after they have soaked.
2) While the mushrooms are soaking, prepare the vegetables. Slice the carrots on the diagonal. Chop the bok choy, roughly separating the tender greens and crunchy stems. Mince the garlic cloves and cilantro. Chop the green onions.
3) Heat extra virgin olive oil in a skillet. Cook carrots for a few minutes, stirring occasionally.
4) Add bok choy stems to the pan and cook for a few more minutes.
5) Stir in minced garlic, bok choy leaves and green onions and cook for a few minutes more.
6) Drizzle in balsamic vinegar, sprinkle in the minced cilantro and stir to combine. Salt, if you'd like.
7) Serve as is or with rice or noodles.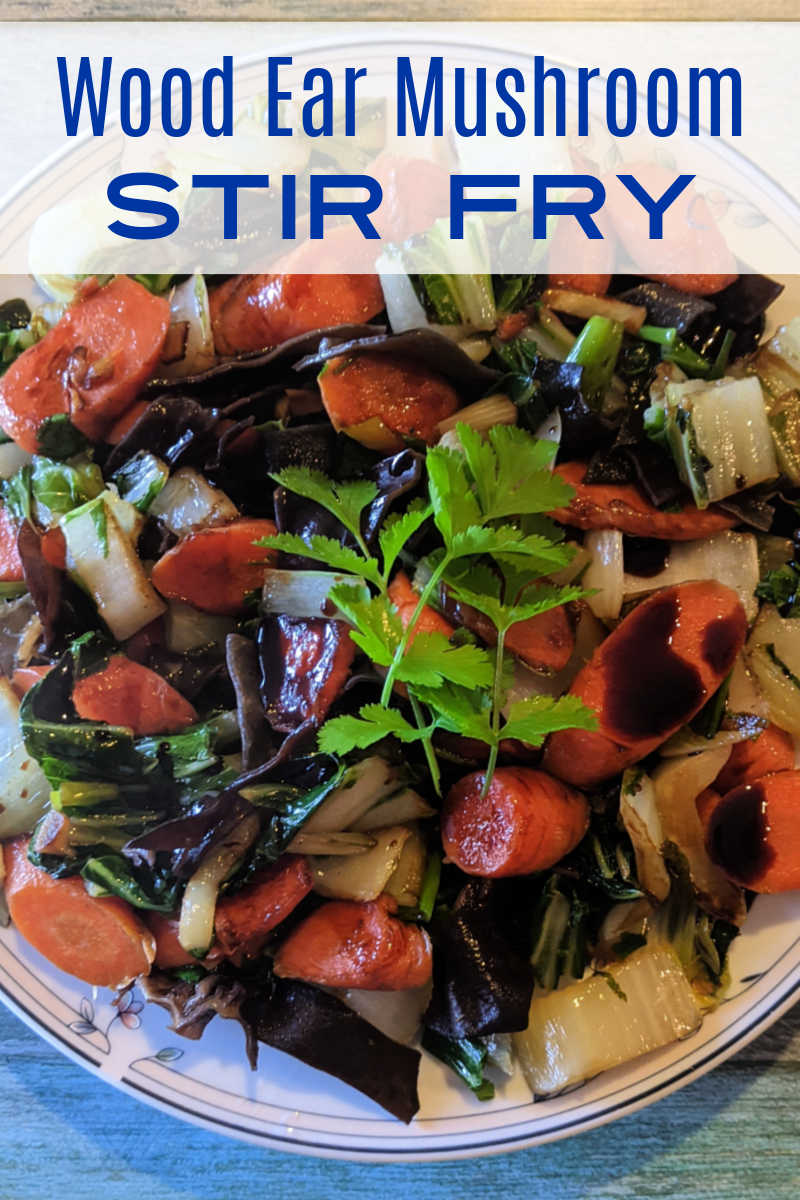 More from Mama Likes To Cook
Check out my vegetarian recipes, so you can get more great ideas for baking, cooking, blending and juicing.
Dried Mushrooms
Carrot Recipes
Shop Now
For a beautiful assortment of kitchen necessities and food gifts for the whole family, check out the current deals at these online stores.
Are you ready to have some delicious fun in the kitchen?