Thank you, Tribest for the Green Star Elite Jumbo Twin Gear Juicer.
It is a fabulous beast!
Juicing has been on my to do list for a long time and now I finally have the right equipment.
My niece is an experienced juicer, so I asked her for advice on what to try my first time.
My one qualification was that I didn't want it to taste "too green."
The following is a variation of her suggestion and it was delicious.
My First Green Juice
Ingredients
1 Large Apple (or 2 small)
1 Cucumber
1/3 Bunch Spinach
1/2 Lime
Fresh Ginger (equivalent to 1 teaspoon)
Instructions
Prepare and wash all ingredients prior to starting up the juicer.
Cut the apple into wedges, remove seeds.
Slice the cucumber into spears – don't peel.
Cut lime into wedges – no need to peel or remove seeds.
Remove skin from ginger.
Run all ingredients through the juicer. Garnish with a slice of lime and serve.
Tip: I used the coarse screen for more texture in my juice. You may prefer the fine screen.
This juice has a nice kick from the lime and ginger.
It doesn't taste "too green."
In fact, I didn't even taste any of the spinach even though I got the good nutrition from it.
The Green Star Elite Jumbo Twin Gear Juice Extractor made the whole process easy.
The first time took awhile, since I was reading the instruction manual and figuring out how to assemble and use it.
Now that I'm familiar with it, I can juice quickly.
I am amazed by how little waste there is with this juicer.
It really gets the maximum goodness out of my fruit and veggies.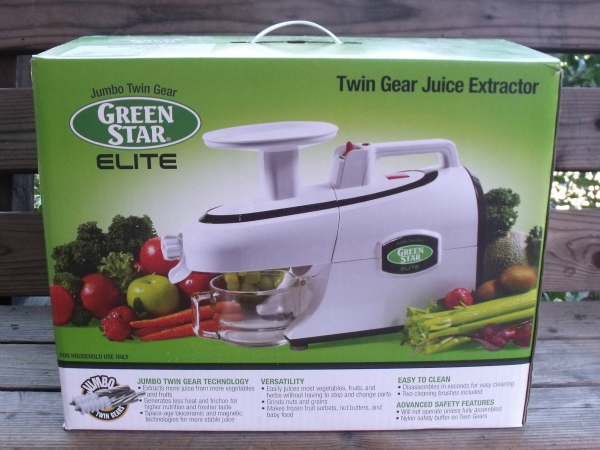 More from Mama Likes To Cook
Check out the rest of my vegetarian recipes, so you can get more great ideas for baking, cooking, blending and juicing.
Apple Recipes
Cucumber Recipes
Spinach Recipes
Shopping Tips
For a beautiful assortment of kitchen necessities and food gifts for the whole family, check out the deals at these online stores.
Are you ready to have some delicious fun in the kitchen?