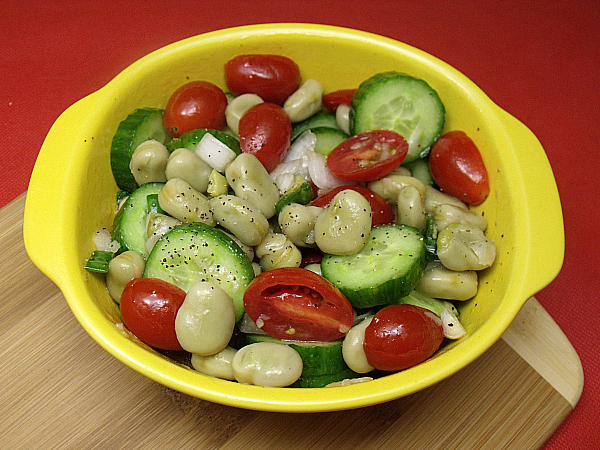 This simple salad is packed full of flavor and feel-good nutrition. I've eaten it by itself for lunch or it can be served as a side dish with a meal.
I used Melissa's Peeled & Steamed Fava Beans that are ready to eat. The texture and flavor are better than canned and it's a whole lot easier than steaming them myself. I can put the salad together in just a couple of minutes.
Fava Bean Salad
Ingredients:
1 cup Fava Beans
1 pint Grape Tomatoes, halved
1 Mini Cucumber, sliced
1 Mexican Onion, chopped
1 Lemon, juiced
1 t Minced Garlic

2 T Extra Virgin Olive Oil
Salt and Black Pepper to Taste
Instructions:
Combine all ingredients in a bowl. Toss gently to mix.
Chill for about 10 minutes. Serve.