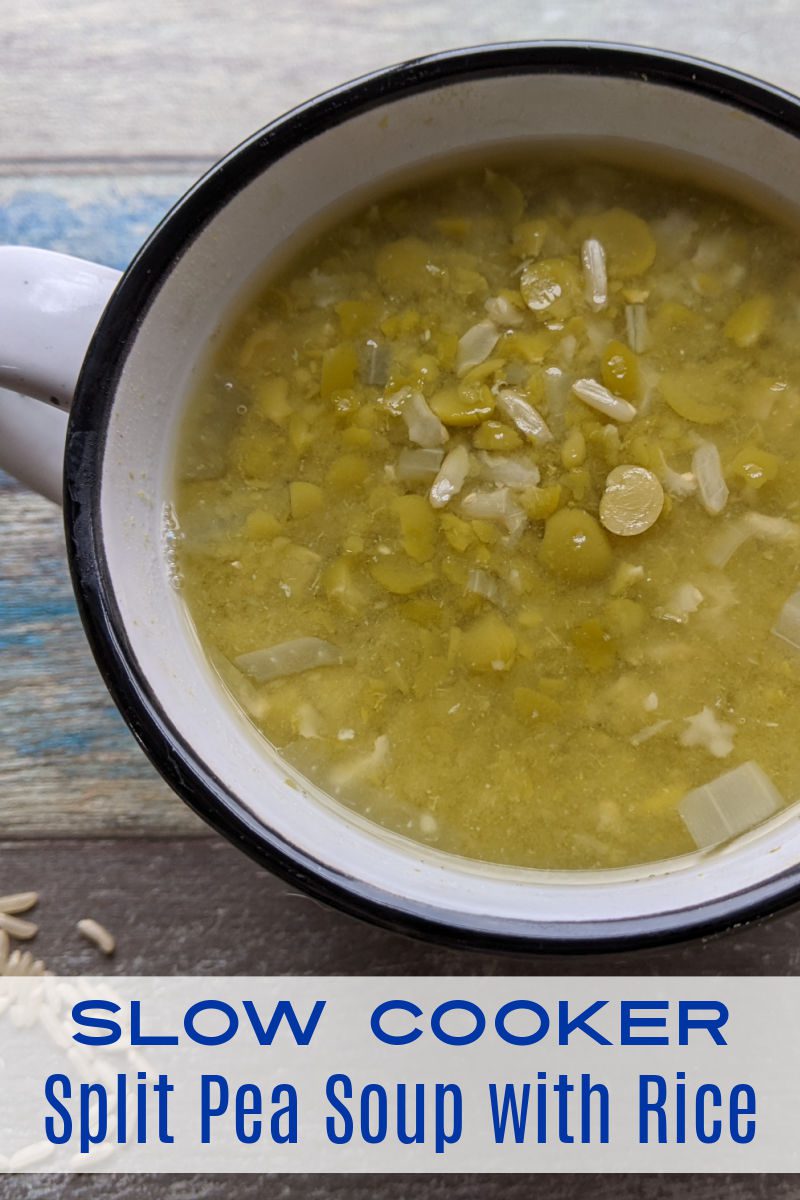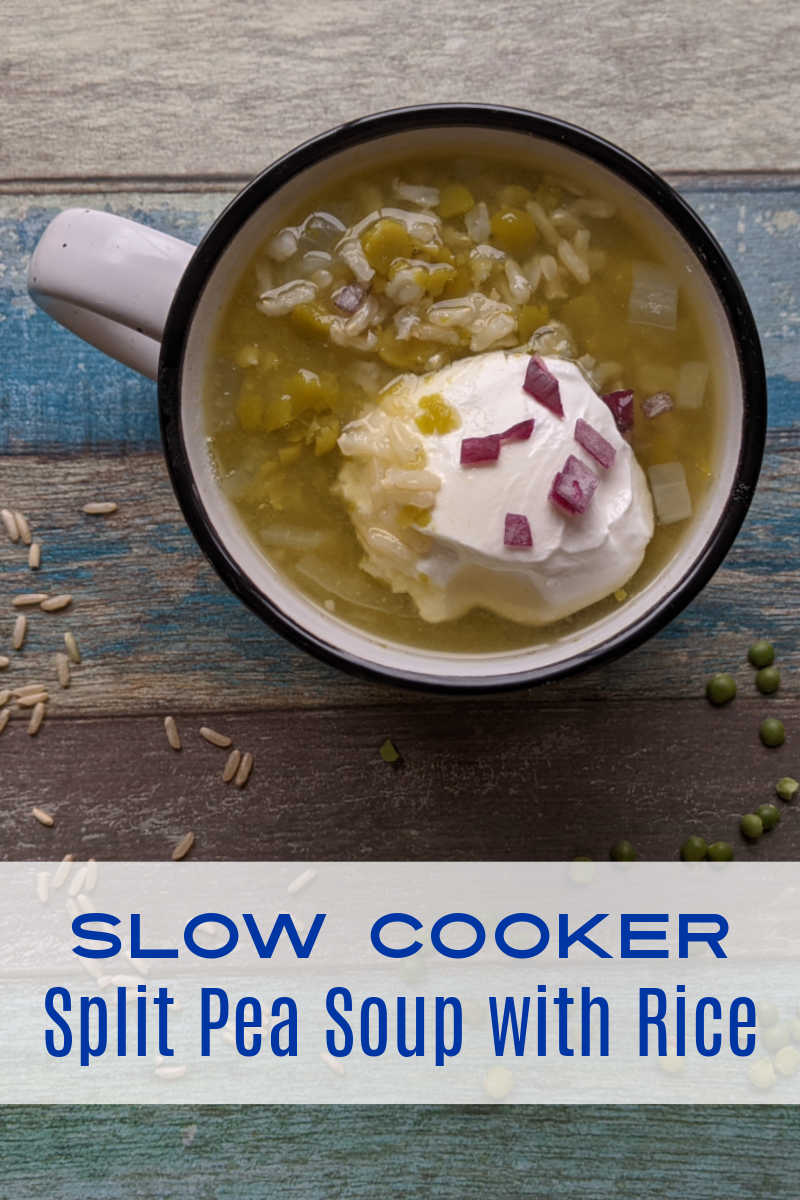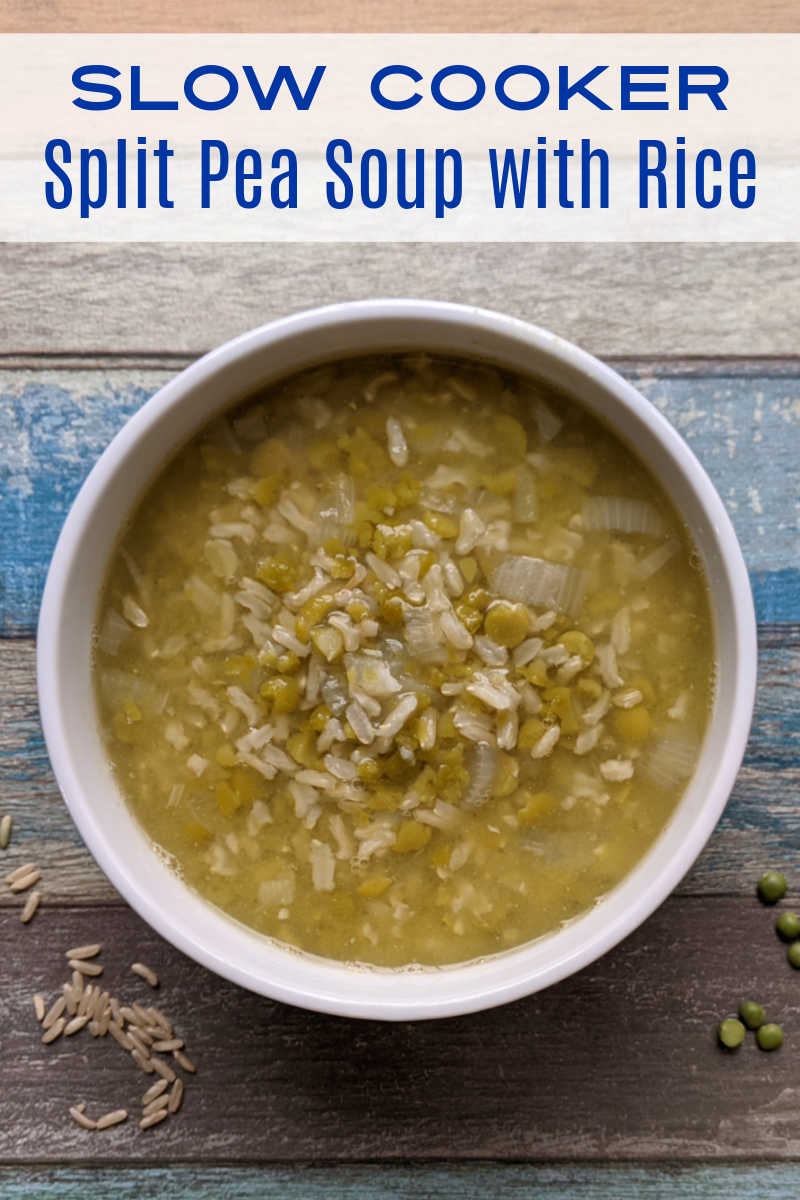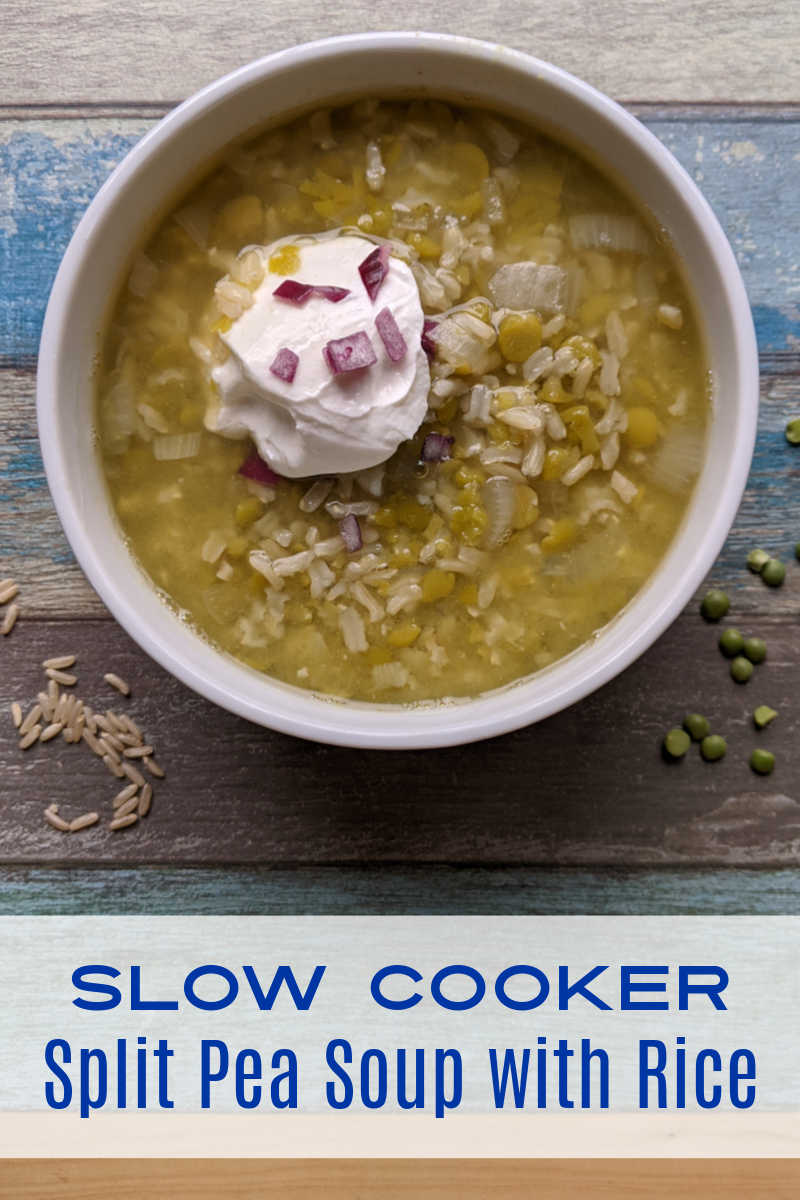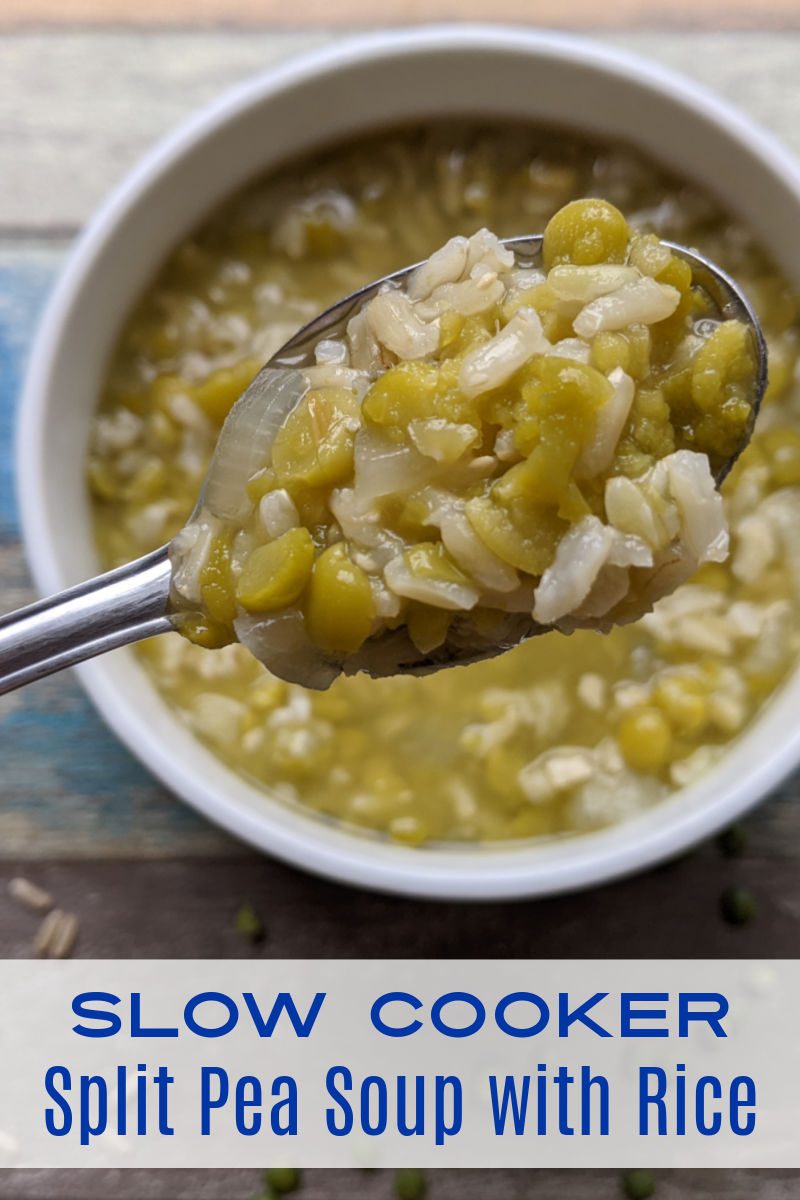 Easy Slow Cooker Soup with Split Peas and Rice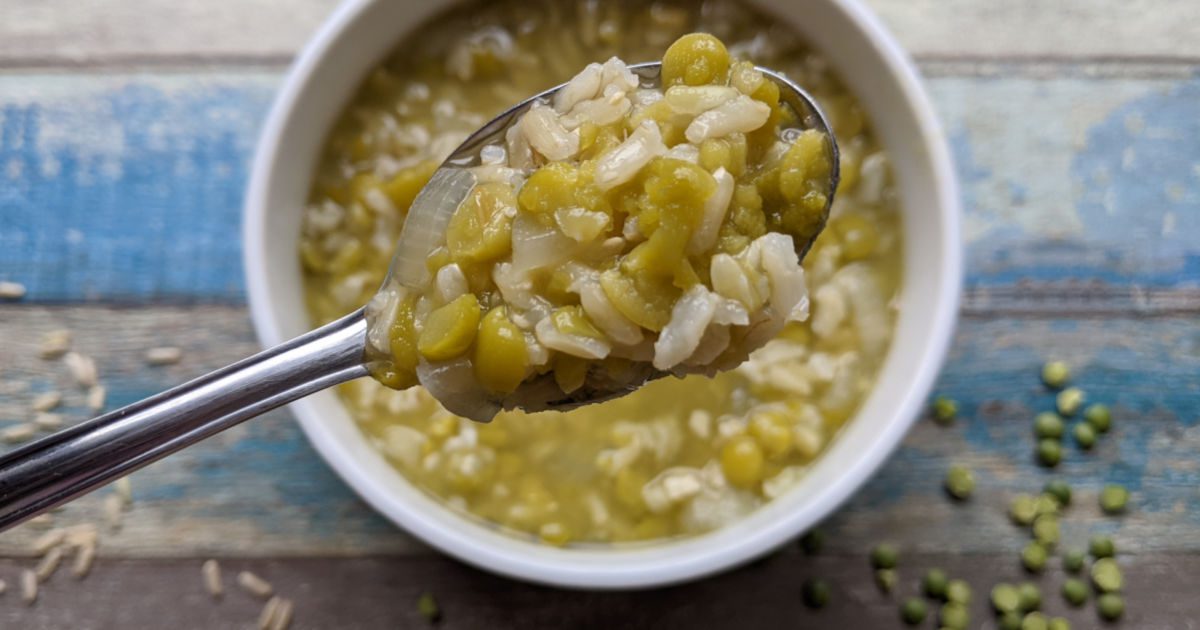 Anyone can make this satisfying, hearty split pea soup with rice, when you use your slow cooker and follow my easy recipe.
It only takes a few minutes to prep and get your soup cooking.
Then the Crockpot does the work, while you do whatever else is on your to do list.
This recipe will feed a crowd, but with a small family this is a great meal prep recipe for me.
We can enjoy a meal together right after the soup is cooked.
Then I portion out the rest of the split pea and rice soup, so that we can enjoy easy meals later.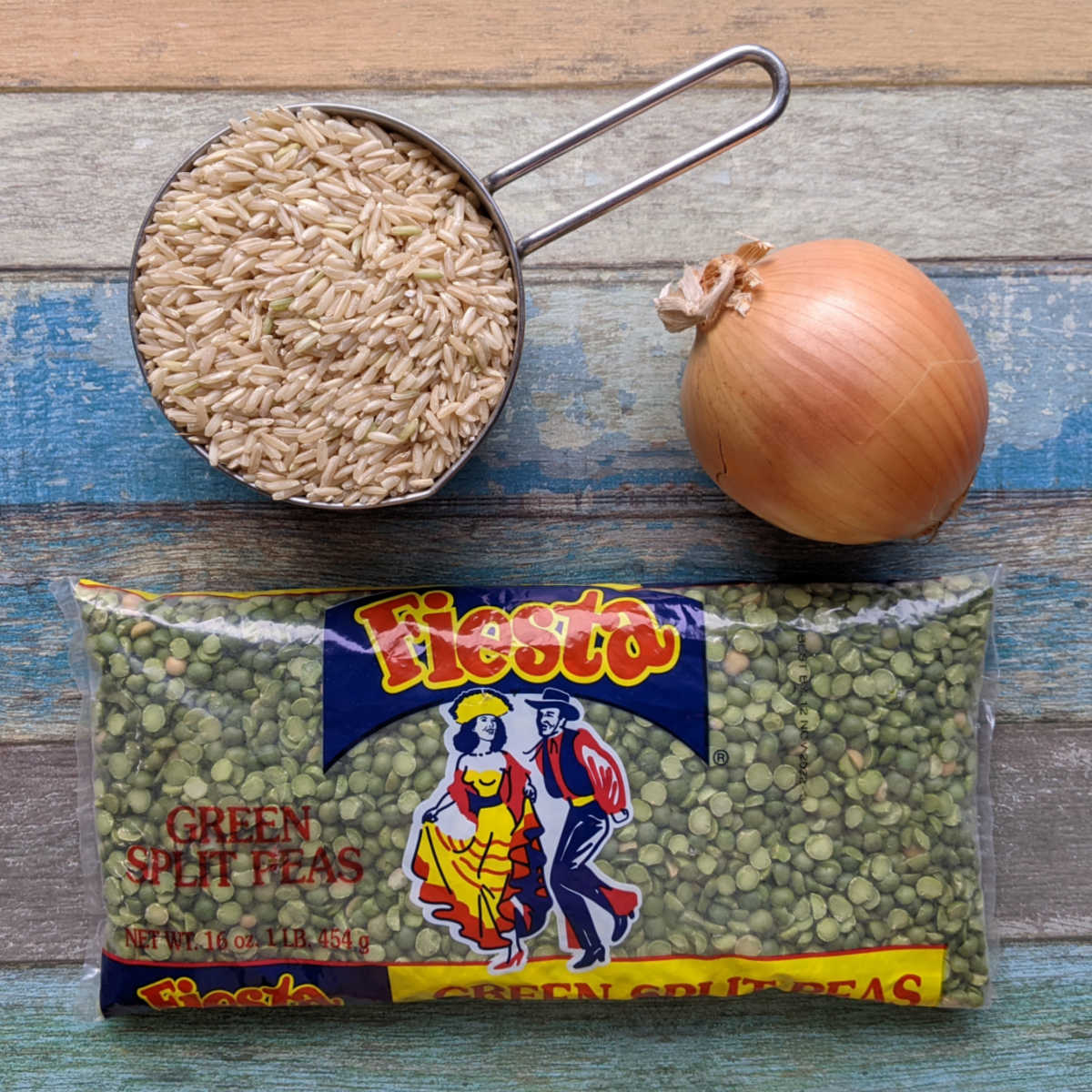 Budget Friendly Ingredients
This is a frugal recipe, since every ingredient is budget friendly.
The rice and split pea soup is filling and satisfying as a meal, but doesn't cost much money at all.
It cost me under $2 to make a slow cooker full of nourishing, satisfying soup, which is enough for about 12 servings.
Yes – under $2 for all of it.
I am working my way through a giant bag of brown rice that I got a great deal on, so yours may cost a little more than mine.
But the entire recipe can be made on the cheap.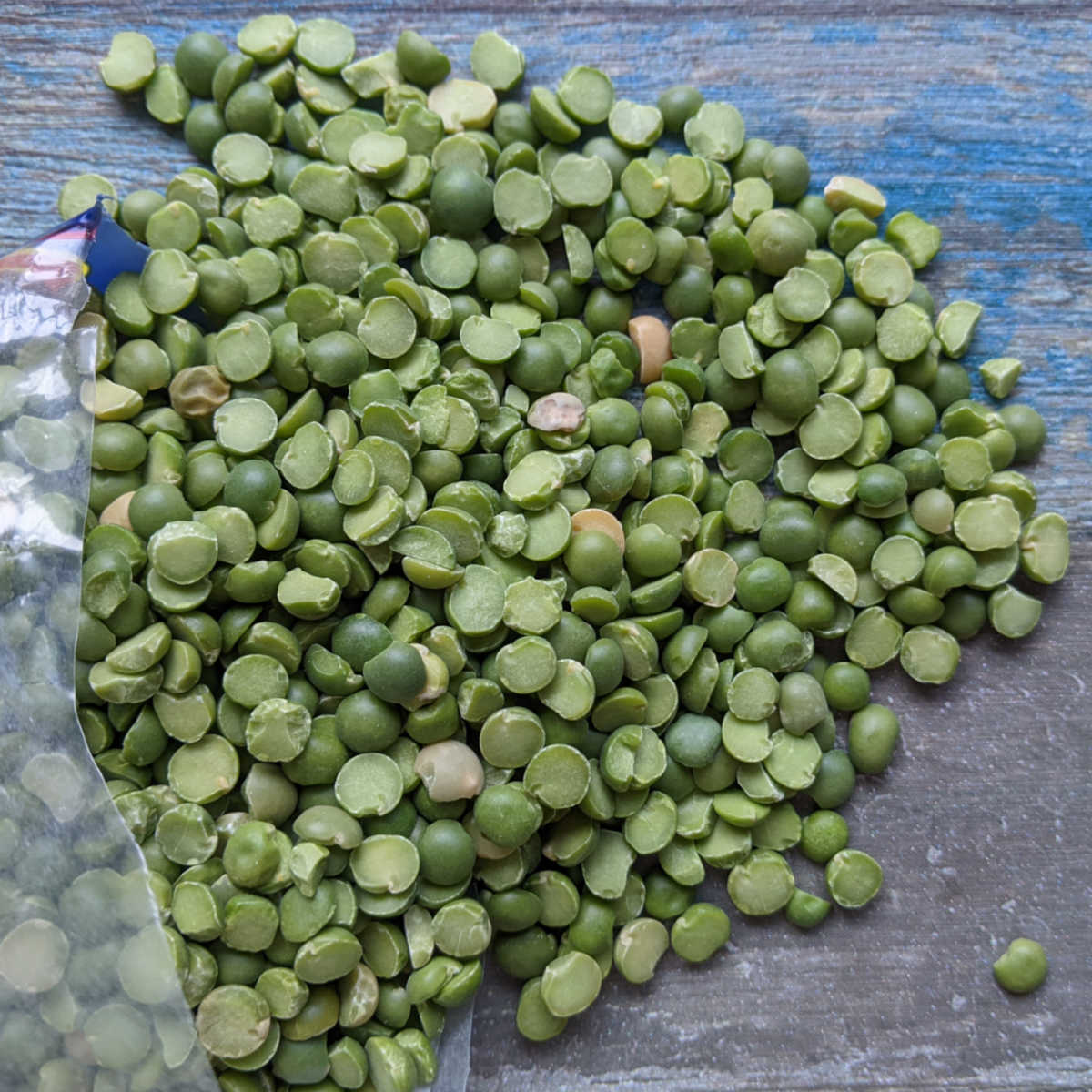 Why Do I Need to Rinse and Sort Split Peas?
Split peas are an agricultural product just like pinto beans, carrots and lettuce, so they do need to be cleaned.
First, open up the bag of split peas and do a quick check, so that you can sort out any little rocks or bits that don't belong.
Sometimes I find some and sometimes there isn't any debris with the peas.
However, it's a quick process and it's best to check.
Then, briefly rinse off the split peas with water to remove dust or dirt.
Do I Need to Soak Split Peas?
Split peas do not need to be soaked like other bigger legumes – pinto beans, black beans, cannellini beans and others.
If you want to soak them, you can.
If the peas are soaked, the soap will cook faster.
However, I generally use split peas without soaking at all.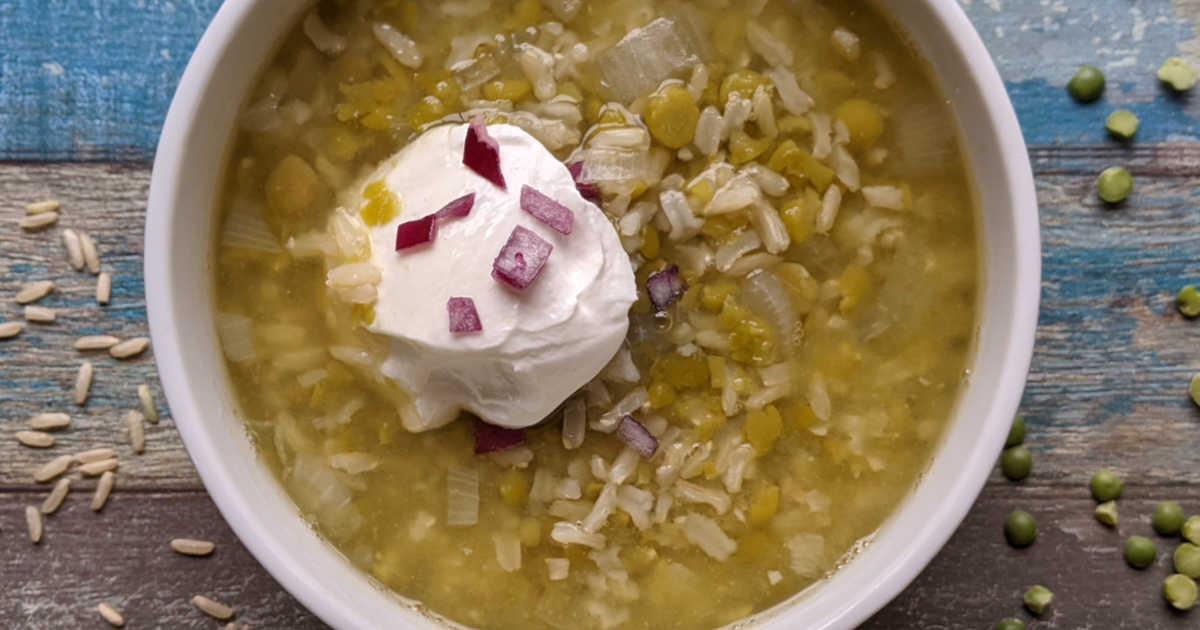 Are Split Peas Healthy?
Split peas are an excellent source of plant-based protein, so they are a good part of a healthy diet.
They are also well-known for their high fiber content, which is something we need to make sure we get enough of.
This legume is low in fat and contains good amounts of iron, folate, potassium and magnesium.
It's great that such a nutritious food is delicious and budget friendly.
Is Split Pea Soup Vegan or Vegetarian?
This split pea soup with rice is both vegan and vegetarian, since there are not meat products or dairy in the recipe.
When you order split pea soup in a restaurant or buy it in can, it may not be vegetarian or vegan.
However, this recipe is dairy-free and meat-free.
Watch your garnish or toppings to make sure they are also vegan or vegetarian, if that is of concern.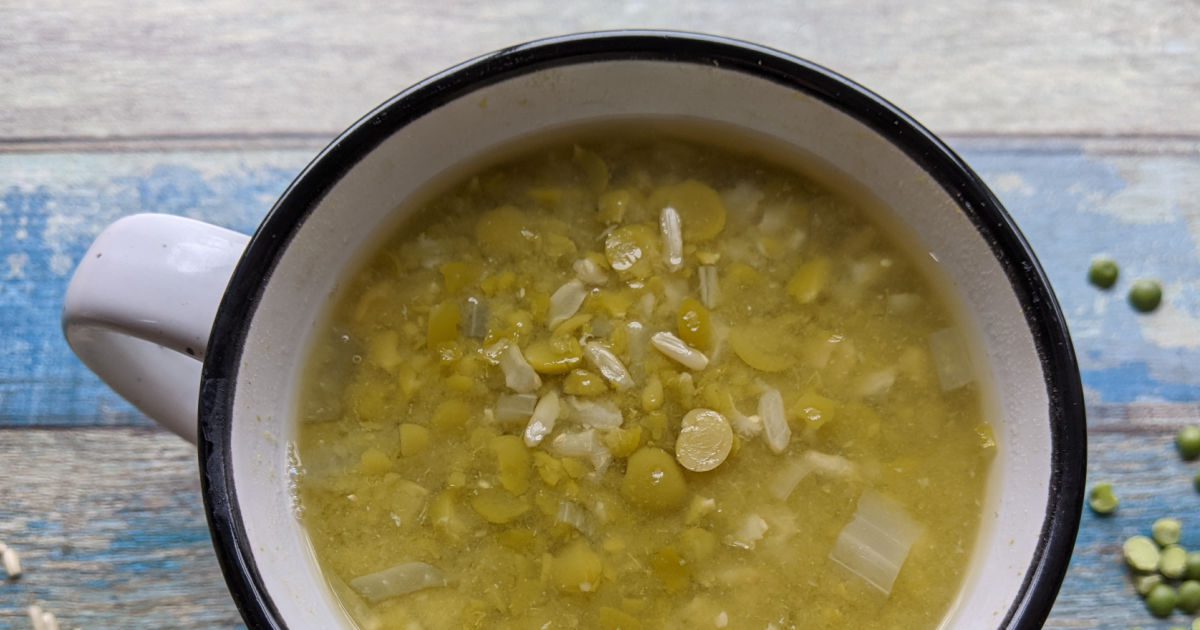 Is Rice Gluten Free? Is This Soup Gluten Free?
Rice is naturally gluten free, so it is a great choice for anyone with celiac disease or another reason for avoiding gluten.
In fact, all of the ingredients in this soup are naturally gluten-free.
Make sure any toppings you add are labeled as gluten free, but the soup itself is safe.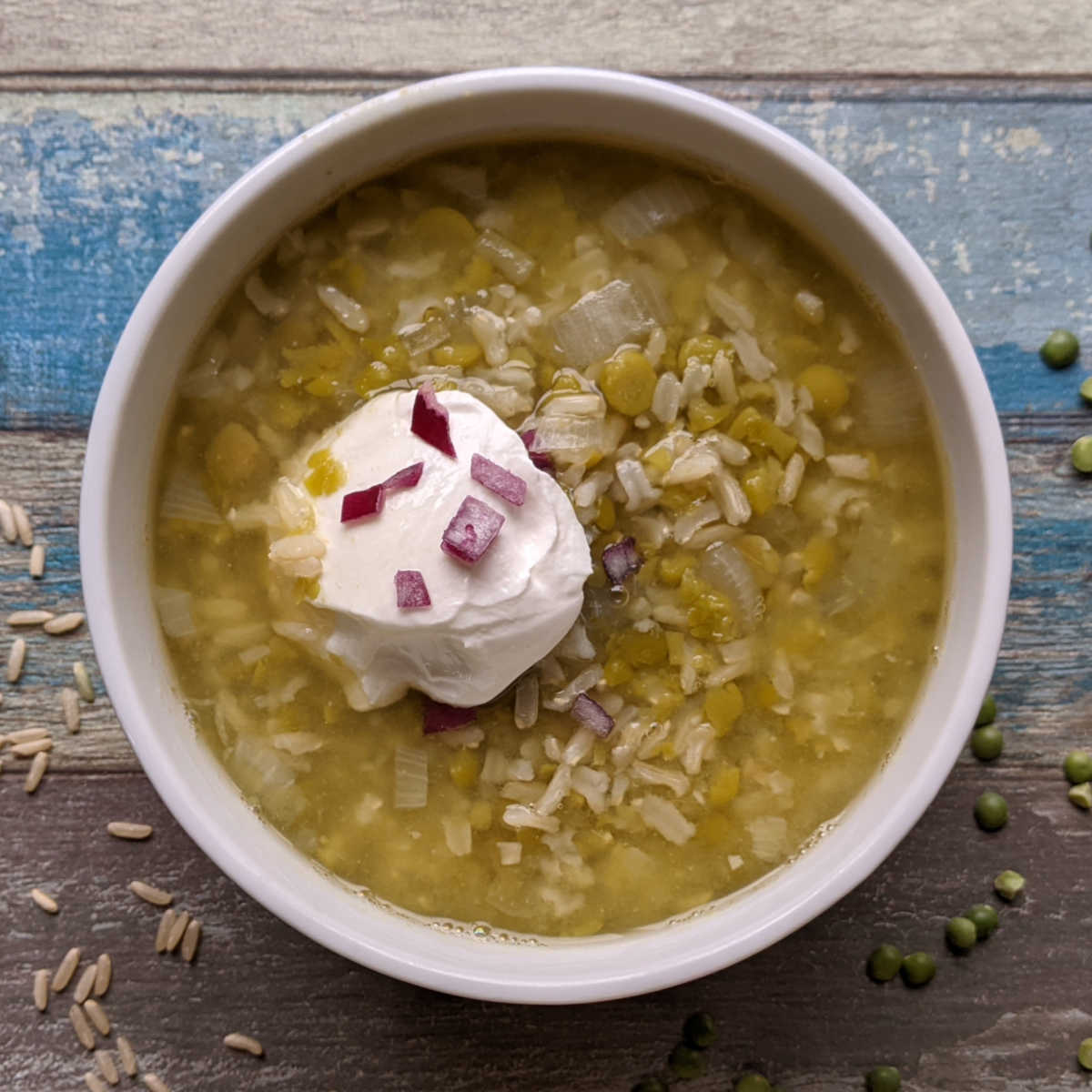 What Slow Cooker Is Best for Making Split Pea Soup?
All that is needed for this simple recipe is a basic, regular sized slow cooker with settings for low and high heat.
Mine also has a 'warm' setting, but that isn't necessary.
Other recipes may require the bells and whistles of a higher end slow cooker, but this one doesn't.
If you have a pricey Crock Pot, that's fine.
However, feel free to use whatever you have already or whichever model fits your budget.
What Should I Serve with Split Pea Soup?
A bowl or mug of split pea soup is a satisfying meal on it's own, but I'll often add a dollop of sour cream or some fresh minced herbs or microgreens.
You can add some shredded cheese or croutons, if you'd like.
The soup can also be served with a sandwich or salad.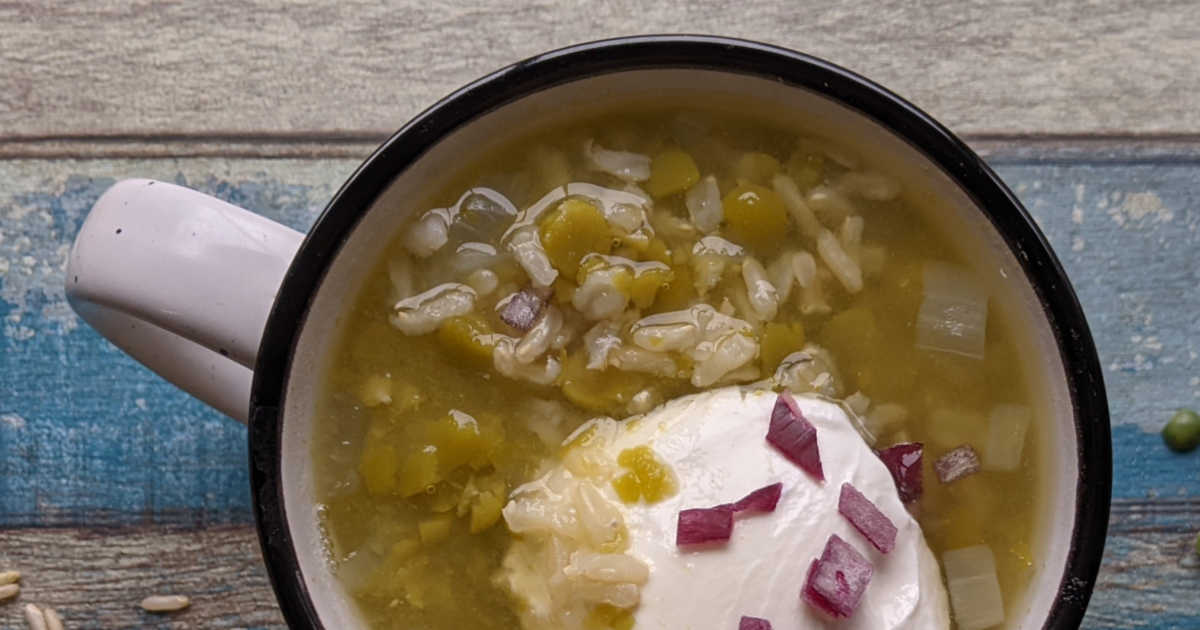 How Do I store Leftover Split Pea Soup?
Split pea soup with rice is fantastic, when you serve it as leftovers.
The split peas and rice do break down as they sit, so your leftover soup will be thicker and the individual peas and pieces of rice will be less defined.
This is normal and the soup tastes great immediately after you make it and days later.
Let your soup cool down fully before storing it in the refrigerator or freezer.
I like to use individual serving size airtight containers, so it is ready to reheat for individual meals.
The soup does fine in the refrigerator, when you are going to eat it soon.
If you want it to last longer, it does great as a freezer meal.
Tupperware type containers are nice, but you can also pack the soup into Ziploc freezer bags in whatever quantities work for you.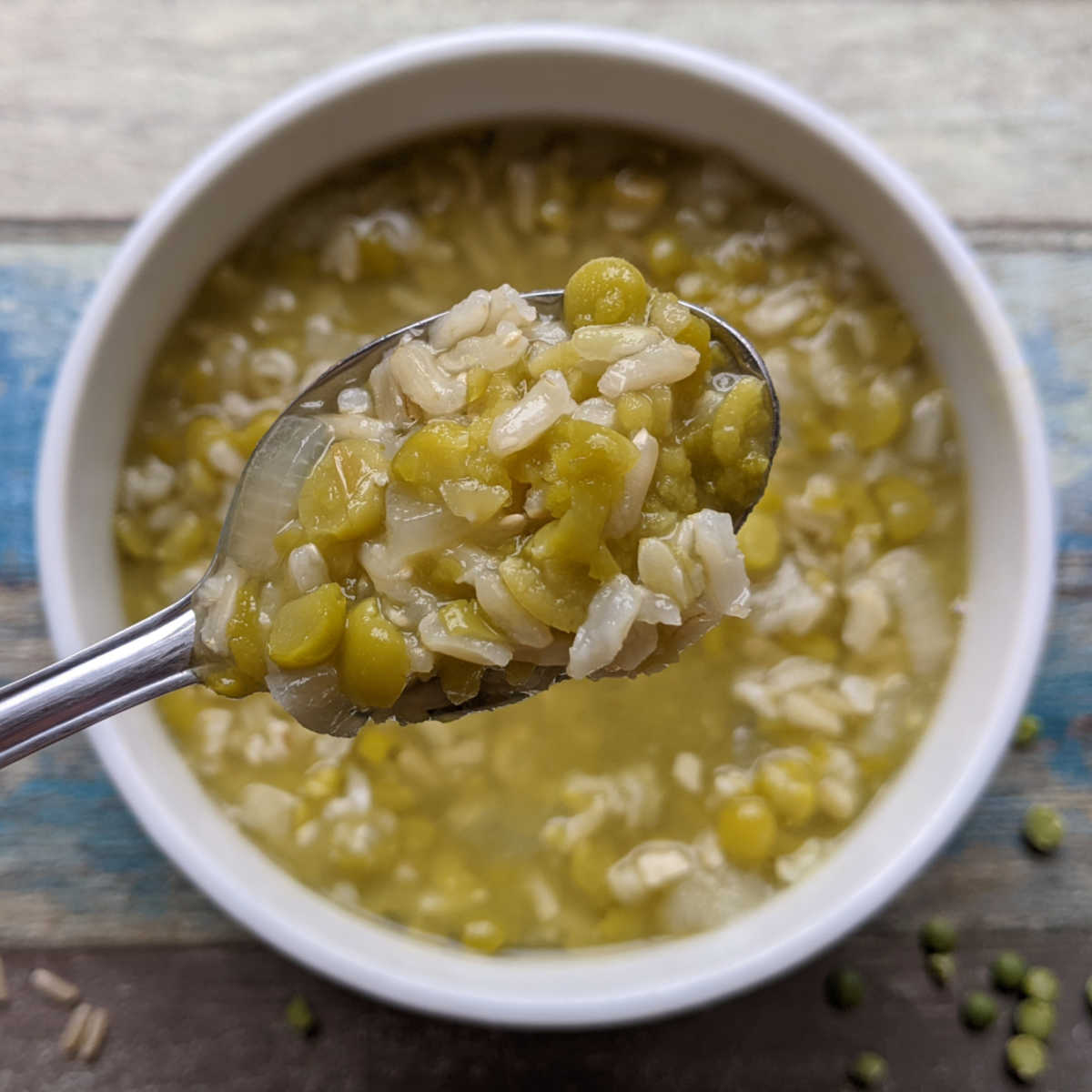 Split Pea Soup with Rice Recipe
Prep Time: 5 Minutes
Cook Time: 3 ½ Hours
Yield: 12 Servings
Ingredients
1 lb. Dried Split Peas
10 cups Water
½ Onion, chopped
2 cloves Garlic, minced
1 cup Rice
Salt to Taste
Black or White Pepper to Taste
Optional Garnish
Sour Cream
Cheese
Chopped Herbs
Supplies
Crock Pot
Measuring Cup
Instructions
1) Sort and rinse split peas.
2) Add rinsed split peas, water, chopped onion, minced garlic, salt and pepper to your slow cooker.
3) Set to high and cook for about 2 1/2 hours.
4) Add rice, stir and cook for about 1 hour more.
5) Remove from heat and serve immediately with or without garnishes.
6) If you will be storing leftovers in the refrigerator or freezer, let cool prior to transferring to air tight containers.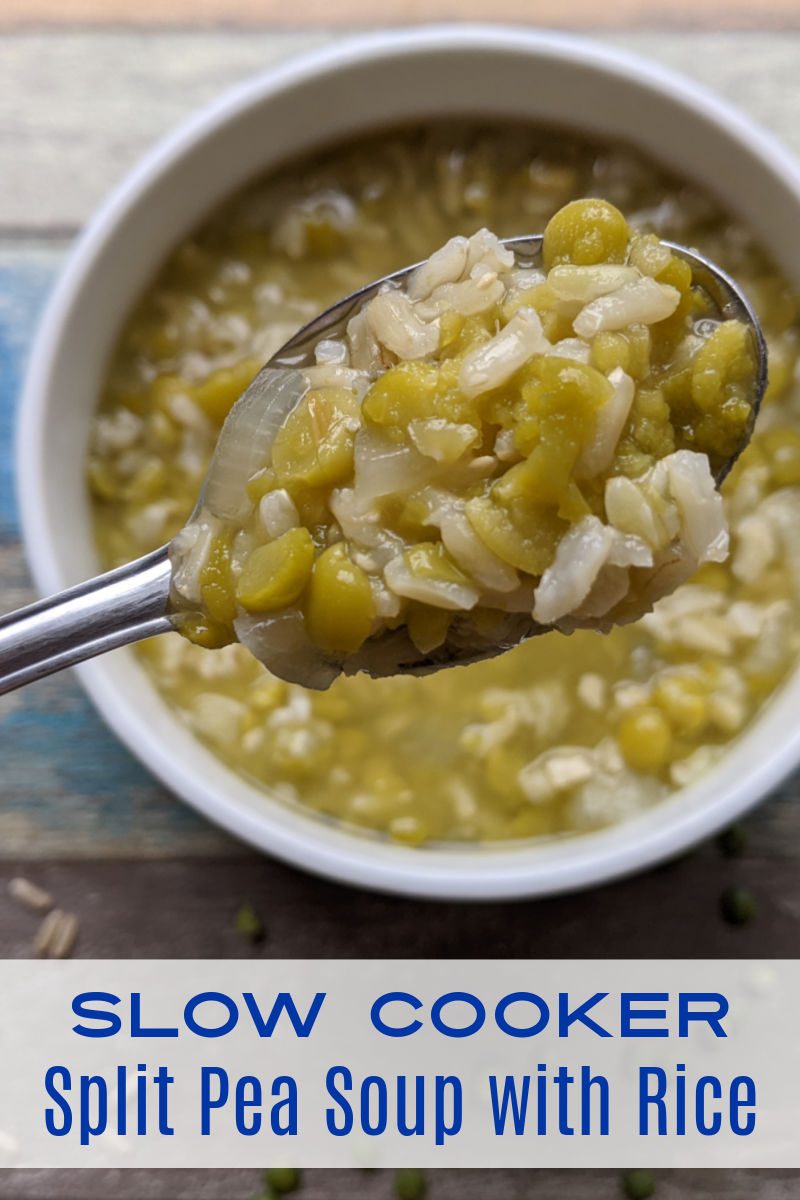 More from Mama Likes To Cook
Check out the rest of my vegetarian recipes, so you can get more great ideas for baking, cooking, blending and juicing.
Slow Cooker Soup Recipes
Stovetop Soup Recipes
Instant Pot Soup Recipes
Cold Soup Recipes
Non-Soup Slow Cooker Recipes
Rice Recipes
Shopping Tips
For a beautiful assortment of kitchen necessities and food gifts for the whole family, check out the deals at these online stores.
Are you ready to have some delicious fun in the kitchen?