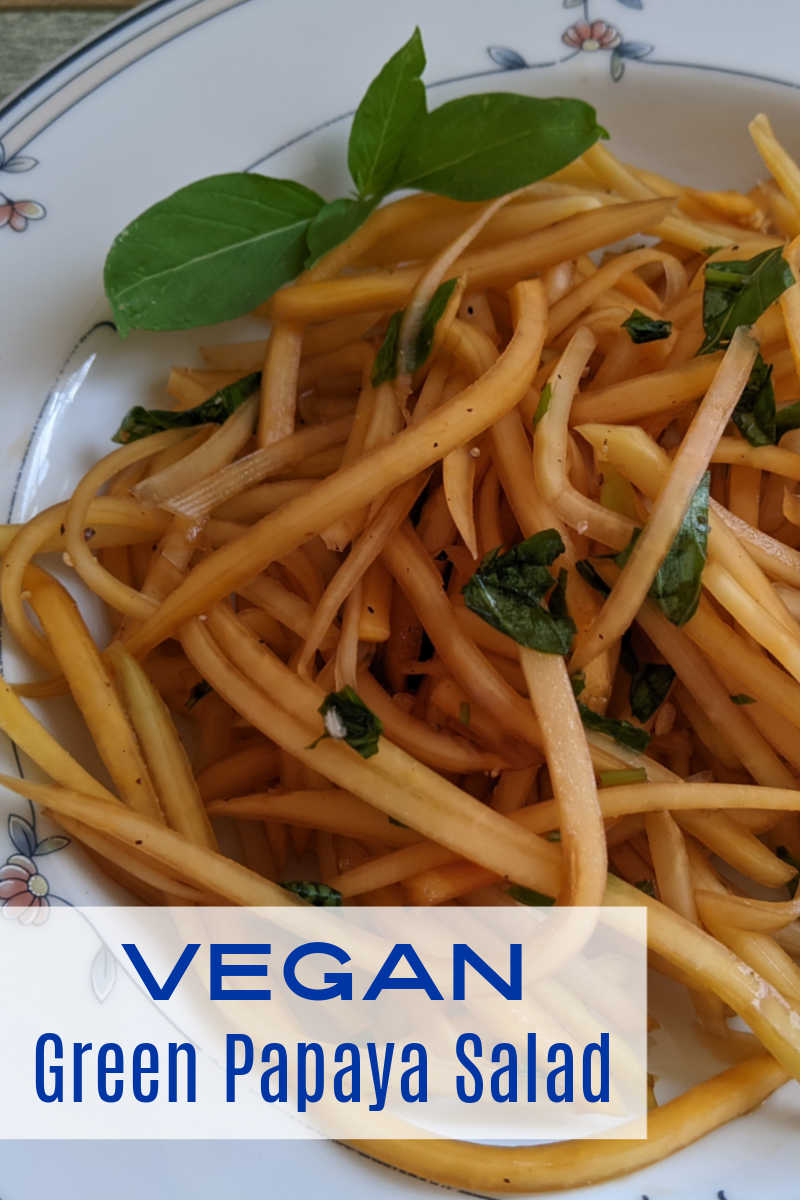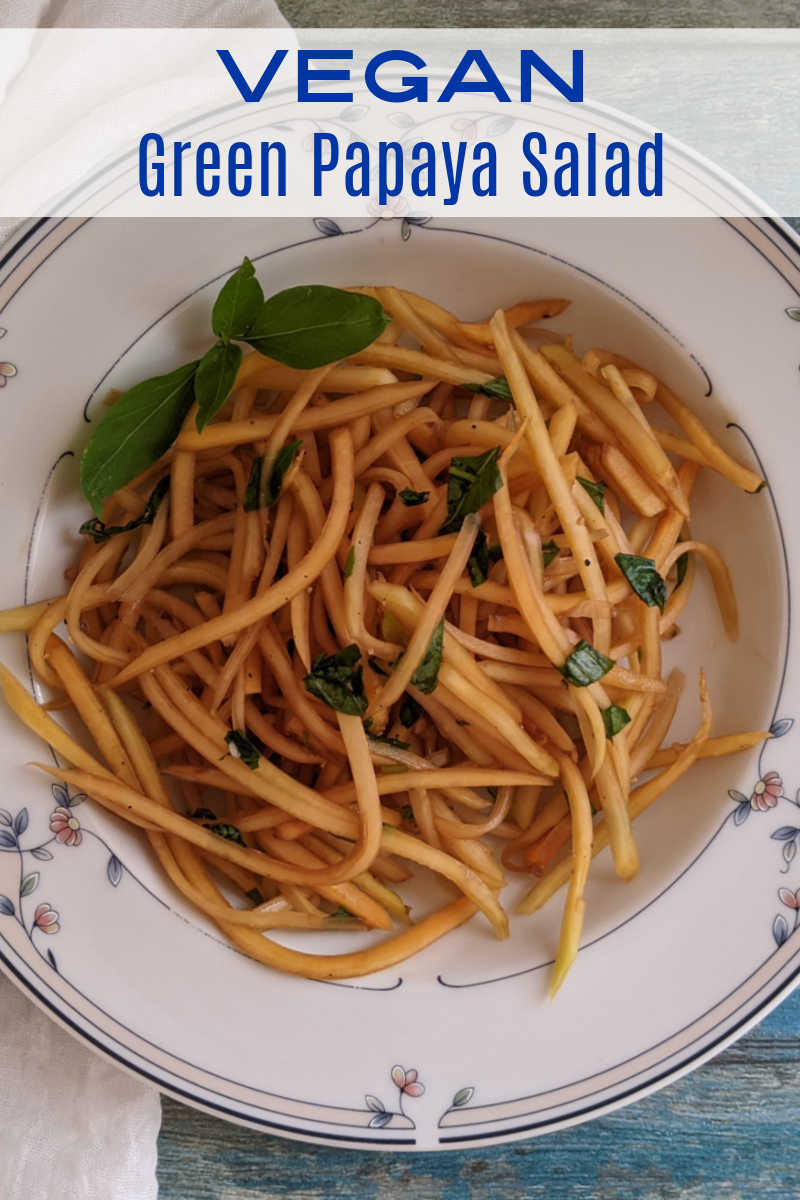 Green Papaya Salad Made Without Fish Sauce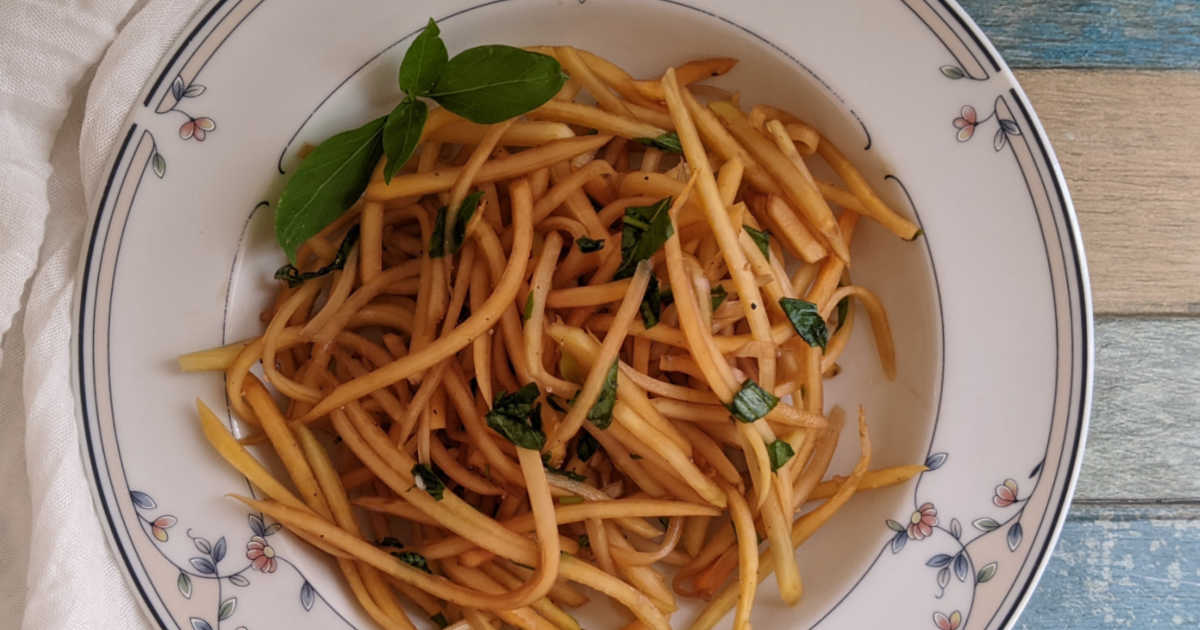 This vegan green papaya salad is easy to make and tastes amazing, whether you are eating it soon after making it or the following day.
I love authentic Thai food and Vietnamese food, but, as a vegetarian, I have to pay attention to ingredients.
Often, things that sound like they may be vegan have added fish sauce as an ingredient.
Others enjoy green papaya salad with fish sauce, but that isn't for me.
After playing with the recipe a bit, it was clear that a vegan version of the salad is absolutely delicious.
The fresh ingredients give it a tasty balanced flavor, so nothing is lacking.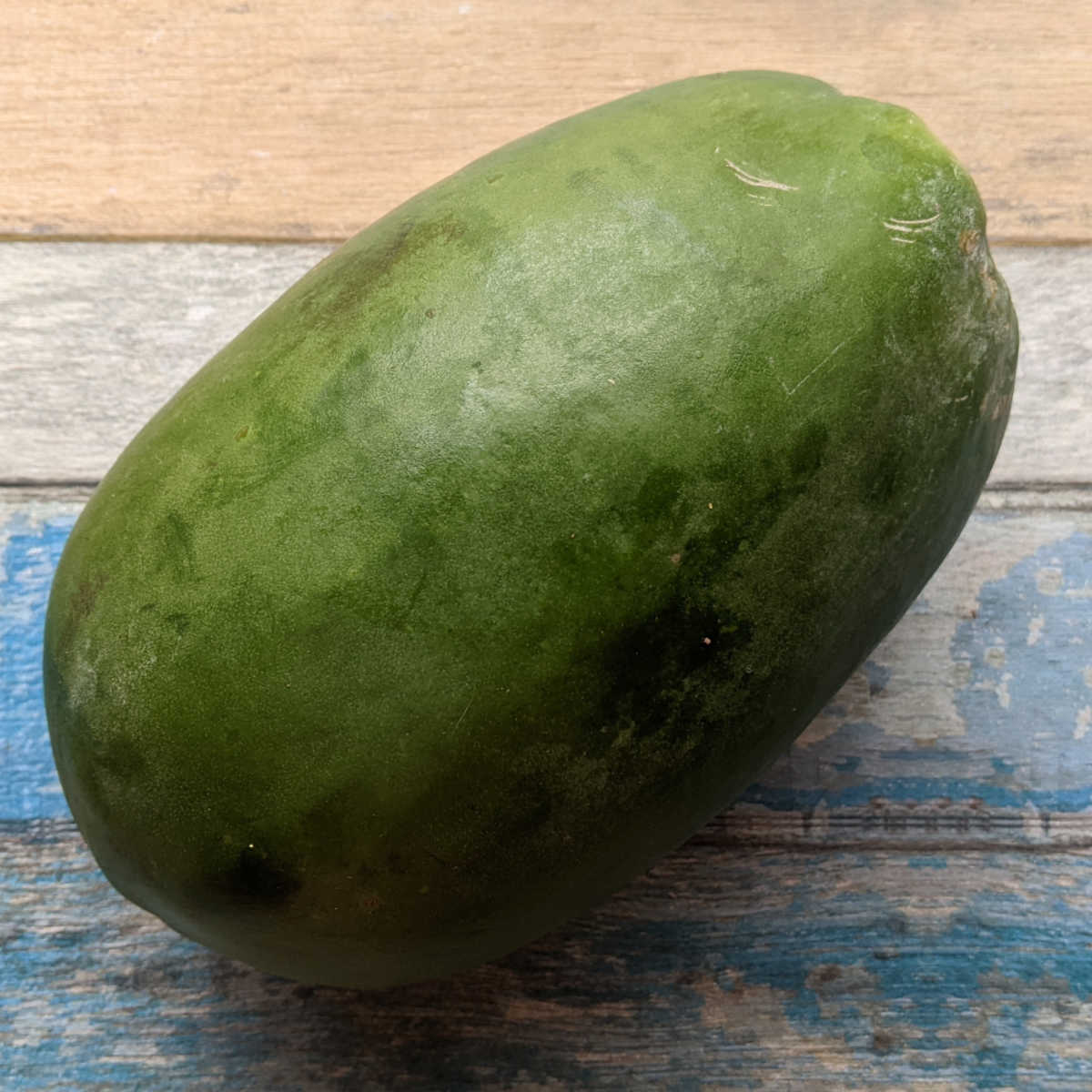 What Is A Green Papaya?
A green papaya is simply an unripe papaya.
I bought this one at a nearby grocery store, but will to be eating homegrown green papayas once my backyard trees get a little bigger.
Green papayas have a very mild flavor that isn't sweet and the texture is firm and crunchy.
Fully ripe papayas are going to be softer, a brighter orange or pink color and will be very sweet.
Mild, crunchy green papayas are perfect for vegan salads.
How Big Is A Green Papaya?
Green papayas can vary greatly in size.
This recipe was made using a whole green papaya that weighed about 3 pounds, but often papayas are MUCH larger than that.
Use my recipe as a basic guide and feel free to adjust, if your papaya is huge and you are making salad for a crowd.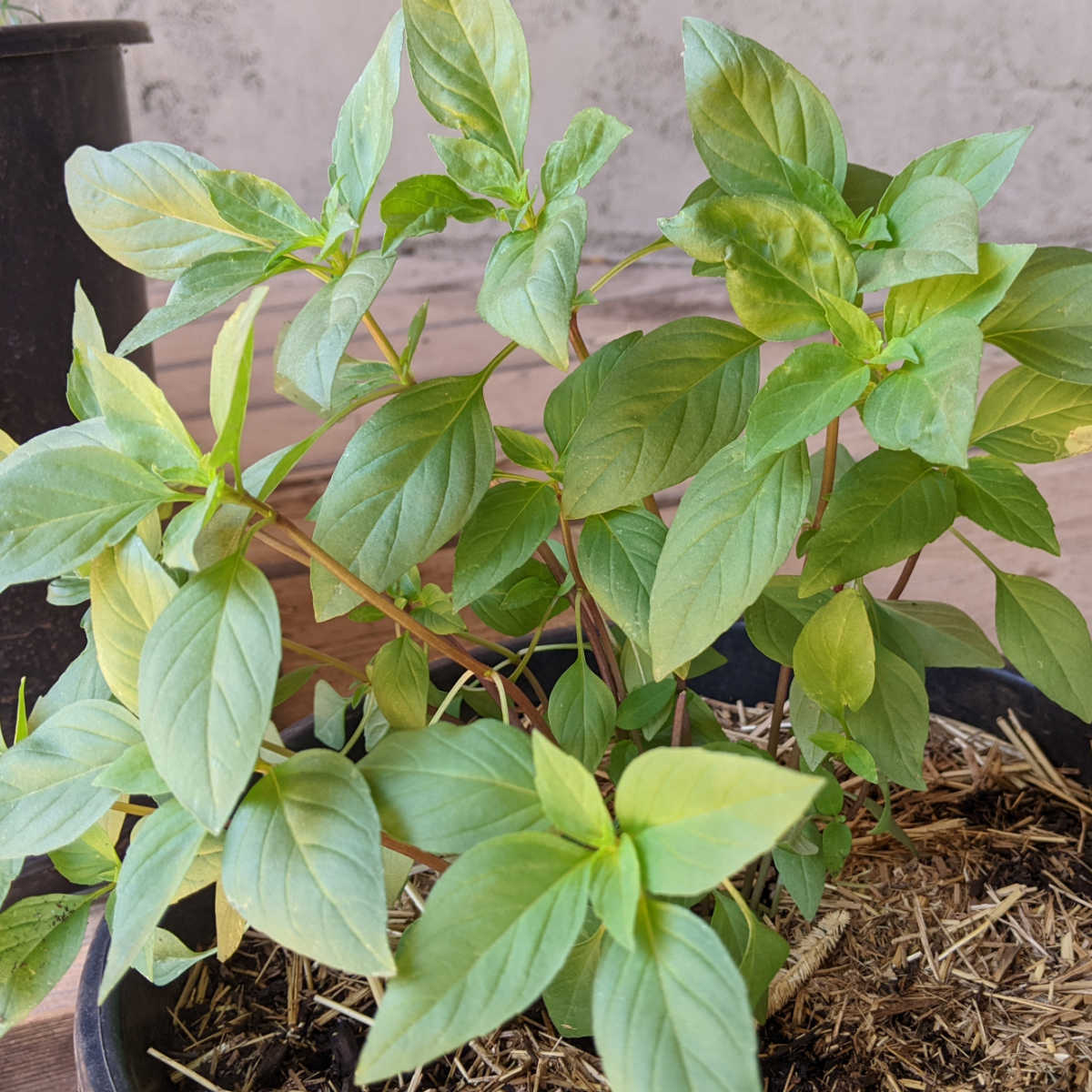 What is Thai Basil?
Thai basil is closely related to sweet basil that is commonly found fresh in most grocery stores.
It is, however, not exactly the same.
Thai basil is sturdier, so won't wilt as much in the salad.
And, the flavor is similar, but sharper.
I love it, so have a Siam Queen Thai Basil plant growing just outside my kitchen door to add to my cooking regularly.
If you don't have access to Thai basil, you can use whatever fresh basil is available.
The flavor will be a little different, but the green papaya salad will still taste good.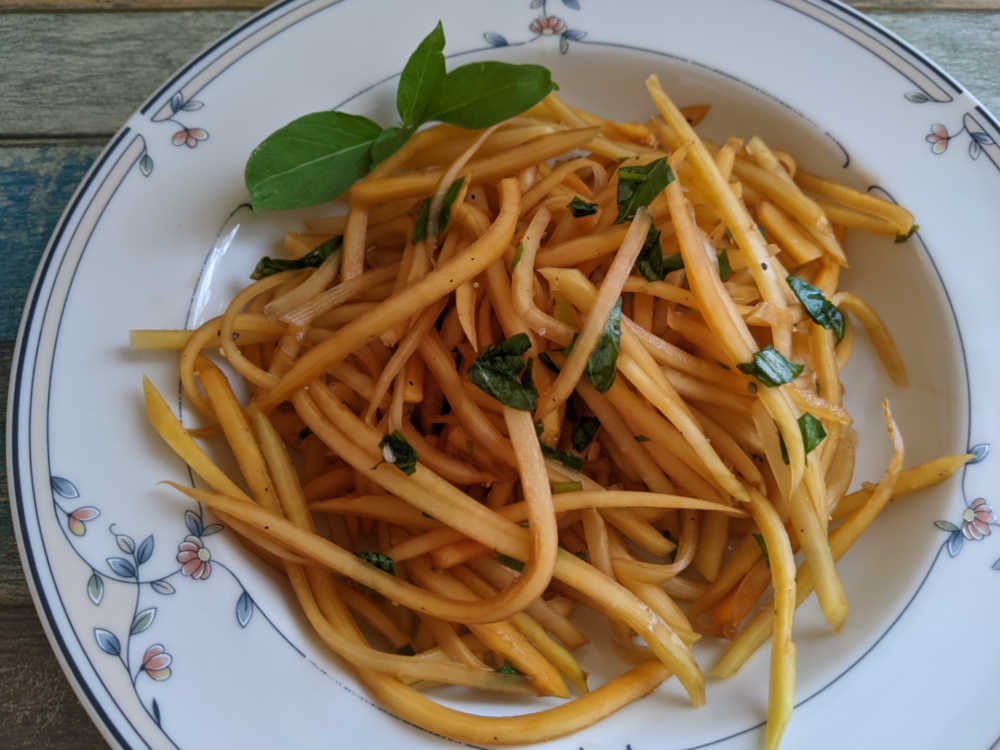 Using A Mandoline To Julienne Papaya
For this recipe, you want to julienne the green papaya into thin strips.
This type of cut is perfect for the salad, since it will have a nice crunch even if you are eating the salad hours later or the following day.
A mandoline is the easiest way I've found to quickly cut the papaya into even strips.
If you are new to using a mandoline, it can be intimidating.
The blades are very sharp, so be sure to follow the instructions, pay attention and use the hand guard that comes with it.
Once you have used it successfully a few times, it is easy and not intimidating.
You still need to be careful, of course, but you will be able to use the mandoline to make beautiful, julienne cut veggies and fruit quickly and easily.
Can I Make This Recipe Without A Mandoline?
If you don't have a mandoline, you can use a knife to julienne the papaya.
It does take a little longer, but you absolutely can make the vegan salad without a mandoline.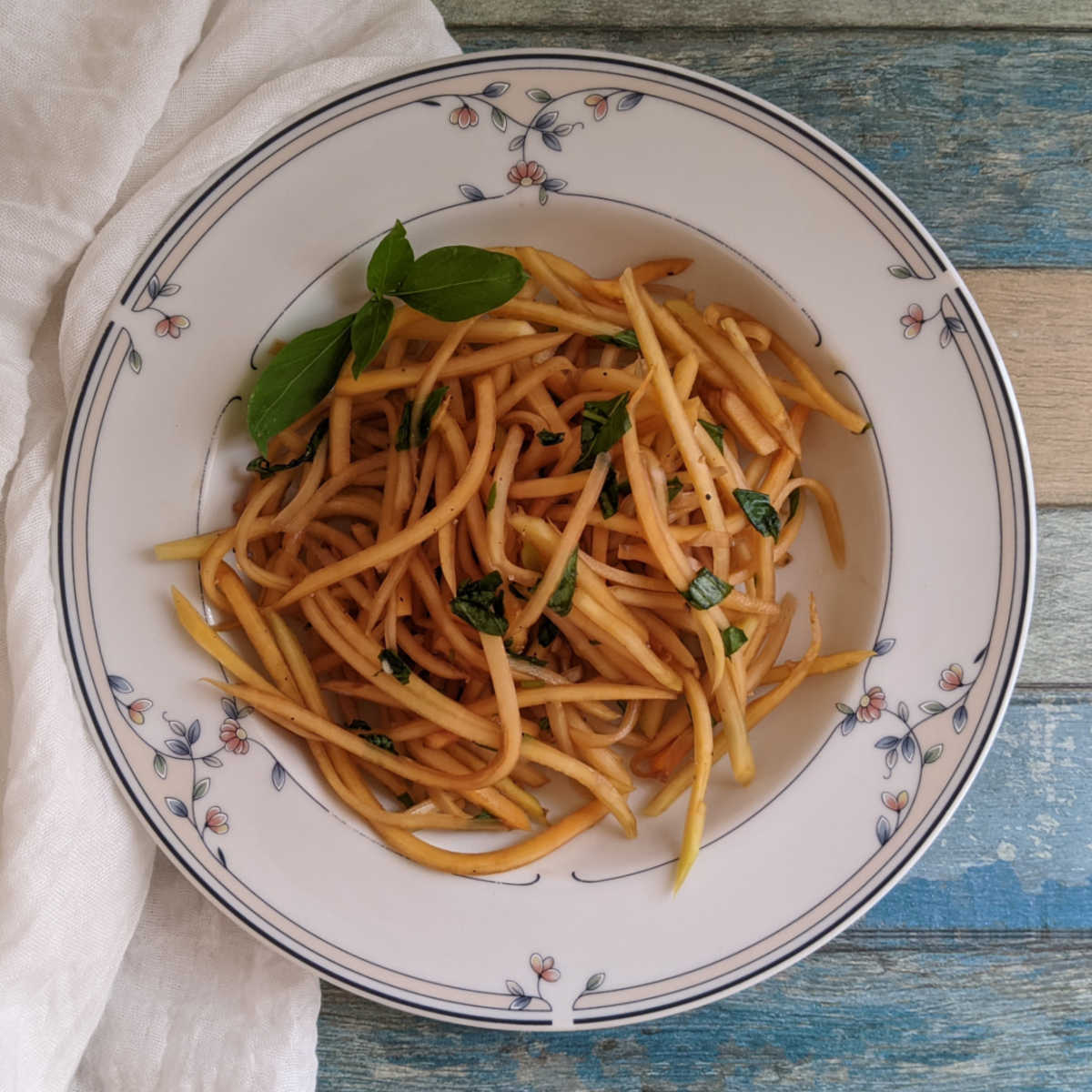 Serving Options
I love eating the green papaya salad as a side dish for lunch or dinner.
You can also use it like you would coleslaw as a topping for a burger or fish.
Another option is to use it as filling for Spring rolls.
However you choose to enjoy this salad, it is delicious.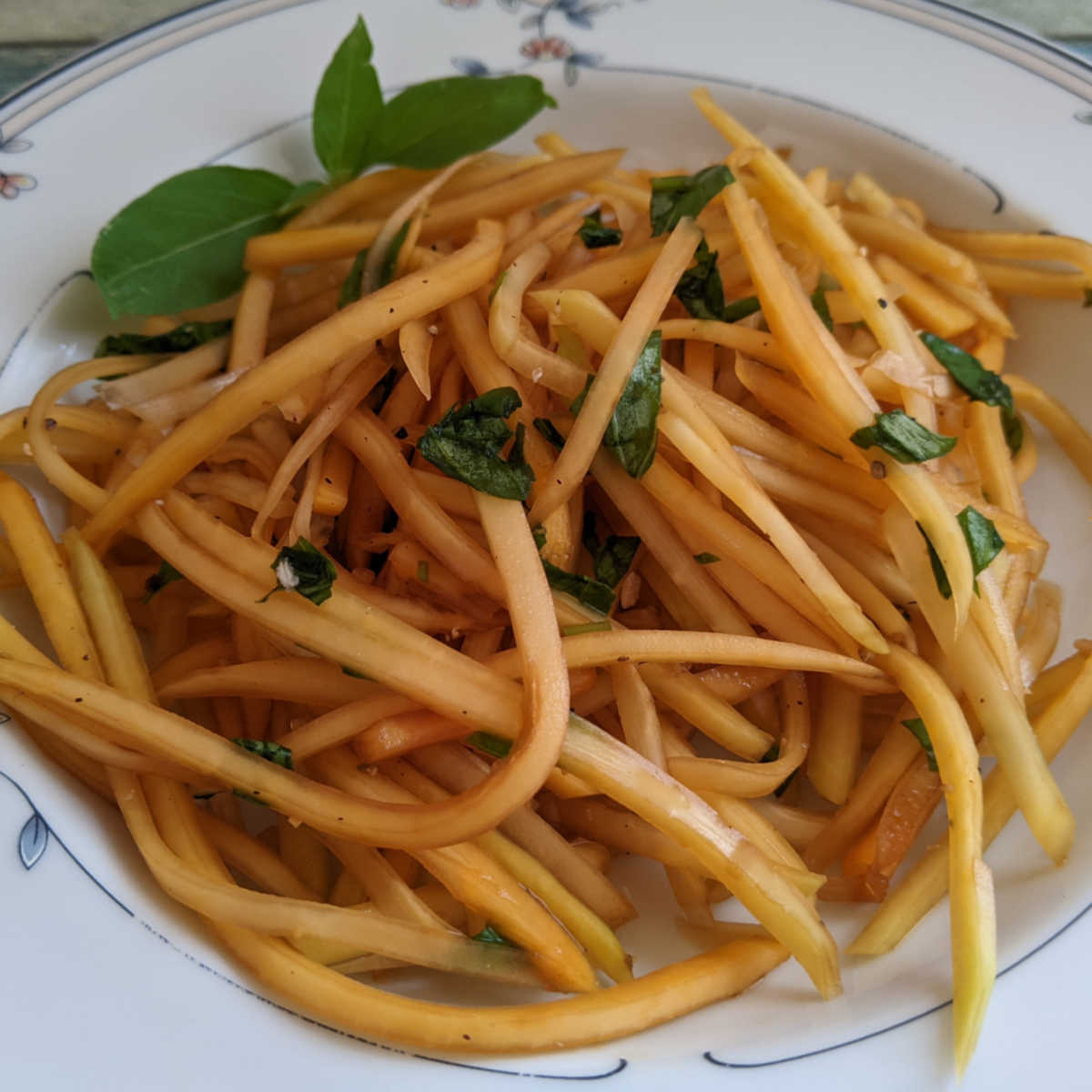 Vegan Green Papaya Recipe
Prep Time: 10 Minutes
Cook Time: None
Chill Time: 15 Minutes
Ingredients
Medium Green Papaya (about 3 pounds)
1/2 Lemon, juiced
2 T Soy Sauce
1 T Minced Garlic
2 T Fresh Thai Basil, minced
Black Pepper to Taste
Optional:
Thai Chili Pepper
Fresh Thai Basil Leaves for garnish
Supplies
Mixing Bowl
Chef Knife
Mandoline
Measuring Spoon
Fork or Tongs
Instructions
1) Peel green papaya and scoop out seeds. Julienne papaya into matchstick size pieces with mandoline or with a knife and put in a mixing bowl.
2) Add lemon juice, soy sauce, minced garlic, minced Thai basil and black pepper to the bowl. If you want it spicy, add a couple of crushed Thai chili peppers.
3) Use a fork or tongs to gently toss together.
4) Refrigerate for at least 10 to 15 minutes to allow the flavors to meld.
5) Garnish with fresh Thai basil leaves. Serve and enjoy!
More from Mama Likes To Cook
Check out the rest of my vegetarian recipes, so you can get more great ideas for baking, cooking, blending and juicing.
Papaya Recipes
Basil Recipes
Salad Recipes
Shopping Tips
For a beautiful assortment of kitchen necessities and food gifts for the whole family, check out the deals at these online stores.
Are you ready to have some delicious fun in the kitchen?