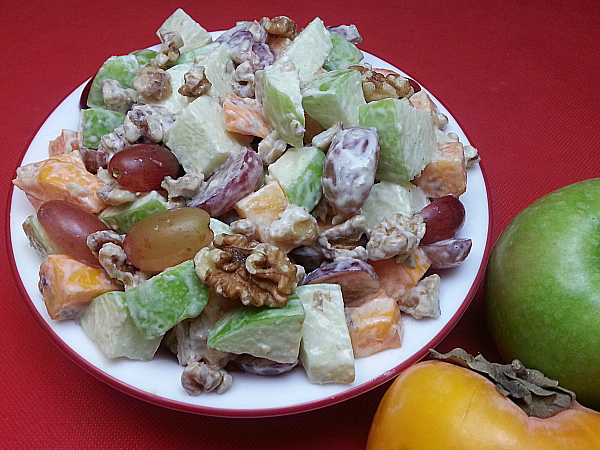 This Waldorf salad has the colors of Summer, but all of these fruits are readily available during the Fall and Winter months. My family loves persimmons, so I've been using them in a variety of ways. They add flavor, color and texture to my twist on the traditional Waldorf salad.
I used Granny Smith apples for their tart flavor. This time I used Cinnamon Persimmons, which are as good as they sound. If you can't find them at your store, Fuyu persimmons can be substituted. I used Melissa's Christmas Crunch red seedless grapes. They are harvested later than other varieties and are sweet, crunchy and available throughout the holiday season.
The salad is easy to make ahead to enjoy at home or to take to a holiday party or potluck.
Apple Persimmon Waldorf Salad
Ingredients:
2 Granny Smith Apples (cored, cubed)
2 Fuyu or Cinnamon Persimmons. cubed
1 cup Red Grapes, halved
1 cup Walnuts, chopped
1/4 cup Mayonnaise or Plain Yogurt
1 T Lemon Juice
Instructions:
Combine all ingredients in a bowl. Stir gently until mixed together.
Chill 15 + minutes. Serve and enjoy.
Thanks to Melissa's Produce for the Granny Smith apples, Cinnamon Persimmons and Christmas Crunch Grapes.